Another week, another affiliate program under the microscope!
Today, we're looking at the quasi-popular Beachbody affiliate program and believe me;
If you're in the fitness niche, you're going to want to read this.
Before we get into the nitty-gritty details, let's first take a look at the TLDR version of this review and if you like what you see, keep scrolling and find out about all the pros (and cons) the BeachBody affiliate program has to offer.
Can You Make Money With The BeachBody affiliate program?
💲💲
Beachbody Affiliate Program TLDR Summary
An "evergreen niche" ✔️
Semi high-ticket offers ✔️
Various products to promote ✔️
Only available in the USA & Canada ✖️
What Is The Beachbody Affiliate Program?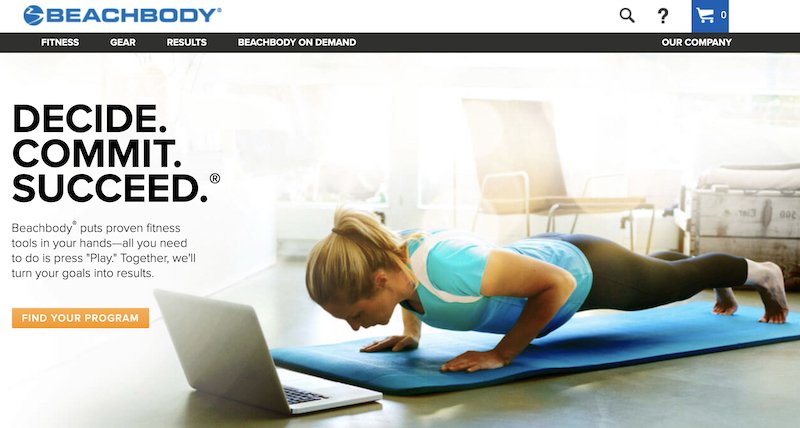 NB:
Want to see how I make money with affiliate marketing? My new book reveals my entire process, including my 4-step approach to building affiliate websites.
CLICK HERE to download my book for free
.
Beachbody provides popular fitness programs and weight loss solutions in the form of workout videos as well as meal replacements and other weight loss and nutritional supplements.
The Affiliate Program is available to Publishers on FlexOffers.  (See details below on how to register as a Publisher).
Beachbody also has a Multi-Level Marketing plan.  We have read reviews that say that the Beachbody Affiliate program is part of Beachbody's MLM system and therefore forces you to buy a certain amount of products every month in order to earn a commission.
It does not appear that way in FlexOffers. This seems to be a stand-alone Affiliate Program, with no pressure to become part of the MLM Program.
However, we were not able to verify exactly how the program works as only US and Canadian citizens are permitted to sign up for the Affiliate Program.  
Other reviews say there are MLM elements of the Beachbody Affiliate Program which enhance the program. 
For one, you get to keep your customers. Once your customers have signed up as members, they can buy from you again and again and you'll always earn a commission when they do. More about that later.
What Can Your Promote As An Affiliate?
Club Membership to Beachbody on Demand
As an Affiliate, you can promote Club Memberships to Beachbody on Demand.
Members of Beachbody on Demand start by setting a goal and then they can stream their meal plan and workout plan on their TV, computer, smartphone or tablet. 
Beachbody offers a free 14-day trial plan to Beachbody on Demand. In order to take advantage of the free trial you need to first choose one of the following plans:
$39 for 3 months ($13 a month)

$59 for 6 months ($9.83 a month)

$99 for 12 months ($8.25 a month)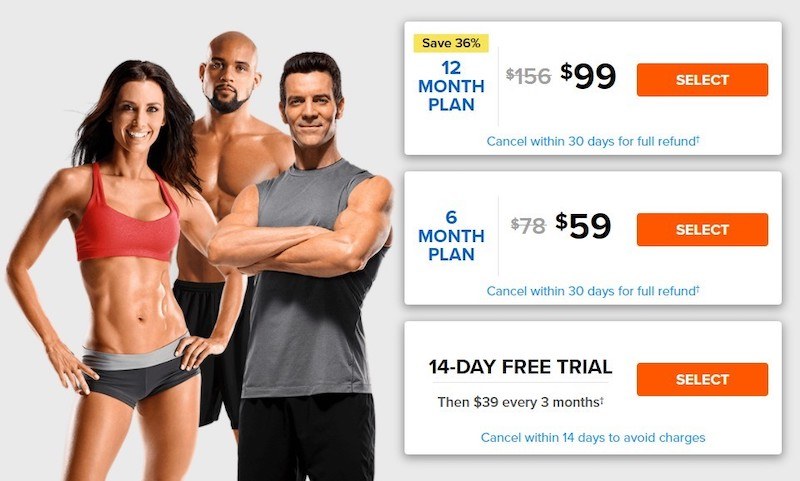 You can read more about that here.
Fitness Programs
Beachbody has an extensive range of workout routines available on their website. Bestsellers include their 80-Day Obsession Accessory bundle, 3 Week Yoga Retreat DVD set (with 21 unique classes), Double Time (partner up with your spouse, child or friend to do workouts together) and many more. 
You can see all the bestsellers here.
Gear
In their gear section, you can find equipment, like bands, balls, weights and jump mats as well as specific gear for their 21-Day Fix, P90X, BodyBeast or TurboJam Programs.  They also offer Nutritional Programs, such as their P90X Nutrition Plan. 
These are all registered trademarks and affiliates are not permitted to use these in their advertising campaigns.
Nutritional Supplements?
Beachbody also stocks an extensive range of nutritional supplements but we were not able to verify whether these were part of the Affiliate program. They only seem to be available in the MLM Program and sold by Beachbody Independent Coaches. 
We cannot find these on the main website, Beachbody.com, they are over at TeamBeachBody which is why we cannot be sure whether they are available to Affiliates.  
Beachbody's Bestseller is Shakeology, a selection of delicious sounding meal replacement shakes that members usually buy on a monthly basis. You can find it here. 
NB: Their Challenge Packs look amazing.
What Commission Do You Get With The Beachbody Affiliate Program?
The commission payout is as follows:
$8 for Club Membership purchases

$9.60 for 50+ actions  *(we were not able to verify what actions are)

$12 for 100+ actions

12% on all other sales
This program offers a 30-day cookie duration.
Can You Make Money With This Affiliate Program?
Yes, it definitely appears so.  Especially as you get to keep your customers and make 12% on everything they purchase once they've joined as members of Beachbody on Demand.
If your customer buys regularly this can give you great longterm income potential and the best part is, it's passive income.
By the way, Independent Beachbody Coaches get a 25% discount on their own personal purchases and can earn 15% to 50% commission on the purchases of their customers. 
So if you fall in love with the product range and you're into MLM, you might want to explore the Coaching program as it presents an even greater opportunity to earn long-term, passive income.  
[You can find a great Beachbody Coach Guide here that covers all the costs to become a Coach, as well the income potential
Who Is This Affiliate Program Best For?
Beachbody only accepts Affiliates based in the USA or Canada