Yesterday I got an email from one of my favourite Pinterest marketing tools (BoardBooster) saying that they will be shutting down its service tomorrow, June 27th, 2018 – yes this shutdown is coming at a very short notice.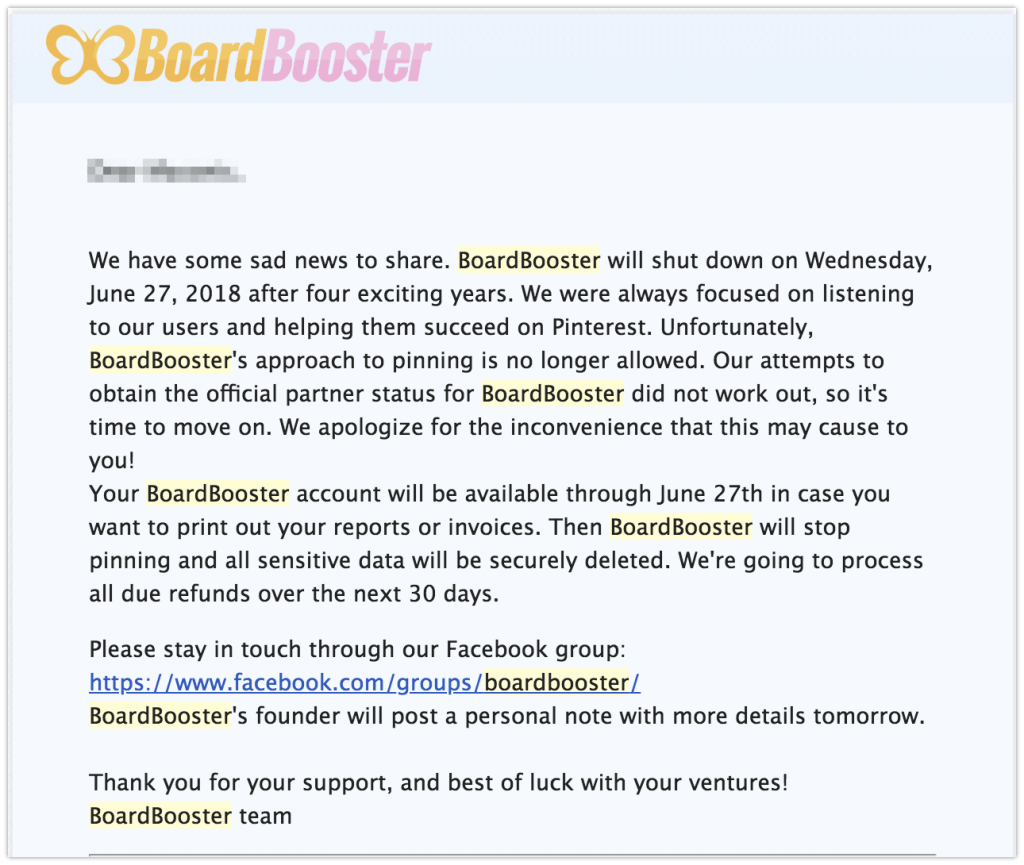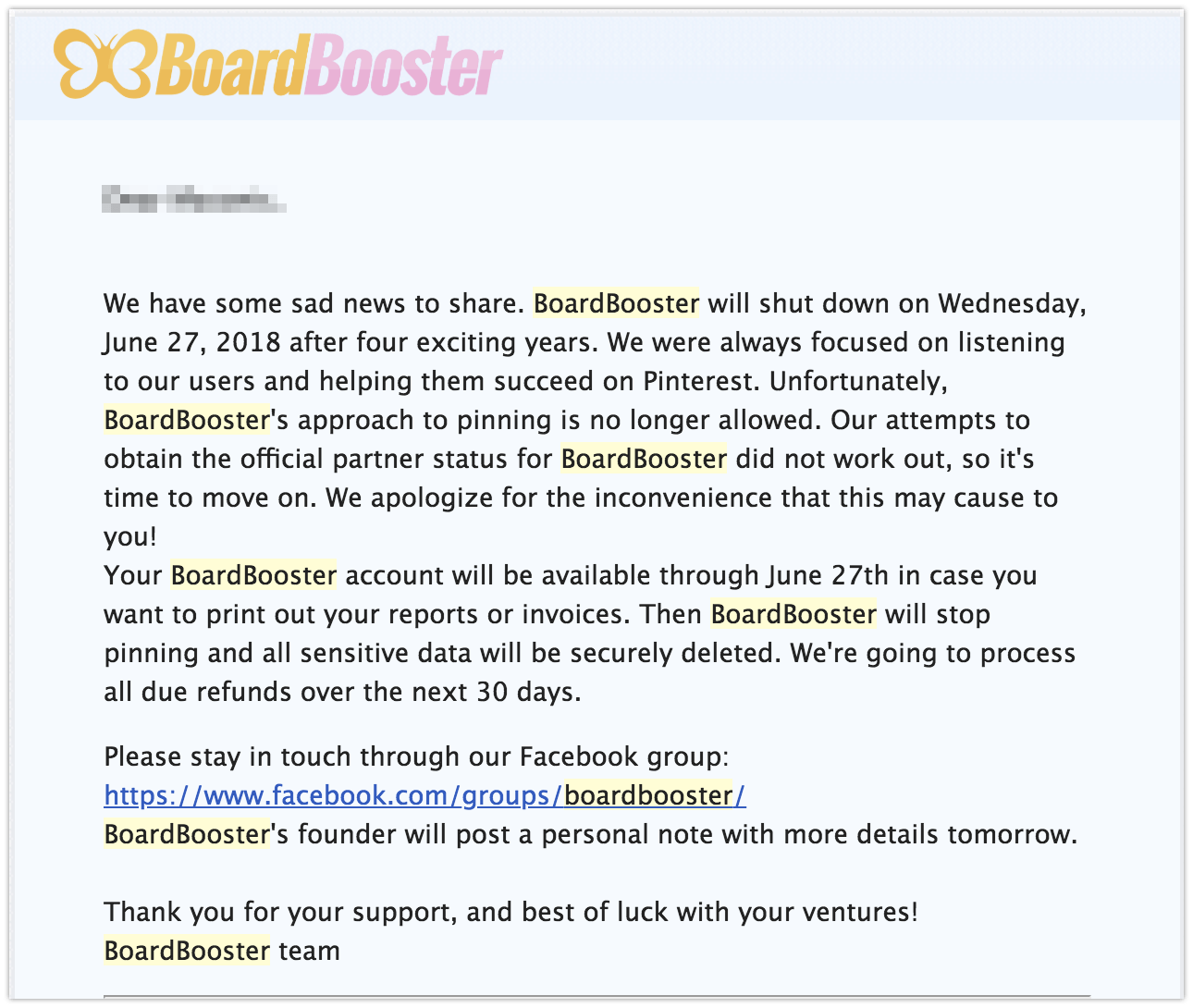 Sadly, a lot of people are going to miss BoardBooster as for some it was the ultimate Pinterest tool. Even I've been using it (with great results) while building up my Pinterest following.
However, as you may already have heard, BoardBooster is shutting down so more than likely, if you are a BoardBooster user, you are going to want to look for some alternatives.
I have been doing some research on this and to my understanding; Tailwind is most probably the best BoardBooster alternative you can join right now.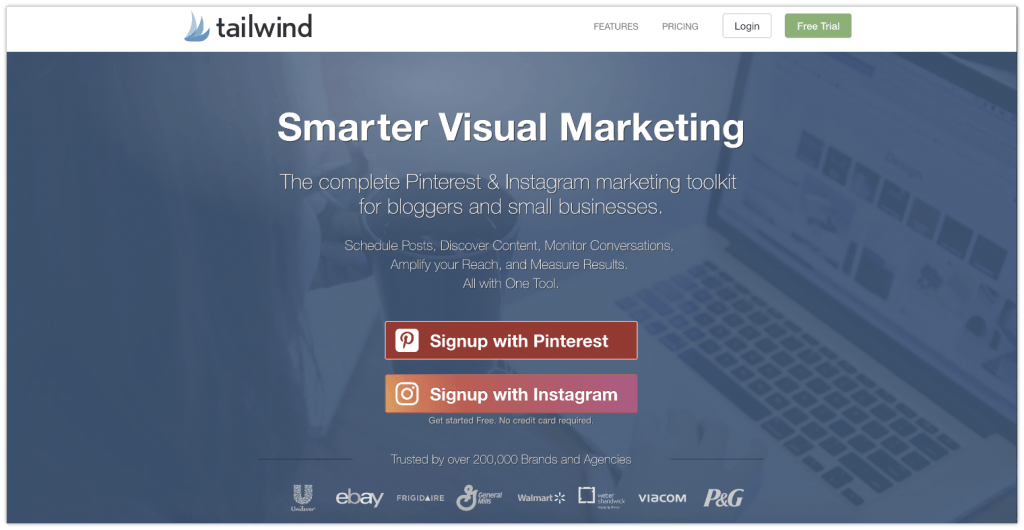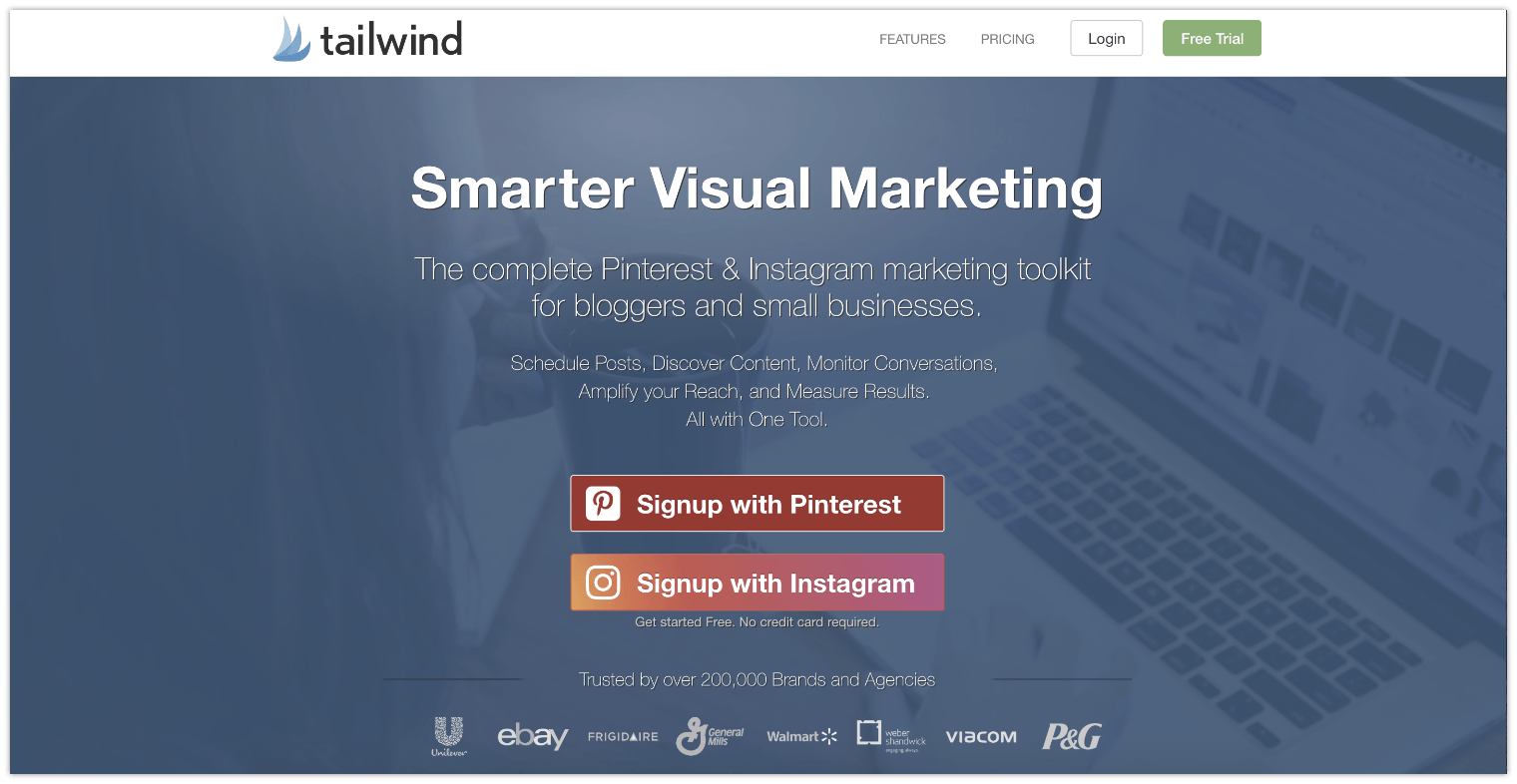 I myself am using the Buffer App as well, but when it comes to Pinterest marketing, I believe that Tailwind is much more capable (and close to where BoardBooster was with regards of features) than any other another tool out there.
Why Is BoardBooster Closing Down?
BoardBooster sent out an email yesterday to all its users and affiliates announcing the news of the shutdown and while they did not go into specifics as to why they are shutting down, the email they sent out (seen above) states:
Unfortunately, BoardBooster's approach to pinning is no longer allowed. Our attempts to obtain the official partner status for BoardBooster did not work out, so it's time to move on.
BoardBooster was very popular with users, so I'm assuming it's not the business model that failed, but in fact, Pinterest is tightening up and cleaning up apps that have access to it.
I believe Pinterest is undergoing a major rebranding and update so this may be one of the changes that we will be seeing very soon.
Will Pinterest Shut Down Tailwind?
This, I am not sure of.
Again, I'm not quite sure as to why Pinterest decided to limit BoardBooster so I really can't tell if this was just a BoardBooster problem or part of a bigger plan to clean up the service and limit access to apps.
It may also be part of the new GDPR / privacy issues we have going on currently in the digital marketing space.
Your Best Bet At Finding a BoardBooster Alternative.
As I shared already, the only 2 Pinterest tools that are similar to BoardBooster are:
While I do not actually believe these two will face the same fate as BoardBooster, I can not say that with full confidence.
Tailwind is also doubling down as a Pinterest marketing tool so that too may be able to continue it's Pinterest services amongst other things – they also offer Instagram scheduling.

Which One Should You Choose? Buffer vs Tailwind
The Buffer app would be my first choice to recommend overall but as I said, Tailwind does offer more features similar to BoardBooster.
If you are looking for an alternative to BaordBooster, then you are going to want to check out both of them.
You can see Tailwind here or you can read this Buffer review on this page.
Pinterest Marketing Growth
Whatever you decide to do and which app to replace your BoardBooster, I ask you not to give up on your Pinterest marketing.
I do believe there's major news coming from Pinterest and this giant (at one time the faster growing social media network) will be making a massive comeback to the social space.
They've just spent $150,000,000 worth of funding on the platform so some new things are coming!
I'm actually excited to see this as Pinterest has been one of my best traffic sources on many of my blogs and niche websites.
Are You Using Pinterest To Promote Your Online Business?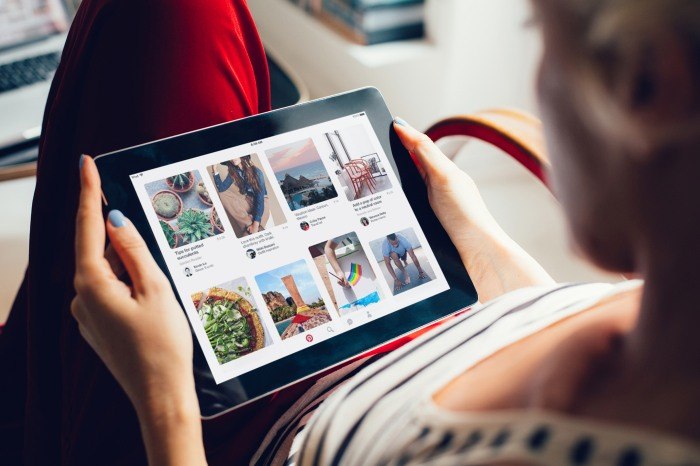 While Pinterest is a fantastic way to get traffic to your website, never ever put all your eggs in one basket.
If you are promoting your business on Pinterest, an update such as the ones we're assuming has been released can quite literally overnight wipe out your business.
I don't know about you, but this is not a risk I am willing to take, especially after working so hard at building it up.
My suggestion to you would be to continue building multiple sources of traffic and income and one of the best ways you can do that, IMO, is by using other social platforms and also, more importantly; SEO.
If you're interested in getting started learning more about the many ways you can get traffic for your blog posts apart from using BoardBooster and Pinterest, then take advantage of this little misfortune and make it the reason to try something new with your business.
I'd like to offer you immediate free access to my #1 rated affiliate marketing training course that will teach you all you need to know about getting traffic and building out your business in a sustainable & profitable way.
If interested, you can get started with a free membership here.
Closing Thoughts On BoardBooster
It's sad to see BoardBooster go, but luckily there are "many" other alternatives that you can choose from.
Again, I would suggest using either Buffer or Tailwind to schedule your pins, but also do not forget to build multiple sources of traffic.
I wish you all the very best and I will continue updating this post with the latest updates on what Pinterest is up to and how it will affect other social media automation tools.
Talk soon.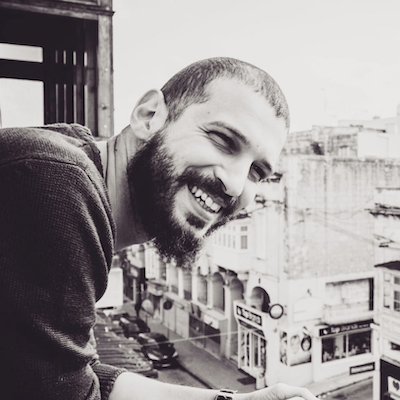 Since 2011, I've been learning how to make money online with affiliate marketing. This website is where I share everything I know and all I will learn along until I reach my next income goal of $30,000 p/month.