When I first looked at the Fiverr affiliate program, I wasn't impressed, but I decided to re-visit it today.
With great pleasure, I will can you that Fiverr has stepped up their game massively and now have a fantastic affiliate program!
In this review, I will try my best to answer any question you may have about Fiverr and how to make money with it as an affiliate.
Here are some of the questions I'll be covering in this review:
What is the Fiverr affiliate program
How it works & how much money can you make as an affiliate
The pros and cons of promoting Fiverr
How to get started with it (if you so desire), and
How to best promote services on Fiverr for best results.
If that sounds interesting, be sure to read the entire review but as always, here's the TLDR version of this review:
Is The Fiverr Affiliate Program Worth Promoting?
Price To Join: $0
Offers Available

Brand Recognition

Affiliate Commissions

Payment Options
Fiver Affiliate Program Review TLDR Summary
An infamous brand loved by many. ✔️
1000s of "Fiverr Gigs" to promote. ✔️
Earn up to $150 commissions. ✔️
Plenty of low-quality gigs & services. ✖️
What Is The Fiverr Affiliate Program?

---
---
The Fiverr affiliate program is the official (newly updated) affiliate program for the Fiverr marketplace.
By becoming an affiliate for Fiverr, you can promote any service (commonly known as Fiverr gigs) and get paid a flat commission for each category.
I will break down the Fiverr commission structures below, but first, let's look at some of the pros and cons that come with partnering up with the Fiverr affiliate program.
3 & 1 Pros & Cons of the Fiverr Affiliate Program

PRO 01: A Generous Commission Structure
Given how the Fiverr brand was built on "$5 tasks", it's great to see they have created an affiliate structure that pays generously well.
Below, I will give you the 3 ways you can promote the Fiverr affiliate program and as you'll soon see, the commissions are pretty generous (yes – earning $150 a sale is possible).
PRO 02: Fiverr Is A "Known Brand" Online
It's always a good idea to promote a product that people already know.
Just like I've said in my Amazon affiliate program review, having a "known brand" and being able to leverage that brand goodwill to build your business is a huge benefit of affiliate marketing in general.
PRO 03: Access to Countless Marketing Material
As a Fiverr affiliate, you also get access to a varied selection of promotional banners and links you can use to make it easier for you to promote the service.
You will find these in the "Marketing Tools" dashboard when logged into your Fiverr affiliate account.
Once you've chosen a banner you like to use, simply click the "Get HTML code" button and copy/paste it onto your website (more on this below).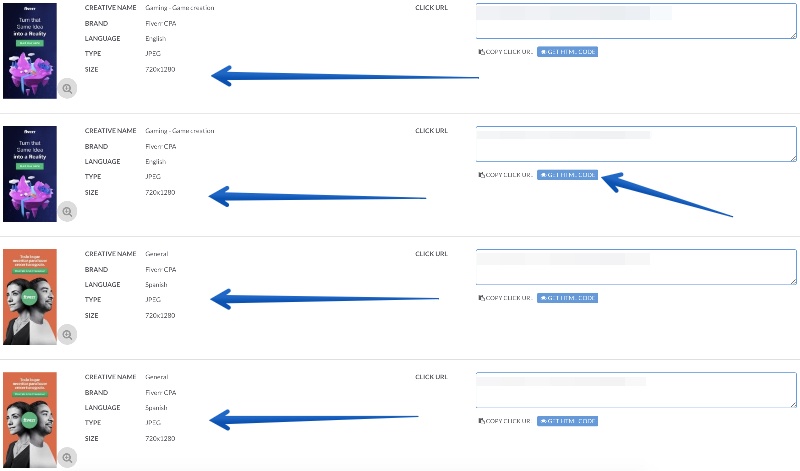 CON 01: No Recurring Commissions
One thing I want to bring up that might upset you is the fact that you only get a commission once for every new customer you sign up to Fiverr.
This means that if you refer a customer, and that customer keeps on buying services from Fiverr, you will not be paid a commission.
This is typical to almost all affiliate programs (except these recurring commission affiliate programs), so it's not a "con", just something you should consider.
3 Ways to Promote Fiverr As An Affiliate
As mentioned above, there are three ways you can promote the Fiverr affiliate program. These are:
Promoting Fiverr Services & Gigs (CPA):
This is the "general" affiliate program where you can promote any and all gigs and services created by Fiverr sellers to your audience.
As you may know already, there are countless categories on Fiverr and you can make money with every category, albeit they come with different commission rates.
You can find the different commission rates listed here, but here's also an image that will give you an idea of how much each category can earn you: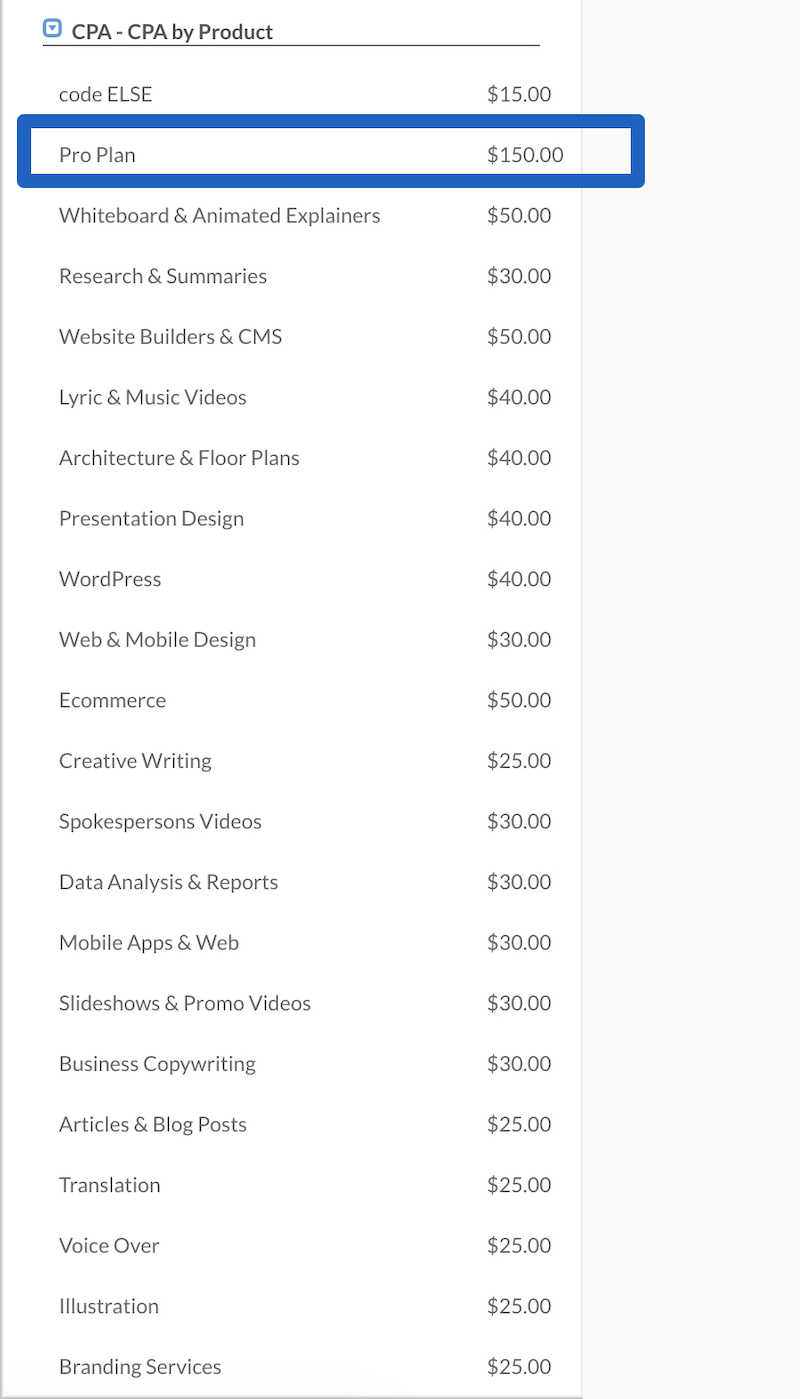 As you can see, the pro-plan will net you that $150 commission per sale many other reviews talk about.
The Fiverr pro-plan gives users access to "work with verified, exceptional talent, hand-vetted for stellar quality and service", which means it connects buyers to the highest-rated (most expensive) sellers on the Fiverr marketplace.
Promoting Fiverr Learn (Rev-Share):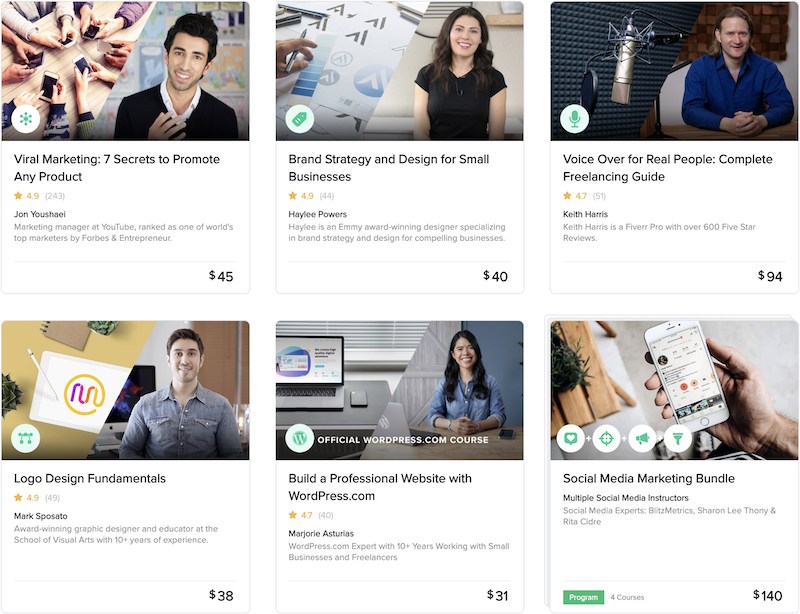 The other option you have is to promote the Fiverr Learn academy which is Fiverr's own "freelancer school" that teaches people and freelancers different skills to succeed online.
As an affiliate for Fiverr Learn, you can earn a 30% commission on any course fee that a customer buys via your affiliate link.
Promoting The Affiliate Program To Affiliates (10% Commissions):
Last but not least, you also have the option to refer other affiliate marketers to the affiliate program.
This will net you 10% of the earnings the affiliate you refer earns on the platform. For example:
If I refer an affiliate who sells a $100 course from the Fiverr Learn academy, the affiliate earns $30 and I will earn an additional $3 (which will come from Fiverr and not from the affiliate).
This + the two other ways you can earn affiliate commissions gives us a huge opportunity to make money promoting Fiverr.com to our readers.
Who Can Join The Fiverr Affiliate Program?
At the time of writing (and as far as I know), there are no limitations on who can join the Fiverr affiliate program.
Obviously, you need to be of adult age and have access to a bank account (or maybe even a PayPal account).
If you have all the above, then you too can become a Fiverr affiliate.
How To Get Started As Fiverr Affiliate?
Ready to start making $150 a sale with Fiverr?
Here's how to get started.
Step 01: Visit The Fiverr Affiliate Website
The first step is to visit the Fiverr affiliate program landing page, which you can do so with this link (yes, that's an affiliate link).
Step 02: Fill Out Your Details
Once you're on that page, either click the "Join Now" button or, the more conveniently placed "Start Earning Now" button.
This will open up a series of "account creation" steps which you need to do: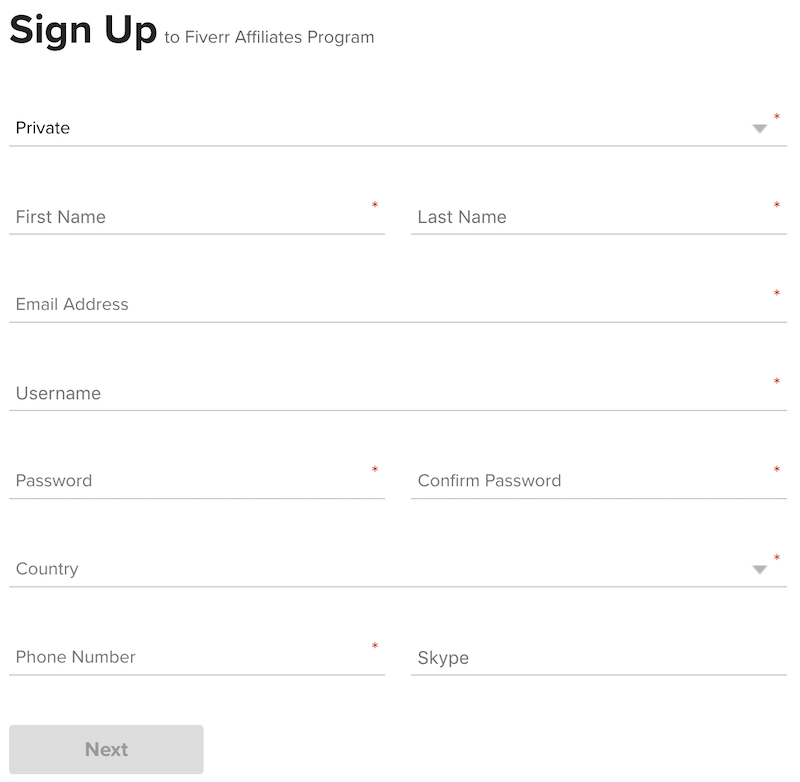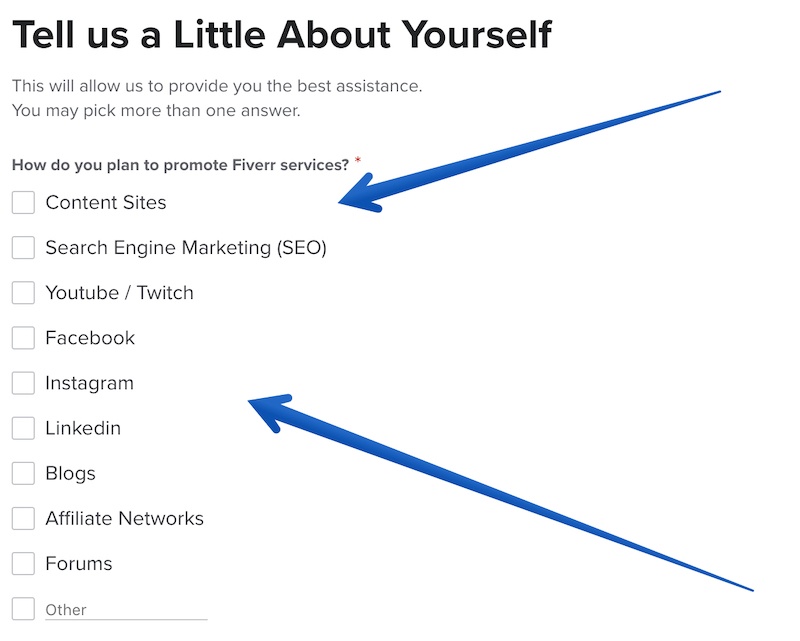 Step 03: Visit The "Marketing Tools" Dashboard
Once you have registered, you can start promoting Fiverr.com.
To find your affiliate links, and your banner ads, you need to go to the "Marketing Tools" page.
For banners, click the "All Marketing Tools" button.
For links, click the "Default & Deep Links" button.

Step 04: Add Your Affiliate Links To Your Website(s)
Last but not least, you need to start earning, which means – it's time to start sharing your affiliate links.
If you're brand new to affiliate marketing, the next section of this review is going to be an invitation to learn how to do affiliate marketing from scratch, but if you're wondering how to use an affiliate link, you can see my "getting started with affiliate links" guide.
You can also check some of my previous affiliate marketing guides here:
Is The Fiverr Affiliate Program Worth Promoting?
With the possibility of a $150 commission in commissions for every sale you send to Fiverr, I would say;
YES – the Fiverr affiliate program is as legit as they get & you should check it out!
Go ahead and create your Fiverr affiliate account here >>
---

---
How To Become A
Successful

Fiverr Affiliate (Free Training Course)

If you're looking for ways to help you get started with affiliate marketing, first understand what you're getting yourself into.

Even though "affiliate marketing is easy" in theory, it can get pretty confusing pretty quickly if you do not know what you are doing, which is also why 96% of affiliates fail before they ever make their first $1 online.

I struggled for years when starting out and I had all but given up on my hopes of making a full-time income with affiliate marketing until I discovered the Wealthy Affiliate training course.

Wealthy Affiliate (which you can see an in-depth review here) is an online university for aspiring and seasoned affiliate marketers alike.

It starts you off from the very basics of understanding how to make money online and goes all the way to how to create, build and maintain your very own affiliate marketing business.