One of the first thing you are going to want to really master when it comes to content marketing/affiliate marking is how to find low competition keywords you can rank for (for free).
Now I say "for free" because there are many PAID tools that can help you find keywords but believe it or not, most of the ones I've tried cannot find you the proper low-competition ones that very few websites are targetting.
The methods I am about to share with you are all free, while I would definitely suggest getting a premium keyword tool when the time is right, if you are getting started, then there's no need for it now.
What I am trying to say that having a premium keyword tool when you are starting off cannot and will not guarantee success with SEO.
However, knowing how to find low competition keywords will, and this is where you need to start in order to start building a great stream of free, passive organic traffic.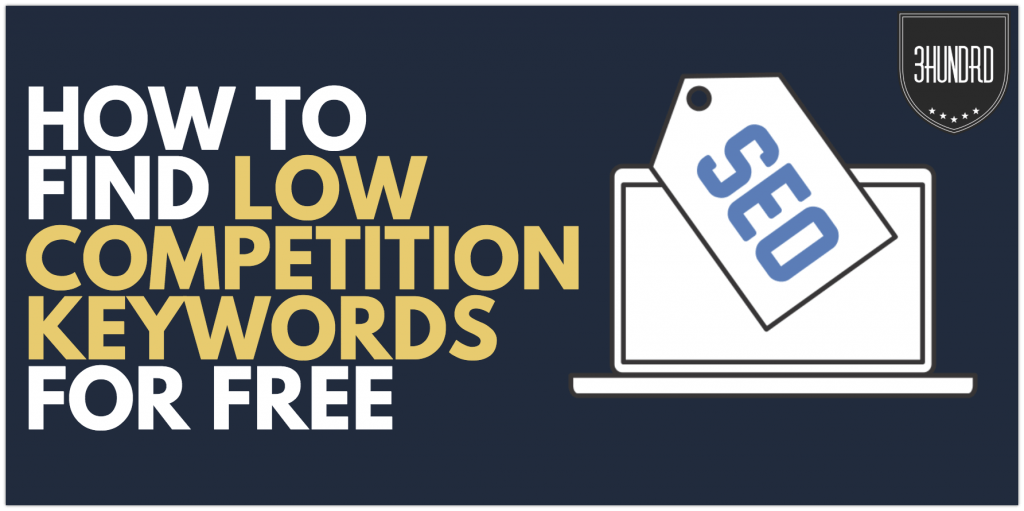 What Are Low Competition Keywords?
Low competition keywords are the phrases people type into search engines in order to find what they are looking for.
However, not all keywords are "created" equally. You will find a lot of keywords that have a lot of traffic and a lot of competition. You can also find keywords with low competition, but low traffic, which makes it absolutely useless and not worth your time.
What you need to learn how to do is find low competition keywords that ALSO, get some traffic.
I say "some" because any keyword that gets a lot of traffic is probably super-competitive, however, there is a middle ground between these type of keywords and keywords that are not worth your time.
I call them, the "Question Keywords".
These typically tend to be a bit longer than traditional keywords, but since there's a lot of content, people usually dig a little bit deeper to find EXACTLY what they are looking for.
In fact, this theory has also been confirmed by Google. More and more people are starting to look for long-tail keywords as opposed to generic keywords as to save time, and obviously get what they are looking for.
What's The Difference Between A 'Normal" Keyword and a Long-Tail Keyword?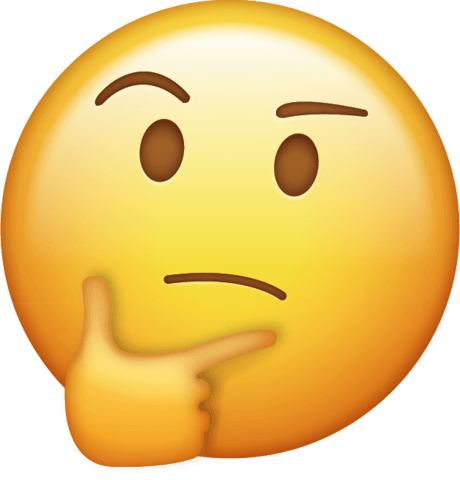 I'll give you an example…
How to make money is a keyword
How to make money online is a generic keyword
How to make money online with a disability, now you are getting to something specific.
As you can imagine, creating a piece of content (or an entire website) around the latter keyword will help you rank better as I can 100% guarantee that there would not be as much competition as "how to make money".
This is because you went super specific and also likely talked about ways that affect the target audience, in this case; people with a disability.
How Do You Find Low Competition Keywords?
When I first started out, I went after the big massive keywords. sadly for me, in the "online marketing" space, you are literally competing against the experts in the industry, so needless to say, they never amounted to much.
It was only after I started looking for low competition keywords, and really making an effort to cover a specific topic in detail that I started seeing some positive returns on my months and months of effort.
Down below, I will give you a bit of a content plan on how to structure your content schedule to get the best of both worlds, but for now, since it's the scope of this article, let me show you how to find low competition keywords (for free).
Enter…
AnswerThePublic.com
Believe it or not, even as a doing-alright affiliate marketer, I still use this free keyword tool over any premium paid tool any day of the week.
Paid keyword tools have their purpose in the SEO game, but none of them can give you a kick-start in SEO than my all time favourite, AnswerThePublic.com
This website creates a list of questions of what are people asking for in a specific subject or industry.
It also has a very cool website interface and user experience, just to give you an idea of what to expect when you visit the AnswerThePublic home page, here is an example from the industry "drop shipping".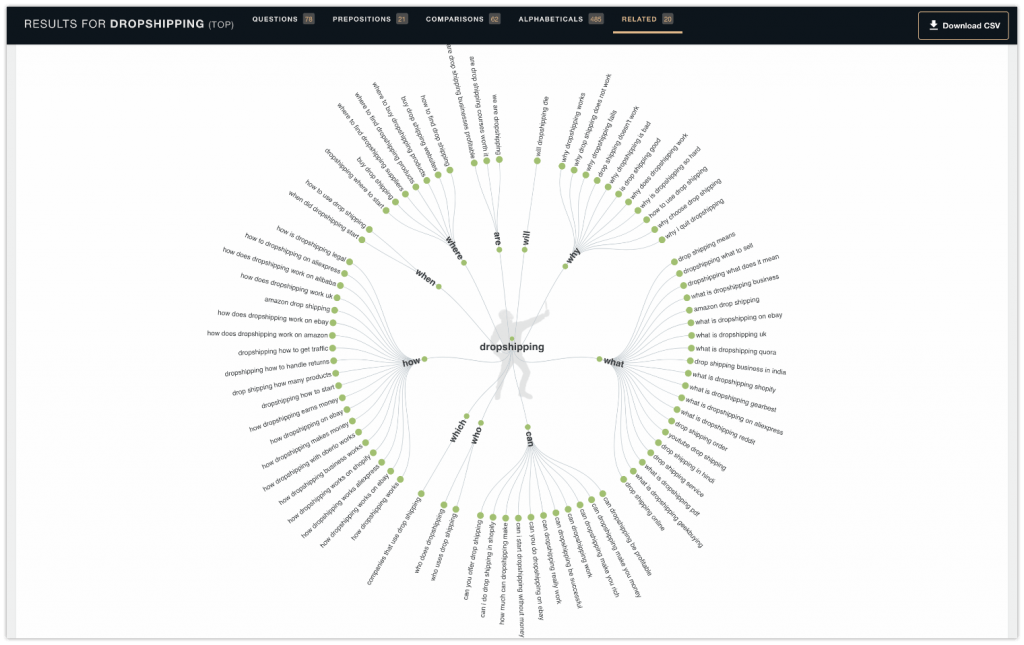 As you can see above, or better if you visit answer the public and try it for yourself, is a circle graph of what people are interested in knowing about this topic.
They are divided into many different categories such as the "How-tos, What, Can, Who, etc…"
All of these questions is the golden nugget for you and my suggestion would be for you to spend some time reading through the questions and make a list of posts you want to write an answer to those questions.
Where Are The Numbers Though?
There are no numbers. Since it's a free tool, you can not see how many search traffic those keywords get and how competitive they are like you do with a premium keyword tool.
That is ok, believe me when I say there is no correct answer as to how much traffic a keyword is likely to get. I tried many tools and they all give different answers for the same keywords.
So how do you know they are "low competition keywords"?
Because they are, trust me on that. I can't prove it of course because I don't have numbers but those keywords you find on there are all keywords which I would consider as "low competition".
Not to say there is no competition either.
There may be hundreds and even thousands of pages competition for those terms, but it won't matter as I am about to show you how to write the best possible content for low-competition keywords that will more than likely guarantee that you get at the very least, a first-page ranking.
How To Write Content For Low Competition Keywords
Now, just because they are considered low competition keywords, that does not mean that you should not take the time to really make those posts as awesome as they can be.
I know many who have adopted the mentality that since it's low competition, might as well do a quick short article and it will rank.
That is wrong and that is why YOU DO NOT have the rankings you want.
The method I just showed you will work, 100% of the time, but you have to make sure you write your content as though you are trying to rank for an "important keyword".
Here's how you do that…
The video above is by Income School YouTube channel, 2 awesome guys that share their methods to building affiliate niche websites.
While I would suggest you view all of their videos to get a no-BS approach to affiliate marketing and keywords, I really think you should watch the above video to fully understand how to structure an article that is destined to rank.
I would break it down here for you but since such an amazing explanation, already exists, why try to top it. Plus I'm sure you prefer watching a video than reading right?
The Content Plan To Get A Mix Of Everything
As explained at the beginning of this article, you also need to have a plan to target high-competition, high-traffic keywords.
You do not want to completely disregard them as they are also important to create a steady and numerous flow of visitors, but how do you go about competing for such keywords and outrank the big boys?
You start off by doing posts answering "question" keywords like I said in the article above.
Those type of posts would give you a boost in rankings and some page 1 positions, even if you are a completely new website.
Obviously, use the recommended format explained in the video above, and give it some time.
Within a few months, you are going to have quite a pretty good rank, and that is when you want to start targetting those massive, big keywords.
How Do You Target High Competition Keywords?
This is the hard part of SEO, but it's doable. I once managed to rank for Amazon on Google for a brief while so trust me when I say, you can rank for massive keywords if you follow this structure:
The high competition keywords are not just a blog, they are an "ultimate guide", an in-depth massive page of content that covers a subject from A to Z, we're talking 3000 words pages here.
For a good example of what high authority content looks like, look at any of Backlinko's articles. That guy knows how to rank!
When you publish these "amazing" pieces of content + you are backed by a lot of smaller posts that are ranking well, you are going to start seeing your website appear for some quite heavy-hitting keywords.
This will obviously happen in time, I'm talking 6 months minimum up to a year (even two) so do not expect to be ranking anytime soon for these competitive keywords.
Where (Else) You Can Find Low Competition Keywords For Free
Another great place to find such keywords (and for free as well), is by using Google's Autosuggest feature, which you can see here:


These methods will likely produce more keywords than AnswerThePublic, but AnswerThePublic will give you the best keywords of all those questions in Google (that's where it gets its data from anyhow).
Premium Keyword Tool With Free Features?
If you want to have a go with a paid keyword tool, then try out Jaaxy. This tool is a paid tool but you can get your first 25 keywords researched for free.
No need to add credit card either.
In Closing
I hope this guide has been helpful to you and I really hope you understand the importance of finding low competition keywords.
As a gentle reminder before I go, I would urge you not to go after the bigger keywords before you have a solid foot in the door with the "Question Keywords".
Use AnswerThePublic as often as you need new keywords and don't be afraid to try out new things when looking for keyword ideas, you'd be surprised the keywords it can give you when stretched to its full capabilities.
If you have any questions about SEO, affiliate marketing, keyword research or any other thing, be sure join me on the private training course.
There is where you will be given an in-depth guide and a proven roadmap to affiliate marketing success (see below).
I wish you all the page #1 rankings you desire, over and out.
3HUNDRD