Yesterday, I published a guide showing you how to start (and make money) with a sports blog.
One of the best ways I know how to monetize a sports blog (through my experience working with betting companies) is through sports betting and yes;
If you know what you are doing;
You can make A LOT of money as an affiliate with online sportsbooks and online betting companies.
Today, I want to show you how to build a money-making sports betting website but I have to start this off with something very important;
These sports betting niche is brutally competitive, it has a lot of "regulations" tied to it and unless you can bring something genuinely "new" to the marketplace;
Your chances of success are slim (or none at all).
However, if you do it right; the sky is the limit as to how much money you can make with a betting website.
NB:
This guide is for affiliate marketers who want to get into the online sports betting niche. This will
not
be a guide about how to bet on sports or how to start your own (online) casino.
If that sounds good to you, let's get started…
My Experience Running Sports Betting Websites
Unfortunately, I can not share with you the URLs for the websites I used to manage as this was back in my agency days (before I quit my job to focus on my own affiliate business) and I'm not in the liberty to share them with you.
However, I can tell you I've seen first hand all the ins and out, the easy wins, the challenges and the headaches that come with running a sports website.
Before I get into how to actually get started, let me first address these 3 things mentioned above as they are super important for you to know before you get started.
The Easy Wins:
One major pro for sports betting website is how much money you can make quickly if you manage to sign up a few "big players" to the sportsbook you are affiliated with.
Most of the sports betting affiliate programs (& I have a list of these down below) give you a lifetime commission on every player you refer and you will be getting paid on every loss they have.
It should also be noted that if the player wins, your percentage of the "wins" will also be deducted from your final payout.
However, as well know; the house always wins.
Given enough time, you will be able to make a profit and if you can sign up a few big pocket players, in the long run, you will be seeing a lot of compounded commissions (usually in the 5-figure range) piling up in your account.
The Challenges:
One of the biggest challenges I faced as head of SEO and head of affiliates running these websites, is the fact that you are in direct competition with the online sportsbooks themselves, and they have much bigger budgets to acquire customers than you ever will.
Online gambling is massive. According to Bloomberg.com, the online gambling market is worth over $100 billion and with only a few "really big players" at the top, you can rest assured your main competitors will always be the ones that can out-spend you.
They even have special licenses to use paid marketing (something that's very hard for you to get as a beginner) and I have a friend who is a media buyer at an online casino and he tells me spending $100 a click is the common starting point in the gambling niche.
However, I do not want to make it sounds like it's a lost cause.
As I said, I did manage to make most of the sports betting websites under my control profitable and I've seen first hand how quickly commissions can come in when I managed to rank for "McGregor vs Mayweather" fight bringing in 5 figure commissions in a single night.
The Headaches (of Gambling Regulation):
There's also a lot of regulations in the (sports) betting niche and even Google (which you need for traffic) keeps a tight grip on the websites they want to rank in the Google search results.
You can see why sports betting SEO is an absolute nightmare on this page >>
One small, yet still-worth-knowing issue is that you need to have links to "gambling addiction" organizations on every page (usually in the footer) and, as I said above;
You will need a special license to be able to use paid ads for your business (not to mention tremendously deep pockets).
Also, the US is still in limbo regarding online gambling, which I think is something you should note if you're in the US targetting US punters.
With all these headaches, I still think promoting online sports betting companies as an affiliate is a good niche for those who genuinely have something to offer, so with that said, let me now share with you…
How To Start A Sports Betting Website
---
---
Starting a sports betting website is just like starting any other website (the challenges mentioned above comes after).
If you're still reading, I'm going to assume you still want to figure out how to make this a successful venture so let's get started from the beginning and explain each and every step.
Pick Your Niche & Angle:
One thing about the sports betting niche is that there are plenty of different types of sports you can focus on.
Bet365 has 30+ sports betting markets, and you can build a website about any of the ones listed there.
NB: As I said, the sports betting niche is super competitive so the more "focused" you keep it, the better. My suggestion would be to pick one sport and just focus on that (as opposed to covering multiple sports categories).
In my previous article regarding how to start a sports blog, I featured 5 great sports-themed blogs and one of them does this perfectly around Tennis. You may want to check that out to see how a "focused niche" can be done right.
Pick & Register A Domain Name:
Next up, is to register a domain.
Although it doesn't make much difference what you decide your blog name (domain) to be;
My suggestion would be to find something that is directly related to what you're offering. For example:
TennisMatchBetting.com
MMAFightBetting.com
HorseRacingBettingTips.com
These are just domains I've come up with at the top of my head and I'm not sure if they're available or not but this should hopefully give you an idea of what to look for.
Again, you do not need to have a "keyword-rich domain", but if I were to get into the sports betting niche again, that is what I'd look for.
Once you have a domain (and it's free to use i.e not taken) head on over to BlueHost and register it there.
The reason I tell you to go with BlueHost is that you will get the domain for free. You would just need to buy the hosting fee, which starts from just $2.95 per month.
You also get one-click WordPress installations which is what you will be building your website on so this makes sure you're set up in as little as time as possible.
This whole step should last you just about 5 minutes to go from registering a domain, to having your very own sports betting website up and running.
But we're not done yet.
Pick A Sports-Betting Theme:

Next up, you want to choose a sports betting theme for your WordPress website.
You do not have to do this, but I would advise you to get something that is built specifically for the sports betting market as you really want to make sure you put your best foot forward with regard to how your website looks.
This can significantly increase your click-through rates from your website to your chosen affiliate sportsbook/casino.
ThemeForest offers plenty of these sites ready for you to buy, download and install so take a look at that, pick the one you like and spend a few minutes setting it up on your website.
Start Publishing:
Once you have everything set up, your next task is to start publishing content.
Depending on what sports niche you choose, you can create a variety of different how-to guides, news updates, betting guides and tips, information about the sports, etc…
GreatContent.com has a great guide on why content is key for sports betting websites and they share with you a few ways you can structure your content in the sports betting world.
How To Get Traffic To Your Sports Betting Affiliate Website
The goal of publishing content is to start getting traffic to your website, which you can then hopefully convert into customers for online sportsbooks (and you get paid commissions).
There are many ways you can drive traffic to a gambling-related website, but I'm going to share with you the two methods I've used with great success.
These are…
SEO (Search Engine Optimisation):
SEO is key, and it's by far the best traffic source you can get for your sports betting website.
You do this, by first understanding a few SEO basics which you can use in your content to help it rank in Google (and other search engines).
We've already hinted that sports betting SEO can be a challenge, but it's not impossible either.
I have an in-depth SEO course for you here if you want to learn how I managed to rank my previous sports betting websites but if you want the basics to get you going, my suggestion would be to check out all of Backlinko's SEO guides here.
Email Marketing:
Once you have the traffic coming in, start building an email list!
This will help you reach out to your customers without having to worry about regulations or Google algorithm bans.
One tip I can give you here is that as an affiliate, sportsbooks usually allow you to offer '$100 worth of free bets" to your customers to entice them to join their platform.
Instead, use that as a bait to get them on your email list and when they subscribe, send them a link through an automated sequence for them to claim the $100 in free bets.
It's very rare for someone to refuse such a deal, and since they've already gone through the hassle of signing up, most likely they will use the $100 in free bets (thus getting yourself a new sign up and hopefully; they will stay on betting after the $100 is gone).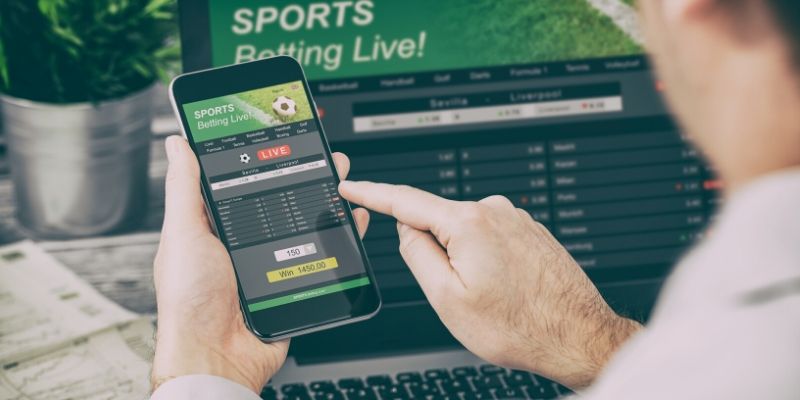 How To Make Money With A Sports Betting Website (As An Affiliate)
Last but not least, I also want to share with you a few sportsbooks with great affiliate programs (which is how you will be making money).
For those who are new to this, affiliate marketing is the business model where you get paid a commission and in this case (as was previously established) you will be getting paid from the funds a player loses.
NB: It may seem unethical that you will be making from someone's losses, but that's the nature of gambling. Personally, I never had any qualms about this as that is just how the entire gambling industry works. For every winner, there is a loser. If you don't find this "moral", a sports-betting website may not be for you.
CasinoAffiliatePrograms.com offers an exhaustive list of sportsbook affiliate programs you can sign up to as an affiliate and they also have a few guides on how to run a sports betting website for maximum success.
Be sure to check that out when you can, but first…
Learn How To Get Started With Affiliate Marketing With This Free Training Course
There you have it;
My tell-all guide revealing all I know about how to make money with a sports betting website (as an affiliate).
If you think you have what it takes to make this a success, then, by all means, go for it as it is a huge niche with plenty of profit potential but again;
Just know you are entering an arena with massive competitors with even bigger budgets willing to annihilate any effort you try to put in to get a foot in the door.
One thing I would also like to add here is that;
If you're still brand new to affiliate marketing, this may not be a niche for you as this is a "niche for the pros" if you know what I mean.
However; I do have a fantastic training course for you right here which you can join today (for free, no credit card required) and it will teach you all you need to know about how to get started with affiliate marketing.
I'd also recommend you join my email list which is where I send out updates on all that I'm doing to be able to make a full-time income with affiliate marketing.
if you'd like to see what it is that I do (& how I do it) this newsletter will be the best place for you to learn.
I'll leave you to it.