Welcome to my brand new blog-series; the "Profitable Niche Site Case-Study".
As you may know, I am a huge fan of affiliate marketing and an even bigger fan of building very-focused small niche sites.
Last year, an old (forgotten) niche site I had built as an SEO experiment in my "agency days" suddenly shot up in rankings and – out of nowhere – started pulling in $400-ish a month through AdSense and the Amazon Associates Program.
Hmm…
Now I know $400 is not something to get excited about and you are right; it's not a life-changing sum of money, but it is kind of a big deal when you consider that this "small" website:
Only had 19 posts published on it.
It only took me just a few hours to set up.
It kept growing organically without any input for me.
With some TLC, it can now continue earning me $400+ a month commissions "forever".
This particular site (which is the same site I reference in my SEO course, Affiliate SEO Mastery) maybe cost me a total of $300 to set up (and that's only because I hired content writers) and now it makes $400 a month-ish passively.
That's a pretty sweet deal if you ask me.
So where am I going with this and;
What is the "Profitable Niche Site" Case Study?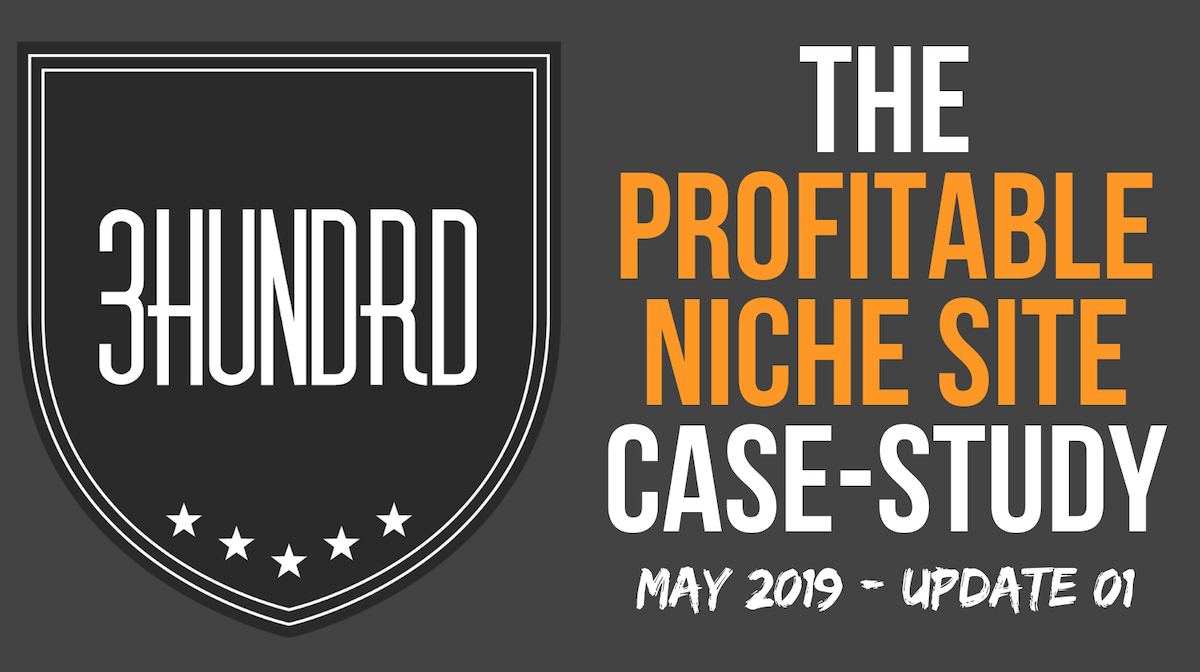 ---
---
Going off how that small experimental website has suddenly become such a good earner, I have decided this year to step up my niche-site game and go create multiple niche sites and see how they perform.
Quick Sidenote: If you are a beginner in affiliate marketing, do not try this at home.
Managing and growing multiple sites at once can be tricky so if you are just starting out; only focus on one website, there's no need to create a whole portfolio of sites. I just do this so I can learn and experiment with different strategies.
My plan for this case study is to create 10 new niche sites this year, and two of them are already up and running (which is what this first update of the "Profitable Niche Site" case study will be all about).
Before I tell you how my new 2 websites performed in their first month, let me just tell you what I am trying to achieve with this experiment:
I'm Testing Out Strategies:
I like experimenting with stuff, and yes; one of the main reasons why I want to do this case study is so that I can experiment with as many different niches and ideas as I possibly can.
One thing you should know is that I will also be contradicting my own advice with some sites.
For example; I'm not the biggest fan of buying backlinks for SEO, but I will have sites where I will be buying backlinks, just to see how it plays out.
Of course, I will share with you all my updates and ah-ha moments through my email newsletter and every month on these "Profitable Niche Site Case Study" updates.
I'm Testing Out Niches:
Being in the make-money-online business is not only brutally competitive; but also pretty damn boring.
I always like to have a few side projects on the side and having this case study to run is a way for me to just have some fun with different niches.
I'm Just Having Fun:
At the end of it all, I just want to have fun building out these websites, which is something I love to do.
As crazy as it sounds, I get more excited seeing a website make its first $10 than I am when a site makes $5000.
If I can have fun, make some money and help teach you a few golden tips along the way, I'm good.
What Am I Trying To Achieve With These Niche Sites?
Traffic:
Of course, my aim starting out is to build up traffic and I will be doing this with a variety of methods.
So far, I have been using SEO and Pinterest for the first two, but I will expand to other platforms as well to "test out the waters".
True Passive Income:
The ultimate goal, of course, would be to make money with these sites.
My first target for each new site is to get it to the $500 per month mark.
This means that eventually, I will have 10 websites earning $500 each, i.e;
$5,000 a month of pure passive income.
It's hard to tell when this will happen (or if it will happen at all) but once it does; I will then look to increase income on each site.
Flip Them At A Later Date:
One thing I also have to mention here is that these sites are not passion-projects.
This site is a passion project (3HUNDRD.com) and I can't imagine myself selling it; but the sites I will be building for this case study will probably be sold off sometime in the future (3-5 years).
Why?
Just to give you an idea about flipping websites, if a site earns $500 a month, a very-conservative 20X multiple can be applied making each site worth around $10,000 (or $100,000 for all sites in this experiment).
How Will I Be Building These Niche-Sites?
To build out these sites, I will be following my own 3-step method outlined in my course: Affiliate SEO Mastery.
I won't go into much detail about what's in the course here, but the first goal is to get the sites to 30 well-optimized, high-quality blog posts.
Once a site gets to 30 blog posts, my job is done and I will not be touching it until I get enough data to be able to make a decision.
I'm sure some sites would be a waste of time and if that's the case; I'll either abandon the site altogether (but not close it down) or try to sell it.
On the other hand, if I see that a site is performing well, I'll most likely be investing more time, money and energy into it.
Now I have to stress that apart from the first website (which I will tell you about below) these are not "authority websites", these are "niche websites".
I don't plan on building them up to be industry giants, the goal here is to keep them "focused" and earning a steady income.
The Profitable Niche Site Case Study – Update #1
Note: I will not be revealing the sites just yet. As they grow in traffic, I will be revealing them but for now; any traffic that comes from here would screw up the "real" traffic the sites are getting.
Niche Site 01: STSP (Name & URL TBA)

(STSP is the acronym for the name of the website).
This site is in the adult entertainment niche. After some thorough research, I have identified a few sub-niches that I am sure that with some good SEO, I should be able to rank for some pretty good (& profitable) keywords.
The products I will be reviewing and promoting on this site are either high-ticket items or recurring commissions so I am sure this website has the potential to be earning at least $1,000 a month if everything goes to plan and I keep beefing it up with content.
So far, I have also managed to secure 2 backlinks for this website which will hopefully speed up the "Google sandbox" period.
Here Are STSP's 1st Month – May 2019
Posts Published This Month: 15
Posts Published In Total: 15
Total Words Published: 24,042 words
Current Average Word Count Per Post: 1591 words each post
Traffic: 268 page views // 200 sessions // 86.5% Bounce Rate
Plan for June 2019:
In month 2 (June 2019) I will be keeping an eye out for posts which are performing well and see what other similar content I can publish.
I will also publish the 15 remaining articles, thus bringing the total count to 30 blog posts and that would be all.
Once that has been achieved, I will walk away and let the site "do its thing" in the search engines.
Niche Site 02: TSCC (Name & URL TBA)

Now TSCC (also an acronym) is a site which I will take a slightly different approach with.
This website is in the beauty niche and is being run & managed by my first ever full-time employee, my girlfriend.
She's not only a certified beautician but also exceptionally knowledgable and passionate about this so I decided to give her her own website/project to work on since "passion projects" tend to always work better.
This site will not operate as a "small niche site" (although it will in the beginning).
Putting aside all that I said above;
Yes, my goal is to make this an "authoritative site".
In the future; the ultimate plan is to create our own courses and ebooks which I would then be able to sell on the website.
One thing I am also doing with this website is that I'll be putting in a lot of effort and focus on Pinterest marketing.
I believe this niche can do great on the platform and it's an easy way to start getting traffic.
Here Are TSCC's 1st Month – May 2019
Posts Published This Month: 25
Posts Published In Total: 25
Total Words Published: 27196
Current Average Word Count Per Post: 1088
Traffic: 249 page views // 133 sessions // 48.87% Bounce Rate
Plan for June 2019:
For the second month, my goal is to get 15 new blog posts out so that I can round it out to 40 posts.
I also plan on doing a few outreach emails to get some quality foundational backlinks to the site; the goal I am setting for this would be 5 new backlinks.
Apart from that, I really wanted to do some more SEO with this site as I have been "hands off" for the most part thus far.
I also want to get Pinterest up and running properly which I am sure will be a huge source of traffic and email subscribers!
The End
That's all for this month.
I really hope you enjoy this case study and I look forward to sharing with you all the wins and failures as I continue to grow the above 2 sites and (+ the 8 more I have in the works).
I might add 2 more sites to the rotation this month (June) but I am still not sure about that.
If you'd like to get updated whenever I publish a new case study, be sure to sign up in this page here and if you'd like to follow along by building your own niche site, you can jump on this free training course here.