I'm going to start this Tailwind app review by telling you one of the biggest blunders of my "blogging career".
I have been using Pinterest to get traffic for well over 6 years now, and thanks to Pinterest's viral traffic, I also managed to make quite the sum of money simply by Pinning my content to the platform.
Ever since I've been on Pinterest, I kept hearing about this app called "Tailwind" but for some strange reason (maybe because I was being served well by BoardBooster & Buffer), I've never decided to try it out – until a few months ago.
While I was sure the praise of Tailwind was justified, I never really bothered to check it out – that is now what I consider to be one of the worst Pinterest mistakes I've ever made.
In this Tailwind app review, I will tell you:
WHY I think you should not dare repeat my mistake &
WHY it's MUST for you to start using Tailwind today!
I will also explain:
What the Tailwind app is about
How to use it to skyrocket your Pinterest traffic
How to get started with it
How to use it for the best results
A few things which I think you should know (critical stuff) and;
How to join (without wasting another second).
If you're new to Pinterest and/or you've just heard about the Tailwind app (or like me, you never really bothered with it), listen up!
This guide/review will give you everything you need to know to become a top-level Pinterest influencer (using Tailwind).
Let's get started…
What Is Tailwind?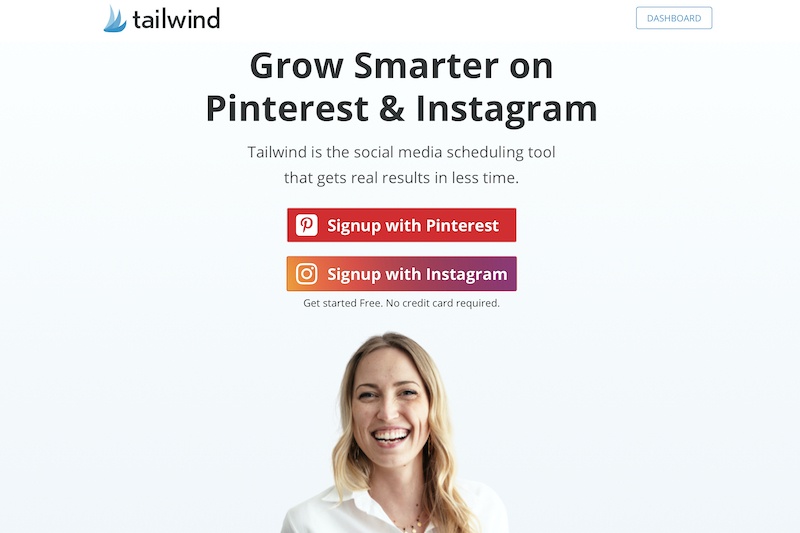 The Tailwind app is an online tool that allows you to schedule (and automate) almost everything you need to do to manage and grow your *Pinterest account.
*It also has some basic features to schedule on Instagram but since I only use Tailwind for Pinterest (as do many others) I will only be focusing on Tailwind for Pinterest in this blog.
Of course, this is for those who want to use Pinterest to get traffic for their blog – the features it offers are for professionals, so if you just want to find a simple scheduler for your non-business related Pinterest, you can try looking for some alternatives.
On the backend, it looks something like this (but keep reading as I'm about to dive into all that you need to know about this platform down below)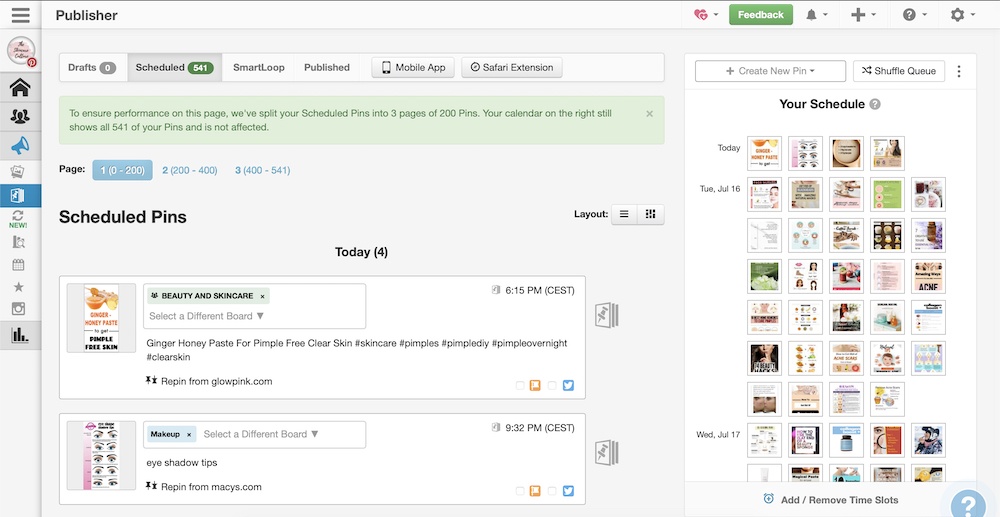 How To Use Tailwind To Skyrocket Your Pinterest Traffic?
Let's now get to the fun part and see how Tailwind can actually boost up your Pinterest traffic.
As you can see from the below image, this is my Pinterest traffic right after I started using Tailwind.

So what happened?
How could I get a 100X increase in traffic overnight and;
How can you do the same?
Let's find out…
I Started Using The Incredible Tailwind Scheduler
The Tailwind scheduler is by far the best "auto-scheduler" there is for Pinterest.
I have tried the alternatives, but I have to tip my hat off to Tailwind as they made it incredibly easy to find and schedule great content which is related to your chosen topic.
You can see how the Tailwind Scheduler here as it's best explained in a quick video rather than typing out all the steps to it (even though it's super simple).
I Started Working Joining Communities
This is what has probably given me the boost in traffic, and I look forward to keeping on using it as I am sure this will quickly get me to levels I never thought would be possible.
Basically, Tailwind Communities are little communities of niche-specific bloggers who share content from other people in the community with their own followers.
This alone gave me over 100,000 impressions already, and I see no signs of slowing down:

Of course, you also have to share pins from the Community, and you need to share at least one pin from the feed for every pin you submit.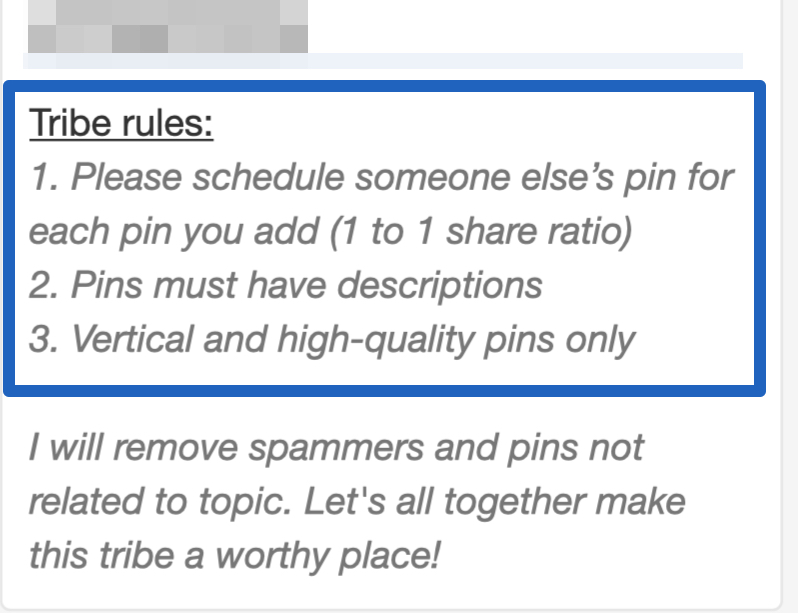 For more information on Tailwind Communities and how you can use them to very quickly give your Pinterest profile a boost in impressions, shares and traffic;
See this guide from Tailwind here:
I Optimised My Profile To Look It's Best
One other nifty feature of Tailwind is seeing where your profile is lacking and then making the correct changes as necessary. For example;
Do all your board have a description?
Are you titling your boards right?
Is your profile descriptions too short/too long?
Are there more boards that you can create (that are related to your content)?
This + more needs to be done as when Pinterest displays your pins to users; it needs to know what to "pull from".
If your pin is titled as "Image", then it's not going to be showing up, but if it's titled properly and has a description as well, you can rest assured your Pin will show up more often, thus opening you up to more impressions and all that comes with it.
That is what – I think – helped me get my Pinterest off the ground and getting traction so quickly.
If you're new to Pinterest, you may have realized that while it does have huge traffic potential, it's tough to get the ball rolling.
You can rest assured Tailwind will set your profile up correctly and after giving it enough time to analyze your account, it will show you how you can improve it.
But that's not all; here are some other cool features you can get with Tailwind for Pinterest:
What Else Can You Do With Tailwind?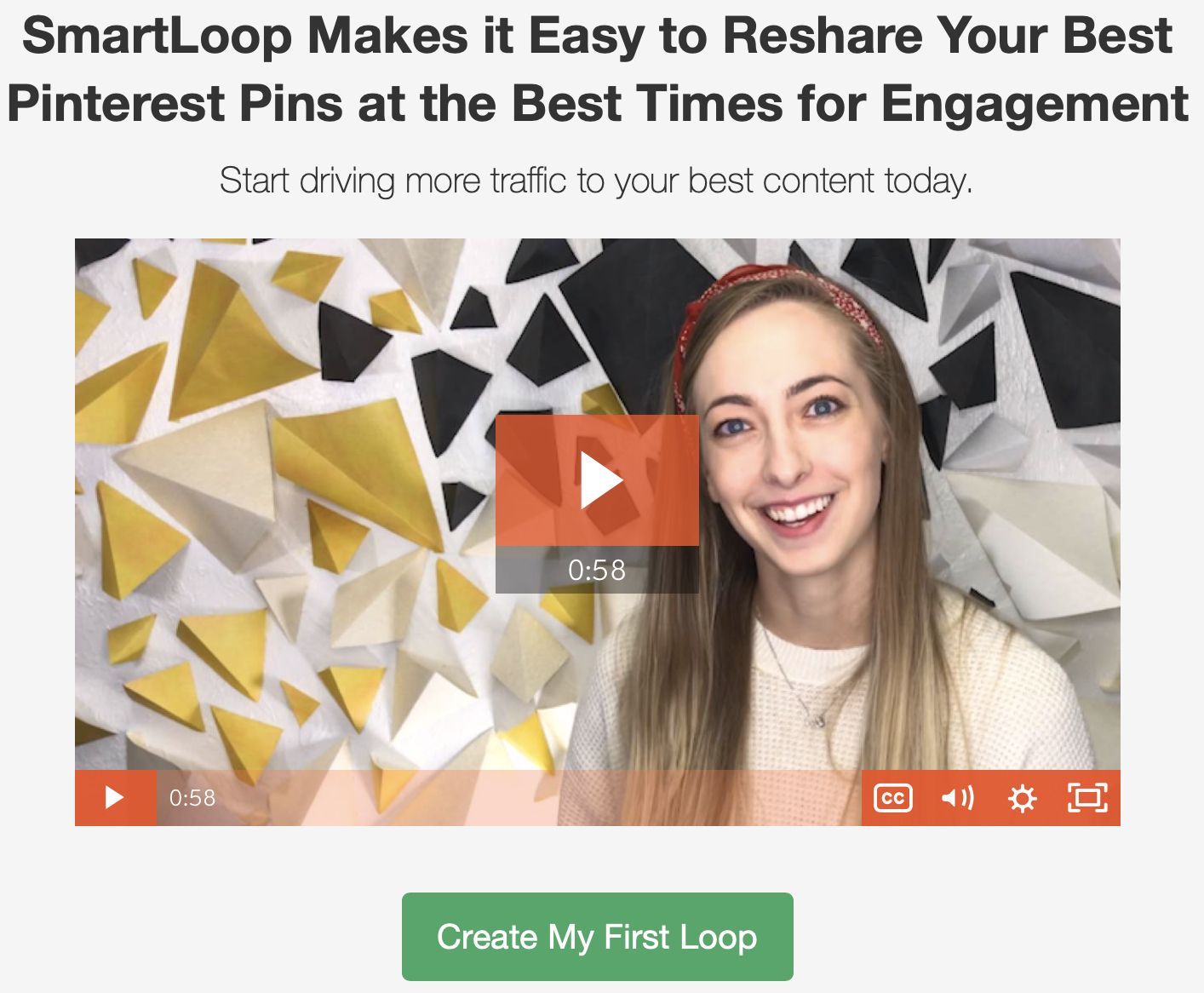 SmartLoop
SmartLoop is another incredible feature that, as far as I know, is only offered by Tailwind.
SmartLoop is basically a selection of Pins that you keep on rotation, automatically publishing every couple of days/week/months and even years.
I have set mine up to publishing on "old pin" from all the pins I have pointing back to my website, and it's set to go out one every week to different boards.
This has allowed me to create a "SmartLoop" that stretches over 4 years.
This means that for the next 4 years – without me ever doing any work – Tailwind is going to be sharing all my old pins (without getting too spammy).
Of course, you can set it at any pace you'd like so you don't have to do it once per week as I did, but I would suggest you be careful sharing old pins over and over again too frequently.
The site I am trying to build with Pinterest published new posts every day, so I am never short of content to share on a daily basis.
Set Up Your Schedule To Publish At Peak Times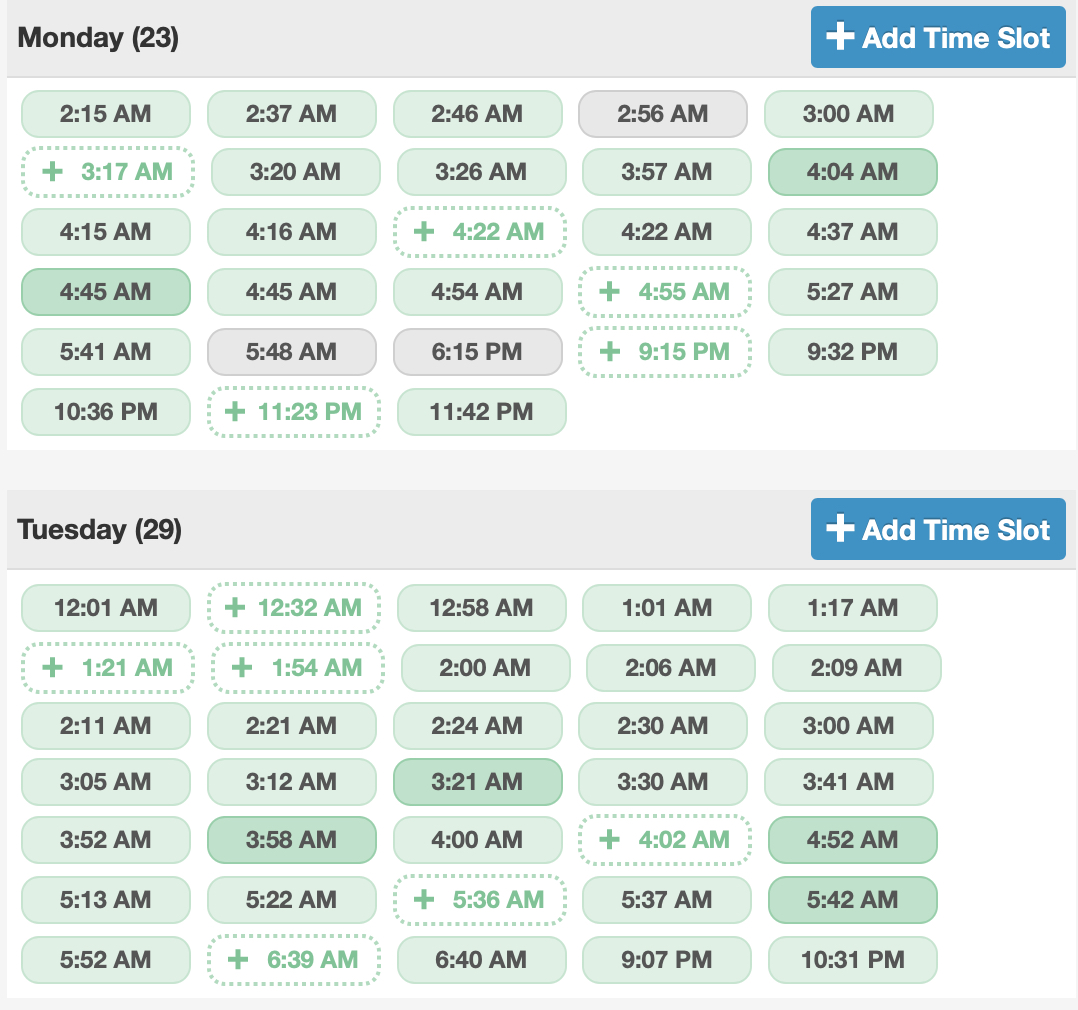 This is often overlooked, but it's so easy to set it up right, and yes, it does deliver you great results.
The Smart Schedule (which you can find in your scheduler mentioned above) gives you an idea of when to publish your automated schedule, so you reach the most people while they are online.
Since I am based in Europe, and my audience is in the USA, mine is set to go out throughout the night (my time) since my target audience is most active.
Of course, you can set up your own schedule as well, but I highly suggest you stick with what Tailwind suggests (and wait for it to present new slots as it learns more about your target audience).
You can see how this works in the above-linked video about how to schedule pins.
Tailwind Insights
One other thing that makes Tailwind so great for Pinterest marketers is the Insights tab, which you can see pictured below: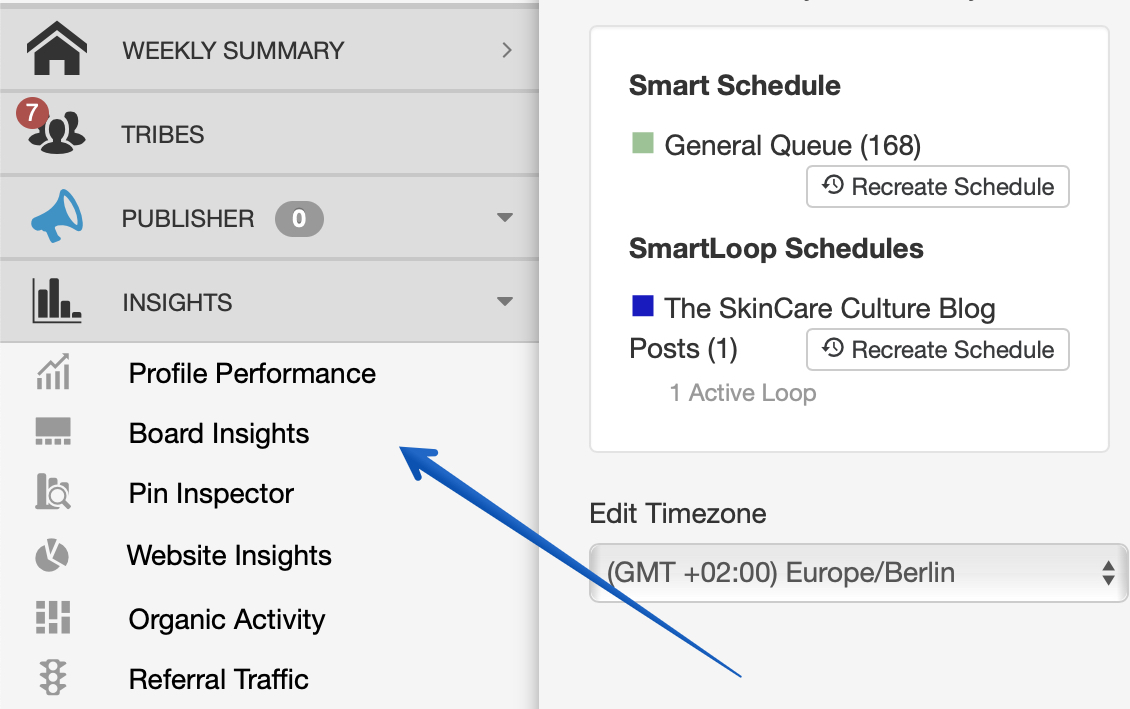 This will show you:
Profile Performance: Which analyzes how your account is performing throughout Pinterest.
Board Insights: THis allows you to see which boards are the most popular and how you can make them even better.
Pin Inspector: It analyzes your every pin seeing how it's performing with impressions, click-throughs, etc…
Organic Activity: This allows you to see and measure how people are engaging on your website (and what they are pinning from it)
Referral Traffic: This will show you how much traffic you are getting from Pinterest.
Pretty cool stuff, right?
As I said at the beginning of this Tailwind review, this great tool has blown my mind with all the features it has and how well it works.
I highly recommend you check out Tailwind, which brings me to my next point.
How To Join Tailwind (& Blow Up Your Traffic)
Right, let's talk about how I can help you get the same results with Pinterest.
The first thing you are going to need is, of course, a Tailwind Account.
You can use it for free to schedule out your first 100 pins, but after that is up, you need to opt-in for a Tailwind membership plan.
The Plus plan starts at just $15 per month, which is fantastic IMO when you see all that you get (+ all the other tools I did not mention in this review).
If you plan on going premium, do it – but I highly recommend you join on a yearly membership fee, which gets you an incredible deal of 4 months off!
So, if you decide to go premium on a yearly, all you need to pay is $120 per month, which is a laughable ~$9.99.
Are you willing to invest $9.99 in a tool that could potentially get you 100,000s of visitors and $100,000s?
I sure am, and that is why after seeing what Tailwind can do for me, I decided to go for a full-package and secure 4 free months with a yearly premium plan.
You can get started with Tailwind here.
(You may also see an "Enterprise plan" – this is just for agencies, if you're a standalone blogger like I am, then the TailwindPlus is all you need.
How To Use It For Best Results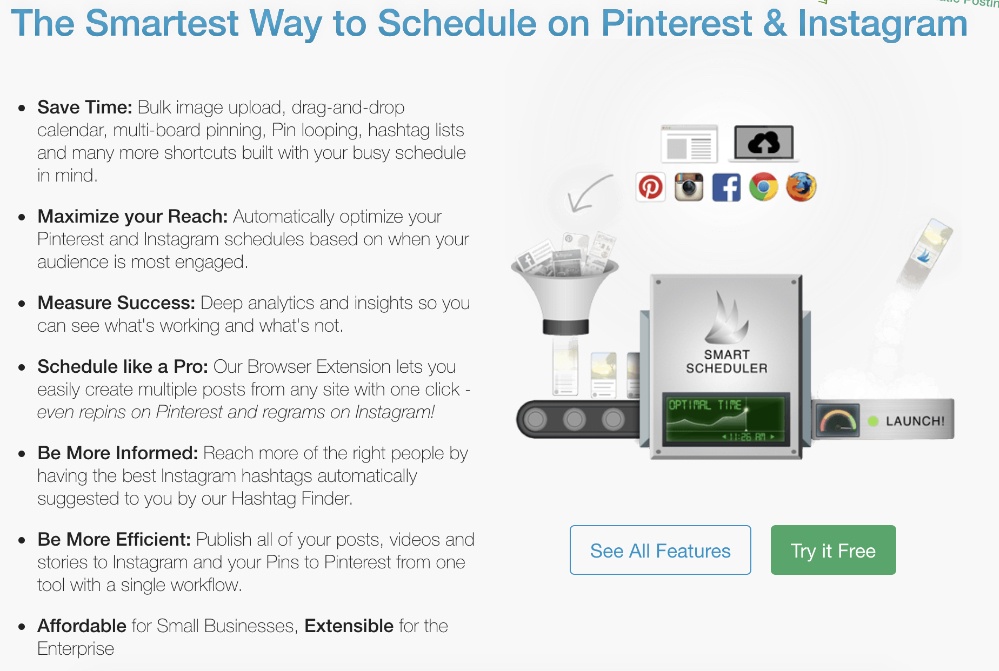 Right, before I head into some Tailwind FAQs and "things to know", let me share with you how I recommend you go about this.
Once you join on a free membership, take a look around and explore the platform for yourself.
You may also want to use it for a few days to see how it works and you get used to it (don't worry, even if you do decide to go premium at a later date, you will still get 4 months for free).
Once you're in, be sure to watch ALL the training provided by Pinterest through their helpful YouTube guides – this will explain the platform way better than I can in this review and you can see each feature and tool is designed to work.
Then, start scheduling.
The key to unlocking Pinterest profits is sharing great content and as I said, Tailwind makes it easier than ever.
Start adding your own pins, start joining Communities, and schedule great content to go out in a timely manner.
Once you have "mastered" the platform, consider going on a Plus membership plan (which I suggest you go for yearly, but you can do it monthly as well).
And that's it.
Now you have an army of Community-members sharing your content and you have a SmartLoop automatically publishing pins driving thousands of people to your website every day.
What else is there to do now?
Nothing – just keep feeding the scheduler and keep providing great content on your website; Tailwind will take care of the rest.
Tailwind FAQs: What You Need To Know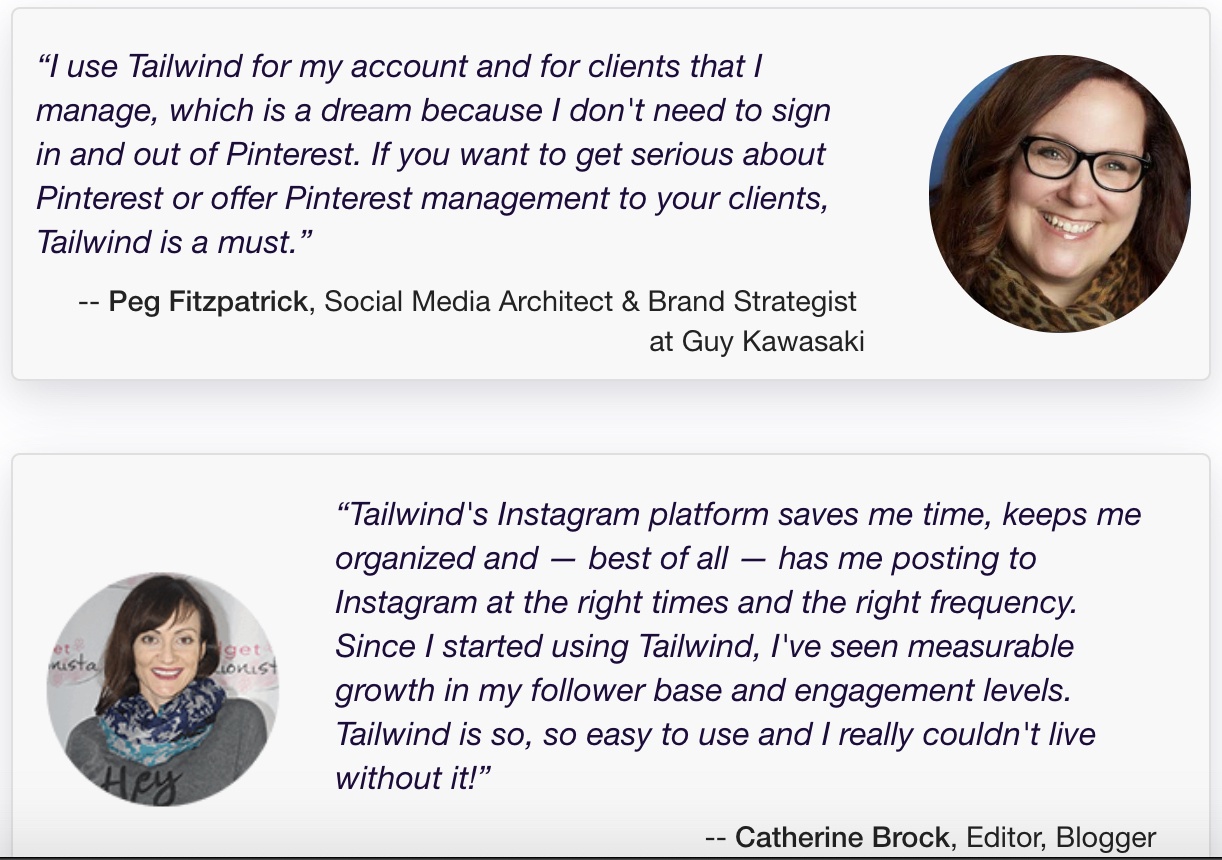 Let's now go through a few things which I think you should know about Tailwind (& how it works).
Is Tailwind Approved By Pinterest (Will It Get You Banned?)
Yes – Tailwind is an app that is 100% compatible with Pinterest, so you should now worry that you will get banned using it.
However, I would suggest you avoid re-pinning the same content too often as that is against Pinterest's terms of use, and they'd be right in banning you (nobody likes spam).
As I noted above, you may want to use the SmartLoop feature to avoid pinning the same stuff over and over again.
(I'd also recommend you do not share low-quality content from others as it will diminish your own account – just a theory).
How Often Should You Pin With Tailwind?
Most "Pinterest experts" recommend you pin 5-10 times a day – most Pinterest experts are wrong.
Pinterest is based on people sharing, so the more you share, the better – I will continue building up my schedule to at least 50+ times a day.
As long as you share great content (and not sharing it over and over and over again), you should not limit yourself to just 5 pins a day – that's just BS.
How Does Tailwind Compare To Alternatives?
As I am sure you can tell – I love Tailwind.
In fact, I have set up Plus yearly on two of my Pinterest account, and I plan on adding it to at least 2 more as I continue growing my website portfolio.
It's great, it's safe, and it's incredibly good at what it does – smart Pinterest scheduling.
I highly suggest you check it out since you've made it this far into my review. It's free to get started!
Why Should Use Tailwind?
Tailwind is for anyone looking to get the most out of Pinterest, without having to spend hours and hours on Pinterest pinning random BS from all over the world.
If you want to do Pinterest well (and trust me, you should) as it's the most underrated and misunderstood traffic source of all time – then yes, Pinterest is for you.
If you're a beauty blogger, a travel blogger or maybe even just an "Influencer" trying to grow your personal brand online, Pinterest can help you achieve your goals and Tailwind is the secret tool in the arsenal of the many successful and high-profile pinners you follow.
---