A few weeks ago I published my Tailwind app review giving you all you need to know about this much-talked-about Pinterest marketing platform.
Today, I want to dig a little bit deeper and give you my review of Tailwind Tribes, once of the most popular tools that will seriously give you a kick-start with your Pinterest marketing and explode traffic to your blog.
I've been a fan of Pinterest from years ago – and I have used it to kick-start my business thanks to one of my blog posts going viral on Pinterest so I know how powerful Pinterest traffic coming be.
Tailwind Tribes offers you the chance to have the same success as many others do with Pinterest, and you are going to find out how in this guide/review.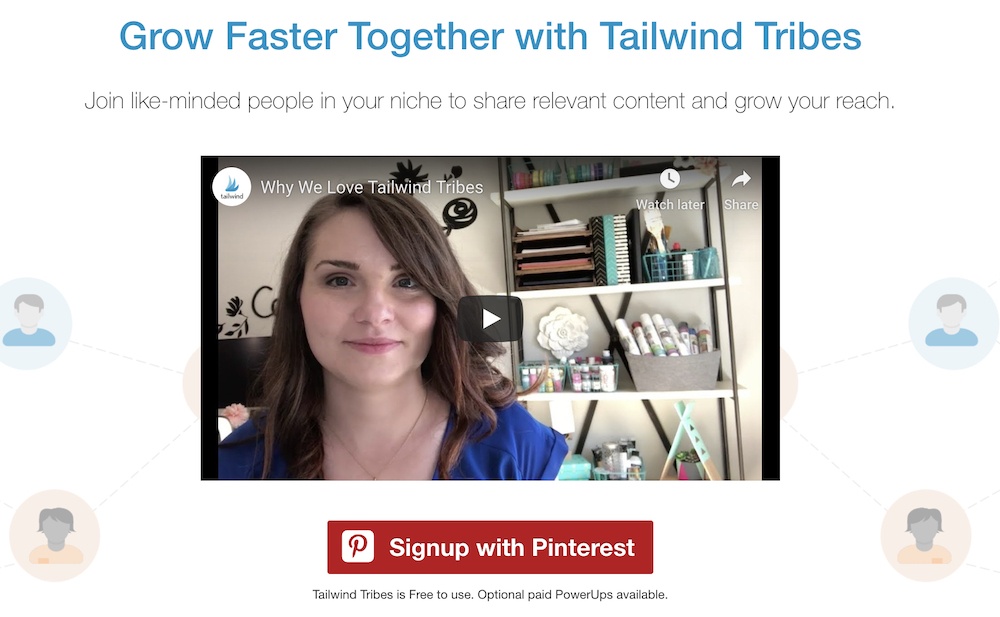 Here's what I will be sharing with you today:
What Tailwind Tribes are (& how to use them)
How to use the Tailwind Tribes tool
How to find the tribes that will boost your Pinterest reach & traffic
How much it costs to use this tool and
How to get started…
If you're here to learn more about Tailwind and their Tailwind Tribes feature, this review should give you everything you need to know about it.
What You Need To Know About Tailwind Tribes
$9.99 p/month
Price

Features

Traffic Potential

Value For Money
Tailwind Tribes Summary
A powerful Pinterest marketing tool
Access to content creators in your niche.
Reach millions of people on Pinterest without waiting.
Get millions in Reach, Saves and traffic to your website.
What Are Tailwind Tribes?
Tailwind Tribes (found inside the Tailwinds app) is the best tool you can use to quickly boost your reach, engagement and traffic on Pinterest.
In this post, I am going to show you how I got over 1,000,000 impressions using Tailwind Tribes in just under a month – and I predict I'll be able to double that in the upcoming month.

But what are Tailwind Tribes?
Tailwind tribes are communities you join on Tailwind centred around a specific niche or topic.
These tribes have hundreds (sometimes even thousands) of other bloggers and Pinterest account who are more than willing to share your pins to their own Pinterest profile with their followers.
Once you join the Tribes, you are asked to share one post for everyone post you share from other members – which I think is very fair.
The best thing about this is that you can find Tailwind Tribes with high engagement (Tailwind makes it easy for you to do so and I will show you how soon) and in these communities, you will also find Pinterest accounts with millions of followers.
This means that once they share your post with their followers, you instantly get access to those followers and (as most often happens with Pinterest), the same followers will again share and repin your content for even more reach, thus how you can end up with a million+ impressions in just over a month.
So that's a basic/quick introduction to Tailwind Tribes, let's now see how you find them, how to use them, and how to boost your reach on Pinterest with their help.
How To Get Started With Tailwind (& Tailwind Tribes)
To start using Tailwind Tribes, you are going to need a Tailwind subscription (CLICK HERE to get one).
While you can still use Tailwind Tribes with a free Tailwind trial account, you will need to eventually go on some sort of a "premium upgrade" plan to be able to fully take advantage of what this tool offers.
First, I will cover how much the different Tailwind upgrade plans cost, then I will show you how to become a member.
How Much Does Tailwind Cost?
Tailwind is free to start using, but you'd be better off getting yourself set up with a Tailwind Plus account which will cost you just $15 per month (or $9.99 per month when billed annually).
With the $15 per month – per account – you get:
The Smart scheduling feature, which you can read about here.
Ability to schedule 400 posts per month
Basic profile, board and website metrics
5 Tailwind Tribe memberships
30 monthly tribe submissions
and more (you can see here for more details)
How To Join Tailwind (With Pinterest)?
Before I go ahead and show you how to use Tailwind Tribes to start getting the million+ impressions yourself, let me show you really quickly how to join Tailwind, which is very easy to do.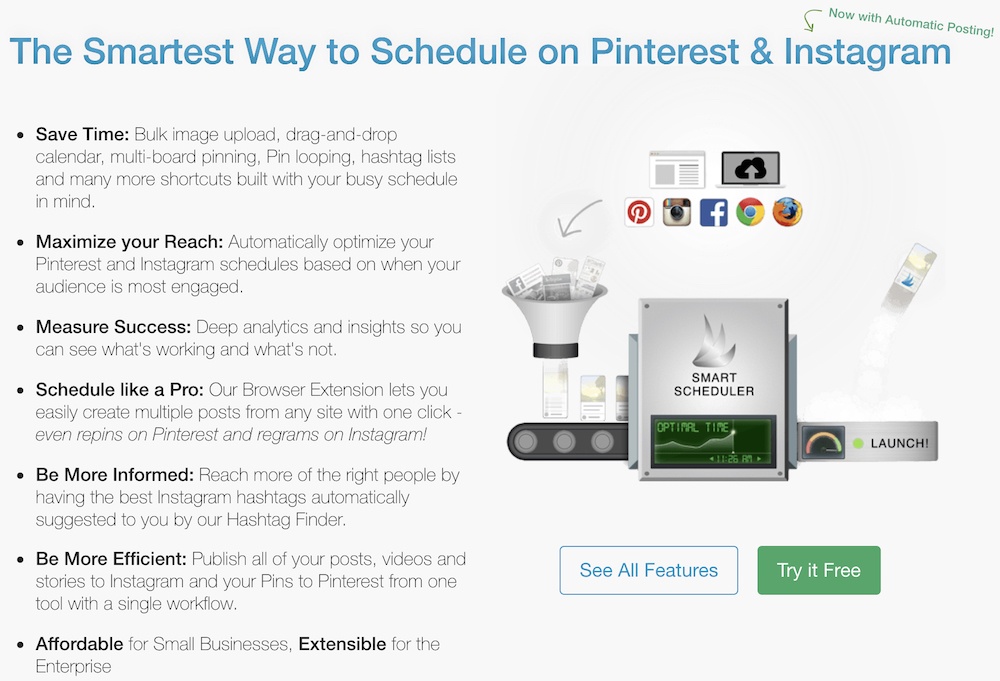 Step 02: Click "Sign Up With Pinterest"
Step 03: That's It (Just Watch The Mastering Tailwind Video-Guide)
Now that you have access to Tailwind (& Tailwind Tribes), let me show you how to go about finding Tailwind Tribes to join (and how to add pins to them).
How To Find Tailwind Tribes Worth Joining
Down below I will share with you 8 tips to get the most out of your Tailwind Tribes, one of them being picking (and joining) Tribes that you know have a big active community.
To find these Tribes, here's what you need to do:
Step 01: Go To Tribes Dashboard: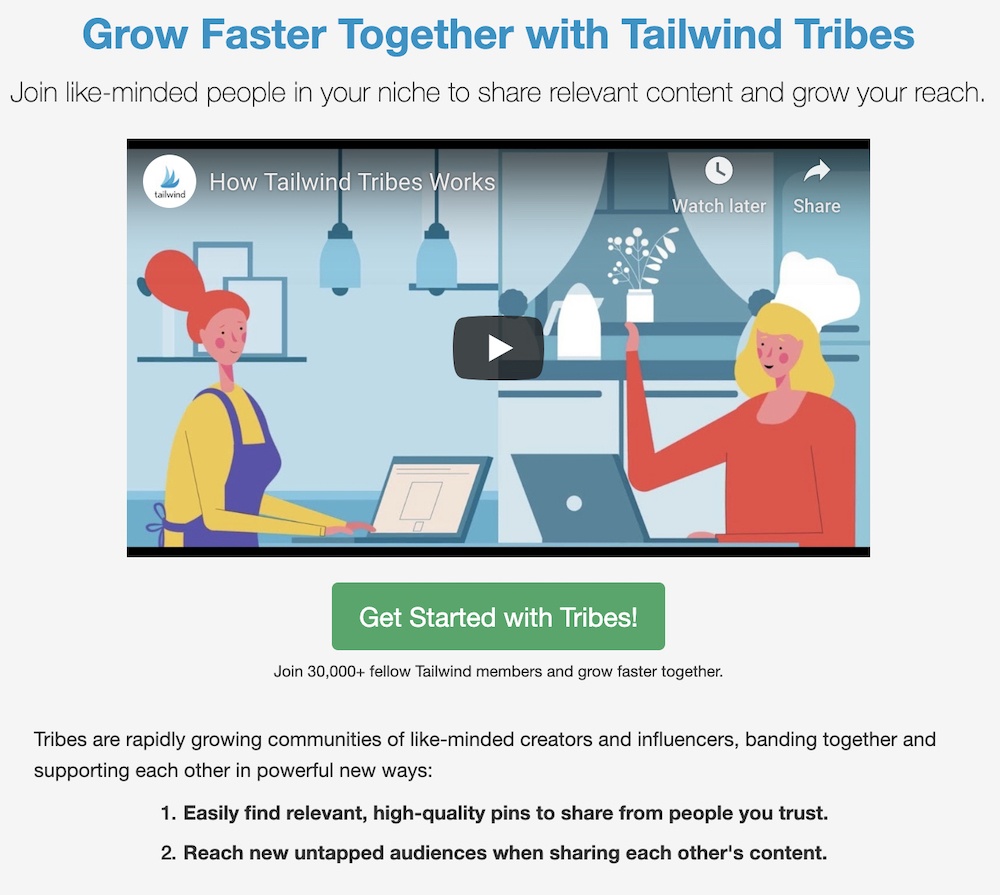 This is the Tailwind Tribes dashboard where you can find, join, manage the Tribes you join.
As you join more Tribes, this dashboard will come to life with plenty of pins from the community that you can then share (by adding to your schedule).
Step 02: Insert Your Topic One The "Find A Tribe" Page

The beautiful thing about Tribes is that you can look and join Tribes which are related to your topic.
For this example, I used home-cooking as a topic and in the screenshot above you can see that Tailwind also suggest other "Related Topics" which you can search for.
Step 03: Look At The "Activity" Tab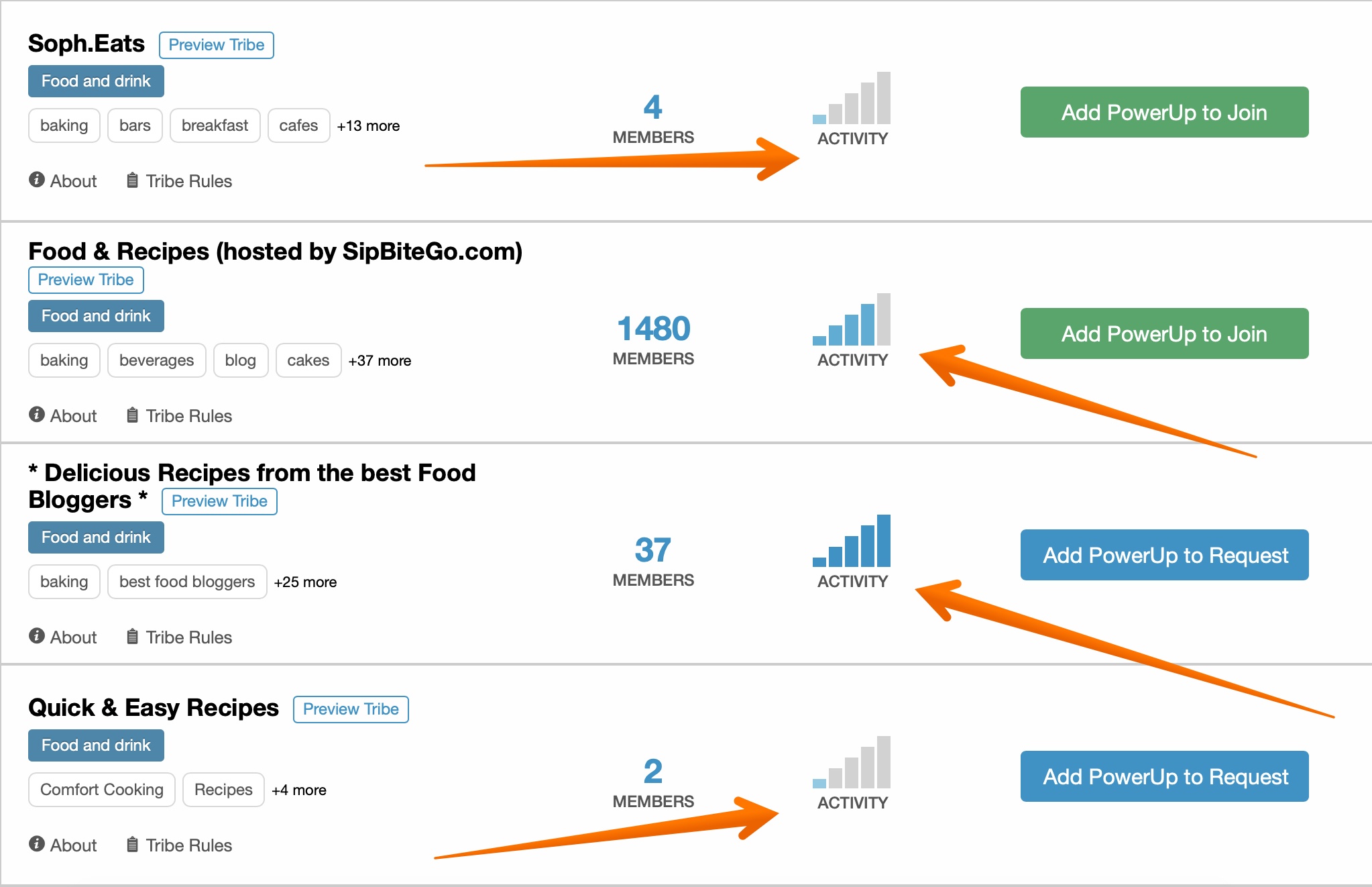 This is very important (and you will see why soon), but always join Tribes that have a high Activity score.
This means the community is active and pins on this community are actually getting shared (of course, you do not want to join an inactive community).
How To Add A Pin To A Tribe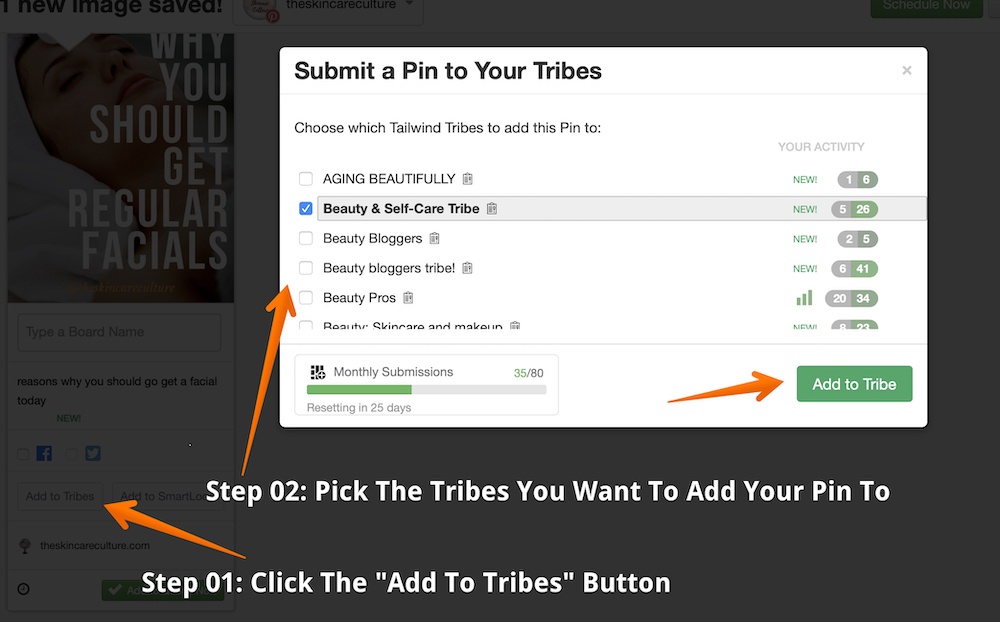 Next up, I want to show you how to add a Pin to a Tribe.
Above is a screenshot of how you need to do it, but I believe you'll understand it better once you see this fantastic video-guide from Tailwind themselves showing you how to do exactly that (& more):
8 Tips For Getting The Most Out of Tailwind Tribes

Don't Spam
Nobody likes spam.
Not you, not Pinterest, not Tailwind and not Tailwind Tribes members.
Do not spam these Tribes as you will quickly find yourself ousted from these communities.
Don't Re-Share The Same Pins
Ideally, you do not want to keep sharing the same pins leading to the same page to the same board.
Keep coming up with great content for your blog, keep designing great pins and always share fresh, new, material to Pinterest and Tailwind Tribes.
Don't Re-Share The Same Pins To The Same Tribes Either
While this is not frowned upon by Tailwind, my suggestion would be to not pin the same pin to different Tailwind tribes, either.
This is because you will often find that the same Tribe members will also be members of different Tribes as well so they are less likely to share the same pin (even if it's from two different Tribes).
In an ideal world, you have plenty of blog posts already which can be pinned thus, I would advise you to share one pin to one tribe just once – that's just my opinion.
Don't Share All Your Pins In One Go
Depending on what kind of upgrade plan you get, you have an allocated number of pins you can share on Tribes in 30 days.
Even though it's very tempting to do so when you start seeing your pins going viral-crazy everyone sharing them, you may want to spread out your "Add to Tribes" clicking over the course of the allotted time.
If you have 30 days (and 30 pins to share), add one each day, instead of 30 in one week.
This will make sure you spread out your content and instead of having one huge spike one, you have a steady growth in shares and pins over time.
Share Generously Other Tribes Members Pins
Tailwind Tribes are set up in a way that you "have" to share other people's pins as well.
It's recommended that for every pin you add to the tribe, you share at least one. My suggestion would be to pin more than you share from your own.
This keeps the Tribe healthy and thriving and also puts you in the good grace of the Trube community members.
Keep An Eye Out On Tribes Insights For Best Results
Not all Tailwind Tribes are equal.
Once you're a few weeks/months in, it becomes clear which Tribe is performing the best for you and you can see this inside the Tribes Insights page here: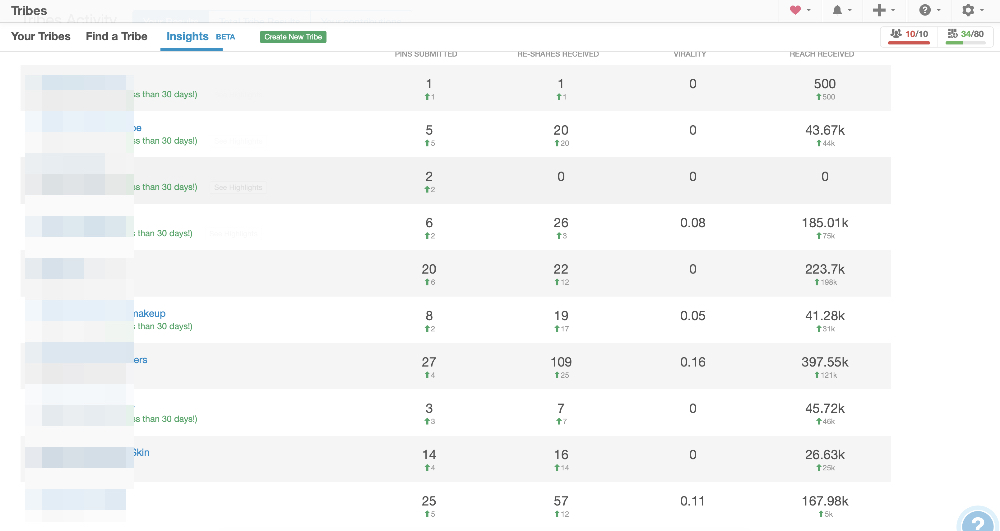 Make a mental note of the Tribes that are getting you the most engagement and pin to them – you should also consider leaving the Tribes that are not getting you the engagement you need as well as to free up space for other Tribes you may want to join.
Look For High-Engagement Tribes
As mentioned above, when you are looking for and joining new Tribes, you will see the "Activity" measure which is provided by Tailwind.
Ideally, you want to join Tribes which have a high activity rate, ideally a 4 bar + rating.
These may be hard to get into sometimes (you may even need to send a request to join) but focus on these and not the "dead ones" which unfortunately there are plenty of.
Share Pins You Know to Get Clicks, Saves & Impressions
From both your Pinterest Analytics and your Tailwind Tribes Insights (Pin Inspector), you can see which Pins are getting the most shares, saves, clicks, etc…
When you are looking for pins to add to your Tribes, these should be the first ones you share thus making sure that what you are pinning is what you know is already working for you.
What You Get With Tailwind Tribes (Recap)
Before I tell you how you can use Tailwind Tribes to grow your online business and make money;
Here's a quick recap of what you can look forward to when you take the plunge and joining Tailwind (& Tailwind Tribes):
Access to the powerful Pinterest marketing tool (in my opinion).
Access to a community of bloggers/content creators in your niche.
The ability to reach millions of people on Pinterest without waiting.
Thousands (maybe even millions) of reach, Saves and traffic to your website.
The opportunity to turn your Pinterest hobby, into a Pinterest business (which brings me to my next point.)
How To Use Tailwind Tribes (& Pinterest) To Make Money Online
Tailwind Tribes is a tool for marketers who have recognized Pinterest is a force to be reckoned with.
I've been a fan of Pinterest for many years now, but I've recently solidified my belief in the platform after seeing how well Pinterest traffic converts to sales (thus making me money).
I won't go into much detail about how to make money with Pinterest as I already shared 5 very-easy ways to make money sharing Pins but I will tell you that if you want to market products (whatever they are) on Pinterest, Tailwind Tribes can definitely help boost your reach and help you make money online.
I highly, highly suggest you join Tailwind and start exploring this magnificent tool.
Tailwind Tribes Review: Closing Thoughts
Thank you very much for reading my Tailwind Tribes review. I hope this post has answered all your questions about this tool and I hope this has set you on the right path forward to success with Pinterest.
Can you also reach 1,000,000+ impressions on Pinterest?
I'm 100% positive you can – as long as you share great pins with your tribes and with your followers.  For more on how to do this, see this great guide from Pinterest themselves.
Ready to start joining Tribes and becoming Pinterest-famous?
Click HERE to start your free trial with Tailwind or;
If you have any questions on how to do this, be sure to drop me a comment down below;
In the meantime, here are some of my most-popular Pinterest-marketing guides here:
More Tailwind Tribes Reviews & How-To Guides From Content Creators: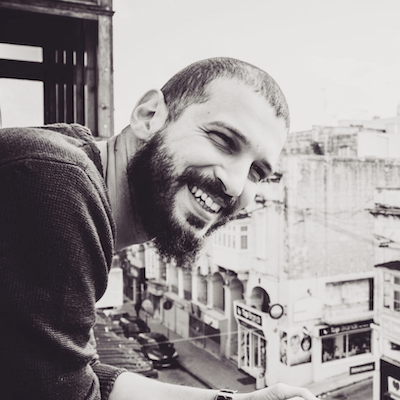 Since 2011, I've been learning how to make money online with affiliate marketing. This website is where I share everything I know and all I will learn along until I reach my next income goal of $30,000 p/month.