Every morning, amongst other favourites on my list, I love listening to the one and only, Pat Flynn (as I am sure many other affiliate marketers do).
This very morning, I heard his latest episode (#293) about his top performing affiliate marketing products.
In that episode, he mentioned that today (Cyber Monday 2017 when I am writing this), he would be launching, in beta version, his new affiliate marketing training course; 123 Affiliate Marketing.
Now you just can't hate on PatFlynn; he is a giant in the online marketing space with many successful projects and an income report that will leave you speechless and bewildered.
I am not ashamed to say that yes, I am a HUGE fan and I admire and applaud what this man has built and also, more importantly, the tremendous amount of effort he puts in making sure his audience is being served the best possible content.
Now, while I can go on and on about how great Patt is, this post is my mini 123 Affiliate Marketing review.
Upon hearing of this course, I signed up for the beta-list although I have not yet purchased the offer so (a little disclaimer here), I have not yet tried the product myself.
After browsing through the sales page, I will be telling you what I think of 123 Affiliate Marketing and whether or not it can be useful to you – just keep in mind that I have not yet tried the product.
So, if you're committed to trying out into this course, maybe you're a fan of Pat Flynn as well (drop me a comment below if so), I am sure you are looking for a more in-depth analysis of the course and what you can expect from it.
So, without further flattery, let's see if the 123 Affiliate Marketing course is for you.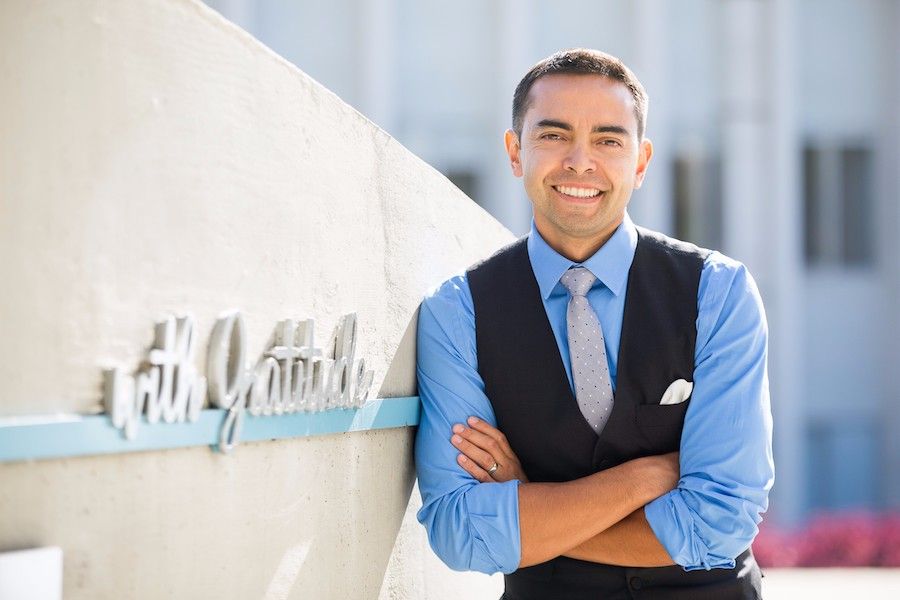 What Is It?
As explained above, the 123 Affiliate Marketing review is a new training course designed to help you get started with affiliate marketing.
If you do not know what affiliate marketing is already, then I suggest you stay away from this course for now and just see my getting started guide here.
Pat himself says on the homepage that this course is a bit more advanced and not for beginners – he recommends at least having a 500-strong email list before you even start looking at this course – and I agree.
Right below I will tell you exactly who this course is for, but again; if you are a complete beginner, I can tell you already; this course is not for you.
What Do You Get?
Now remember, my review is based on the fact that it still is in beta-testing mode and you won't get access to the full training until the 2nd of January 2018 – however, if you do decide to take this training, you will get it at a discounted price (for a very limited time). More on pricing later.
The course, by the looks of it, is split into three different categories, and I will explain what they are right now:
Step #1: Choosing The Right Product
When it comes to affiliate marketing, it all boils down to having the right product.
It's also important that you have the right audience to go with the right product, but this course won't show you how to have the latter – as I said, this is a training course for people who already have an audience.
Having the right products is extremely important, and there are many pitfalls which you may not see when you are thinking of promoting a certain (new) type of product.
This "lesson" will teach you what you need to know to pick the right product to sell – one of the most exciting lessons I am looking forward to is how to build a relationship with the company behind the product.
Pat Flynn does this extremely well, so I am sure there will be some golden nuggets in this bit.
Step 2: Passive Promotional Strategies
The beauty of affiliate marketing is that it is what we call passive income.
Now, Pat Flynn is the master of this. After all, his website is called "Smart Passive Income".
In this section, Pat teaches us all he knows about how to add affiliate links properly, how to create profitable pages and also how to set up an email autoresponder designed and perfected for conversions.
I for one suffer greatly with email so I would need some pointers on this.
Step 3: Active Promotional Strategies
The third part of the 123 Affiliate Marketing course is the keeping up with the promotions, seeing what works and also growing your new affiliate marking business to new heights.
Some golden nuggets may be found here, but as I said, I have not yet tried the full product, so I am not so sure what to expect.
A Breakdown of The Course – What You Will Learn
This course will teach you all you need to know on how to start an affiliate marketing business.
I do have some (negative) comments about it that I will add later, but at a glance, this looks like a solid product to try and use to build your own version of the DotCom lifestyle.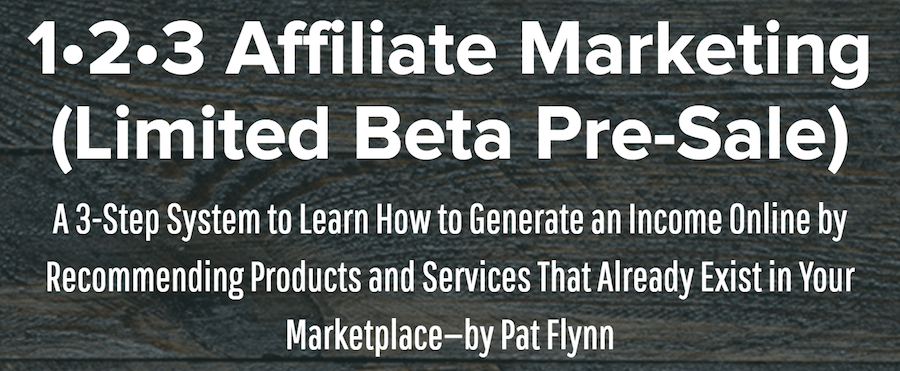 Who Is It For?
This course, as explained above, is for intermediate to advanced affiliate marketers. If you're a complete newbie to this industry, Ihave a better recommendation for you down below so keep reading.
Things I Liked
PatFlynn:
I love the guy – he is a huge inspiration to me and I have learned a lot from him.
The Quality:
Again, not sure of this as I do not see the whole picture just yet but Pat Flynn delivers – and I am sure this product isn't any different.
I am expecting stellar work here so I hope I won't be disappointed.
Things I Did Not Like
Is It Really That Advanced?
Some of the things listed in the course don't seem too advanced at all.
I know there may be some hidden gems that could easily change the way I do my business, but after having a look into it, I would say that there's only about 10 to 20% that would probably change the way I do things.
If you've been doing affiliate marketing for a while, then I do not think there's much new you can learn.
I am not banking this on learning something new but instead learning how to do something better – hence why so far I am loving the product, but not the price.
The Price!
The price, even at beta-level costs a staggering $497 and that's only with the Cyber Monday sale.
Call me cheap, but I think that this is a bit too steep and that's only limited to the first 500 students, so hurry up!
I'm afraid to see how much it will actually cost once it goes live to the general public in January.
Any Alternatives?
Yes, as much as I love 123 Affiliate Marketing, it does carry a steep price that is kind of putting me off.
As a better alternative, I would recommend you take a look at Wealthy Affiliate or maybe even Fizzle (WA is my personal favourite).
You will get much more from Wealthy Affiliate then you can get from this course, and it's free to join (with an option to go premium for $47 per month).
Closing Words
I am looking forward to this, and I am sure Pat won't disappoint.
Even though the price is pretty steep, I will gladly recommend this to you, if you can afford it.
I am also putting my trust in this product without seeing the actual, final product – but I trust Pat Flynn enough to put my name behind his brand and give this product a 4 star out of 5 rating.
Thank you very much for reading my 123 Affiliate Marketing review – in case you're wondering, you see my all-time favourite courses here.
Talk soon.
Price

Features

Training

Value For Money