One of the best ways to build a steady flow of affiliate commissions is through the use of affiliate programs that pay you a recurring fee.
That is, the product/service has a monthly subscription and you get a commission on every month the customer you send stays on.
Today, I am giving you a list of email marketing affiliate programs that not only pay you a monthly fee but also have the probability of your monthly commissions increasing over time.
What if I told you that it's possible to make a $10 commission today, but have that $10 turn into $100 per month (and it keeps paying) months/years down the line?
Well, that's the power email marketing affiliate programs have and you'd be a fool not to promote them – if you can.
WANT TO KNOW HOW I MAKE MONEY WITH
AFFILIATE MARKETING?
(YOU ALSO GET A 10-DAY COURSE FOR FREE WHEN YOU SIGN UP)
After signing up, you will be redirected to the course page where you need to sign up again - no credit card required, just an email will do.
What Are Email Marketing Affiliate Programs?
I'm talking of course about an email autoresponder, a service many in the online/digital marketing space use to reach customers through email via automated messages and follow up sequences.
My self I promote Aweber as it's the one I actually use a customer myself here on this site but there are many others available that will also pay you a recurring monthly commission.
In this post, I'll give you my top 5, but that is not a complete list either – as I said, there are many out there but I will cover the most popular, most paying ones (except one) in this blog post below.


Who Can Promote Email Marketing Affiliate Programs?
One of the best ways do to this is if you already have an audience that is interested in digital marketing.
For the audience of my blog, it makes sense to promote them as I have a readership of affiliate marketers that are looking for tools, so simply suggesting the idea to them and sharing my own experience is usually enough to "sell it".
However, I have come across many blogs that do not necessarily focus on digital marketing that also manage to squeeze one way or the other. One of the most common examples are all these "mom blogs" that show how to make money with a blog and they usually suggest starting an email list, thus pitching an email marketing software.
Anyways, I will leave that up to you if it makes sense to promote such affiliate programs with your niche, but I would say not to force it too much.
You do not want to have a yoga blog and a banner advertising an email marketing software – it just doesn't make any sense.
Ok, enough introductions. Let's see my top 5 email marketing affiliate programs that you can start promoting that will also get you a steady recurring commission.
The Aweber Affiliate Program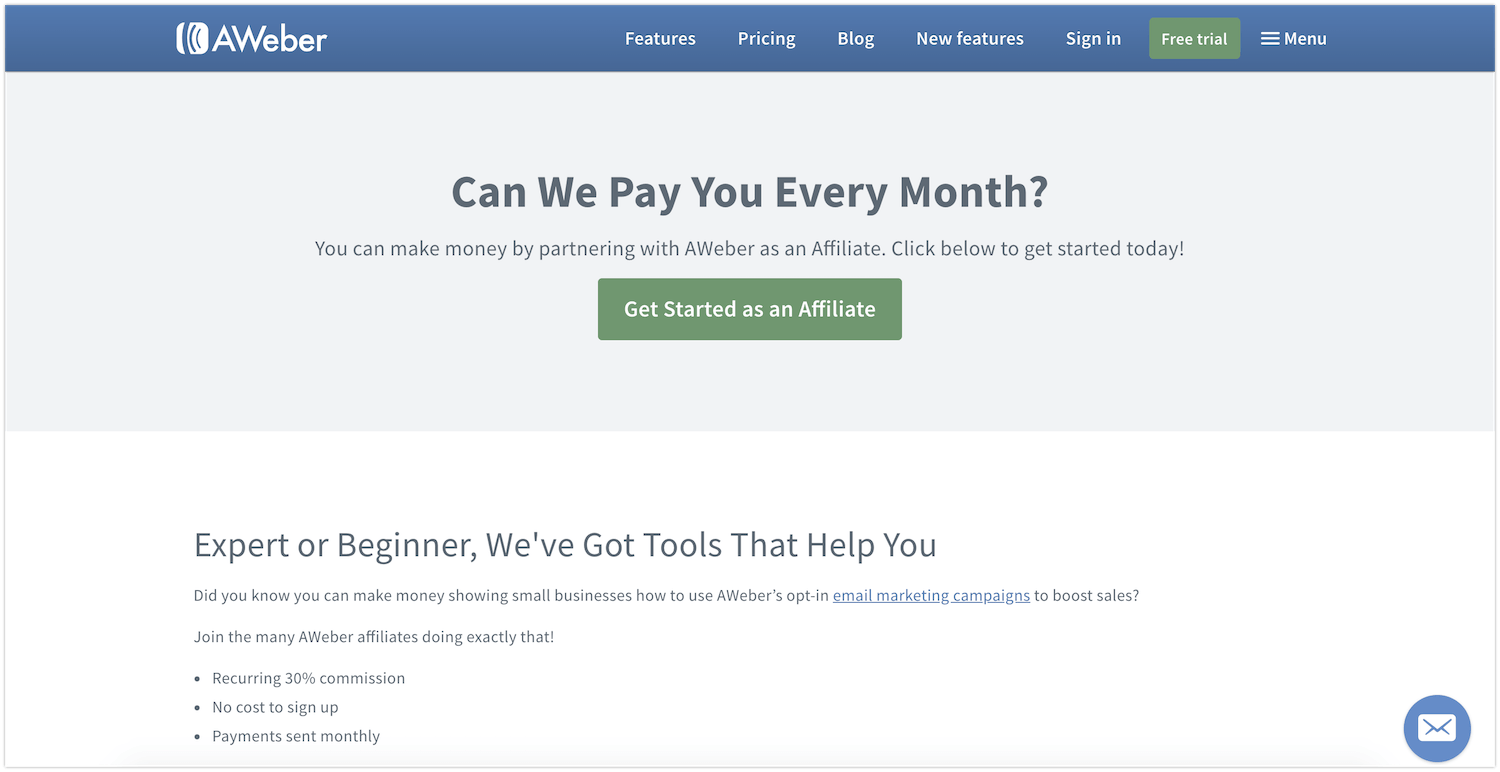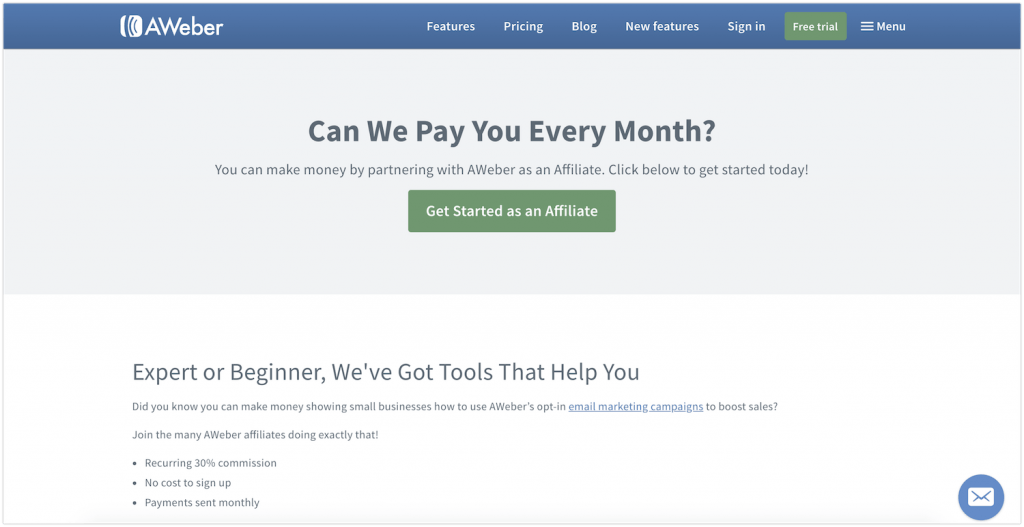 I really do like Aweber. Not only am I a customer of them myself, but also an affiliate and their affiliate program is one of the best in this space.
It's also one of the most popular email autoresponders out there so brand value speaks volumes and I'm guessing this would be one of the "easy" sales out there.
Commission Rate
The commission rate at Aweber is 30%, which is fantastic. Starter memberships go from $19 all the way up to the hundreds and even thousands.
Aweber, along with every affiliate program on this list, works on per-subscriber costs.
That are thresholds for you as a customer and once you reach a certain amount of subscribers, the monthly fee automatically gets upped and you'll get charged the full price the next month.
As an affiliate, you keep getting this 30% commission both on the initial $19 plan and also once your customer "grows" and goes into the higher-subscriber pricing.
Pros
– 30% is great, pretty good when you start stacking these signups up
– Payment sent monthly, and luckily they've just added PayPal as a payment method now.
– All the resources you need – they give you a lot of material to help you promote which is also the mark of a worth-joining affiliate program
Cons
– $1 fee for the first month – people are accustomed to "free" so this may hurt you a bit
– The product itself may not be as "modern" looking as other email autoresponders.
Join the Aweber affiliate program here >>>
MailChimp Affiliate Program


Another big player in the email marketing game is MailChimp, who also is one of the very few ones that allows a customer to start using their services for free.
With MailChimp, you get your first 500 subscribers for free, then you start paying once you cross that or when you start wanting to send emails out.
Overall, when compared, MailChimp is just like Aweber in their pricing structure. but sadly, their affiliate program is nonexistent!
Commission Rate
Sadly though Mailchimp does not pay you in money. Instead, they use a system called "Monkey Rewards", meaning you get credits that you can then use against your own MailChimp subscription.
Pros
– Offers a free trial to help you sell
– One of the biggest names in email marketing
Cons
– Can't earn real money
– Not really a helpful bunch.
GetResponse Affiliate Program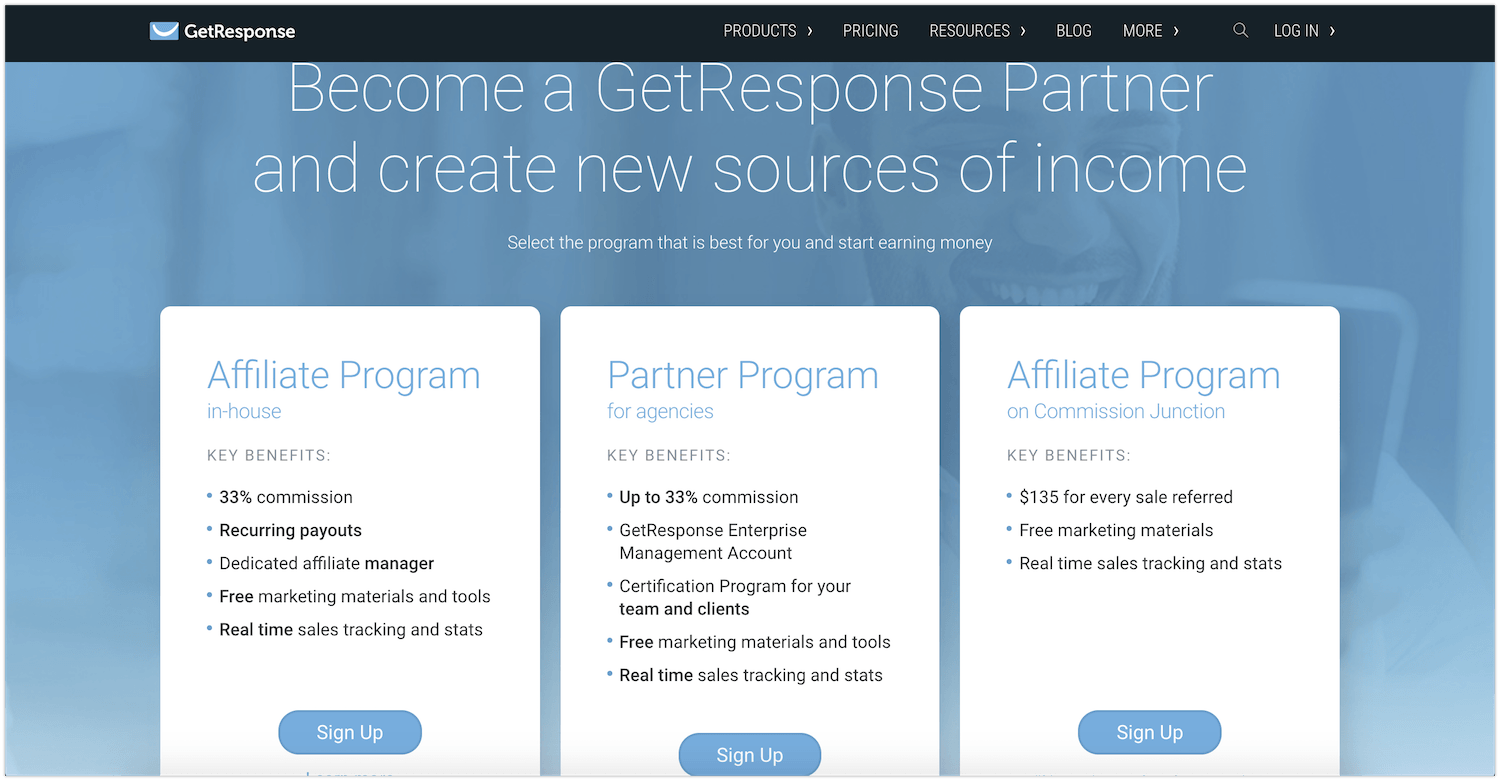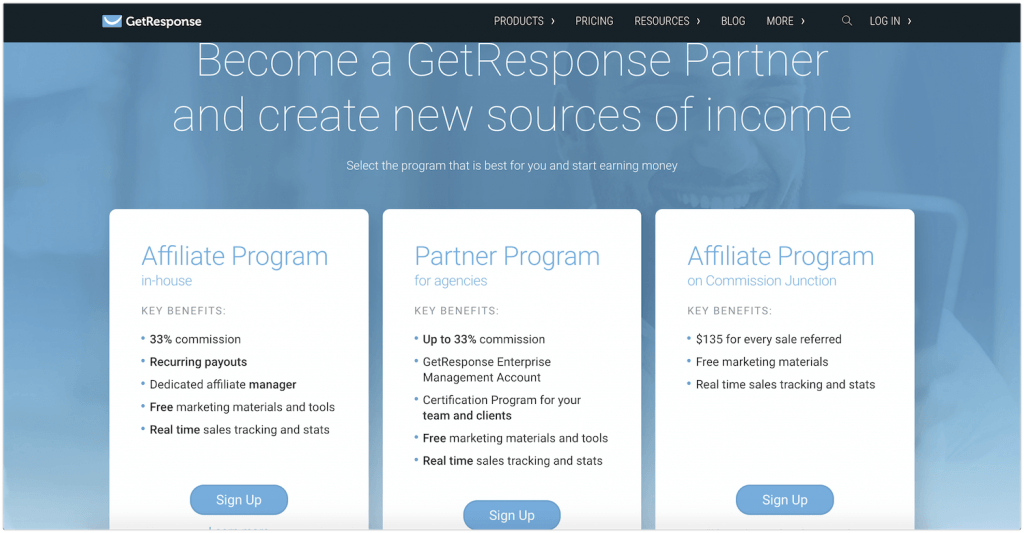 GetResponse is fantastic. I have used it here and there testing it out but being a loyal Aweber fan, I never really made it my main one.
However, as an affiliate program, they are fantastic and if you are considering promoting an email autoresponder, then this is the one that you should look into.
Commission Rate
Their commission rate is the best so far on this list, offering a 33% commission rate, which is slightly more than Aweber and infinitely better than MailChimp.
Pros
– High commission rates
– Recurring monthly payout with different tiers
– An affiliate manager to help answer your Qs
– Marketing material bonanza where you get all the banners and links you will need.
Cons
– Not yet super-known, but I am sure it will get there
Active Campaign Affiliate Program


The Active Campaign affiliate program is a 3 tier affiliate program that will reward you with higher commissions the more business you manage to send them.
As a tool, it's also one of the top guns out there, especially with the e-commerce and dropshipping community.
Commission Rate
The commission rate at Active Campaign goes like so:
Silver Tier – 20%

Gold Tier – 25%

Platinum Tier – 30%
You can find out more about what you need to reach these tiers on the affiliate sign up page.
Pros
– They incentives traffic
– One of the most "modern looking" autoresponders
– Monthly payouts
Cons
– Entry commission rates of 20% are below industry standards
ConvertKit Affiliate Program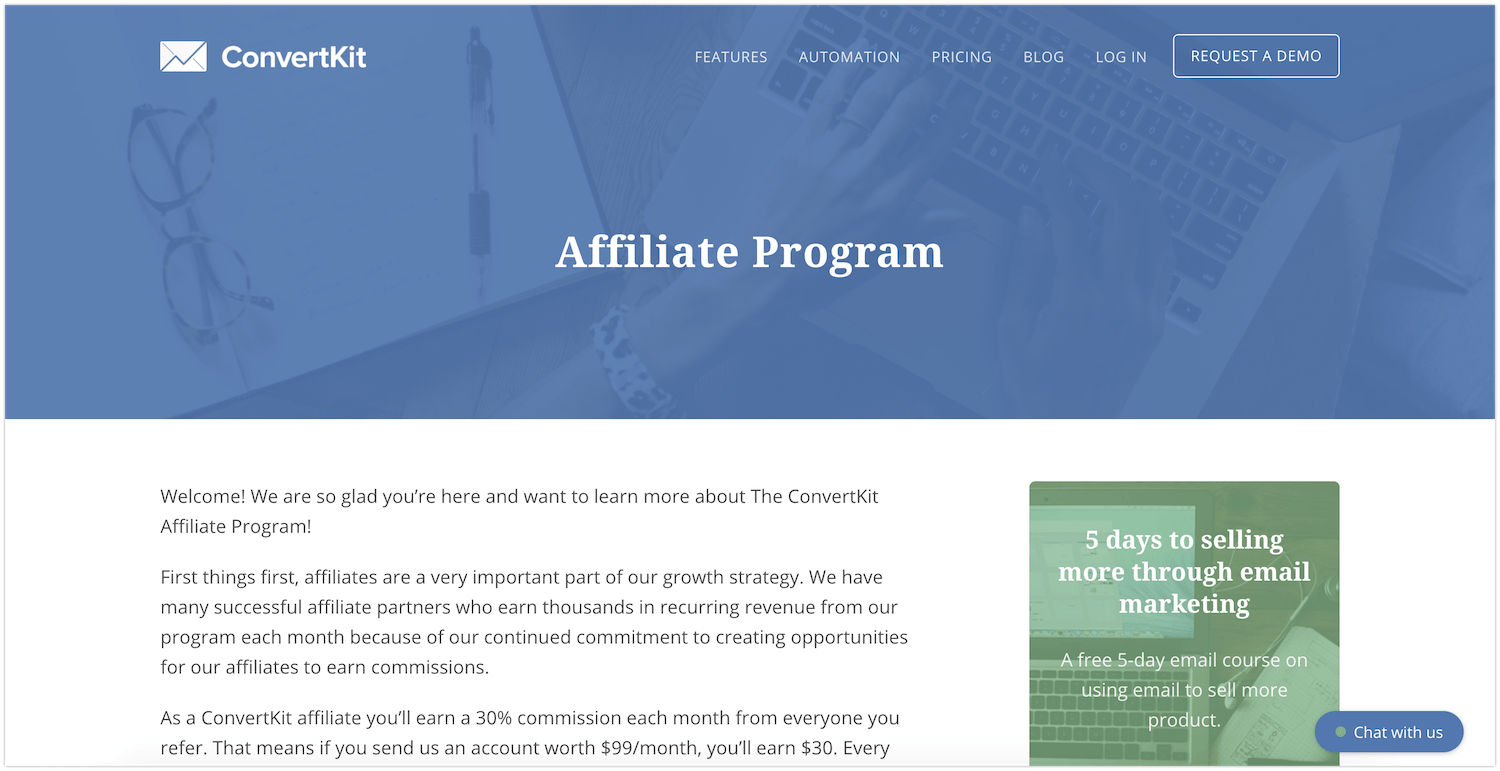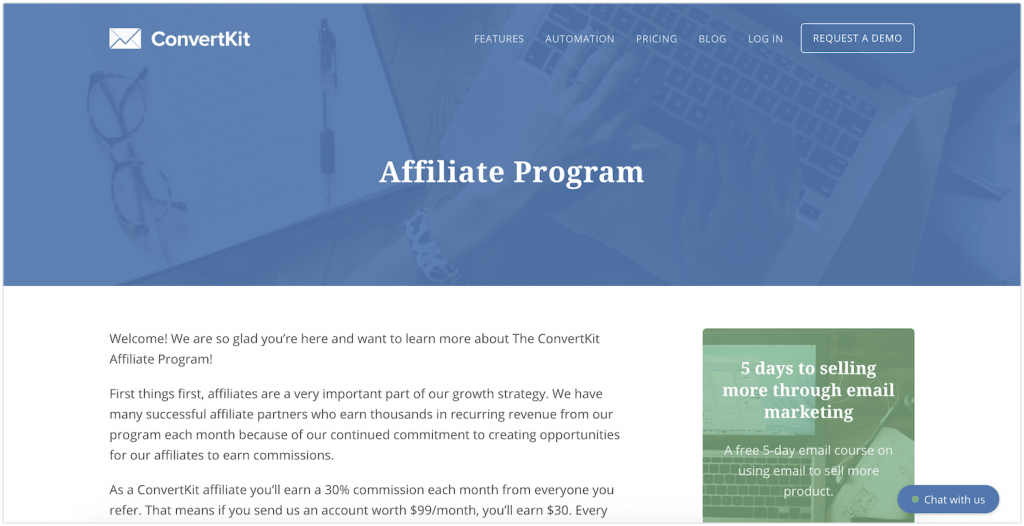 This will be the last email marketing software on this list, but I promise you; it's a good one.
Now might I also add that ConvertKit is also the most expensive autoresponder on this list (because it offers more features) so if you are able to sell it, then you can start making decent recurring commissions instantly with their rates.
Commission Rate
30%, this is what ConvertKit will pay you every month for every new customer that you get them.
Pros
– Get a dedicated affiliate manager
– Paid every 30 days
– High ticket item
Cons
– The commission needs to go through an approval process
– The price point may deter some people
The 5 Email Marketing Affiliate Programs Ranked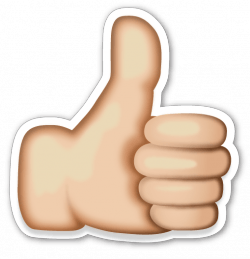 Ok, now that we've seen the 5 biggest player in email marketing and what they offer to their affiliates, I am going to rank them according to what I think is the best.
#1 >> Get Response
#2 >> Aweber
#3 >> Active Campaign
#4 >> Convert Kit
#5 >> MailChimp
Which ones will you be joining?
Get More Out Of Your Affiliate Marketing
Thank you for reading and I hope this post has given you a bit of an idea of what to expect as an affiliate marketer in the autoresponder industry.
I believe these are tools that won't be going away anytime soon as email marketing, (although many think it's dead), is just now getting started.
If you want to learn how to expand your affiliate marketing business, it all comes down to having the proper system in place.
I have a lot of articles regarding how to do affiliate marketing on my blog so take a look at that and I would also like to invite you to a free training course you can take right now.
It's a 10-day video series that will show you how to get started, all the way to how you can scale your business to new levels of commission.
If you have any questions about the email marketing affiliate programs mentioned above, be sure to let me know and I look forward to seeing you inside my training course.
Talk soon.
NB:
Want to see how I make money online?
Here's my latest guide
showing you everything I do to earn money with simple, easy-to-build websites.