Those who think "affiliate marketing is dead" also tend to think "email marketing is dead" too.
Well, here's the news in case you didn't hear; both are alive and well and thriving like never before.
For that reason, today we're taking a look at some of the best, high-paying email marketing affiliate programs currently available.
Needless to say, these come with super-high commission rates and, in most cases, recurring commissions – which I absolutely love.
I know you're in a hurry, so I'll end the introductions here and give you my TLDR list of the best…
11 Email Marketing Affiliate Programs (w/Commissions)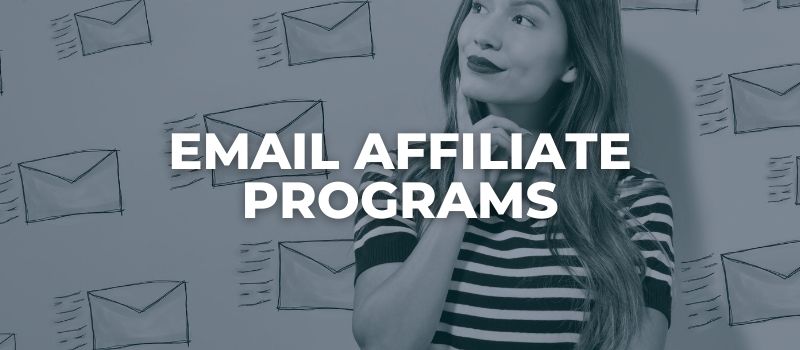 ---
---
GetResponse
Are you a blogger, freelancer, site reviewer, or marketing consultant who wants to have a cut from affiliate marketing?
If so, then Getresponse is the perfect partner in your quest to improve your online income stream. The site has a generous commission structure that pays 33% for every sale made through the recurring affiliate program.
They also have the affiliate bounty program that guarantees $100 for every new customer introduced through the referral network. Getresponse supports its affiliates by providing free marketing materials and a dashboard to track commission earnings.
Their cookies run for 120 days to ensure you earn the most from their affiliate links.
Commission: 33% and $100 for an inaugural sale
Cookies: 120 days
ActiveCampaign
Next, we take a look at ActiveCampaign, a platform paying 30% for every customer you welcome onboard through their affiliate program. They provide much-needed communication tools to help small businesses connect with customers and potential clients.
Their site allows you to set cookies to run for 30 days, which is sufficient time to market a link for maximum benefit. The platform is very secure; they won't track cookies without your consent.
Whether you are a small marketing agency, an upcoming blogger, or a big corporation, they do not discriminate.
Commission: 30%
Cookies: 30 days
Aweber
Thirdly, let us explore Aweber, a worthy partner that has been in existence for a decade while helping business spur growth through the provision of organized email communication.
The affiliate links they provide are quite flexible; you pin them on your blog, emails, chats, images, and Youtube. For every customer you refer to Aweber, you earn a commission of 30%.
The cool thing about Aweber is that they let you customize an affiliate link to reflect your brand outlook. That means you can market the links alongside your brand's initiative.
They have more than 21 banners you can use to market the site, and you can evoke imagination by playing around with various tools that support the promotion of the links provided.
Commission: 30%
Cookies: 365 days
Gist
Gist is another affiliate program that pays a 40% recurring commission as long as the customer continues to use its email marketing platform. It is very effective in communication, taking a 360-degree look at contacts and offering automated email solutions within one easy-to-use software.
For easy promotion, they have pre-created some highly effective banners that you paste on your blog or website.
Their email templates make life easy for you; you don't have to create a template from scratch.
Through an advanced integration portal, you can transfer referrals from other tools like Help Scout, Intercom, and Zendesk to GIST. For more support, they run regular webinars and have a dedicated customer support team ready to help 24/7.
Commission: 30-40%
Cookies: 30 days
Stripo
Stripo is a creative website that lets you customize Html emails without needing any technical skills in IT. You can earn a lifetime commission of 30% to introduce customers to the Html email editor.
With more than 180,000 active users, you can't go wrong with this uncomplicated platform.
They pay commissions via PayPal, which is safer than the use of credit cards. However, you need to accumulate $100 before you request payment. But the good thing is that they run their cookies for 120 days and pay to the last click.
A dedicated support team is always ready to respond to your queries.
Commission: 30%
Cookies: 120 days
Hunter
Hunter is an email marketing affiliate program that lets you earn 30% from revenues you bring in to the organization in the first year. You can do a lot with Hunter, including finding emails, domain searches, and email verification. It is a platform that helps organizations do cold email outreaches to potential clients.
The program provides extensive support for affiliates through quick responses to chats and email queries. If you are not ready to sign up for a premium account, you can use the free version, which allows you to make 50 requests in a month.
The site also enables you to integrate with other CRMs like Salesforce, Pipedrive, and Zapier to increase your marketing success rate.
Commission: 30%
Cookies: Not Specified
Mailgen
Mailgen is a superior affiliate management program that pays an affiliate for recruiting customers to premium and free accounts. They pay $50 for introducing a premium customer and $2 lead commission for each free account sign up.
For maximum returns, they have in place an API for developers and other e-commerce integrations.
Their cookies run for 120 days on the domicile computer from which you access the affiliate link. Also, note that they track cookies alongside the IP address to ensure every affiliate earns authentic commissions.
Besides, they give exceptional partner support through ready-to-use banners, ads, and other creatives.
Commission: $52 that include $2 lead commission
Cookies: 120 days
Automizy
Of all the affiliate programs in this list, Automizy offers the most lucrative commission offer.
It pays 90% for sales made from a referral used within the first month. Subsequently, an affiliate earns 40% per month. The unique thing about Automizy is that they have a 60-day cancellation policy and a 14 day trial period.
The company focuses on open rates of emails by deploying the most advanced tools. They offer quality email templates, drag and drop editors, tagging, and email scheduling.
When using affiliate links, be sure to make the most within the first 30 days before the cookies expire.
Commission: 90% for sales made in the first month and 40% for subsequent months
Cookies: 30 days
E-goi
E-goi is a good start point towards creating an additional passive income stream. You earn a 30% recurring commission for a lifetime as long as the customer renews their subscription.
Besides, they have exclusive deals in the form of discount vouchers, codes, and special campaigns.
A smart dashboard allows an affiliate to track commissions, sales, and clicks. Other support they give is the dedicated manager, special webinars, dynamic banner offering, and themed landing pages for easy promotion.
They track cookies for 60 days to help affiliates earn maximally from the affiliate links.
Commission: 30%
Cookies: 60 days
Moosend
To earn lifetime recurring commissions, try the Moosend affiliate marketing program.
You earn 30% for referring customers to their platform, and when they renew, you earn like the first time.
Moosend makes it easy to create email campaigns, newsletters, and it is the best platform for lead generation.
The site provides excellent support to set your passive income experience in motion. When you sign up, you get promotional materials, creatives, SEO advice, and a dashboard to track performance.
For optimal earning, they have extended cookies tracking that lasts for 120 days.
Commission: 30%
Cookies: 120 days
EmailOctopus
EmailOctopus is a simple email marketing tool designed to help small businesses and individual creators grow their audience. It's like what Mailchimp used to be like in the early days with an equally as cute logo.
But unlike Mailchimp, it's affiliate-friendly, which makes it a great choice to promote to bloggers, affiliate marketers and any other audience that might include affiliate links in their email campaigns.
EmailOctopus pays a 30% recurring commission for every referral up to 12 months into their subscription. The cookie used to track a user is valid for 31 days.
They support affiliate partners by providing free marketing materials and ideas, plus plenty of content you can adapt for your website, emails or videos.
Commission: 30%
Cookies: 30 days
---
Related Questions:
Can You Make Money Promoting Email Affiliate Programs?
While the "blogging" and make-money-online niche are super-saturated already, this should not discourage you from promoting the above-mentioned affiliate programs.
What you need to do is to find the right angle for the right audience, and you're in business.
If you can do that, I am sure you can become successful in promoting the various email marketing tools and services available.
Is Affiliate Marketing Still Worth The Effort?
---
39 More Email Marketing Related Affiliate Programs:
---