The first affiliate program I've ever joined was Clickbank.
That + the Amazon affiliate program are the two most common starting places for anyone looking to make money online (with affiliate marketing).
But what about Clickbank?
Why is it so popular and what are the advantages of using Clickbank (over other networks)?
In this ClickBank Marketplace review, I will answer all of these Clickbank questions and more.
If you're just getting started with Clickbank affiliate, this guide should provide you with everything you need to know, but first;
Let's start things off with the usual TLDR summary of this review.
Is The Clickbank Marketplace Worth Your Time?
Free To Join & Promote
Affiliate Commissions

Product Selection

Payment Methods

Clickbank Marketplace
Clickbank Review TLDR Summary
100s of products to promote across a variety of niches ✔️
High commission rates on (most) digital products ✔️
Loved & trusted by 1000s of affiliates ✔️
Weird commission reduction system (more below) ✖️
Not many payment methods available ✖️
NB
: Please note this is
NOT
a Clickbank University review. This is a review about the affiliate network known as the Clickbank Marketplace (and how to use it for best results).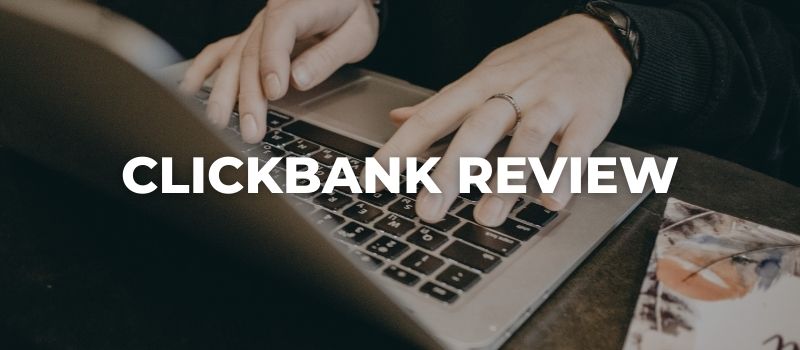 ---
---
What Is Clickbank?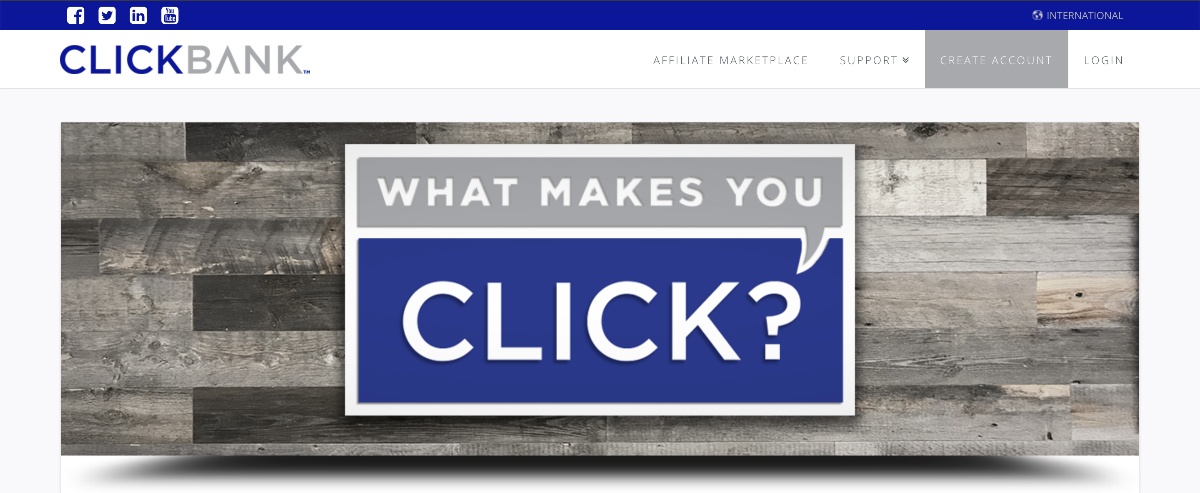 Clickbank is an affiliate network that houses (mostly) digital products that you can sell as an affiliate.
Founded in 1998 – in the boom of affiliate marketing – Clickbank is one of the most loved (and hated) affiliate networks in existence.
There was a time when Clickbank was known to be filled with scams, spam & garbage products but have since "cleaned up their act" and are now slowly beginning to reclaim their position as one of the best affiliate networks (more so for beginners).
As you will see below, Clickbank offers a wide selection of affiliate products to promote and since most products are digital, the commission rates are some of the best in the industry. I'm talking 70% and beyond.
But before we get into what you can promote from Clickbank, let's look at…
3 & 3 Pros & Cons About Using Clickbank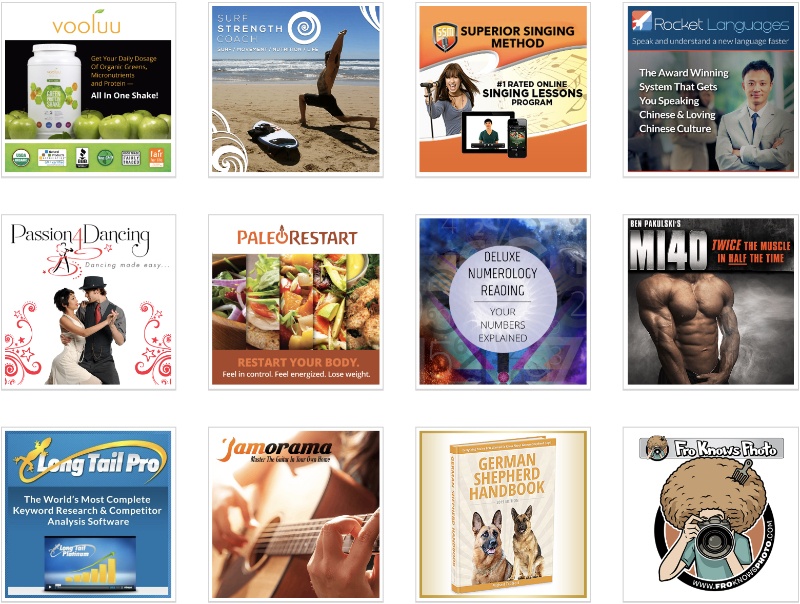 PRO 01: Large Selection of Digital Products
Just like you're spoilt for choice with physical products when using the Amazon Affiliate program, Clickbank offers the same range (although not in the millions) with digital products that you can promote with big commission rates.
While physical products are also making their way on Clickbank (like the best-selling Tactical Flashlight offer), most of the products you will find on Clickbank are courses, ebooks, membership sites, web tools, etc….
The good news is, these tend to lead to…
PRO 02: Very High Commission Rates
It's not uncommon to come across 50%+ commission rates on Clickbank.
There are even some offers that pay you a 100% commission fee (and the vendor then makes his money through the upsells).
Whatever niche you're in, you will find a product to promote on Clickbank that is guaranteed to have high commission rates.
To find out the commission rates of a product, you can see the "Avg $/sale" metric and also the "Avg %/sale" in the "Stats" section of the product you'd like to promote.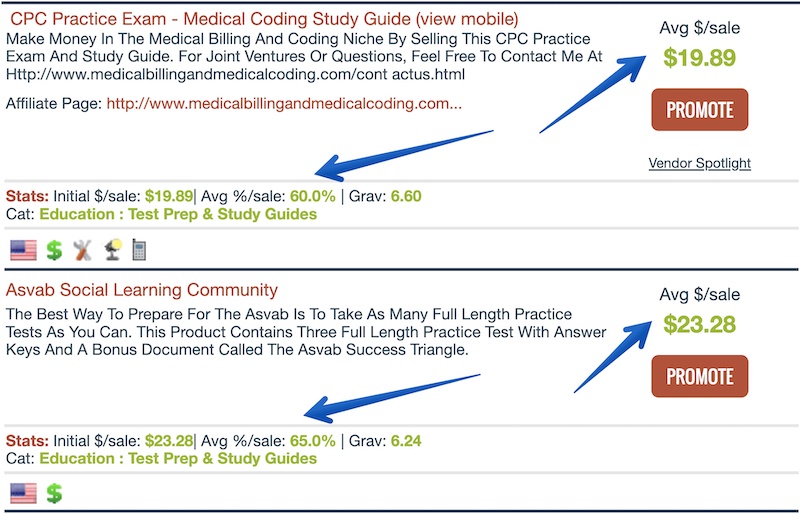 PRO 03: On-Time Payments
One other pro for Clickbank is on-time payouts.
While this is the norm for most reputable affiliate programs I've reviewed, it's good to know that your earnings will be paid on time, every 2 weeks.
CON 01: Outdated-ish Marketplace
A common complaint about Clickbank (which I don't really mind) is the outdated-ish look the interface has.
Again, I'm not too bothered about this but yes, there definitely are ways the user interface of Clickbank can be improved.
CON 02: A Lot Of Junk Products
This has also been the issue with Clickbank since day one.
There are plenty of junk products being sold on there and if you're not careful, you risk losing credibility with your readers.
There's also a problem with high return rates and refunds, so expect that to happen if you promote a Clickbank product.
CON 03: Fees For In-Activity
One highly annoying thing about Clickbank is the fact that they will charge you a fee for inactivity.
This means that if you are an affiliate, and you have an outstanding balance with Clickbank, but you are not driving any (new) sales to the platform, you will start getting charged and the fees will be taken from your account balance.
As Clickbank explains here, the fees are as follows:
$1 per pay period after 90 days of no earning
$5 per pay period after 180 days of no earnings
$50 per pay period after 365 days of no earnings
A way to mitigate that risk is by setting a low-threshold for payouts, which means you won't be holding too much "cash" on Clickbank, thus there's no way they can charge you fees.
The payment threshold information can be found here, but there are different thresholds for different payment methods.
What Can You Promote From The Clickbank Marketplace?
At the time of writing, there are 24 categories in the Clickbank Marketplace, with plenty more sub-categories and niches in each one.
Some of the most popular Clickbank categories and products are:
Healthy (green) living
Wealth & money management
Relationships advice
Self-help courses
Travel deals
Sports items & merchandise
You can see a full list of categories here: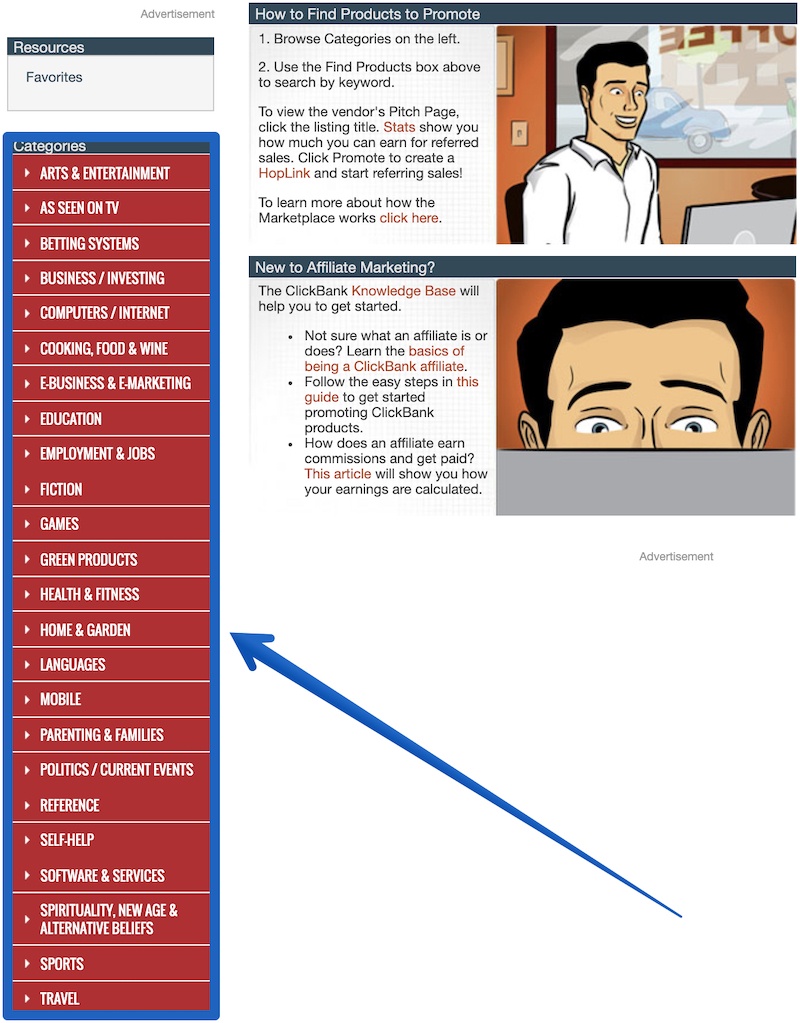 Who Is Clickbank For?
Unfortunately, Clickbank is not available to affiliates worldwide.
There is a list of countries here that have been banned from becoming a Clickbank affiliate and/or using the marketplace to buy products.
However, some crafty affiliates figured out that you can use a VPN to access Clickbank and make money with it. You can see this great response below about how one Quora user got around the ban limit using a VPN: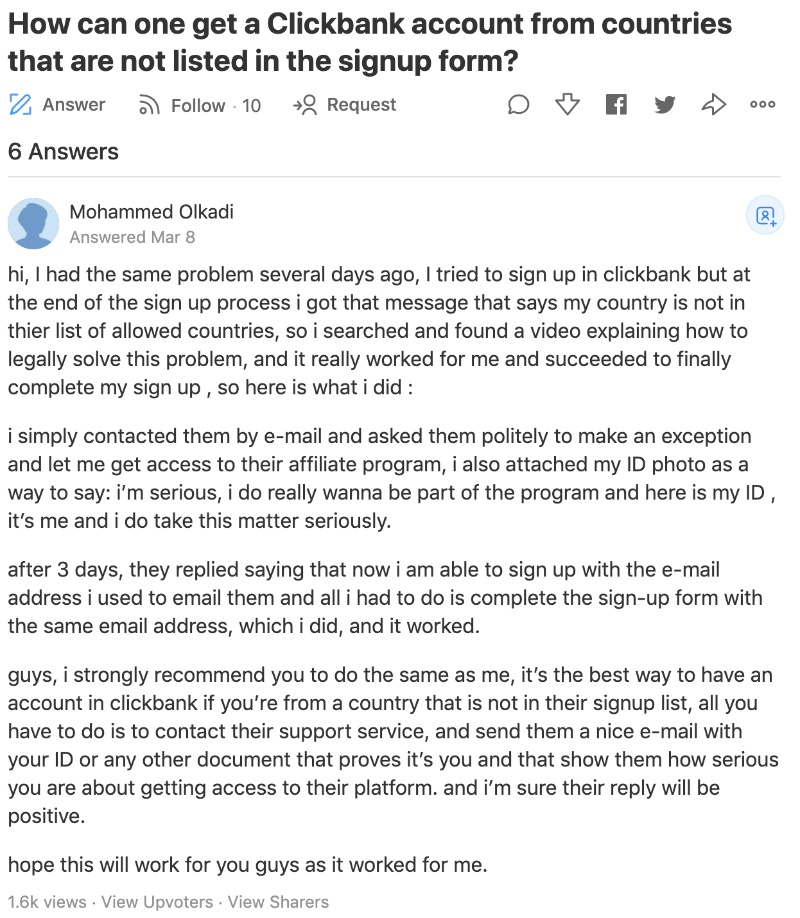 If you're not from any of the banned countries, then Clickbank is open for you to do business.
As an aspiring affiliate, my advice would be to join Clickbank and start learning the ropes of how it works, and how to make money with it.
Before we move on to "how to get started" with Clickbank, here are two great video guides from one of my favorite mentors (Franklin Hatchett) that show you the possibilities of what can be achieved by promoting Clickbank products.
How To Get Started As A Clickbank Affiliate
If you'd like to sign up for Clickbank and become an affiliate, here are the steps you need to take:
Step 01: Visit The Clickbank Website & Create An Account
Once you're on the Clickbank homepage, you will see a grey-ish "Create An Account" button on the top-right screen (in the menu bar).
Step 02: Fill Out Your Details
Before you can create your account, you must also fill out your details such as name, email, bank information, etc…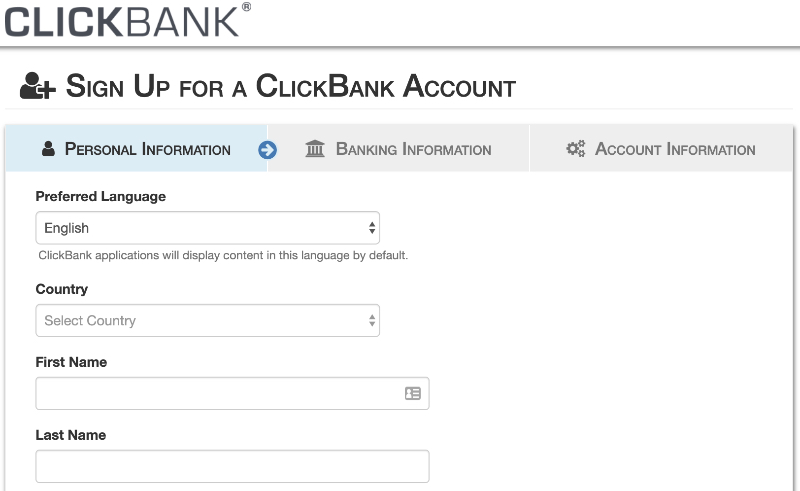 Step 03: Start Promoting Products
& that's it.
Once you have completed registration, all you have to do is find a product to promote (I have a free training course on this down below).
To find a product, visit the Clickbank "Marketplace" and filter out products by categories and sub-categories.
One tip I can share with you here is to sort out the products by Gravity.
The Gravity score in Clickbank shows how well this product is selling so you can at least be sure that the product you want to promote does have some customers and other affiliates are successful marketing and profiting from that product.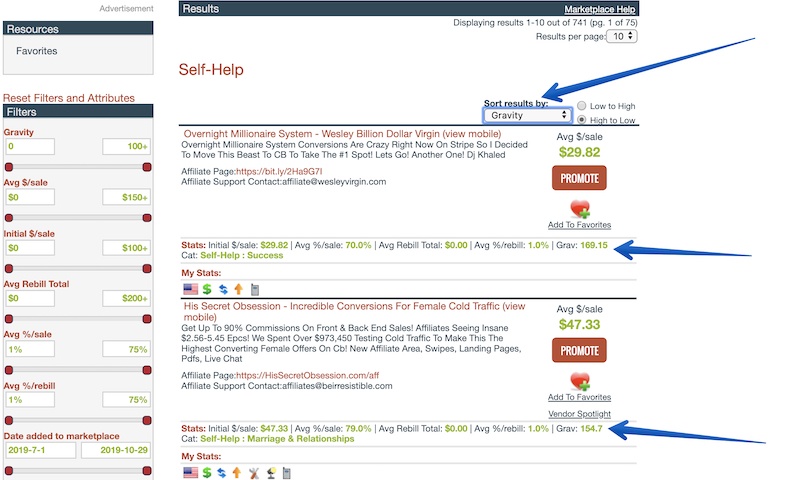 NB: Keep in mind that the higher the gravity score is, the more competition there is (so it's a pro & a con to find products with a high Gravity score!
Can You Still Make Money With Clickbank?
Yes – you can still make money with Clickbank as many other affiliates are doing.
As I said earlier, the Clickbank has cleaned up well since its darkest days and now offers various high-quality products you can promote to your audience (although it is hard to find them in some categories).
Affiliate marketing is here to stay, so of course –  one of the most widely used affiliate networks is here to stay as well.
I've written a previous guide showing you exactly how to make money with Clickbank so you can check that out if you want a more detailed step-by-step process of how to do it.
What Are Current Clickbank Affiliates Saying?
As is the case with me, many affiliates have a love/hate relationship with Clickbank.
Some see it as a marketplace for scammers that also robs you of commissions because of "inactivity". Others see it as a goldmine to find products to promote and make quick money with affiliate marketing.
However, going by what users are writing on review sites such as TrustPilot and ConsumerAffairs.com, it seems like people are not too happy with Clickbank: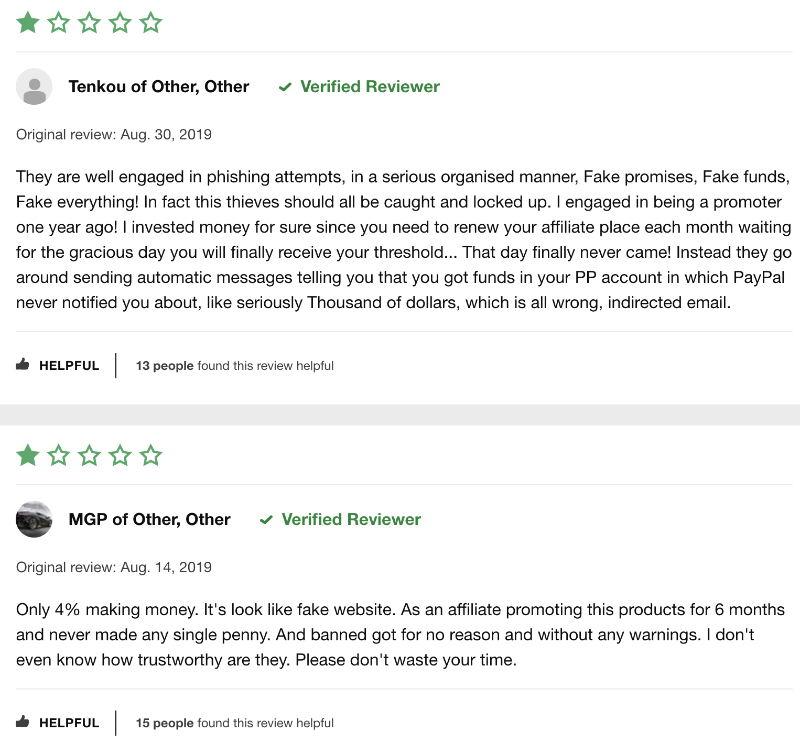 What you have to keep in mind here is that most of these are not affiliates, but rather people who bought products (via Clickbank) on an affiliates' recommendations.
While this has nothing to do with how good Clickbank is for affiliate marketers, it shows a lack of product quality, a lack of customer support (for customers), and proves that a lot of scammy products are still being sold on Clickbank.
Learn: How To Make Money On Clickbank
If you're looking to get started with Clickbank affiliate marketing, you may want to look at my free guide explaining exactly how I make money building simple affiliate websites.
This is a simple, easy-to-follow method I use to consistently make money with my affiliate websites.