For the past 7 years, I've been scouring the internet looking for the best make money online opportunities. As you can imagine, this usually leads me down rabbit holes and blatant scams who promise the world but deliver nothing.
However, sometimes I do get lucky and I come across a real gem.
This "gem" I'm talking about is Ian Pribyl's new course, the FIMP course. In this review, I will be sharing with you all you need to know about this course.
Ian's StoppingScams.com website has always been a great resource for aspiring affiliate marketers so I wasn't expecting a dud here – I'm glad I wasn't disappointed.
FIMP Training Course Final Rating
Price

Features

Training

Value For Money
Ian Pribyl's FIMP Review: TLDR Summary
Easy-to-follow training
Great instructor
Perfect course for beginners
Safe (definitely not a scam)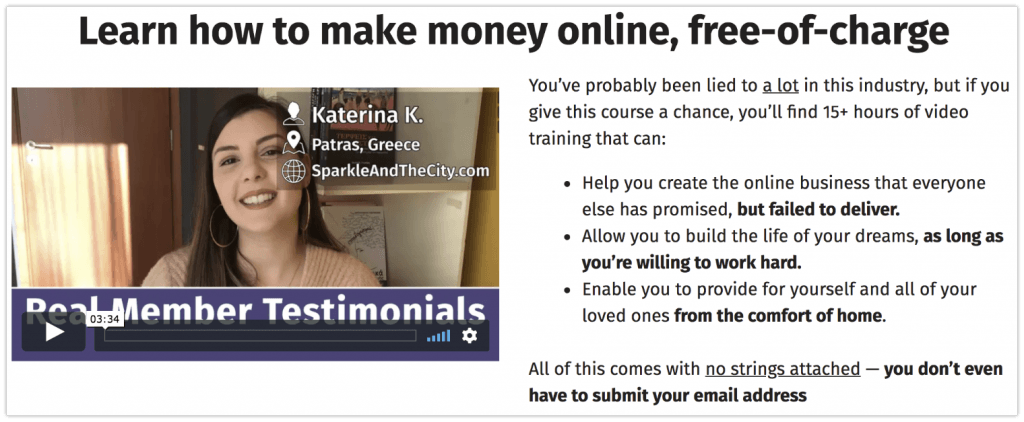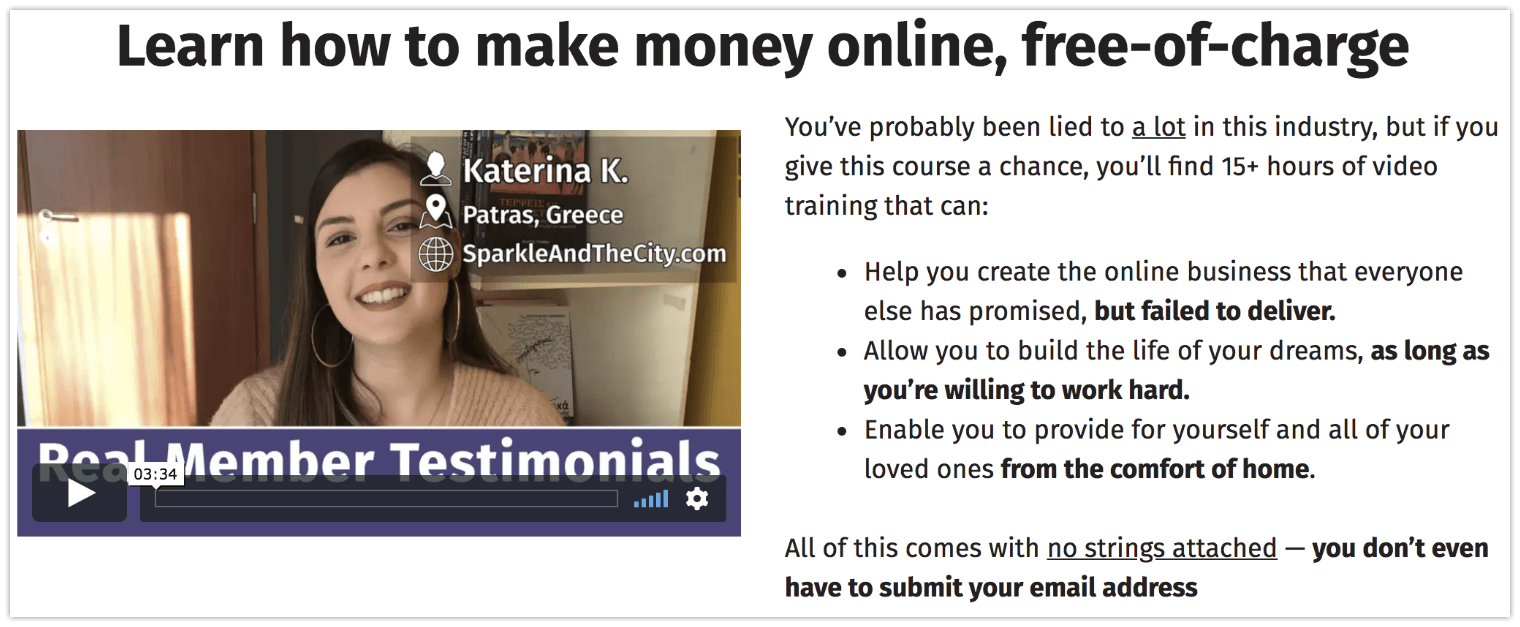 What Is Stopping Scams?
Stopping Scams is an online blog that is aimed at reviewing the many scams and bogus training courses that are sadly running wild in the affiliate marketing space.
I have been a fan of this blog for quite some time as well occasionally coming across it while researching information on products I was reviewing, but I have never realized they offer a FIMP, their very own training course.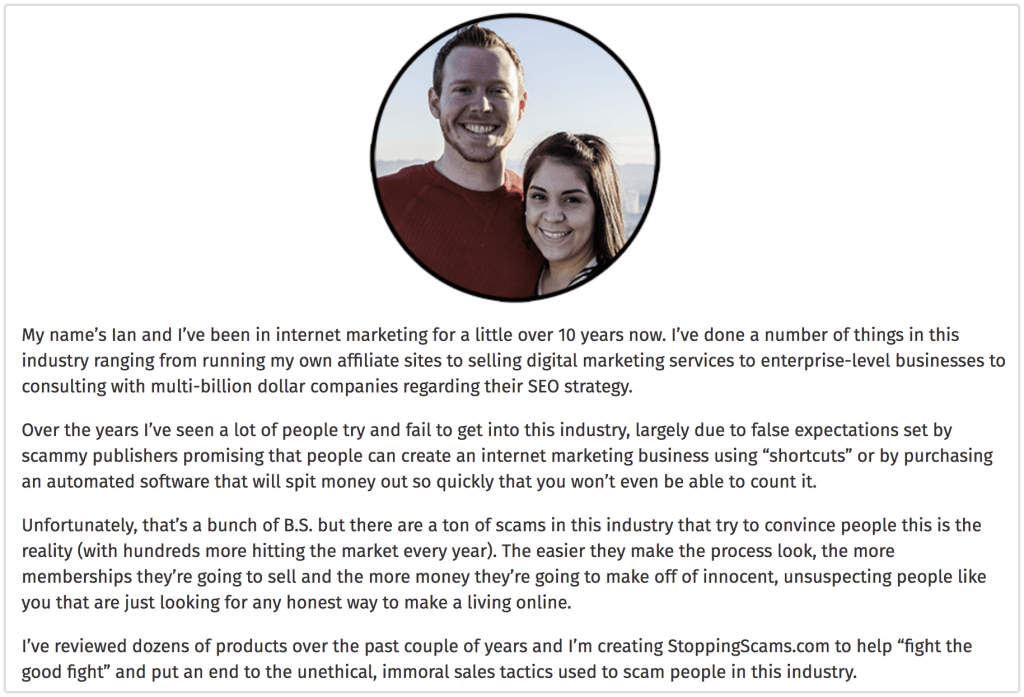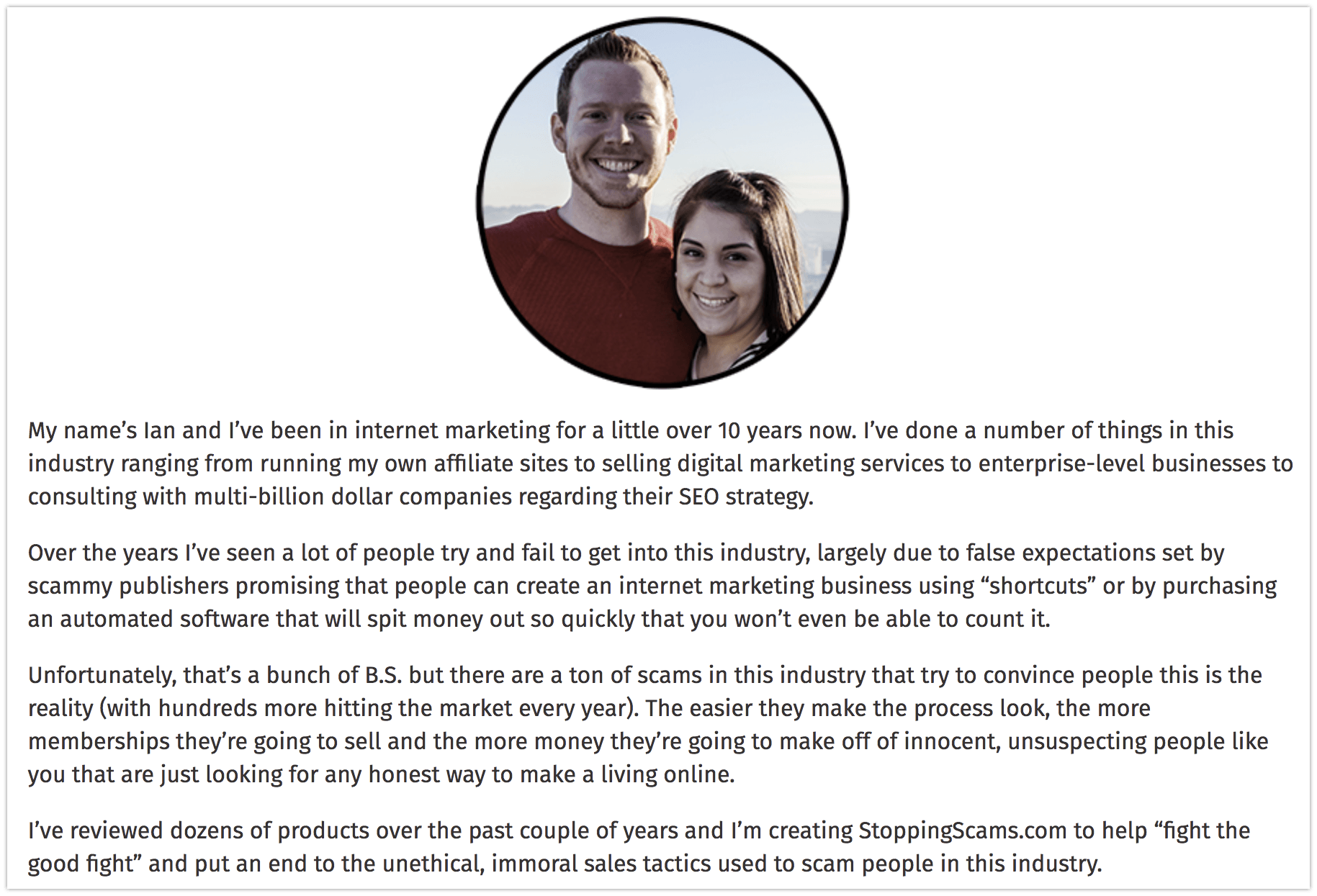 What Is FIMP?
FIMP, which stands for the Free Internet Marketing Project is exactly how it sounds.
I know a lot of training courses out there promoting themselves as free (including my own personal favorite Wealthy Affiliate), but FIMP really is 100% free.
No catch, no premium levels, no hidden courses, just free content in video format that will teach you how to get a head start in affiliate marketing.
What Can You Learn With FIMP?
You'd be surprised to see how much content is offered for free at FIMP. At first, I was also very skeptical about it as it simply can't be 100% free but to my surprise, it is.
There's over 15 hours worth of content inside the FIMP training course and you can get access to them right now on this page.
Just to cover what you will be learning, here are the "modules" inside the training course, all the branching out into multiple lessons and "steps" with a detailed video to go along with them – some videos are even 30minutes long.
#01: How To Use This Training
#02: The Mindset Required To Make Money With Affiliate Marketing
#03: How To Pick Your Niche (blog topic/target audience)
#04: Building Out Your Website
#05: Doing Keyword Research For Your Content
#06: How To Create Content That Gets Ranked
#07: How To Promote Your Website & Get Traffic
#08: How To Make Money With Affiliate Marketing
#09: (Additional Miscellaneous Training and Resources)
All these modules and lessons should be enough to get you going with your affiliate marketing.
If you just understand the concepts taught in this course, then you are well on your way to becoming a profitable affiliate marketer.
One thing I would like to add before I continue with this FIMP review is to watch the training videos as they are displayed and organized.
While Ian (creator of StoppingScams.com and FIMP) advises you to watch the first 2 modules first, then browse and jump around the training as you please, I would advise you to watch them one by one as if you're a beginner, the lessons thought will build upon each other.
The point I'm trying to make; do not skip lessons and videos.
You'll be making it much harder to understand the whole concepts and how they connect to each other if you simply pick and choose what you want to learn.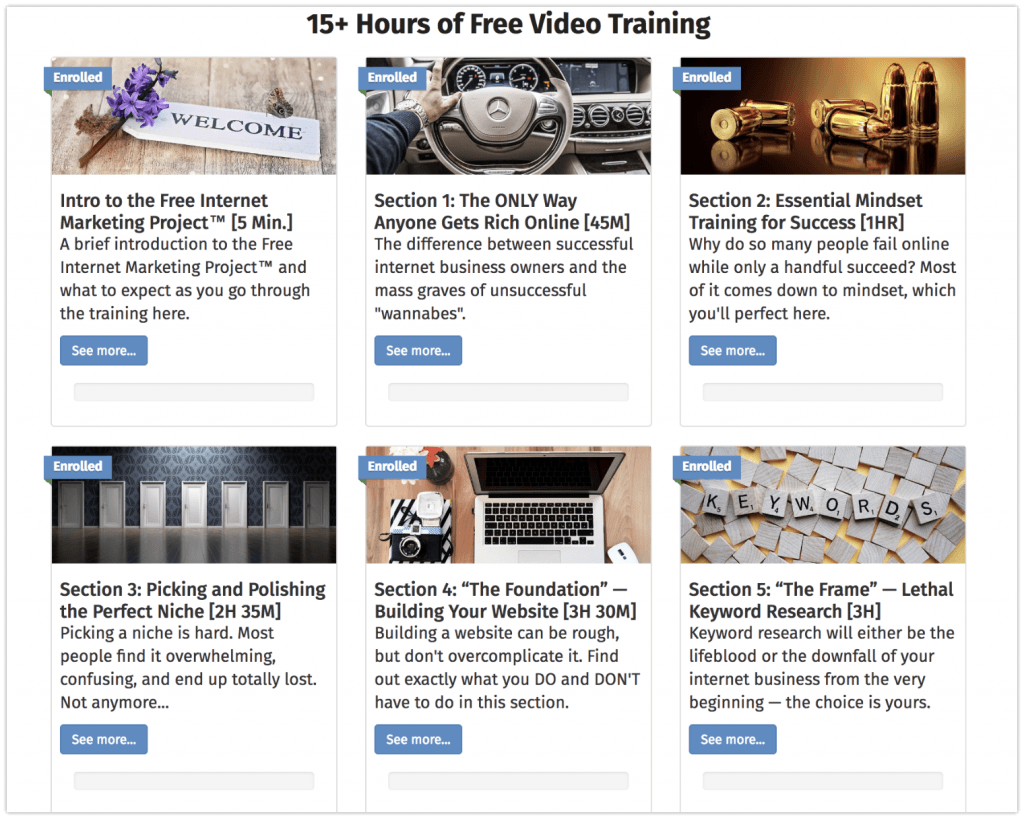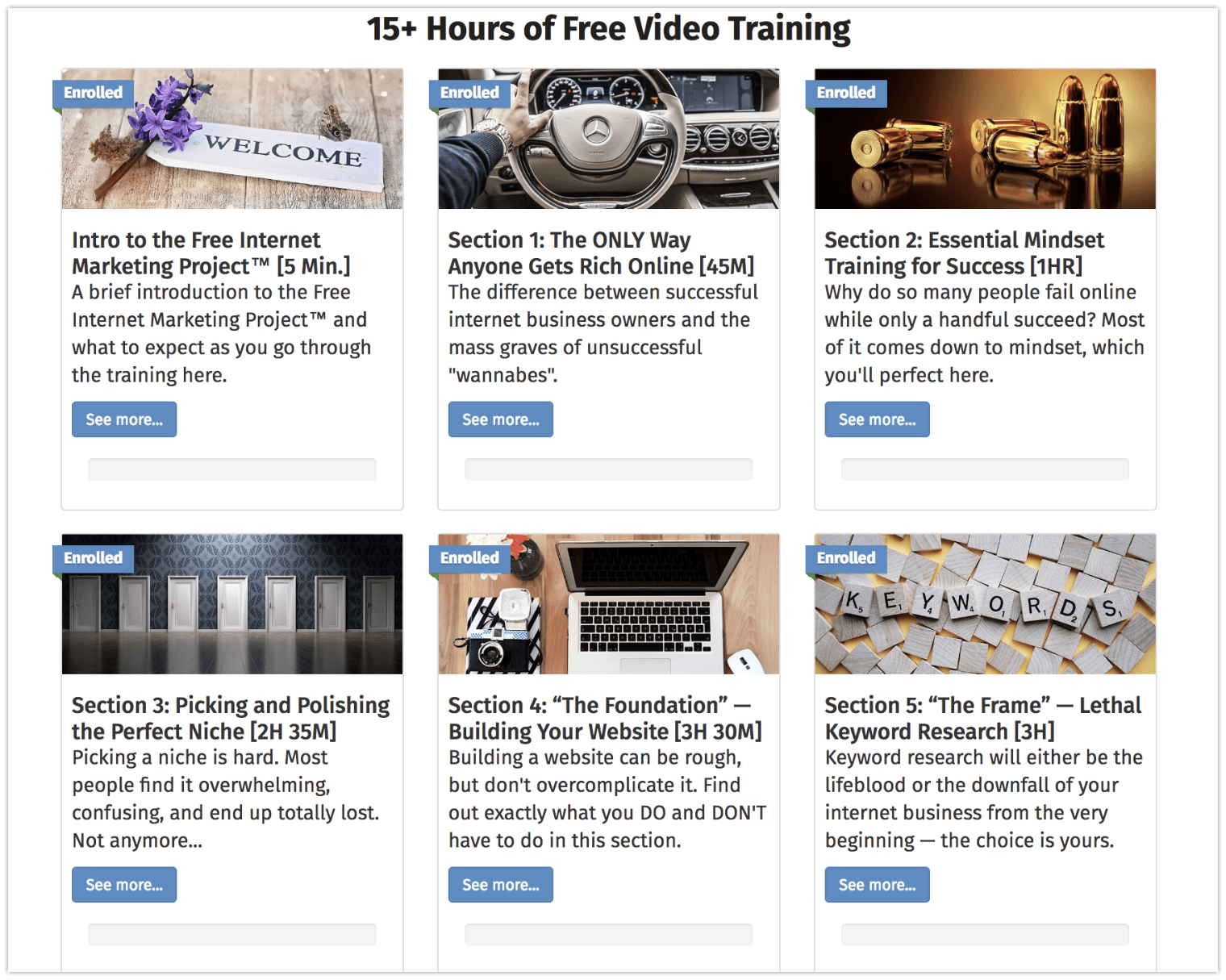 The Benefits Of FIMP
I just spent the past 3 hours of my Sunday morning going through the first initial phases of the training and I loved it.
So much so that I had to jump on this review and share it with you all as I think this is one of the best free affiliate marketing training courses that I've ever seen.
Not only is Ian super helpful and clearly very determined to see all his students succeed, it's also 100% free.
You're going to have to see it to believe it but I may have just discovered one of the best affiliate marketing courses, and now it's your chance to take advantage of it.
How Does FIMP Make Money?
As I said already, FIMP is 100% free. However, if you are going to take the course, then I recommend you use Ian's affiliate links to get the resources he recommends.
You don't have to, but using his affiliate link will earn him some commissions which I believe he absolutely deserves thanks to the magnificent training he's created.
Mind you; his commissions will not incur an extra cost for you. As affiliate marketers, we get our cut from the companies we promote, and not the end-user.
Who Is FIMP For?
FIMP is for the beginner affiliate marketer, but I would suggest you spend some time on it even if you are mid-level to advanced.
I personally will be going through this course entirely over the next weeks, even though I already know and understand most of the lessons he shares.
Ian is obviously a successful affiliate marketer in his/her own right so it would be good to see how a pro-affiliate marketer goes about building a business.
FIMP vs Wealthy Affiliate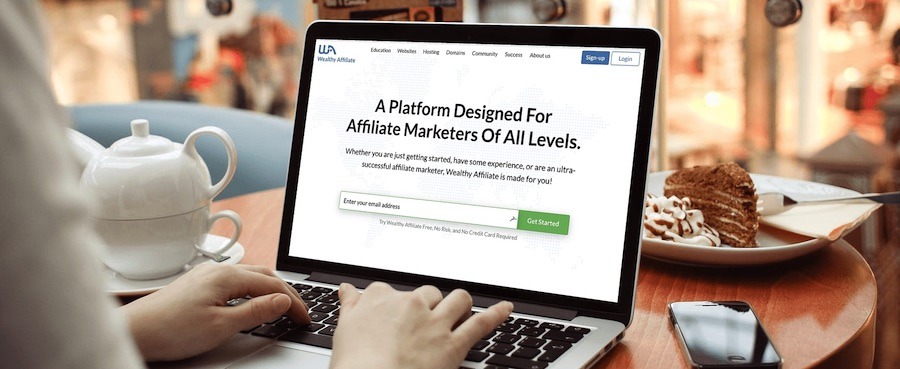 Now as you may know already, the main training program I promote is Wealthy Affiliate.
You may also want to know that Ian is also a student of Wealthy affiliate and also one of the most successful affiliates WA has ever produced.
Most of the training even comes from Wealthy Affiliate and wheel I would still suggest you check out the FIMP, I would still suggest you join WA as well.
Why is that?
WA offers more than just training. I won't go through all the details of what you get with Wealthy Affiliate and what it is all about, but you can check my previous posts on it.
When it comes to FIMP vs Wealthy Affiliate, again I would suggest you join both.
Do I Recommend You Join FIMP?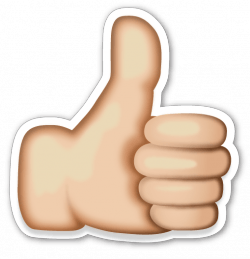 Yes, get on it.
If you're a beginner affiliate marketer struggling to understand the whole business model and how to get started, then the FIMP training course is where you should visit next and start your training today.
Closing Thoughts on FIMP Review
Thank you for reading my FIMP review. I'm really surprised at the great quality of training that is being offered there and I hope this post has convinced you to give it a try.
You literally have nothing to lose and everything to gain.
As a FIMP student, I am sure you will see success in affiliate marketing way faster than you originally anticipated.
Go support Ian and Stopping Scams by becoming a FIMP member today.
That's all from me. I wish you all the very best.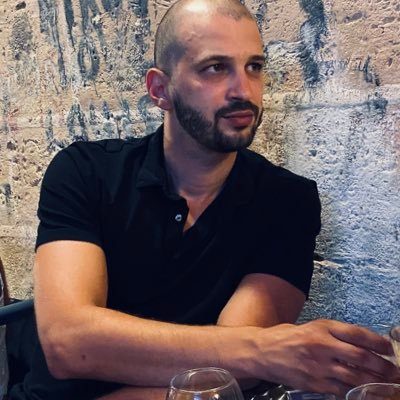 Since 2011, I've been learning how to make money online with affiliate marketing. This website is where I share everything I know and all I will learn along until I reach my next income goal of $30,000 p/month.
wanna learn how to make money with affilate marketing?