Are you in the home-improvement niche?
Here are 5 home novelty items affiliate programs that you can use to start earning a tripe digit commission with every sale you make.
Novelty items (and the home niche in general) has been a big earner for quite some time now but thanks to social media platforms such as Pinterest and others, it's booming like never before.
Here are my favorite 5 home affiliate programs that you can use and make money from.
You may also want to read my mega list of home decor affiliate programs.
Joybird Affiliate Program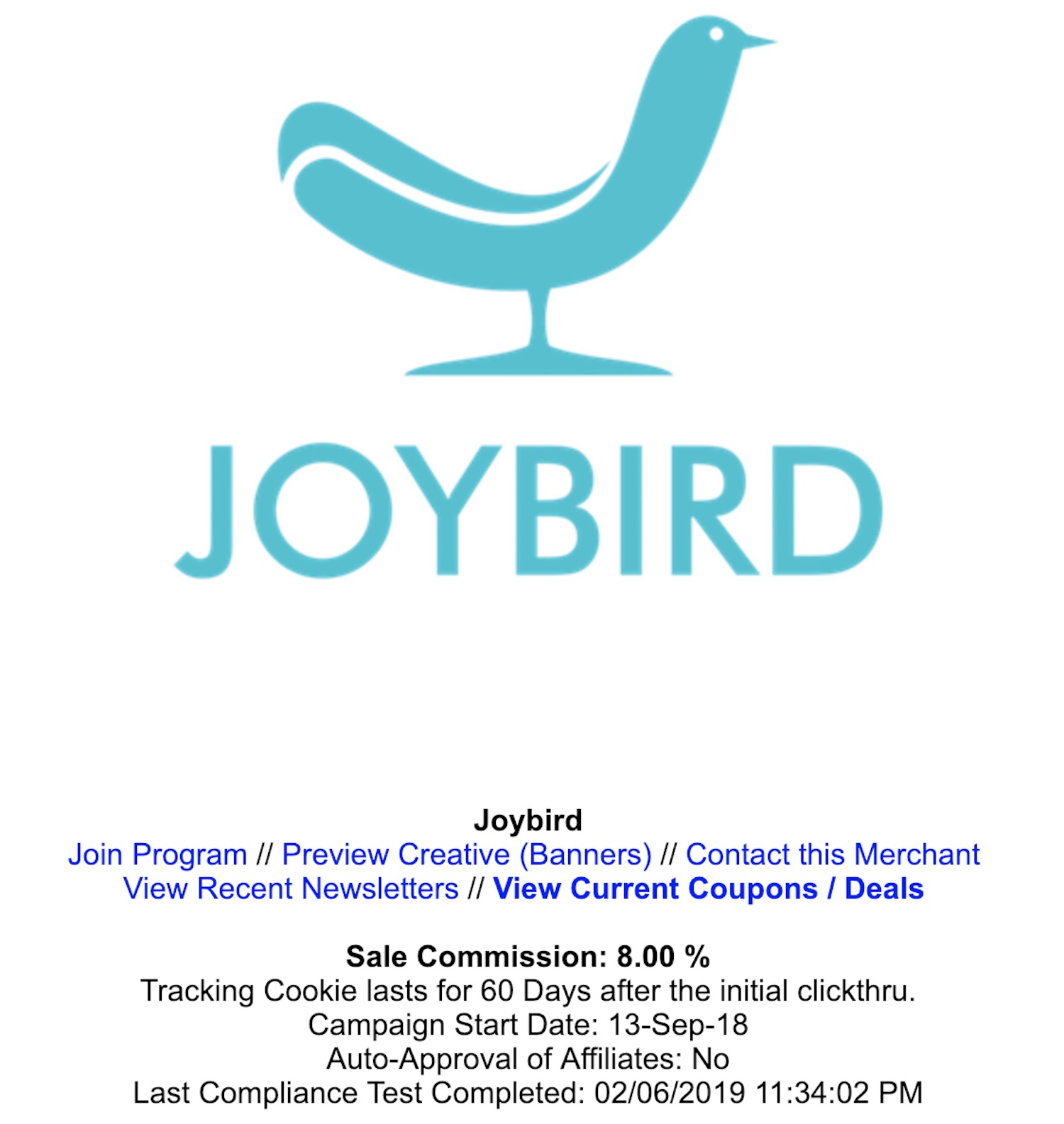 Are you an interior designer or a business professional?
Join 'Joybird'. This world-renowned company specializes in customizable, modern furniture.
Their most popular items are sofas and chairs which can be delivered within three days. The interesting thing is they are available in different exclusive sizes and shapes. You will find Hughes Sofa, Eliot Sleeper Sofa, Lewis Sofa, and Briar Sofa.
On the other hands, chairs are available in different models as well, like Eastwood Chair, Hopson Chair, Ivo Accent Chair, and Soto Chair.
As a professional designer, you can endorse or choose any model for your client to compliment their home. They would fall in love with the newest styles and be inspired by the iconic art.
If you are an affiliate marketer and want to become a member of their program, it is important to contact their account manager first.
They will ask a few questions like how you are wishing to promote the brand or what social media channels you are planning to use.
Program Highlights
It gives commissions up to 8%.
Average sale of Joybird is around $2,000.
You will receive updates on promotions on a regular basis.
The cookie life is 60 days.
Customers receive a lifetime warranty.
Designer Living Affiliate Program

It is an online furniture and decor store.
Unlike Joybird, which focuses on designing sofas and chairs, Designer Living promotes and sells a lot of things. In a way, you can get everything for your home at this place.
You can shop for furniture, bedding, window, home decor, and bath. They indeed have products for outdoor decor. For example, you can buy outdoor pillows, outdoor panels, outdoor blankets from different premium brands.
Though it is famous for furniture, recently they have introduced the 'Apparel' category in their store where you can find wraps, robes, pajama sets, lounge pants, and tops.
In order to promote this brand, you need to register in the system. This is probably because their affiliate program is associated with Admitad Affiliate Network.
If you are a mover and shaker of social media, you can make a lot of money due to the diversity in their store.
Program Highlights
You can earn up 12% per transaction, which is a lot better than many stores.
The click referral window is for 30 days.
Designer Living also gives exclusive deals/coupons for your specific audience.
You can expect express withdrawal without a fee.
They try their best to fulfill the orders within 1-2 days.
John Robshaw Affiliate Program

John Robshaw is a professional fine artist who studied traditional block printing in China.
However, the traditional fabric making in India made him fall in love with that region. For that reason, the products of his store are focused on bedding.
He has a beautiful assortment of sheets, duvets, quilts, decorative pillows, and etc.
In case you are thinking why the products of John Robshaw are special compared to others, well it is because, as we have mentioned before, he is a fine artist and he immensely focuses on the highest quality.
Every stitch of his sheets is meticulously calculated. It is like he designs his products for the royal families only.
Therefore, if you deal with lavish families/followers, you can recommend his products and transcend the expectations on a massive scale.
In addition, the average order value of this brand ranges from $300-$250. There is a great chance to earn good commissions.
Program Highlights
The base commission is around 10%.
If your website is exceptional, you can contact them for more benefits.
Cookie duration is 45 days.
The affiliate network is 'Shareasale'.
The best performing products are sheets and decorative pillows.
Home Living Style Affiliate Program

There are so many reasons to shop at 'Home Living Style'.
It is a home decor company, founded in 2002. It sells high quality and exclusive interior decorating products.
The unique thing about this store is it has its own professional interior designers, artisans, and tech geeks that make sure they are producing elegant products.
Furthermore, it owns customer first agents too who are always there to help any product or order questions. Your readers will always have a wonderful experience with this company.
There is another thing which most people don't know about this top-notch brand.
Apart from selling products to a large spectrum of customers from homemakers, they also provide their service for the US Army and the White House.
This single feature is more than enough to sway your followers. They will buy on their own, and as an affiliate marketer, you will earn over and over again too.
Program Highlights
Home Living Style gives 8% commission rate.
You need to sign up for the ShareASale affiliate network to promote its products.
The cookie duration is 90 days.
It has 14,000+ products for its customers and affiliate partners.
You will also receive regular newsletters and affiliate optimization tips.
One Kings Lane Affiliate Program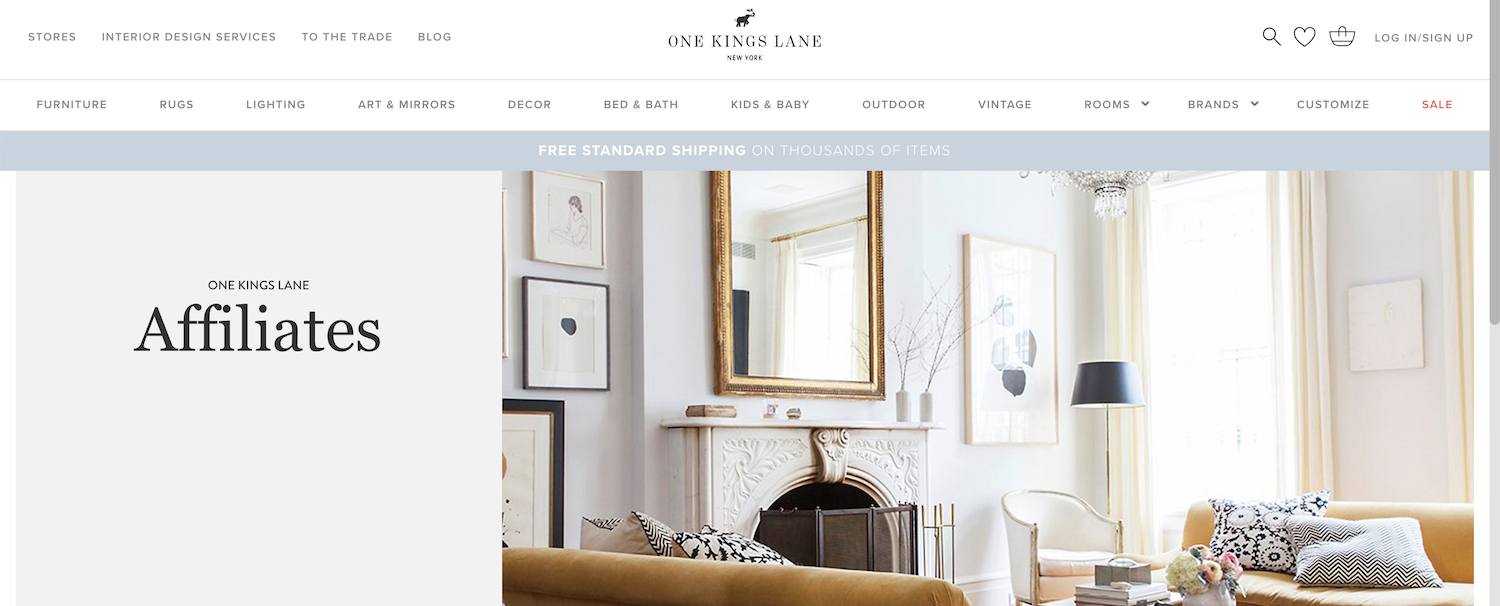 A home should be a heaven. It should be a place where you want to be all the time.
And, One Kings Lane designers perceive this rather well.
This company was first launched by two female entrepreneurs and their aim was to assist people in making their homes beautiful with a wide variety of products.
In their store, you will find the designer, vintage, and exclusive home furnishings in almost all shades and styles.
In other words, they have everything for everyone.
It doesn't matter whether you or your followers love contemporary homes or traditional homes, One Kings Lane home decor products will inspire you all and make you passionate about creating a beautiful home.
This company also has a dedicated affiliate management team which helps its affiliate partners in earning higher commissions. Currently, they offer 20% payout on sales generated by new customers with a 14-day cookie duration.
Program Highlights
One Kings Lane gives 20% commission on each new sale.
You will receive 5% commission of returning clients.
The affiliate referral is 10%.
The average sale of this famous brand is around $200.
It has a 14-day cookie duration.
How To Get Started With Affiliate Marketing
WANT TO KNOW HOW I MAKE MONEY WITH
AFFILIATE MARKETING?
(YOU ALSO GET A 10-DAY COURSE FOR FREE WHEN YOU SIGN UP)
After signing up, you will be redirected to the course page where you need to sign up again - no credit card required, just an email will do.
If you're new to this whole affiliate marketing business and want to get started in the home niche, here's a free training course that will show you all you need to know to:
Start your home-based niche website
Get traffic to that website
Rank your blog posts in Google
Make money off the traffic you get (with affiliate marketing).
The course is free to join and for a limited time only, I also offer a $97 bonus with every sign-up. You can read more about that here.
In Closing
Thank you for reading my roundup post of the best home novelty item affiliate programs.
If you have any questions about any of the programs listed above, be sure to let me know down below – I'd be more than happy to help you get started on your way to triple-digit commissions.
Talk soon.
Christian Lee.