I've recently been looking at big brand affiliate programs to see if they measure up to small (independent) affiliate programs.
Having already gone through the disappointing Best Buy Affiliate program and the promising Walmart affiliate program, today I am sharing my Target Affiliate program review.
I am sure Target needs no introduction, especially to my mostly-US audience, but I am sure not too many affiliates know that Target offers an affiliate program you can join and earn a commission off driving traffic to the Target main website.
So – are you interested in becoming a Target Affiliate?
Let's see if this affiliate program is something you should be investing your time and energy in.
Target Affiliate Program Review Summary
Free To Join & Promote
Affiliate Commissions

Affiliate Cookie Length

Product Range

Payment Options
Is The Target Affiliate Program Worth Promoting?
Household brand in North America. ✔️
Thousands of products to promote. ✔️
1 to 8% commission rates. ✔️
Decent commission rates. ✔️
For US customers only. ✔️
What Can You Promote As A Target Affiliate?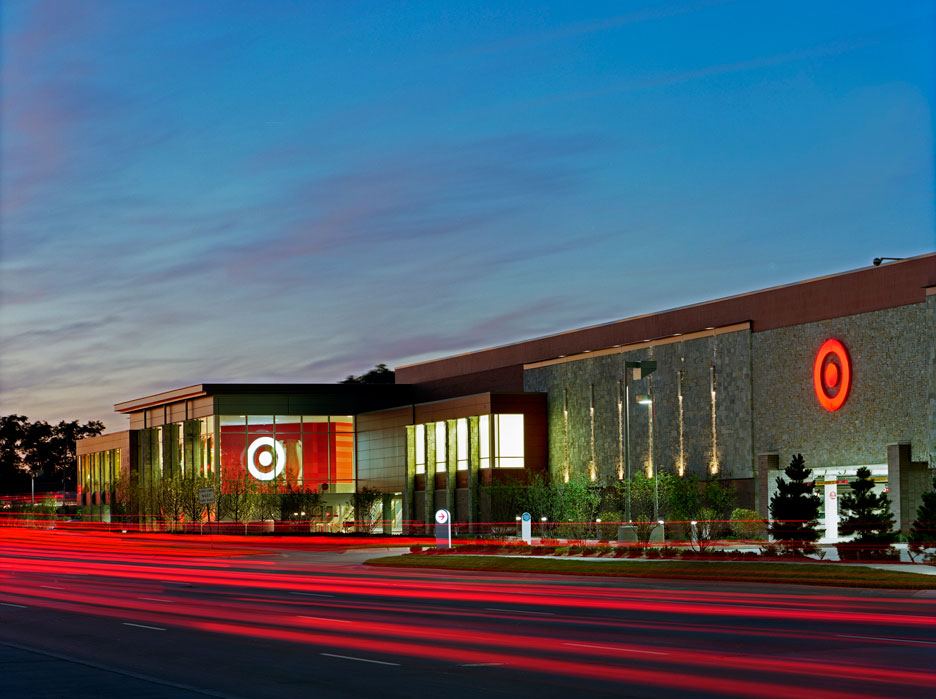 ---
---
Right, let's get into the nitty-gritty here and see what products you have available for you ready to sell (for a commission) on the Target online marketplace.
The marketplace, as I am sure you would've guessed by now is mostly in the home goods / general products kind-of-niche, however, even within these seemingly wide and broad niches, you can still find something to promote on your niche site.
Some of the most popular categories Target is known for are:
Clothing (shoes & Accessories)
Electronic and Entertainment
Household Essentials
Video Games
Toys for youngsters
Patio & garden furniture
And much more.
You can see a list of their top categories taken from the target homepage here: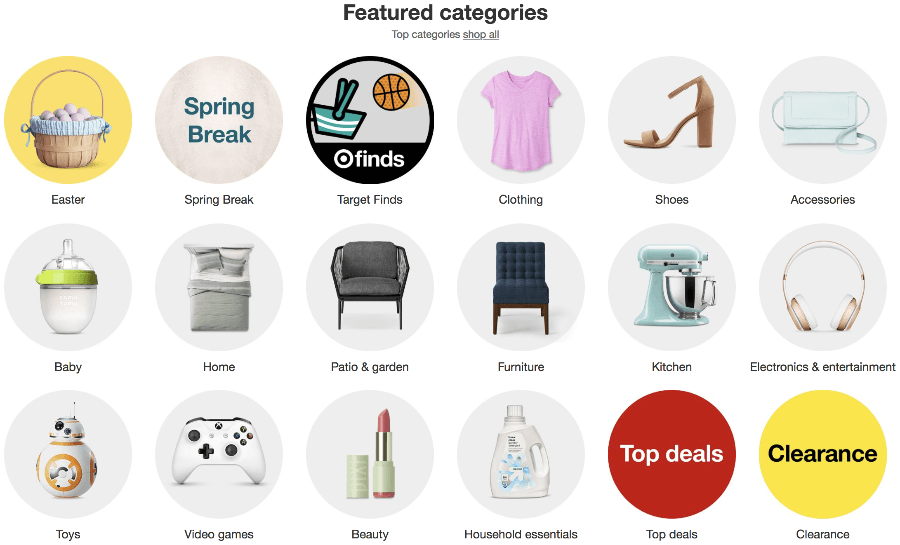 Whatever industry or niche you are in, I am sure you can find something to promote from the vast SKUs available on the site.
Obviously, keep in mind that these are physical goods, so you won't find any software or online tools to sell on Target.
Unfortunately, physical goods such as the ones carried by Amazon, Best Buy, and even Target, all come with a below industry-average commission rates.
Target's Affiliate Structure
As an affiliate for Target, you get a commission of 1% to 8% commissions rate depending on the products you sell. Here's a chart explaining the commissions' structure better:

1% for beauty products is not the best so if you want to promote beauty products, go with Amazon as they offer the bare minimum of 4% for these type of products, however, for home items and at an 8% rate, Target is the clear winner here.
As I said this is a below-industry average as far as affiliate commissions go (usually 20%+) but you'd be surprised to know that Target offers one of the best rates for physical goods.
Just for a comparison, here are what other online stores similar to Target offer as a commission structure.
Target: 1% to 8%
Best Buy: 0% (it's laughable I know)
Walmart: 1% to 4%
Amazon Associates: 1% to 8% (depending on volume).
How To Join Target's Affiliate Program
Joining Target's affiliate program is easy.
All you need to do is to head over to the Target affiliate sign up page and register to become an affiliate.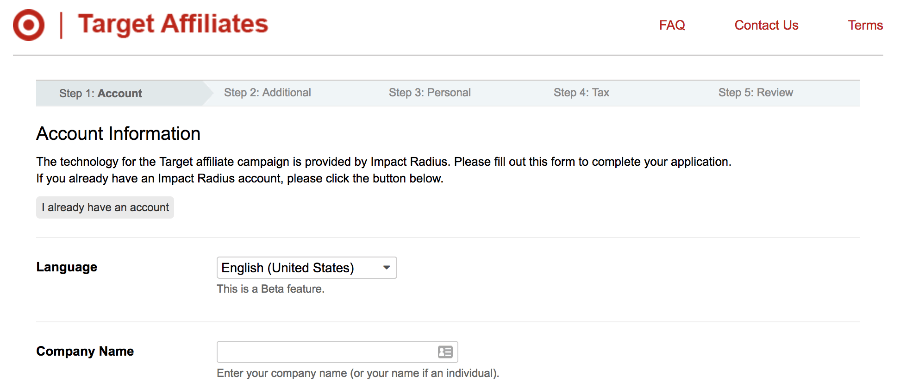 You are going to need a working website ideally before you join as to make sure you get accepted without any hassles.
If you haven't got a website just yet, maybe it's not the time for you to be looking at affiliate programs to join just yet.
I have a great guide on how to start an affiliate website. Go through that guide first, get set up then come back to read the remainder of this Target affiliate program review.
Target's Affiliate Cookie Length
The way Target (along with other affiliate programs) can track your traffic and pay you commissions is by the use of cookies.
Whenever you send a visitor to Target using your affiliate link, they are registered and marked that you sent them through the use of cookies and you will only get credited for sales if, at the time of the purchase, your cookie was registered with the customer.
Cookies, however, do not last forever but Target allows for up to 7 days to make a sale and be eligible for a commission.
You may think this is short, but it isn't really. Amazon's is only 24 hours just to give you an example.
7 days is good enough for a person to decide if they want to buy. Just be sure that you are sending highly targeted buyers to your links.
If you're doing that already, a 7-day cookie is more than enough for you to be able to make a great income with Target.
How To Promote Target Online
If you want to build a real, sustainable business with Target (and affiliate marketing in general) you are going to need to have your own website where you get people who are interested in buying your site through the many traffic generation techniques that are available.
One of the best ways I can recommend to promote an affiliate program like Target is to do specific product reviews on specific items found in the Target marketplace.
For example, let's say you are in the "Outdoor Garden" niche, you can do product reviews on the many different lawn mowers that are available on the site.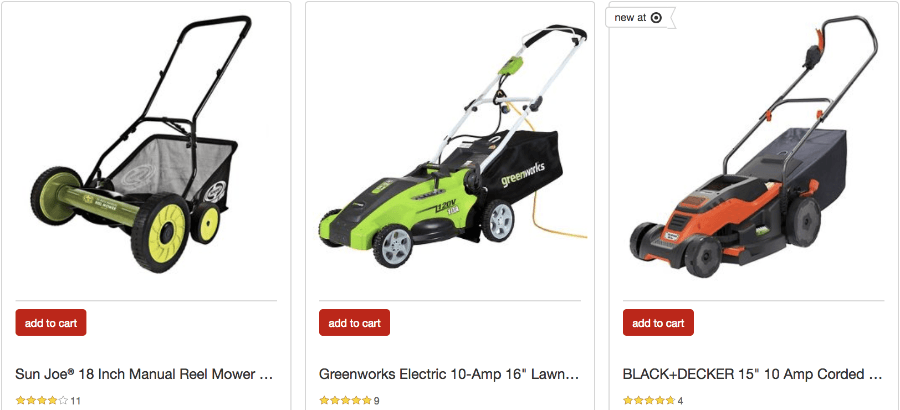 What this review would do is that (if done right), it will rank high on the search engines and people who are looking for "lawn mower reviews" are likely to be very much interested in buying a lawnmower.
If you review delivers the information needed, then sending them to Target to the specific product page is a sure way of making solid commissions and selling the product.
As I said, you need to send targeted visitors that will not take too long to buy (hence not having to worry about the 7-day cookie).
Sounds interesting? I have a full guide on how to create a product review website here.
How Much Money Can You Make Promoting Target?
At an 8% rate, it's safe to assume that you can make some pretty good commissions sending people to Target and buying up products through your link.
If you manage to build a site that has a lot of traffic (or maybe you've already done the hard work) and you send buyers to Target, I can see you making a great income online each month.
Any Alternatives To The Target Affiliate Program?
Yes, there are many affiliate programs out there that are like Target. The most common that come to mind are BestBuy, Walmart & Amazon as they carry the same items mostly.
With that said, based on the commission's structure that they have, same-day delivery for most items and also the high brand value Target has, I would say that it's probably the best option for you.
Amazon also is a great opportunity and Amazon also has a huge brand behind it but a 4% commissions rate knocks it down a bit compared to Target.
Here are my top-ranked affiliate programs:
#1: Target
#2: Amazon
#3: Walmart
#4: BestBuy
Remember, you call also join all 4 (although I would recommend you stay away from BestBuy).
There are no limitations on joining all the affiliate programs in the world and using them all to monetize your traffic, however, some affiliate programs are better than others and Target, based on my reviews, is the winner.
NB: Please note Target is for US customers only. If you want an international retailer, go with Amazon.
Do I Recommend Target As An Affiliate Option?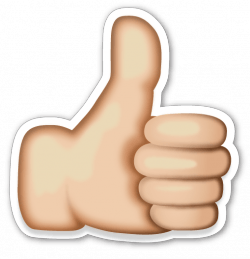 Yes, I do, they are a great affiliate program and I am sure that you have a lot of opportunities promoting products found and sold on their website.
Should You Become A Target Affiliate?
If you are in a niche where it makes sense to promote products that Target offers, then you should become an affiliate yes.
It's free to join, and you have an ok-ish commission rate to get you going.
As time goes by, I see Target and other big-box retailers focusing more and more on the online side of sales so I am sure this program will be developed and improved further from here.
Just look at the sad situation Toys'R'Us are in. They have failed to jump on the e-commerce side of things and never had any respect for affiliates promoting their products, today they are dangerously close to going out of business.
My point here is this:
Affiliate marketing is here to stay and while these big-box retailers are a bit late to the party, be assured that once they see the full potential of affiliates, they will be the ones driving the industry forward.
Closing Words
Thank you for reading my Target affiliate program review, I really hope this quick guide has answered some of the questions you might have had about the program.
If I missed anything or if something is unclear, you can leave me a comment below or you can also visit the Target Affiliate's FAQs page.