Ok, I get it.
I have been in your shoes before.
I remember being a newbie affiliate marketer hopping on course after course thinking "this is it" only to be disappointed time and time again – while also draining the little money I had back when I was 17/18.
One of the most talked about and most reviewed affiliate marketing training course is Wealthy Affiliate and while I can tell you it's not – many will still be wondering….
Is Wealthy Affiliate a Scam?
If you've landed on this page, then I am sure before you clicked through here you had a selection of Top 10 results that would have all claimed Wealthy Affiliate to be the best thing ever – cool.
But what is the truth?
Is Wealthy Affiliate really that good or is it just one big elaborate scam?
If you want a quick answer, no; Wealthy Affiliate is not a scam – and I am about to explain to you why below.
I have been a member of Wealthy Affiliate for the past six years – so I'm sure you realise I have a strong opinion on the matter – but before we go into that, let me just explain a few things about "online scams" and Wealthy Affiliate in general.

What Are Online Scams?
I have reviewed plenty of "make money online" products and yes; with 100% certainty, I can tell you that most of them are all scams and if you're not careful, you can get stuck in the loop of buying more and more courses hoping for the golden ticket that never comes.
To me, an online scam is defined like so (maybe you'd agree):
Over-hyped
Over-priced
Over-promised
I have seen plenty of "products" and courses that hit all three in the head.
They are usually very easy to spot, and they look something like this:
Now as I said, Wealthy Affiliate – to me – is not a scam based off the three definitions I laid out for you, but before we get into that; let me tell you what those 3 mean.
Over-Hyped:
The way these products get sold is by submitting a launch to a launch site, something like MunchEye.com.
Whoever has an offer to promote to affiliates, they mostly all list it in there as they know plenty of affiliate marketers with big email lists hang out in launch forums.
So, once a product is released, 100s of affiliates send it out to the thousands of subscribers claiming it to be "the next big thing".
Now this happens daily, and honestly; I do not know how they get away with it.
This is what I mean by over-hyped.
Over-Priced:
This has two parts to it actually, over-priced and even under-priced.
There are online courses that are selling for $25,000 a pop! Yes, 25 big ones – there are no extra zeros there I checked.
One of the biggest scams there was was MOBE and that was recently shut down by the FTC.
There's also the lower-priced.
"Make $1000 by tonight" when you buy my $7 ebook.
Really?
Do you really think that a $7 ebook has the knowledge that can make "anybody" $1000 while they sleep?
I doubt it – and you should too.
If you have fallen for these type of claims, like I have plenty of times – then you now see (in hindsight) what a ridiculous investment that was.
Over-Promising:
I'm sure you know what I'm getting at here:
"$1,000 by tonight" is just not realistic at all.
There is no business model in the entire world that can make that much that quick.
If you know of something, please let me know; and don't say Bitcoin.
Online business, especially the affiliate marketing business model (which is what Wealthy Affiliate teaches) takes time to master, craft, build and profit from.
I'm going to tell you right now as this puts a lot of people off but you need to give it at least six months to be able to see results. Some have done it in 3 sure and some have done it 14.
However, at six months, from my experience, you should start seeing results from your work.
If this is not for you, then you do not need to keep reading this – I suggest you go find a "quick riches" method instead.
Still here?
Cool.
Let's get back to the topic at hand;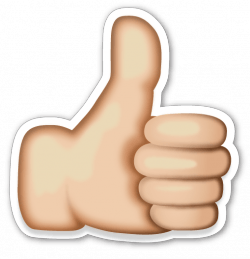 Is Wealthy Affiliate Really A SCAM or Not?
Taking those three metrics I have shared above, let's see how Wealthy affiliate compares.
Is Wealthy Affiliate Over-Hyped?
Some say it's the best course ever – I believe that but I know that's not enough to convince you of it so let me tell you this;
Wealthy Affiliate is 13 years old.
It has been around for more than a decade!
Most of these scam-products you buy will only last for a week or so (till the launch buzz wears off).
13 years is no joke.
Any business that can survive that long is undoubtedly doing something right.
Is Wealthy Affiliate Over Priced?
I don't think so, and I'm sure you'd agree.
Wealthy Affiliate has three pricing structures and those are:
Free Start Membership
Anyone anywhere – apart from 7 countries which are restricted free access due to the amount of spam that comes from these countries – is free to join Wealthy Affiliate as a starter member and stay on as free for as long as they wish.
You do not need a credit card, and while you can't access the higher levels of training as a free member, you'd be able to access the first level of the two main courses in there and also 13 classrooms discussing various topics of online business.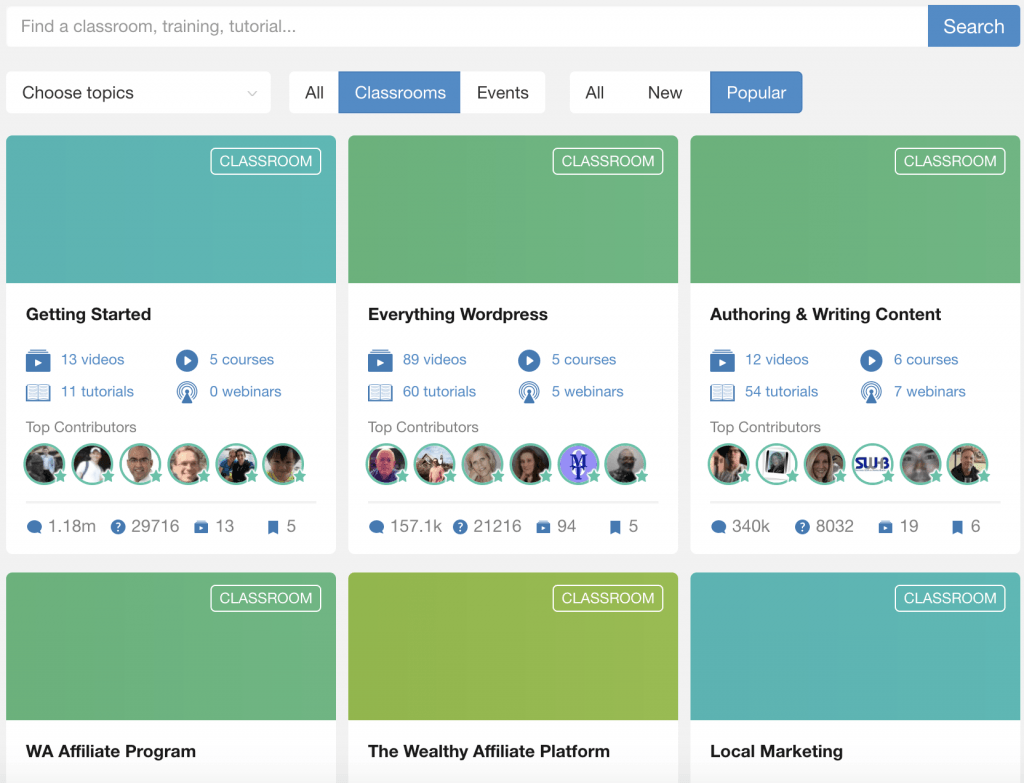 This is also one of the main reasons why I promote Wealthy Affiliate so much – because people are free to try it before they buy it.
You have to ba fool to think Wealthy Affiliate is a scam when it's free – but that's just my opinion.
Premium Membership
The premium membership, which goes for $49 per month is unlimited, unrestricted access to all that Wealthy Affiliate has to offer.
I won't go through that much as I have other guides and blog posts that discuss that in great detail here:
I'll also include a helpful comparison chart of what a premium member gets vs a free member: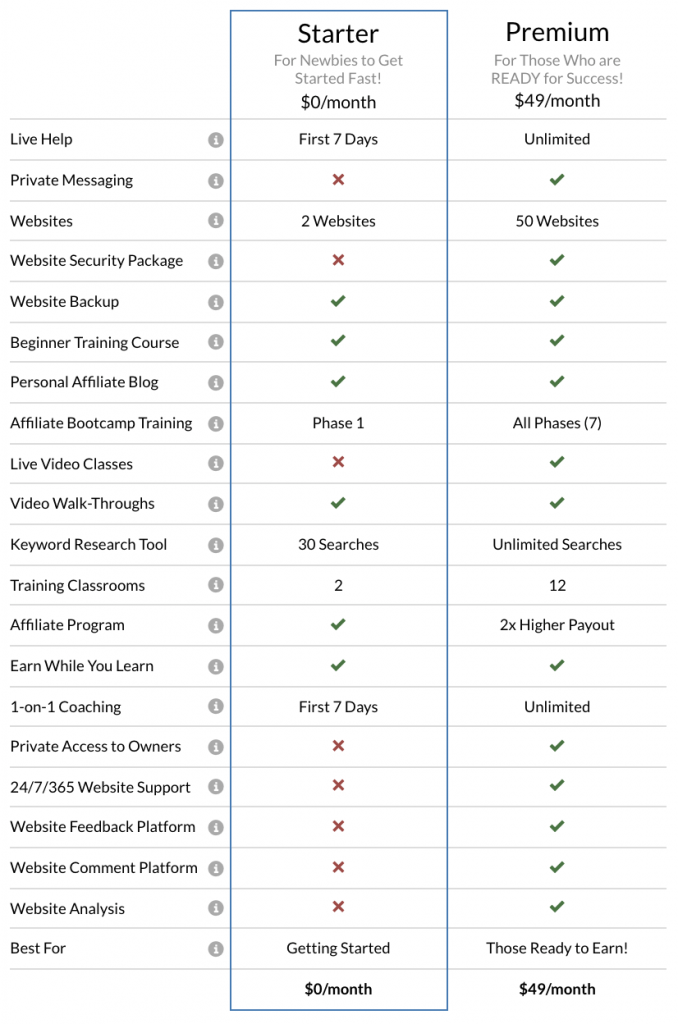 Yearly Premium Membership
This is the same as the premium membership (unrestricted access) but at a discount price.
12 months x $49 = $588
1 Yearly = $359

Total Savings = $229
Now if you think $359a year – less than $1 per day – is a scam and a risky venture, maybe an online business is not for you.
Again I would refer you to the above-listed links to see all that Wealthy Affiliate has to offer, or you can check it out for yourself – on a free starter membership of course.
Does Wealthy Affiliate Over-Promise Results?
Visit the Wealthy Affiliate homepage and see for yourself how there are literally no claims of "make money fast" or instant quick riches.
Wealthy Affiliate does not teach that.
It's very clearly said that the process of building an online business takes time, effort and hard work.
In fact, the main course is laid out in a step-by-step manner that would take you months to go through it all.
As I see it, Wealthy Affiliate is far from being a scam for the reasons listed above but;
Why Do People Say Wealthy Affiliate Is A Scam?
Now while the majority of the reviews you come online are all positive, you may stumble on a few "scam" Wealthy Affiliate reviews.
Why is this?
I can explain.
As previously mentioned, inside Wealthy Affiliate you will have two main training courses.
One is how to start an online business in any niche or industry you like.
and the other;
How to start an online business with Wealthy Affiliate.
Wealthy Affiliate has an incredible affiliate program – with a free trip to Las Vegas every year if you reach a certain target with sales.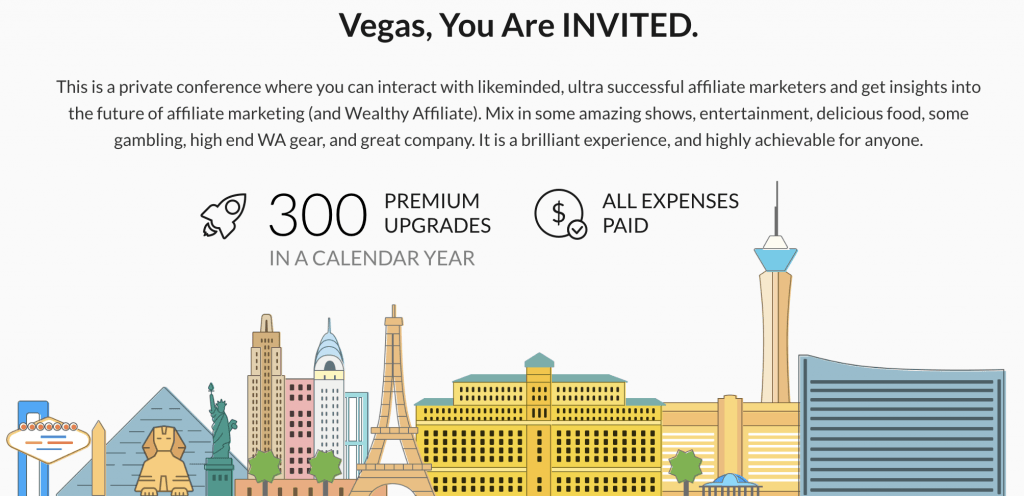 Many choose to go for this option i.e. building a business with Wealthy Affiliate.
Even though I am an affiliate for Wealthy Affiliate, I do not agree that people should start off in this space.
The make money online is incredibly competitive and you need to know what you are doing to be able to have a chance of success.
Many do not realize this, and they think they can just promote Wealthy Affiliate in a cut-throat space and instantly start earning money.
This is why they fail and why it sometimes ends in "Wealthy Affiliate is a SCAM".
If you decide to join; I would advise you to build up your affiliate business on a different topic than the "make money online": space.
It's not true that you can only make money online by showing people how to make money online.
In fact; it's easier, faster and better if you just stick to other niches and topics where there would not be too much competition.
Should You Trust Wealthy Affiliate?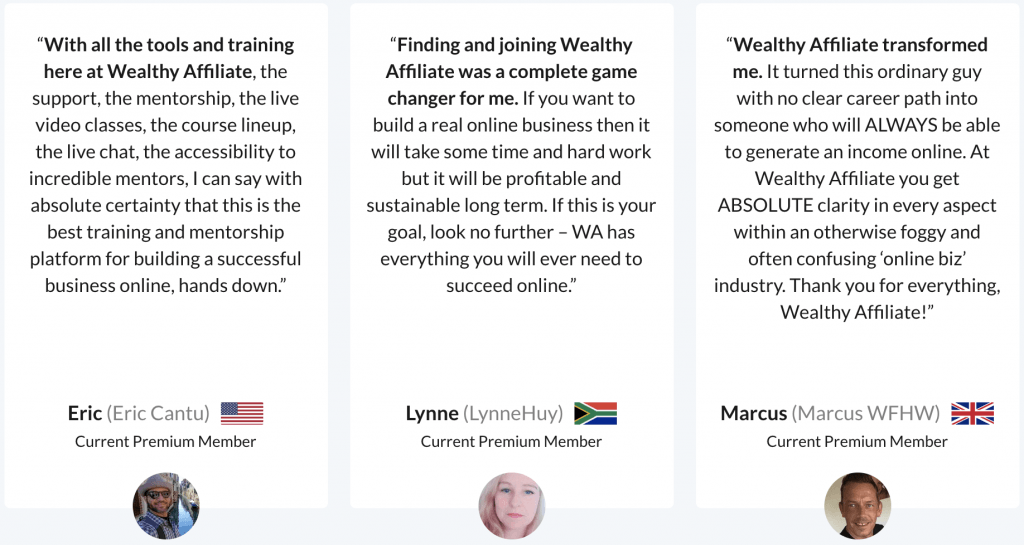 If you have heard about Wealthy Affiliate and have been doing your due diligence findign out what it's all about (which you should), now that you have understood the truth behind WA and how it works, I suggest you take a leap of faith and join on a free starter membership.
Yes, that is my affiliate link and if you decide to join through there, I will get a small commission form Wealthy Affiliate (not you) if and when you decided to go for a premium membership.
BONUS tip: If you join WA on a free membership, in the first seven days you are offered the premium membership for just $19 instead of the $49.
If you see that you like it and that in fact, Wealthy Affiliate is NOT a scam, then I would advise you to take this offer.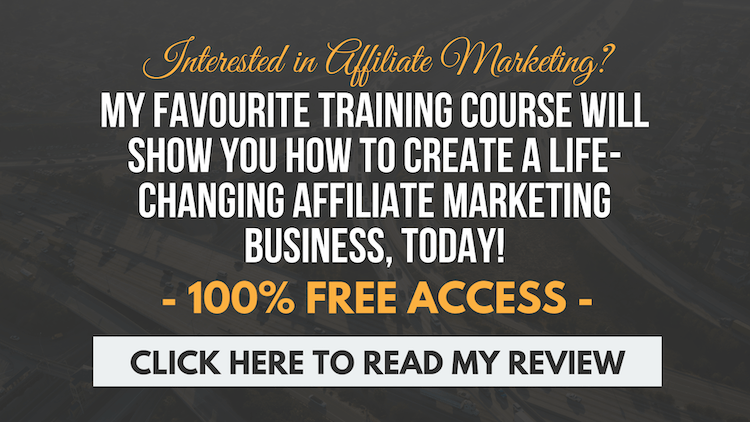 In Closing
Thank you for reading and I hope I have answered your question today.
I credit all the success online I have had to Wealthy Affiliate and even though I have been in there six years already, I never plan on leaving (I'm on the yearly plan).
I can assure you that after reviewing so many make money online products, Wealthy Affiliate IS the best training course out there and no; it is not a scam.
See you on the inside.
Christian Lee.