The online health industry, although very much dubious at times, is one of the biggest industries that you can leverage to build an affiliate marketing business.
Health and anything related to it is big bucks and if you are thinking of becoming an affiliate marketer in the health product space – you can make a lot of money, that is if you partner up with the right programs and know what you're doing.
Today, I am doing my MarketHealth affiliate network review, one of the health industry's leading affiliate networks for health-related products that you can find…
or is it?
I was asked about this network by a student inside Wealthy Affiliate – so I decided to try it out for myself and see if it's actually worth promoting.
These are my experiences using the Market Health affiliate network.
MarketHealth Affiliate Network
Affiliate Network

Features

Training

Commission Rates
MarketHealth Network Summary
Established brand with 20 years experience
Great commission rates for affiliates
Exclusive health products
Recurring income
High-conversions
What Is MarketHealth?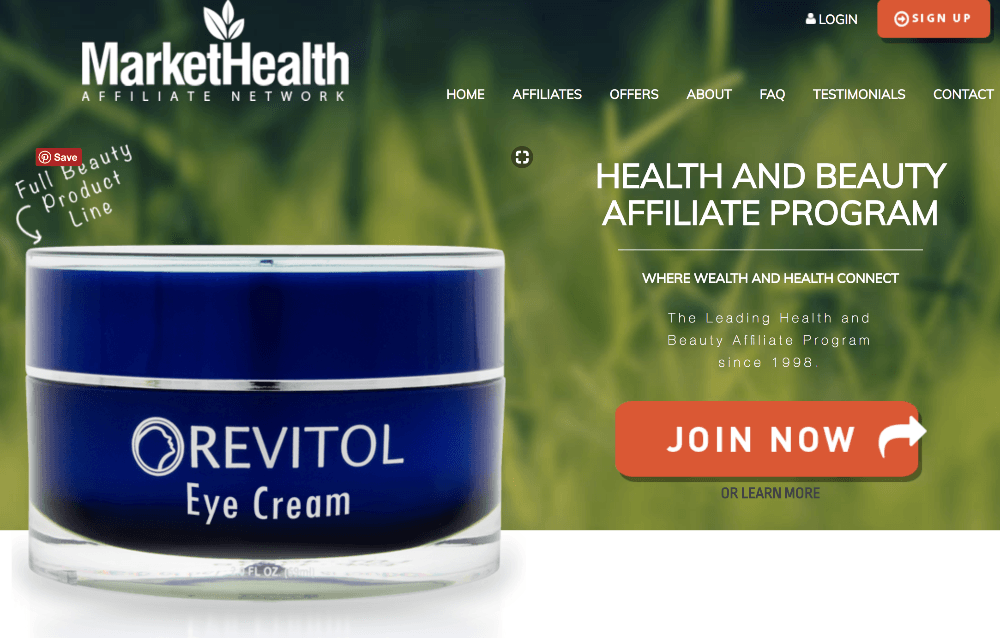 ---
---
As mentioned above, MarketHealth is an affiliate network of products related to the health industry.
Although it's a bit cheesy in some ways, I do love their tagline which states "Where Wealth And Health Connect" and according to their website, they have been successful in bridging this gap as they have been operating since 1998.
That is exactly 20 years in the business and in the world of (health) affiliate networks, that is unheard of.
So far so good, let's dig in deeper and see what else there's to MarketHealth.
What You Get With MarketHealth
Affiliate marketing is not an easy thing to do.
Even though many say making money online with affiliate marketing is easy, I actually see it as the hardest easiest way to make money online.,
My point being is that you are going to need all the help you can get from an affiliate program and this one seems like it can deliver you with all that you need to start making commissions.
I would also advise you to see my post listing my favourite affiliate programs for beginners if you're just getting started.
MarketHealth's Commission Rates
At a 50% commissions rate, MarketHealth sounds too good to be true.
But is MarketHealth a scam?
Definitely not!
There are many affiliate networks that pay 50% and over but offers like this tend to only apply for digital products rather than physical products.
I'm not sure what to make of this but I have done thorough research and I have not come across any problem from any other affiliates regarding commissions – in fact; many speak highly of MarketHealth.
They even pay out twice per month (on the first and on the 16th) and the minimum withdrawal is only $20, which is fantastic.
On average, from what I have seen and what other affiliates are reporting, a sale can get you anywhere from $40 to $70.
Although I have not yet made any sales myself as I am not in the health niche, I find this an incredibly good offer for you to promote if you happen to be in the health niche space.
Exclusive Health Product Offers
MarketHealth boats a portfolio of over 200 products in a wide variety of many different health sub-niches.
With over 200 products available for you to choose from and promote, I am sure you will find a great one that you can promote to your audience.
Recurring Income For Your Sales
This is GOLD!
As I have mentioned many times in my previous affiliate marketing guides, recurring commissions are the untold secret of making more commissions as an affiliate marketer.
MarketHealth offers just this, meaning once you refer a customer once and any purchase that customer makes in the future, you will still get a commission from.
Yes, this means that you make a sale once, and keep getting paid for it over and over with every purchase.
Free Resources To Help You Sell
I have mentioned above how important it is to have an affiliate network that provides you with resources to help you make the sale.
You may think it's a given that affiliate networks will do anything within their power to help you make sales, but you'd be wrong.
MarketHealth, however, offers you all the tools and resources you need to be able to make your sales and convert your readers into buyers.
By joining MarketHealth, you will have access to a variety of different banners, tools, and resources to help you convert more on your website.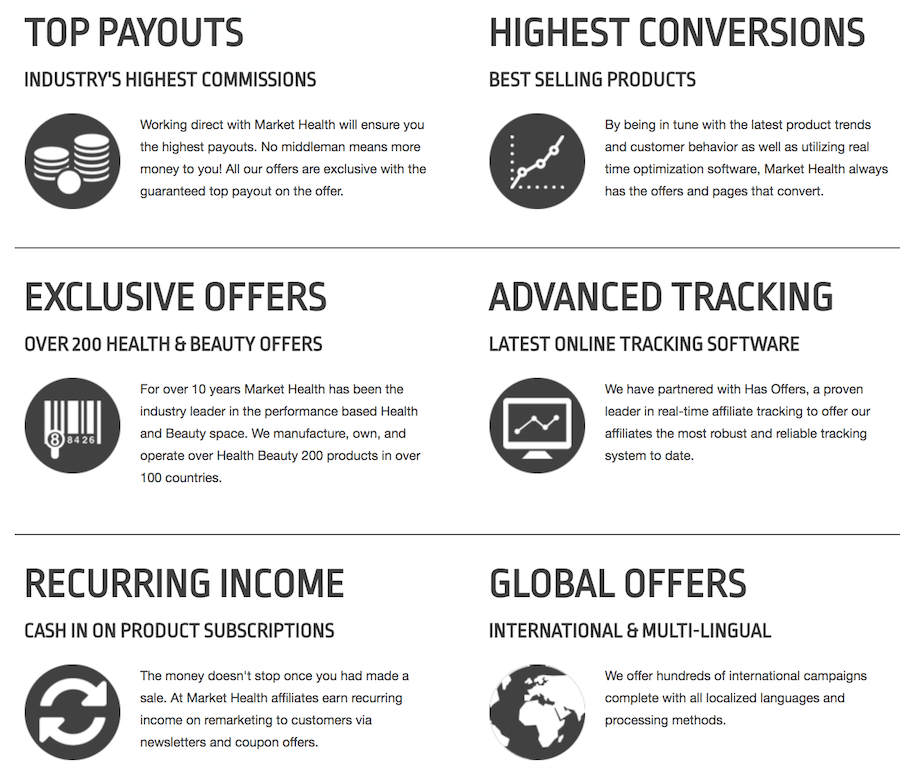 These were just some of the things offered by MarketHealth.
Next, I will talk more about how to promote MarketHealth on your site so if you would like to find out more about, be sure to visit the MarketHealth website and become an affiliate, which is free to do of course.
How To Promote The MarketHealth Affiliate Network
As with any other affiliate offer, you can condense the whole selling process into 4 simple steps.
You need a website:
MarketHealth will ask to see your website so you absolutely need to have one before you think of applying.
Obviously, if you want to promote MarketHealth, you are going to need a website that is focused on health products.
At the very least, you should have some posts or categories that do talk about health and what products to use.
If you do not have a website just yet, you can get a free WordPress installation here if you'd like.
You need a topic:
As mentioned above, you are going to need a topic that is around the health industry.
This can be a variety of things and you can assume how many things fall under the health industry.
From curing back pain to how to remove acne, the health niche is wide open and full of opportunities and sub-niches you can make money with.
Pick wisely, make sure there isn't way too many competition and learn how to get visitors to your website.
You need readers:
MarketHealth can be the best affiliate program under the sun with the best type of health products you can think of but unless you have a solid and steady flow of visitors coming into your website, you are not going to be making much money.
I won't go into great detail about how to get traffic in this review, but I have written many posts about how to get traffic and it's also covered in the free Wealthy Affiliate training videos you can see here.
You need to make sales:
Affiliate marketing is a numbers game, above all else.
With a steady and healthy flow of traffic coming in, you are bound to make some sales at some point.
The challenge here is to convert more readers into buyers.
There are many conversion tips you can look into and I even published a blog post about this last week if you want to take a look.
Basically, if you can convert 1 out of every 100 visitors, there are things you can do to start converting 5 out of every 100 visitors.
You can see my guide on how to do conversion rate optimisation on an affiliate website if you're interested.
Remember, it's all a numbers game and even though MarketHealth is a great affiliate program, you do need to crack this formula on your own, based on what type of traffic you have coming in.
You can also see this great video by legendary marketer Neil Patel on how to improve your conversion rates:
Better Alternatives To MarketHealth?
As mentioned above, I am not into the health industry myself as an affiliate but a quick Google search will turn up a lot of health affiliate networks.
Some of the most commonly used and mentioned are:
SellHealth
IndianHerbs
CrockMint
VitalFormulas
Amazon Associates Program
See my list of the top Health Affiliate programs here >>
Is MarketHealth Legit or a Scam? (My Final Rating)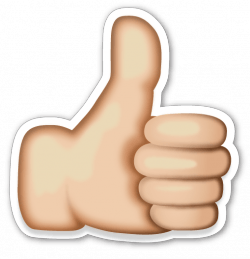 After testing this affiliate program out and doing my due diligence and asking around online;
I can with confidence say that MarketHealth is a great affiliate program to promote if you are in the health space.
I am doing to give this network a final rating of 4 stars over 5 and a big thumbs up.
Learn More About Affiliate Marketing
If you would like to learn more about how to become an affiliate marketer, consider becoming a member of Wealthy Affiliate.
You can see my Wealthy Affiliate review here to see why I have been recommending this product for close to 5 years now as the go-to-place to learn all you need to know.
In Closing
Thank you for reading my MarketHealth affiliate network review.
If you have any questions or you yourself have some experience promoting MarketHealth to your audience, please be sure to leave a comment down below in the comment section.
I look forward to hearing your thoughts about this.
Talk soon.