The online health industry, although very much dubious at times, is one of the biggest industries that you can leverage to build an affiliate marketing business.
Health and anything related to it is big bucks and if you are thinking of becoming an affiliate marketer in the health product space – you can make a lot of money, that is if you partner up with the right programs and know what you're doing.
Today, I am doing my MarketHealth affiliate network review, one of the health industry's leading affiliate networks for health-related products that you can find…
or is it?
I was asked about this network by a student inside Wealthy Affiliate – so I decided to try it out for myself and see if it's actually worth promoting.
These are my experiences using the Market Health affiliate network.
MarketHealth Affiliate Network
Affiliate Network

Features

Training

Commission Rates
MarketHealth Network Summary
Established brand with 20 years experience
Great commission rates for affiliates
Exclusive health products
Recurring income
High-conversions
What Is MarketHealth?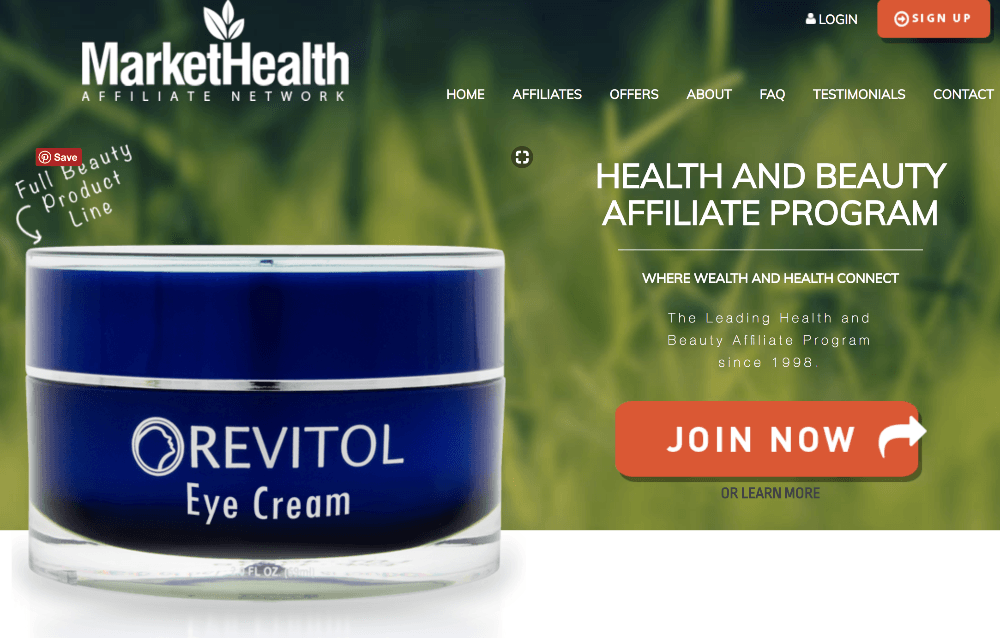 NB:
Want to see how I make money with affiliate marketing? My new book reveals my entire process, including my 4-step approach to building affiliate websites.
CLICK HERE to download my book for free
.
As mentioned above, MarketHealth is an affiliate network of products related to the health industry.
Although it's a bit cheesy in some ways, I do love their tagline which states "Where Wealth And Health Connect" and according to their website, they have been successful in bridging this gap as they have been operating since 1998.
That is exactly 20 years in the business and in the world of (health) affiliate networks, that is unheard of.
So far so good, let's dig in deeper and see what else there's to MarketHealth.
What You Get With MarketHealth
Affiliate marketing is not an easy thing to do.
Even though many say making money online with affiliate marketing is easy, I actually see it as the hardest easiest way to make money online.,
My point being is that you are going to need all the help you can get from an affiliate program and this one seems like it can deliver you with all that you need to start making commissions.
I would also advise you to see my post listing my favourite affiliate programs for beginners if you're just getting started.
MarketHealth's Commission Rates
At a 50% commissions rate, MarketHealth sounds too good to be true.
But is MarketHealth a scam?
Definitely not!
There are many affiliate networks that pay 50% and over but offers like this tend to only apply for digital products rather than physical products.
I'm not sure what to make of this but I have done thorough research and I have not come across any problem from any other affiliates regarding commissions – in fact; many speak highly of MarketHealth.
They even pay out twice per month (on the first and on the 16th) and the minimum withdrawal is only $20, which is fantastic.
On average, from what I have seen and what other affiliates are reporting, a sale can get you anywhere from $40 to $70.
Although I have not yet made any sales myself as I am not in the health niche, I find this an incredibly good offer for you to promote if you happen to be in the health niche space.
Exclusive Health Product Offers
MarketHealth boats a portfolio of over 200 products in a wide variety of many different health sub-niches.
With over 200 products available for you to choose from and promote, I am sure you will find a great one that you can promote to your audience.
Recurring Income For Your Sales
This is GOLD!
As I have mentioned many times in my previous affiliate marketing guides, recurring commissions are the untold secret of making more commissions as an affiliate marketer.
MarketHealth off