There are many ways to make money online, and one of the most popular is by running a content website.
In this article, I will show you how to start (& make money) with a pest control content website.
I will also show you how to use SEO and other tactics to drive traffic to your site, find relevant content ideas, and optimize each page for maximum traffic and monetization.
I've been building content websites for a decade now. While I've never been in the pest control niche myself, my knowledge and experience in starting (& monetizing) affiliate/content websites will help you.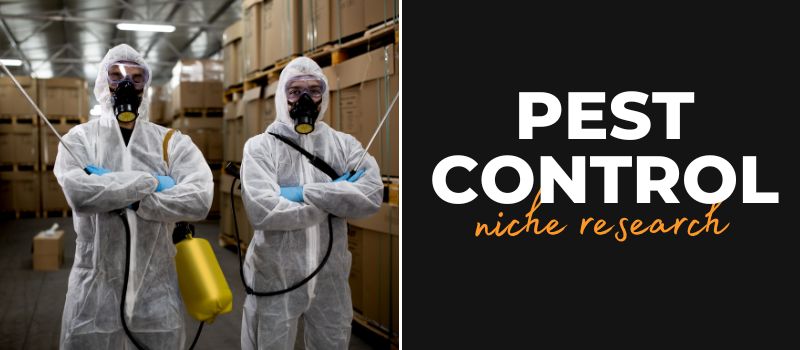 Is the Pest Contol a Great Niche For A Content Website?
Yes, it is. Pest control is an evergreen industry, and the demand for content on getting rid of pests, preventing them from coming back, and choosing a good pest control provider is consistently high.
If you're familiar with the topic and have some expertise and are thus able to pull this off, a pest control niche is one of the most profitable online niches you can find, and it's an excellent choice for those looking to start an affiliate website.
One of the first reasons why this is a great niche to get into is that there are hundreds, if not thousands, of different products available in this niche (such as insecticides, traps, and other pest-control products) you'll be able to promote on your website.
There's also a wide variety of pests, meaning there are millions of potential keywords (and keyword variations) you can target (more on this below).
Moreover, pest control can be said to be an "essential" service. No matter what, if you have insects in your home, you want them gone, and you'd be desperate for a solution.
Also, there are many products at different price points you can promote here, which opens you up to great commissions and sales volume, and display ad revenue.
If you're convinced this is a good niche for you, continue reading to see how to start your very own pest control content website.
How To Start Your Own Pest Control Content Website
Step 01: Finding a Good Domain (Available) Domain Name:
The first step to starting your content website is finding a good domain name.
You want something short, catchy, and easy to remember that also reflects the topic of your website.
I've done some research for you, and I found these 5 available domain names you can use (although I can't guarantee they are still available).
pestcontrolpro.com
thepestcontrol.com
aboutpestcontrol.com
pestcontrolauthorty.com
completepestcontrol.com
Of course, you don't have to have "pestcontrol" as part of your domain, and it doesn't have to be a .com either, but it does help.
Step 02: Choosing A Web Hosting Service:
Once you have chosen a domain name, the next step is to choose the right web hosting service for your needs.
Start with something basic, such as shared hosting, and then upgrade to something more powerful as your website grows.
Just make sure that your web host offers good customer service, reliable uptime, and the ability to scale easily.
There are many hosting services available, and it can be overwhelming to choose the right one, so just find a reputable one, and get to work.
If it helps, I use Wealthy Affiliate for my domain name registrations and hosting, but there are many other great options as well.
Step 03: Designing & Setting Up Your Content Website: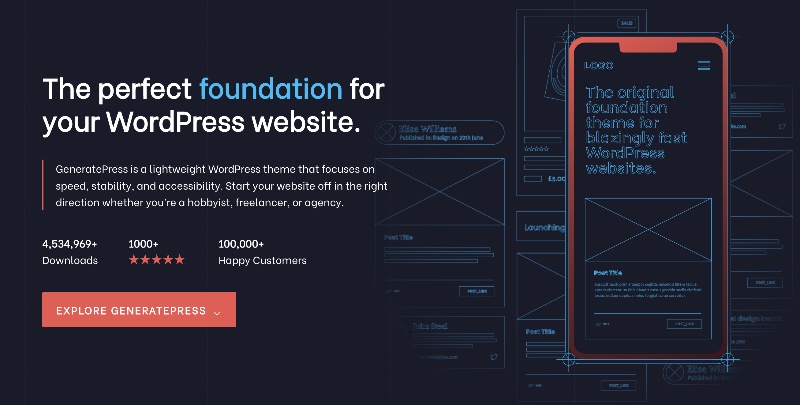 Once you have chosen the right web hosting service, it is time to design and set up your website.
There are many different ways to do this, from using WordPress themes to hiring a web developer.
My advice? Don't hire a web developer.
WordPress is the most popular content management system in the world, and it has plenty of themes designed specifically for pest control niches.
If you want to get started with a great-looking and even better-functioning website, go with GeneratePress.
It's the theme I'm using for this website and all others.
It's perfect for newbies, it's superbly customizable, and looks great.
Step 04: Find The Right Keywords For Your Pest Control Website:
The next step is to create your content. We're building a "content website" after all.
Since your new website revolves around the pest control niche, you'll want to write about how people can keep pests away from their homes, how to eliminate them, how to choose the right pest control solution for your specific needs, and so on.
It is also important to keep in mind that content should be keyword-optimized to increase your chances of ranking higher in search engine results pages.
The question now is, how do you find the keywords people are searching for?
You use a keyword research tool.
What is a keyword tool?
A keyword research tool helps you find the keywords people are searching for, so you can optimize your content for those specific keywords.
There are many keyword tools, some great, some not so great, some free, and some super expensive. I've used pretty much all of them, and I've found these to be the best ones there is:
LowFruits.io: Great for finding low-competition, "low hanging fruit" type keywords.
AnswerThePublic: This tool is great for finding keywords people are searching for online. It also comes with a cool visual representation of your keywords.
Ahrefs: This is a fancy premium SEO tool that you don't really need, but it's nice to have if you want to spy on your competition in the pest control space to see what's working for them.
Google Search Console: Last but not least, I want to mention Google Search Console. It's a great free tool to monitor how your website is performing in Google's search engine and how people are finding it.
The Google Search Console tool will reveal keywords people are looking for, but you've not yet created content around that keyword.
This won't offer much at first but do make sure to have it set it up from the get-go. You can see how to set it up on this YouTube tutorial.
After a few months, and once you have some decent traffic data, it's one of the best keyword tools you can use.
You don't need them to use all the keyword tools.
One is just enough, but if you're just getting started, it's good to try them and see which works best for you.
I now only use Google Search Console and LowFruits, as these are the best ways to find keywords.
A quick tip on picking keywords: Do not focus or worry too much about "estimated search volumes". It doesn't matter. If it makes sense to have content addressing that keyword on your website, then do it. This way, you'll be building topical authority and, even more so, providing value to your readers.
Step 05: Create the Best Content You Can on Pest Control
Now that you have the right keywords and know how people are searching for topics related to pest control, it's time to start creating content.
Start by writing blog posts and articles about how people can keep pests away from their homes, how to choose the right pest control solution for their needs, how to eliminate them and so on.
You can also create how-to videos outlining different ways of getting rid of pests or showcasing the best products that help with pest control.
Here are some tips on creating pest control content that gets ranked in Google, gets traffic, and makes money:
Write how-to posts and tutorials that are step-by-step: People love how-to posts and tutorials that are easy to follow. So, find problems within the pest control niche, provide detailed step-by-step solutions, and also make sure to include images where necessary.
Include visuals: Visuals can have a huge impact on how people perceive your content. Use images, how-to videos, infographics, and so on to make your content more visually appealing.
Link to other sources: Link to other websites and reference them when you can. This will help build up your credibility, as it shows that you're not just writing your own opinion but that you're actually citing other sources.
Create evergreen content: Evergreen content is(content that will remain relevant over a long period of time. This will help you increase your website's viewership over time and make money from it.
Try to be unique: It's getting harder and harder to write unique content as most of the things that need to be said has been said already. However, you can always add your own personal twist to things (from your experience and point of view)
Make sure your website is mobile-friendly: This is a given now, and most themes (including GeneratePress) come ready for mobile out of the box, so you don't need to worry too much about it.
Step 06: Monetizing Your Pest Control Content
You may have a passion for pest control, but the goal here is to make money, right?
Well, how do you make money with a pest control website?
The best way to monetize your content is through affiliate marketing.
By becoming an affiliate, you can promote products and services related to the pest control niche and get a commission when someone buys from your link.
For example, if you have an article on how to get rid of bed bugs, you can link products like bed bug spray and traps to your content.
When someone purchases through your affiliate link, you make a commission. It's that easy.
I have a post here listing the best pest control affiliate programs if you'd like to see what sort of commissions you can look forward to.
You can also get this "The Ultimate List of Highly Profitable Affiliate Programs" tool, which allows you to find and filter affiliate programs that match your content and your audience.
Another way you can monetize is through advertising networks, such as Google Adsense, AdThrive, or Mediavine.
These networks will place ads on your website, and you'll get paid for how many people view or click the ad. The more traffic you have, the more money you can earn with this monetization method.
This is less lucrative than affiliate marketing, in my experience, but it's still a great way to monetize.
Luckily for you, the pest control niche can run both monetization methods, which continue to add to your monthly income goals.
Lastly, you can also create and sell your own products.
This could either be info products such as books and online courses (you can use Gumroad or Teachable for this), or you can also sell your own physical products, which in the pest control niche can also be done.
All in all, there are plenty of ways to monetize a pest control affiliate website and make money with it.
Now that you know how the next step is to actually start building your website and get started on this journey.
Some Great Examples of Pest Control Content Websites:
If you're looking for some great examples of how a pest control content website can be, here are some to inspire you:
pestworld.org
modernpest.com
slugabug.com
Of course, you should never copy someone else's work! These are just great examples of how you can set up a pest control content website and make money with it.
Also, keep in mind these are established websites that have been at it for yours. You can't compare yourself to them (just yet).
Frequently Asked Questions About Building Content Websites:
Q: How much money do you need to start a content website?
A: Not much! You can create a website for free with Wealthy Affiliate (link below) and start monetizing your content.
Q: How long does it take to make money with a pest control content website?
A: It really depends on how much time and effort you put into it. It can be anywhere from a few weeks to a few months before you start seeing results.
Q: How much time a day should you commit to building a content website?
A: It really depends on how much time you have available and how fast you want to see results. A good starting point would be spending around 2-3 hours daily on your website.
Q: Should you hire content writers to write content for your website?
A: It depends on how much time and money you have. If you don't have the time to write the content yourself, hiring content writers can be a great way to outsource this task and free up your time. Just know this can become costly very quickly (you're looking at a minimum of $50 per article for decent work), so make sure that you're getting high-quality content!
Q: What is the best way to make money with a content website?
A: The best way to make money with a content website is by using affiliate marketing and/or advertising networks. Both methods can generate income from your website if you do them correctly.
Q: What are some skills you need to succeed with a content website?
A: The skills you need to succeed with a content website include writing, SEO (Search Engine Optimization), and marketing. You also need to have some knowledge of how affiliate programs work and how to track links. Having an understanding of the pest control niche can be beneficial as well.
Q: What are the most common mistakes new content website owners make that you can avoid?
A: The most common mistake new content website owners make is not doing enough research on the topic or niche they are about to write about. It's important to know your audience and how to target them effectively with your content. Additionally, many people fail to plan how they will monetize their website, so make sure you have a plan in place from the beginning.
Q: Where do I go if I need help?
A: You can find help in the Wealthy Affiliate community. There you will be able to get answers from experts, ask questions and get feedback from other members. You can also access tutorials and how-to articles that will teach you how to set up your website, how to use SEO, and how to monetize it properly.
If You're Ready to Get Started in the Pest-Control Niche…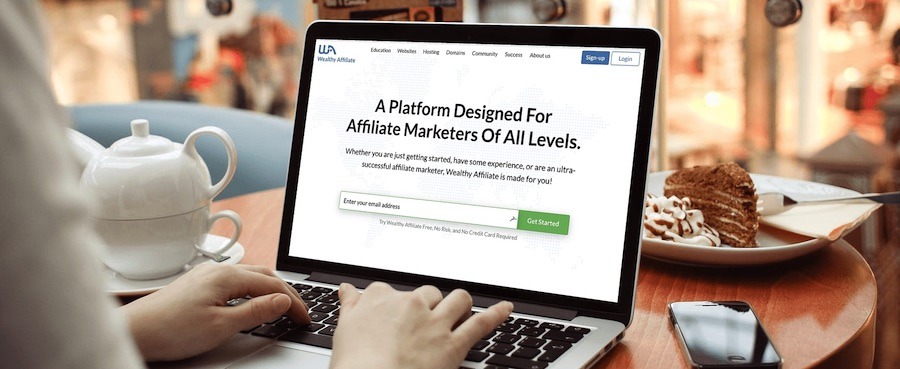 & you'd like an all-encompassing solution…
… be sure to check out Wealthy Affiliates' arsenal of tools for online content creators.
Inside Wealthy Affiliate, you will find step-by-step how-to tutorials, their proprietary keyword tool, and of course, the support of a community of other content marketers.
To learn more about Wealthy Affiliate, read my review. I've been a premium member since 2012 (you can see my profile page here) so I know it works.
Here's a quick idea overview of what you can look forward to as a premium Wealthy Affiliate member:
The Website Builder
Free hosting for your website(s)
Access to the Jaaxy keyword tool and how to use it effectively
Tutorials, guides, classes, and much more.
Step by step how to tutorials on how to make money with your website
Access to a community of like-minded entrepreneurs.
24/7 support
and much more.
Now that you know how to make money with a pest control content website, it's time to get started on this journey.
With the right strategy and dedication, you can be well on your way to earning some extra income from your content website.