8

min read
An email subscriber asked me last night why I am always flogging the Wealthy Affiliate training course on my blogs.
Well, my job with this blog is to give you the most concise and helpful training that I know of, and for me, that is Wealthy Affiliate. This blog is also living proof that what they teach in there works because if it didn't, you wouldn't be reading and I wouldn't be a full-time affiliate marketer.
Now luckily for you, and I say lucky because this was not an option for me when I joined Wealthy Affiliate, you can join on a free membership and see if you like it (before you go premium.)
But what about WA premium? What are some of the premium Wealthy Affiliate benefits that you get once you upgrade to the $49 per month membership plan?
This is what I will be covering today. I often talk about the amazing free membership offer – it is, after all, an easy sell, but what's premium all about and what does a premium Wealthy Affiliate member get that the freeloaders (just kidding) don't?
This post will highlight 11 premium Wealthy Affiliate benefits + 1 secret extra bonus WA don't advertise much.
NOTE: This post will explain somewhat in-depth what the premium benefits are if you want a short description of them, you can see them all on this page >>
Here goes…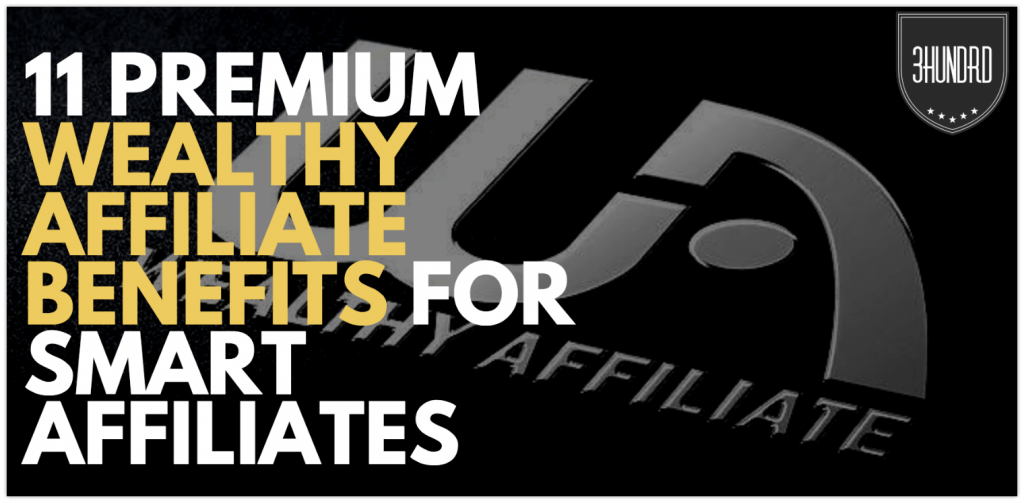 Free Web Hosting For
50 Websites!
Yes, you read that right. With $49 per month, you can host for free, up to 50 websites on WA's servers.
Now if you have looked at some of the hosting prices that are available elsewhere, you'd know that this they usually go for $10 per website for a half-decent hosting service (one that doesn't crash the website with every 10 visitors you have).
This means that as a premium Wealthy Affiliate member, you get up to $500 worth of hosting per month, for less than 1/10th of the cost.
Now I don't advise YOU to run 50 websites, but some clever affiliates offer this to clients charging them $10 (even $20) to host their website.
This in itself could be a profitable business for you. If you offer any client services, this hosting package can be an easy upsell.
3,000+ Free WordPress Themes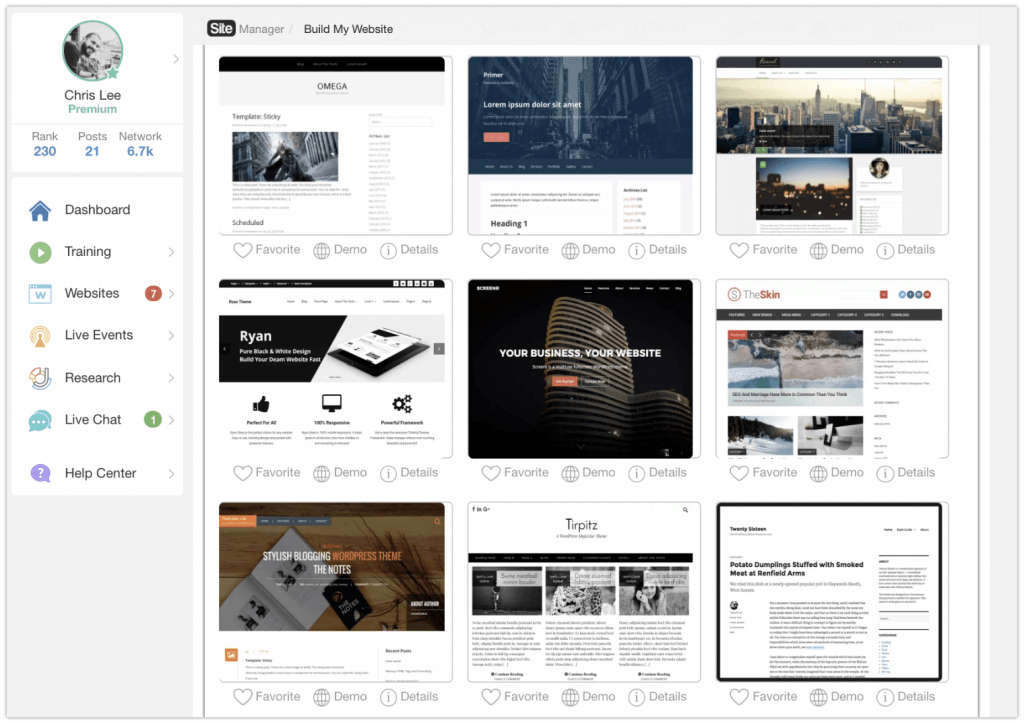 As a free member at Wealthy Affiliate, you can get 2 free websites through the SiteRubix web builder. These come with a limited 12 different WP themes that you can choose from to design your website.
As a premium member, you get 3,000+ free themes to choose from.
51,973 Website Plugins & Add-Ons
The same thing goes for plugins.
For a free member, the free site you are given is limited to what plugins you can install and run.
As a premium member, you not only get free hosting, you also get a powerful enough hosting that can handle a shit load of plugins running without ever slowing your website down.
NB: Obviously, installing all of the 51,000 plugins is not part of the deal lol.
SiteDomains: Wealthy Affiliate's Own Domain Platform
Domains are not free inside Wealthy Affiliate, not for free members and not for premium ones either.
However, when you go through another registrar (say GoDaddy for example), you have to pay for add-ons.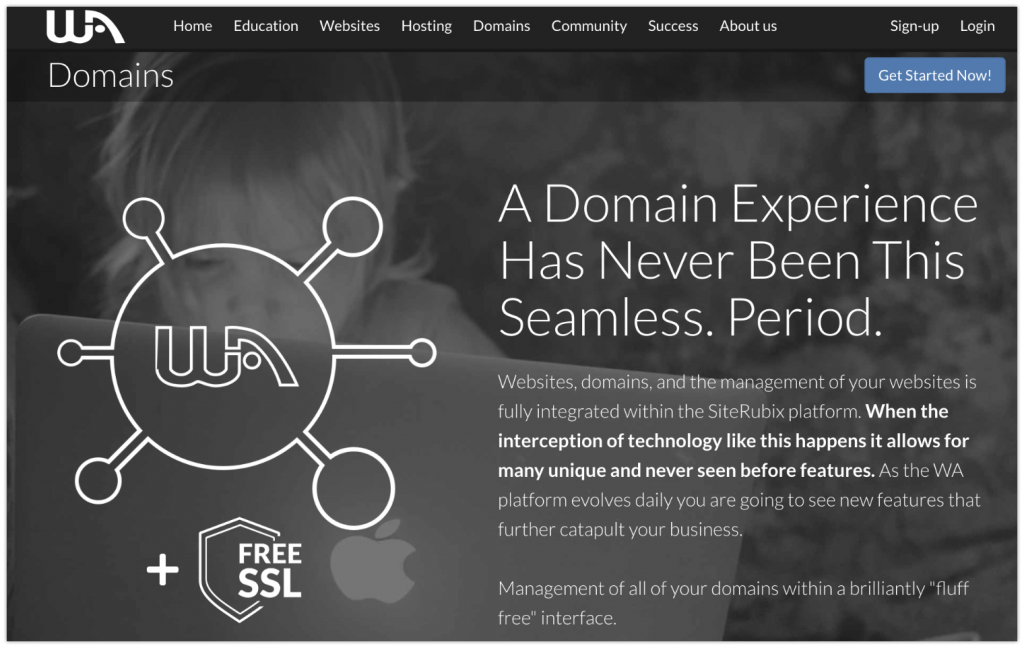 With SiteDomains AND as a premium member, you will have all the below-listed benefits for free:
Free WHOIS Privacy Protection

24/7 Live Support

Guaranteed Pricing (No sudden increases when you re-register)

Domain Security (https)

Unlimted email accounts (how does you@yourwebsite.com sound?)

Advanced DNS Managment &

Instant Set Up
SiteSpeed Feature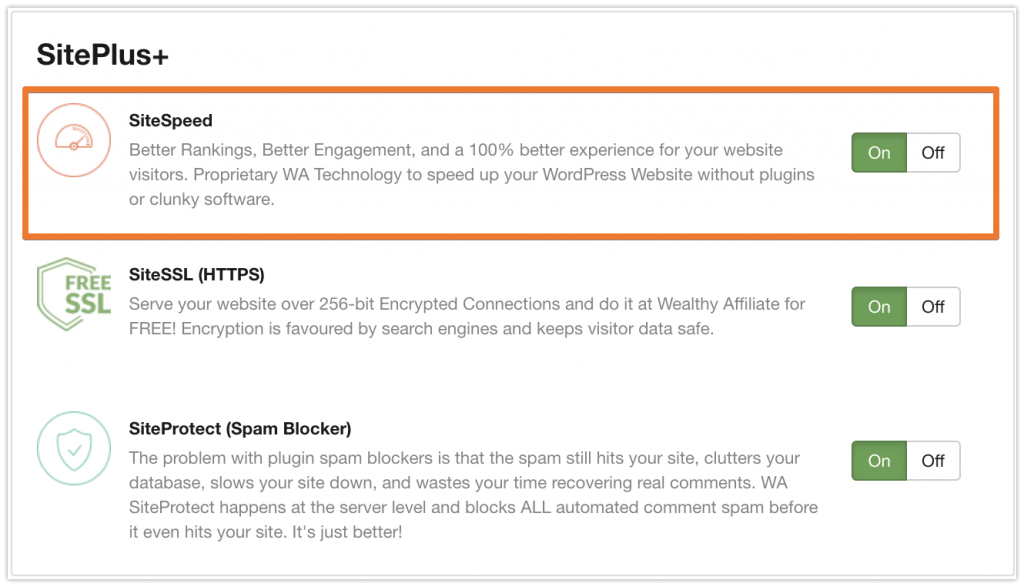 Those 2 extra seconds the website takes to load immediately diminishes the 2 years of hard work you've put into that website.
This is not cool and this is not something you should disregard or leave up to chance.
As a premium Wealthy Affiliate member with sites hosted in WA, you get access to the WA technology known as SiteSpeed. Not sure how it works as it's a company secret but it immediately increases your site's speed with a click of a button.
SiteProtect
Another awesome feature of SiteRubix is the SiteProtect feature that's available to all premium Wealthy Affiliate members.
This will protect your website against attacks and hackers. There are 3 ways your site can be attacked by hackers, and WA covers you against all of them.
May not seem important now, but if you plan on being successful, you need to be protected. You don't want to lose your business, do you?
SiteHealth & Website Analysis
Want to know how your site is performing? Is it fast enough? Are you posting regularly? Is it being found and indexed by search engines regularly?
Most affiliate marketers spend nights worrying about this stuff trying to find the answers to these questions, with SiteHealth and a premium WA plan, you can get this data inside the platform.
SiteComments (Get Real Comments On Your Blog)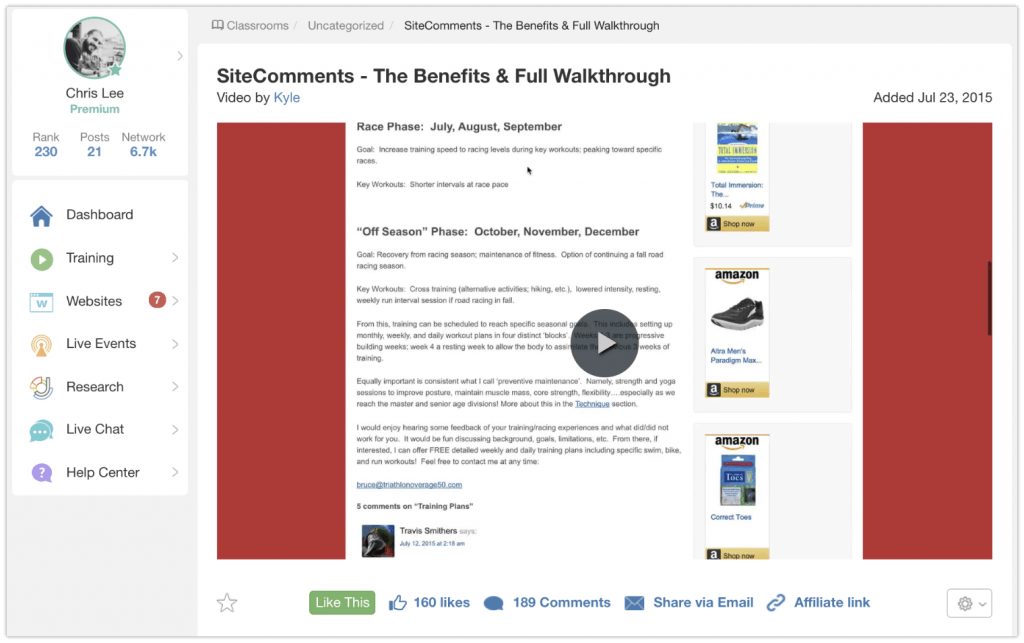 This is a feature I don't regularly use, but I definitely should. Comments on your blog are incredibly important, more than you think even.
A healthy, popular site has a lot of comments coming in, which shows search engines that your site is enjoyed by people enough for them to leave your comments.
Comments are also indexable by search bots, so they also contribute to your search traffic over time.
SiteComments is the tool that will help you get real comments from other premium Wealthy affiliate members.
To request comments, you have to give comments to others and build up credits. Once you have enough credits, you can then use those to ask for comments on your website.
We're not talking about "hey cool post" type of comments either, the system requires a minimum set of words and also a question to be approved.
You can even deny the comment if you think that it's not up to par and get a refund on the credits you've spent.
SiteFeedback
Have you ever wondered why your site has a high bounce rate? or why people are leaving your site without clicking on your affiliate offers?
The SiteFeedback platform allows you to list your site for feedback from qualified experts in the WA community.
Any doubt or question you may have, even if you want to ask them to user-test a page, can be passed through this tool and you will get feedback in a matter of minutes.
Advanced Affiliate Marketing Training

Even though it has so many features, Wealthy Affiliate is a training course at its core.
The premium membership will allow you to access the higher levels of training only open to the serious affiliates who are here to make their dreams come true.
The best thing about this is that all lessons are both in video format and text, which means that you can follow along with the videos while you are working on your site and cross-check them later (if needed) with the text inside the training lesson.
This training is what made me who I am today. What you will go through will likely achieve the same for you. If your goal is to build a successful affiliate business, then this is the training you can't just ignore.
SiteSSL – Free SSL Certificates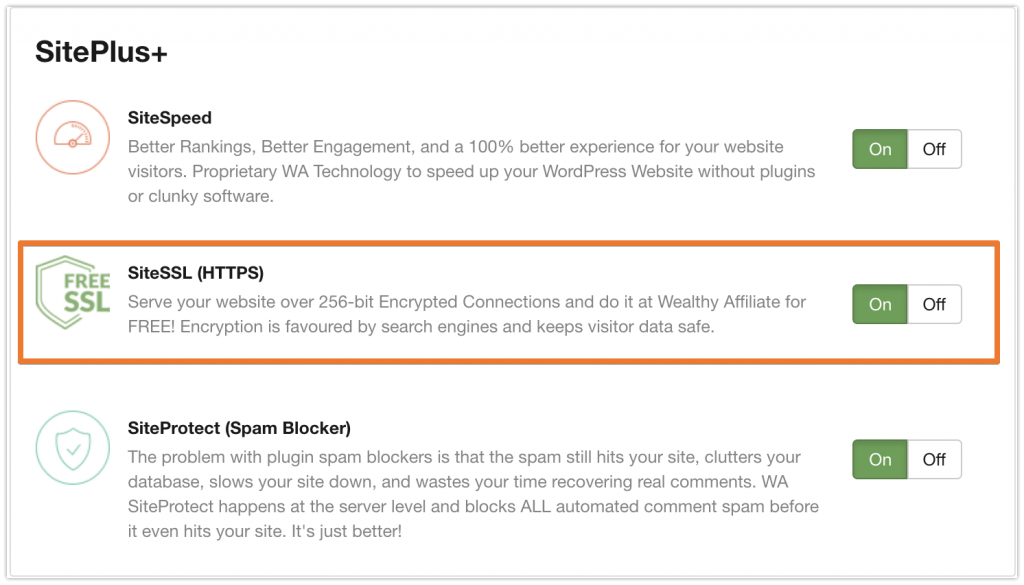 As previously mentioned, you also get a free SiteSSL certificate as a premium member.
Why is this important? Because an https is now a requirement for Google to rank your website. Going at it without it can keep you back from fully leveraging the power of SEO on your website.
Typically it costs $50 a year, not much when you consider its benefits but you can get this for free from WA (without having to do all the coding and verifications yourself).
+1 Premium Benefit: Weekly Webinars
Do you like webinars? Or might I say, WAbinars?
I live them, and even though I never managed to attend one live 9due to time difference) I always catch a replay of the infamous jay's Friday night webinar at WA.
This is a weekly webinar that runs on a Friday night and it goes over a specific topic each week, with enough time to go through Q&A at the end of the webinar.
Here are some of the previous webinars you can still catch the replay of if you join today >>>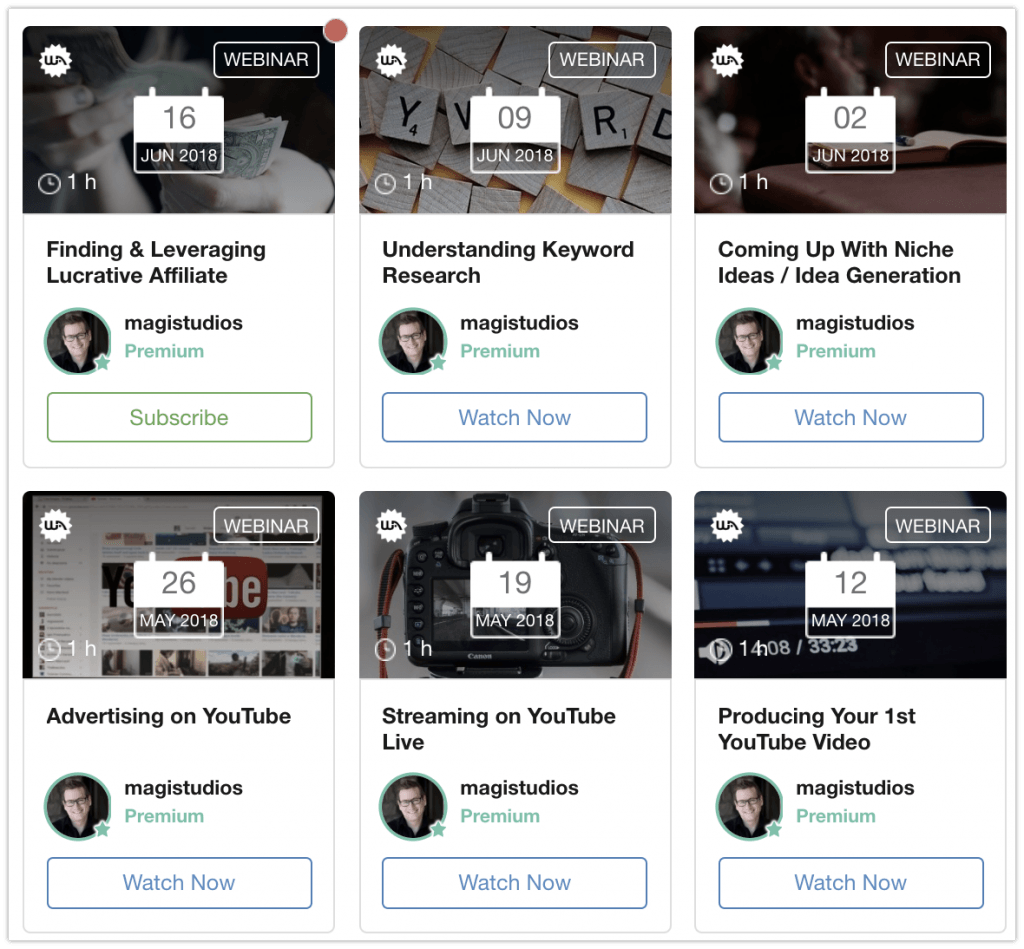 Convinced? Allow Me To Make You An Offer You Can't Refuse.
For unlucky suckers who never get to read this page, the premium Wealthy Affiliate membership plan usually sells for $49 per month, but for you, RIGHT NOW, it's only $19 for the first month.
This means that you will be saving $30 if you simply choose to trust me and get on with it.
Am I asking for a lot? Maybe, but I will put my money where my mouth is and if you find me another training course that is better than WA, I'll even refund you MYSELF the $19 you paid for your first month.
How To Become A Premium Wealthy Affiliate Member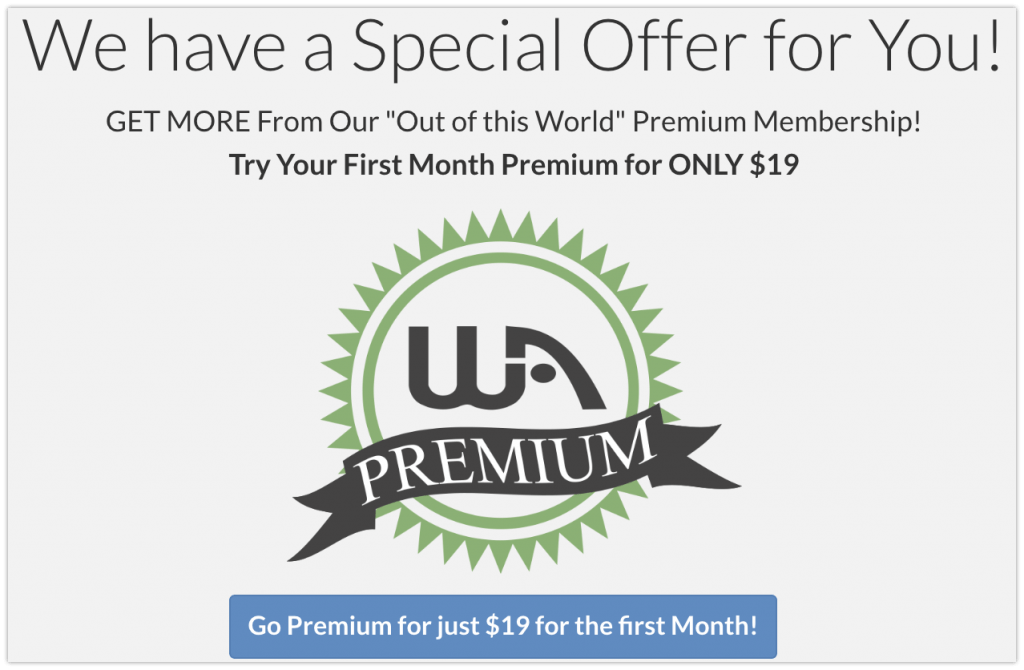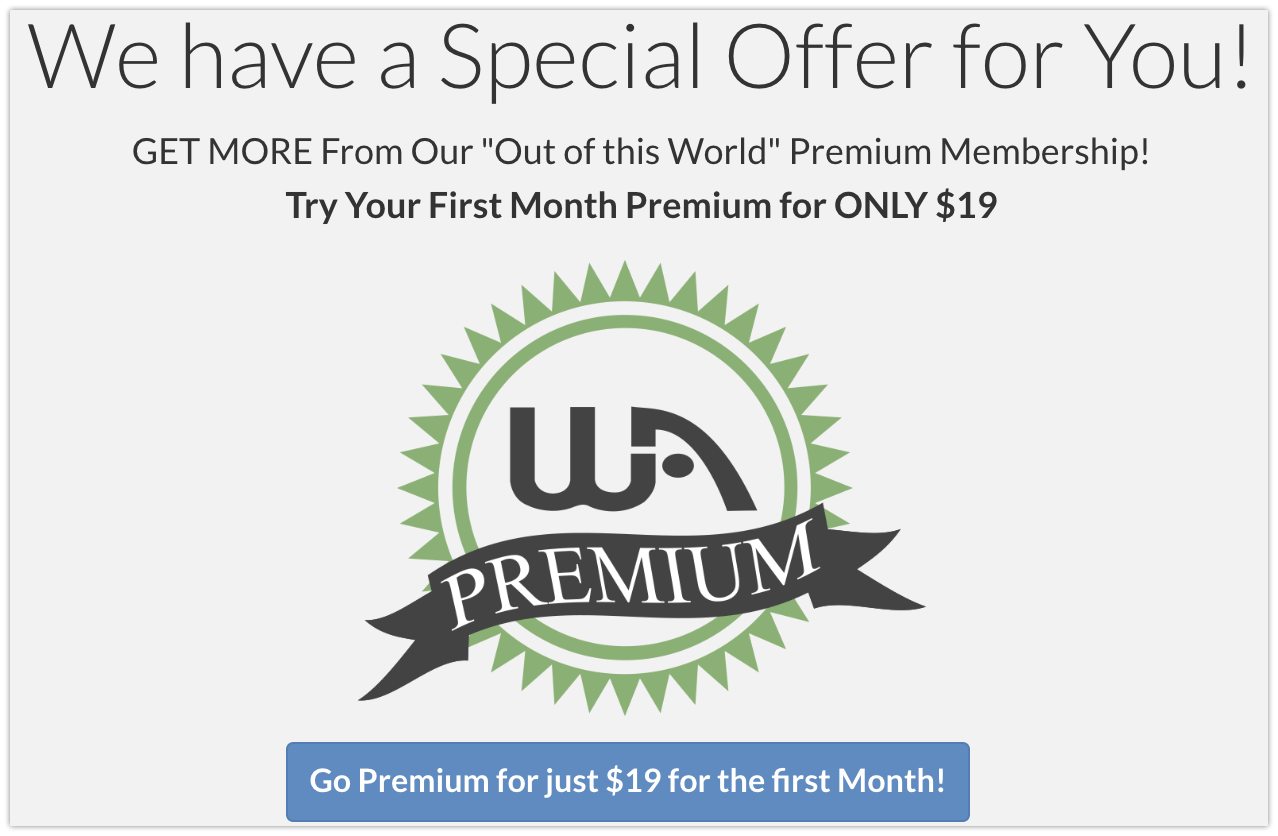 To become a premium member, there are only 3 things you have to do:
Visit the Register Page

Confirm your payment
I'll be waiting for you on the inside so I look forward to seeing you there.
Well done on such a monumental step forward into your new affiliate marketing business.
Talk soon.