New month, new case study update.
If you've been following my profitable niche site case study series, you'd know last month (October) was a disappointment.
However, it's with great pleasure I report to you that the sites are back with a vengeance and we're now starting to see the true potential for where these sites can go.
If you're new here, the Profitable Niche Site Case Study is my challenge to start 10 new profitable affiliate marketing niche-websites and report the ups and downs + all that I learn along the way.
So far, I've only been focusing on 2 of the most advanced website in this case study, but for this update, I will also share some news about the third site which is up and running and also gaining traction.
Without further introductions, let's take a look at the past 30 days (November 2019) and see what happened and what I learned from this.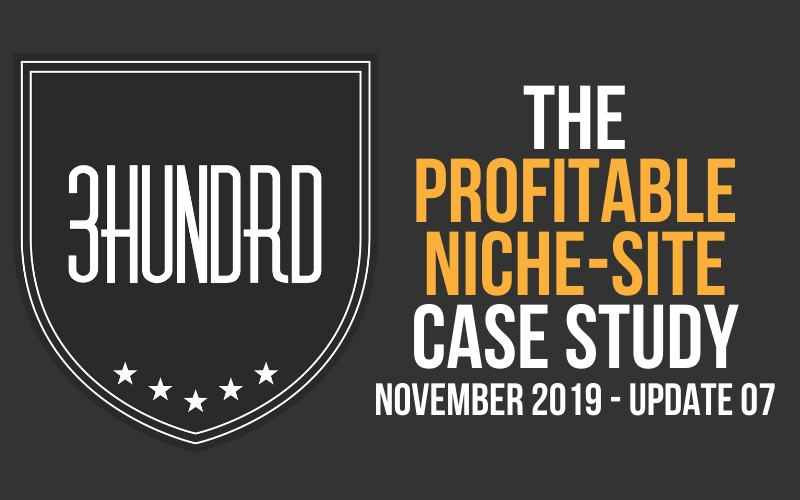 ---
---
Niche Site 01: STSP (Name & URL TBA)
Pageviews in October 2019: 5,541
Pageviews in November 2019: 9,380 (an increase of 70%)
Earnings in November 2019: $230.88 (an increase of 102% from the previous month)
New Posts Published in November 2019: 0
Total Posts Published: 51
Total Words Published: 101,992
Average Word Count Per Post: 2000

Thoughts on November 2019
I knew from the get-go that this niche was a winner, and after confirming it using the strategies I provide in my absolute monster of a guide "how to pick profitable niches", I am glad to see the progress this website is making.
What's even crazier about this sudden increase in traffic, is that my SEO traffic started seeing an increase around mid-November, ending the month with a solid 600+ page views a day.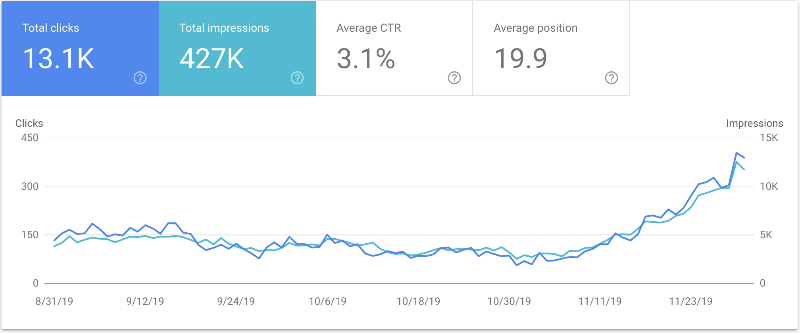 Assuming this keeps up (and the Christmas Season doesn't affect traffic), this site should see 18,000 page views in December, which would make for another 100% increase in traffic.
It's also good to note again that I did not publish a single piece of new content on this website all through November (and I don't plan on publishing in December either).
I will see how this boom plays out and then get back to publishing sometime in January 2020.
Earnings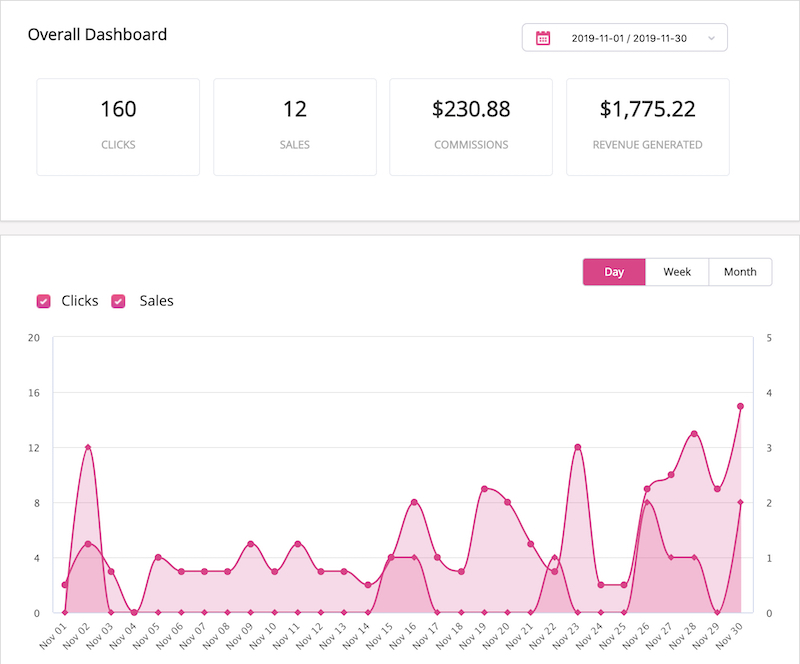 I have mixed feelings about the monetization part of this website.
On one hand, I do like seeing the increase in sales (it doubled from its previous months) so I'm not complaining – but;
I also noticed there were plenty of refunds (I think I lost an additional $100 in revenue) so I'm not too happy about that.
Also, the product that's currently is making me money, was not my intended way to monetize this website. There are plenty more "high ticket" items I'm trying to sell so I just need to work a bit smarter on making sure those posts convert for me.
Speaking of conversion rates, this past month had a 7.5% conversion rate, which is pretty good IMO, so I won't be cutting out this affiliate program just yet, but;
I do need to look for alternatives if I am to reach the $5,000 p/month mark I have planned for 2020.
My Plan For December 2019
As I said, I won't be doing much on this website with regards to content (I have nothing scheduled till 2020) but;
In November, I was also experimenting with email marketing for this website and I managed to get 31 new email sign-ups for the newsletter.

I may do some work on this website creating an email sequence, but I'm not sure as I tend to take it easy every December and I don't plan on doing much this year either.
I'm sure an email list for this website can be a huge moneymaker for me so as I build out this list (and make money with it), you can look forward to more information about this in my future case study updates.
Niche Site 02: TSCC (Name & URL TBA)
Pageviews in October 2019: 3,195
Pageviews in November 2019: 5,515 (an increase of 72%)
Earnings in November 2019: $0
Posts Published in November 2019: 4
Total Posts Published: 84
Total Words Published: 122,240
Average Word Count Per Post: 1445

Thoughts On November 2019
I might reveal this website next month as I need to give you some context about it and what I'm expecting it to do.
This is my girlfriend's skincare/beauty blog and as you can see, traffic also increased dramatically last month but, there's $0 in earnings.
Why is that?
My plan for this website is not to make money with affiliate marketing, but I'd much rather get it earning with Ads for now.
That's the first step, and I will only do that once I can get to 10,000 page views a month (thus qualifying to join Ezoic).
The second step is what would be the true purpose with this website and that is for my girlfriend to start selling her services as a certified beautician (which she is) to people who want someone to help them their skincare.
I've been experimenting with this by deploying a live chatbot for people to ask questions, and I even set up a Calendly integration for people to purchase a 15-minute consultation.
I admit this was not entirely set up as well as it should've been, but;
Given how the traffic is increasing rapidly and the fact that this site needs to start making money, I may look into this more in the upcoming month.
My Plan For December 2019
As it stands, this website now has 84 published blog posts, which is more than enough to start earning money but I want to hold off till 100.
My plan for this would be to reach 100 published blog posts by the end of the year, and then seeing how traffic performs.
I might also be trying a few things (maybe even email marketing) to see how I can sell more consultations but as I said;
I prefer not doing too much in December so as long as I get it to 100 blog posts, that'd be more than enough for me to be happy.
I still believe this site can be huge (easily a $2,000+ a month website) so I'll just keep at it for now and keep building. What's promising is the rise in search traffic in the past 30 days;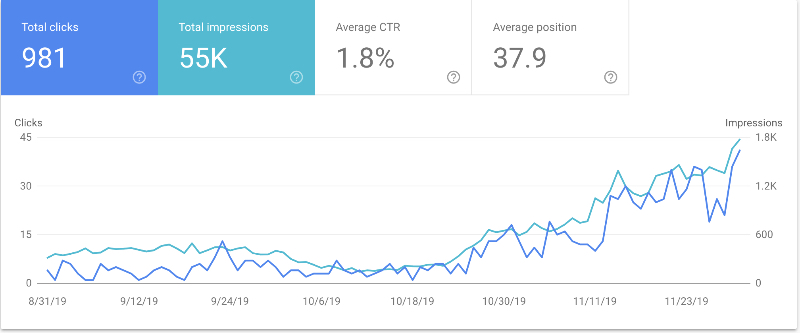 Niche Site 03: WB (Name & URL TBA)
I won't be giving you the exact numbers to this site just yet as they're not worth mentioning, but;
In November this website had 10 new blog posts published, which are already indexed and some of them bringing in a small trickle of traffic already.
It will be a while before this site makes any significant income, but it's a great niche (with expensive high ticket items and decent commission rates) so I look forward to seeing how and where this goes.
The same goes for the remainder 7 websites I have planned for this case study.
They're all up (domains and website set up) but most currently only have a "coming soon" landing page with some keywords just so I can see what comes of that.
I will be revealing more and more on these websites in 2020 and beyond as my main focus right now is to build site #1, #2 and now #3.
Final Thoughts
The goal of this case study is to show you the ins and outs of running a money-making affiliate website.
Of course, I am trying to do the impossible here and build 10 websites at once, which has proved to be harder than expected so do not try this at home.
If you're looking to build a website, start with one and focus on that until you get the hang of it all.
I can only do "so much" because I have a team of writers helping me and I have 7+ years of experience building websites like this.
If you'd like to get started with your own website, I have a free training course which you can join right here and;
I also run a DAILY affiliate marketing newsletter.
You can sign up for that below if you're interested in my day-to-day activities.
I'll leave you to it.
PS: Want to start from the beginning? Here are my previous updates: