I've been on a binge lately reviewing plenty of travel-related affiliate programs (you will find all my previous posts listed below).
Today, I want to take it a step further and share with you my thoughts on the TripAdvisor affiliate program.
While the travel niche can be one brutally competitive arena, the giants of the industry make up for the uphill battle with some decent commission rates and a solid-brand name.
Before we get into the finer details of what you can expect from TripAdvisor (as an affiliate), let's first take a look at the TLDR summary:
Can You Make Money With The TripAdvisor Affiliate Program?
50%+ commissions
Brand Name

Target Audience Size

Commission Rate

Reported Conversion Rate
TripAdvisor Affiliate Program TLDR Summary
A worldwide trusted brand ✔️
Huge audience size (online booking is huge) ✔️
Very good commission rates ✔️
Easy to get started (great for beginners) ✔️
The travel niche is brutally competitive ✖️
What Is The TripAdvisor Affiliate Program?

---
---
TripAdvisor is the world's largest travel website, acting as a terminal that allows you to access hundreds of travel sites around the world in order to secure the best deal.
TripAdvisor is spread out over 49 separate websites in 49 countries (or markets) across the globe.   
On average, over 455 million unique visitors visit these websites monthly. 
TripAdvisor has over 600 million reviews on all their travel listings, the largest selection of travel listings worldwide. Travelers benefit from the opinions of others who have visited destinations before them. 
TripAdvisor helps travelers make the best decision on their travel plans, where to stay, what to do, where to eat, which airline to choose and which car rental company to pick.
TripAdvisor's Affiliate Program is available through Commission Junction (CJ Affiliates).   
You can join the Affiliate Program once you've joined CJ Affiliate Network as a Publisher (more details below).
By joining the Affiliate Program, you get to earn in the exact same way TripAdvisor earns – every time a customer clicks on a link, banner or ad on your site that takes them to a TripAdvisor partner site (this is called a click-out, you earn a commission).
What Can Your Promote As An Affiliate?
We struggled to confirm exactly what you can promote as an Affiliate as the program details on the CJ Affiliate platform are a bit ambiguous. 
Some reviews we've researched state that TripAdvisor's Affiliate Program pays out only on confirmed Hotel stays.
However, this appears to only apply to the InstantBook Commission Structure. Please see the details in the section below.  
If we are reading their commission plan correctly, you can earn commission on clicks to any advert or commercial partner on TripAdvisor's website.  (Commerce Campaign Commission Structure).
So that would mean Affiliates can promote all their offerings:
✔️ Hotels
TripAdvisor compares the prices of over 200 hotel booking sites and over 500,000 hotels to ensure travelers get the best deal.  Customers save 30% on average on their hotel bookings by making use of TripAdvisor. 
✔️ Things to Do
If you're looking for the best excursions (tours, day trips, activities, attractions), transport options, shopping centers, and even classes to take once you've reached your destination, TripAdvisor has you covered.
✔️ Restaurants
With over 4.3 million restaurants listed on their websites and hundreds of reviews about each eatery, you will never run out of marvelous places to eat when you're traveling.
✔️ Flights
TripAdvisor analyzes and compares hundreds of results found on different airlines and flight websites and comes up with a Fly Score, their rating of the best flights based on price, travel time and layovers.  
✔️ Holiday Homes
TripAdvisor offers its huge travel community the opportunity to list their own homes, villas, cabins or cottages up for rent. This makes thousands of self-catering homes available for rental on their sites.
✔️ Car Rental
TripAdvisor has access to over 60,000 car hire locations around the world so they can snag the best car hire deal wherever you are in the world.
What Commission Do You Get With The Trip Advisor Affiliate Program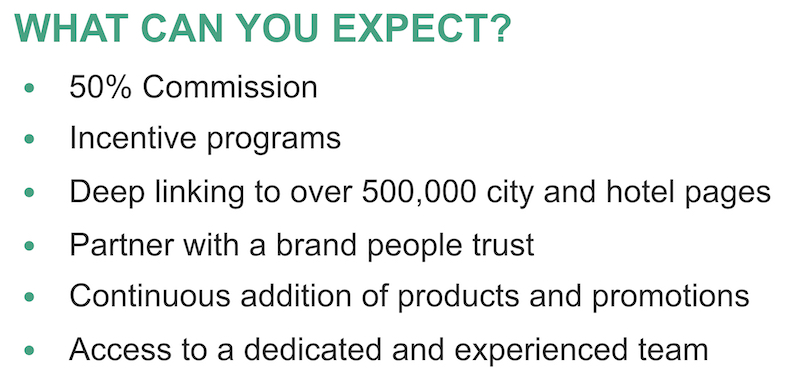 Commerce Campaign Commission Structure
As mentioned in the first paragraph, TripAdvisor earns money from the click-outs from their websites to their partner's websites.  
i.e. Anytime someone visits TripAdvisor's website and clicks on the link to an advert or partner, TripAdvisor gets paid. The amount varies according to the agreements reached between Trip Advisor and the commercial partner.
Affiliates earn commission in the same way.
Affiliates earn a whopping 50% to 80% of the income TripAdvisor receives per click-out.  
Plus they have conversion rates of over 40%  which is above the industry average.
Instant Book Commission Structure
TripAdvisor also pays Affiliates 3%+ commission of the hotel booking value on any Instant Bookings made by your users.
*Now this is where it says:  "Commission is only available for hotels on TripAdvisor. There is no commission on vacation rentals, flights, attractions or restaurants via this program."
So we are not sure whether this pertains only to the Instant Book Commission Structure or to the Commerce Campaign Commission Structure as well.  If anyone reading our post can clarify this point, please leave a comment below. 
The commission is paid 30 days after the check-in date to avoid paying out commission on canceled bookings. 
Bookings made through the app are not commissionable.
Incentive Programs
TripAdvisor offers incentive programs to affiliates who drive high quality and high volume traffic to their website. 
They also offer quarterly incentive programs from time to time.
For more information, please read the Frequently Asked Questions on this page.
Can You Make Money With This Affiliate Program
Yes, as long as you're driving a decent amount of traffic to TripAdvisor.com. 
Remember that TripAdvisor pays you 50% commission of the gross revenue 
Unlike most other affiliate programs, you do not have to wait for a user to buy something in order to earn your commission.  
As soon as a visitor leaves your website and clicks on one of the ads or commerce links on the TripAdvisor website, you get paid. 
Affiliates are not paid for the click from their site to TripAdvisor. They are paid 50%+ of the revenue generated for the click-out, i.e. from TripAdvisor's site to their partner site.
Affiliates earn on average $0.15-$0.75 per click-out. 
Conversion rates are super high, with many affiliates achieving conversion rates of 75%.
Who Is This Affiliate Program Best For?
Anyone can participate anywhere in the world but currently, all links and ads drive users to TripAdvisor.com.
We would assume this program would be best suited to successful travel bloggers. 
TripAdvisor doesn't specify who their affiliate program is best for, however, they are very clear about who is not eligible to join the program.  
** Please see who is ineligible below, as TripAdvisor levels a hefty fine of $500,000 for liquidated damages to ineligible parties who enroll in the program.
(a) meta travel search engines (including Kayak, Fly.com, Trivago, and Sidestep), 
(b) hotel, airfare, or vacation rental content aggregator sites
(c) any successor, employee, agent or corporate affiliate of (a) or (b)
Read more in their Affiliate Agreement – you can find it here.
How To Join TripAdvisor As An Affiliate
Step 01:
Unless you're already registered with CJ Affiliate Network, your first step would be to join CJ.   
Step 02:
Log into CJ, search for the Trip Advisor Program and apply to join the program.
Step 03:
Now, wait to hear whether you've been accepted or declined.
Looking For More Travel Related Affiliate Programs?
As I said at the beginning of this review, I've been on a travel-niche binge lately so;
If the TripAdvisor affiliate program, you want to check out some alternatives I've reviewed in the past:
Alternatively – if you want to learn how to make money with affiliate marketing – I'd also recommend you join a free 10-day affiliate marketing training course which I have prepared for you here.
It's the same course I've used to be able to make money online, so I can guarantee you that the training works!
You can learn more about this training course on this page here.