If you've been looking into Wealthy Affiliate as a potential affiliate-marketing business opportunity, then I am sure that by now you've already read multiple reviews that tell you it's one of the greatest training out there.
I agree with that – I also have my review where I share all my experiences with Wealthy Affiliate – and yes; it really is an incredible training course – but many seeing this avalanche of positive reviews about WA would likely be thinking:
Is Wealthy Affiliate a pyramid scheme?
In this quick post, I will answer this question in as much detail as I possibly can and prove once and for all that NO;
Wealthy Affiliate is not a pyramid scheme.
Let's first start off by explaining what a pyramid scheme really is:
LIMITED TIME OFFER:
I am currently offering a $97 bonus to all those who join Wealthy Affiliate on a premium membership –
click here for details
.
What Is A Pyramid Scheme?
A pyramid scheme is a "business model" that would require you to buy into a company or a service – and in order to make money off your investment, you'd need to recruit other people to join the company.
Initially, it is disguised as a business opportunity – for example, there are plenty of pyramid schemes that also involve a physical product.

For example; in 2008 in the midst of the global recession, there was a famous pyramid scheme in Canada that involved travel vouchers.
The company first promoted the package (that allegedly provided low-cost travel) by asking you to become their business partner (or distributor) of their "travel club".
To join, there was a $3,200 fee.
Now this all seems reasonable so far, but the problem is that the product was not the actual product being sold – it actually was a cover-up for the real way you'd be making money and that is through recruiting others.
A tell-sign of a pyramid scheme is the fact that you'll often be encouraged to recruit others as it's much more profitable for you to talk others into becoming distributors (just like you) than to actually sell/use the product.
If you're finding this confusing; you are right – pyramid schemes are very confusing and very hard to follow.
They are designed this way so nobody dares ask questions and put themselves at risk of seeing what a total sham they just bought into.
Of course, all of these complications are then glossed over with the promise of quick riches and the spotlight is shifted towards the handful of people at the top of the pyramid making a killing and they tell you;
Look! If you work hard and stick with this long enough; you can be like that.
The only problem here is that to be able to make money from a pyramid scheme – you have to be one of the first people to get into it as the more the bottom is the pyramid grows, the lesser chance there is of being able to make money.
These are just some of the problems being invested in a pyramid scheme can bring and of course – just in case you do not know – pyramid schemes are illegal to run.
Not too long ago, we even saw one of Wealthy Affiliate's main competitors MOBE being shut down and fined by the FTC for being just that; a glorified pyramid scheme.
So; back to Wealthy Affiliate;
Is Wealthy Affiliate A Pyramid Scheme Scam?
After seeing so many positive reviews about Wealthy Affiliate – you'd be forgiven to believe that the only way to make money with Wealthy Affiliate is by promoting e Wealthy Affiliate itself which yes; is typically a clear sign of a pyramid scheme.
But; Wealthy Affiliate doesn't work like that and I'm going to tell you why here:
5 Signs Wealthy Affiliate is NOT A Pyramid Scheme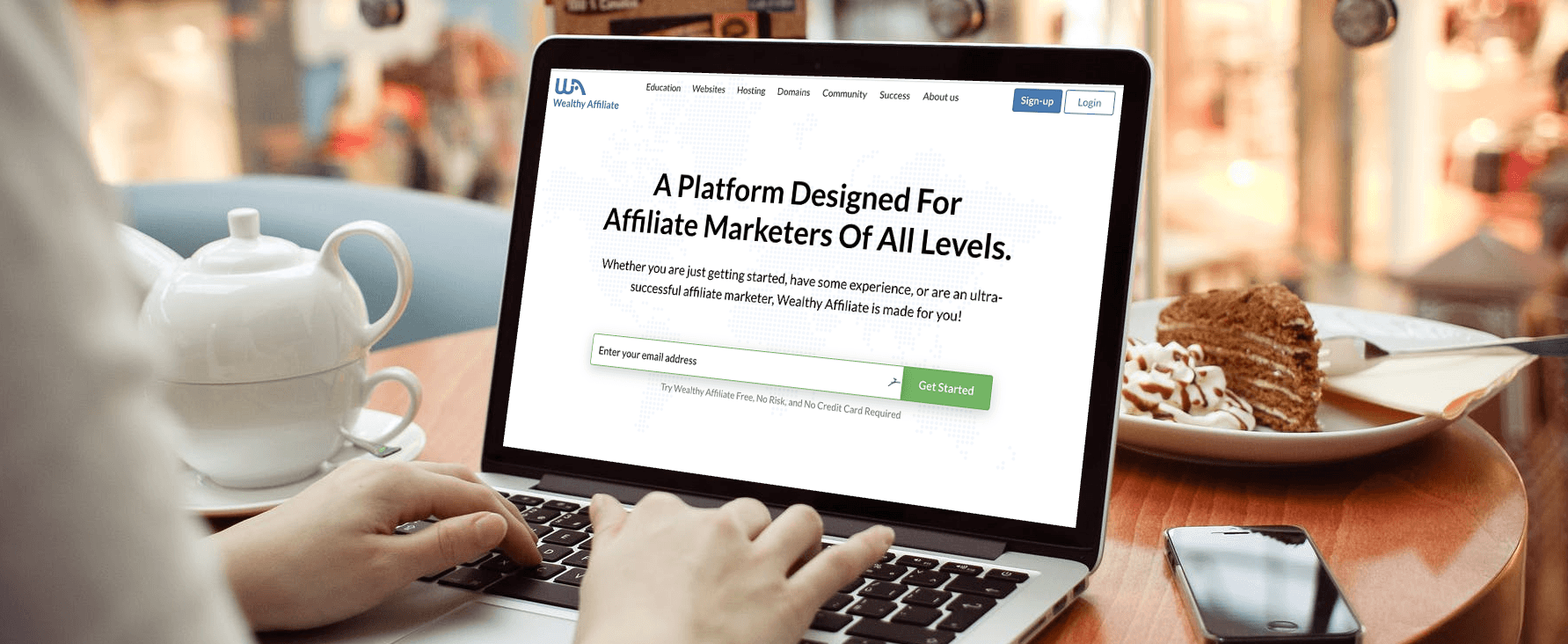 It's Free To Join
Pyramid schemes would first require you to buy into the scheme by becoming a customer yourself of the products.
It's also good to remind you here that with typical pyramid schemes, there really is no legitimate product to sell.
Wealthy Affiliate is not only free to join and use, but it is actually a product that you can sell on its own.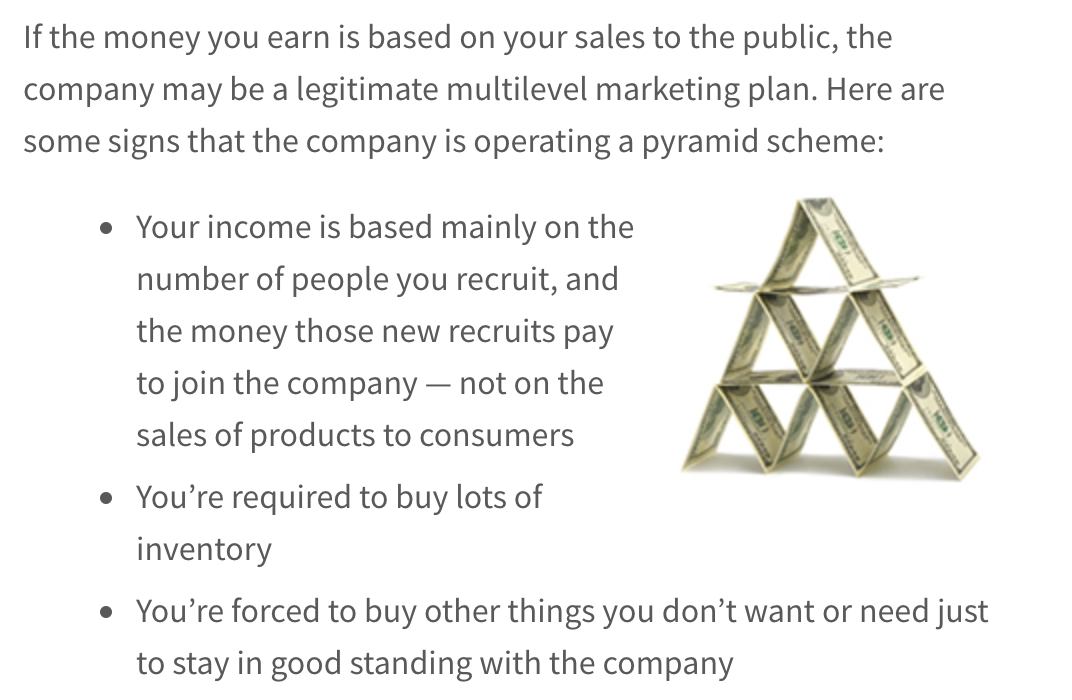 There are website builders, keyword tools, hosting, domains, training etc….
All affiliate programs (which is what Wealthy Affiliate has) should be free to join.
If they are not then it's highly likely you are the product (and the sucker) being sold.
As I said; Wealthy Affiliate is free to join, and yes you can start promoting and earning money promoting Wealthy Affiliate even on a free membership plan.
You can find out more details about the Wealthy Affiliate affiliate program here.
It's An Affiliate Program
Affiliate programs are commonly confused with pyramid schemes so let's talk about this for a second.
Affiliate marketing is not a pyramid scheme by any measure – all you are doing is selling a product to somebody else and then making a commission off that sale.
For example, if I sell you a domain and hosting package from BlueHost, I will be making a commission from BlueHost (not from you) and I'd be selling you a product you actually need and can use; a hosting plan.
That's all there really is to it.
It's Way Too Cheap To Work As A Pyramid Scheme
Wealthy Affiliate offers free memberships, but to access the higher levels of training, you'd need to go premium.
A premium membership costs just $49 per month – that is not nearly enough to make a pyramid scheme successful as the math simply does not work out.
All pyramid schemes have to be well over $1000+ for them to make any sense – if not; they are just not worth it.
It Does Not
Require

You To Promote Wealthy Affiliate

Many people think that the only way to make money with Wealthy Affiliate is by promoting Wealthy Affiliate itself.

This is not true.

As I said in my in-depth Wealthy Affiliate review, there are two main training courses inside Wealthy Affiliate.
The Online Entrepreneur Certification course and
The Affiliate Bootcamp course.
Yes – the affiliate Bootcamp will show you how to create your business by promoting Wealthy Affiliate through their affiliate program, but those lessons can still be applied to any niche / to any business you want.
Many chose to promote Wealthy Affiliate because it's a product that has worked and yes; they have a fantastic affiliate program.
One of the best and easiest ways to get ahead with affiliate marketing is by promoting products you know, tried and loved.
Thus for many affiliates; promoting the affiliate marketing niche with the best affiliate marketing training course there is (Wealthy Affiliate) seems like the natural way to go.
Again; you are not required to promote Wealthy Affiliate.
There's Isn't A Pyramid-Like Payment Structure
One thing that is also a clear indicator Wealthy Affiliate is not a pyramid scheme is because there's no pyramid structure in place.
You do not need to recruit members that will then have to recruit members and so forth for you to make money.
It's an affiliate program – you make a sale, you get paid – that's where it ends.
Should You Try Wealthy Affiliate?
If you want to learn how to start an affiliate marketing business then yes; Wealthy Affiliate is the best option you have.
Yes there are premium levels of training which you need to pay for if you want, but the entry level of all the courses can be accessed right now – for free – without even needing a credit card.
Can You Make Money With Wealthy Affiliate Without Promoting It?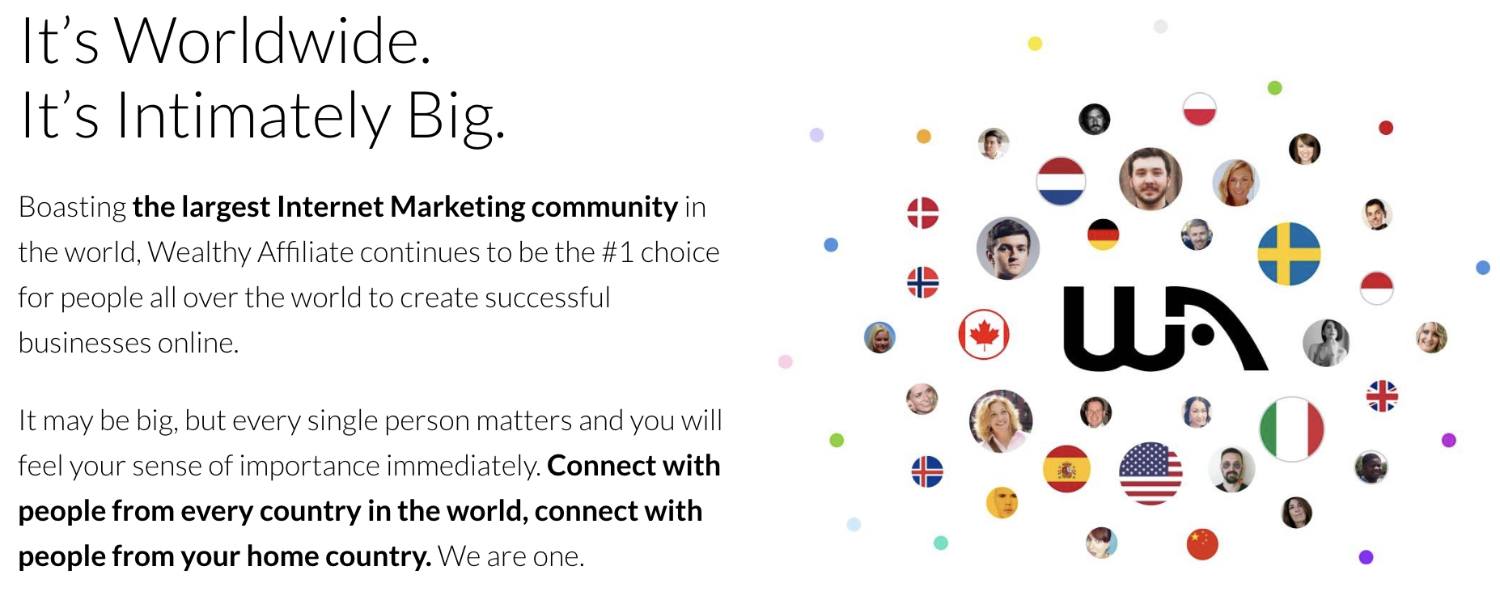 Yes you can – and that is what the training will show you how to do.
Using Wealthy Affiliate, you can create an online business in any niche/industry – not just the Wealthy Affiliate platform / make money online industry.
For many years I did not promote Wealthy Affiliate and just focused on building multiple niche websites that to this day are still making me money.
I am promoting Wealthy Affiliate because I'm now in the affiliate marketing niche (which is something that I love) and Wealthy Affiliate is the best option for my readers.
To see why I can make such a bold claim and to find out more about Wealthy Affiliate, please read my entire Wealthy Affiliate review.
Final Words
So is Wealthy Affiliate a pyramid scheme?
Of course not – it's simply a training course which offers an affiliate program just like every other company in the world now has an affiliate program (even Amazon has one)
Pyramid schemes are often illegal and they usually do not last long before they go bust.
Wealthy Affiliate has been around for 13 years without any issues or regulatory crackdown and has been turning hopeful affiliates into successful entrepreneurs each and every year with no signs of stopping.
It's also free to join.
Go and find me another "pyramid scheme" you can go into for free – I'll wait here.
Talk soon.
WANT TO KNOW HOW I MAKE MONEY WITH
AFFILIATE MARKETING?
(YOU ALSO GET A 10-DAY COURSE FOR FREE WHEN YOU SIGN UP)
After signing up, you will be redirected to the course page where you need to sign up again - no credit card required, just an email will do.
NB:
Want to see how I make money online?
Here's my latest guide
showing you everything I do to earn money with simple, easy-to-build websites.