Over the years I've written plenty of Wealthy Affiliate reviews and the reason why I keep writing new ones is that every single year; Wealthy Affiliate undergoes massive updates that most definitely warrant a new review.
For those who just stumbled on this page and are not yet sure what Wealthy Affiliate is all about, it is what I consider to be;
The best affiliate marketing training course ever created.
Wealthy Affiliate is where I learned how this whole "make money online" business thing works and I also credit the training available inside Wealthy Affiliate as a lifesaver because thanks to it;
I was able to finally "crack the code" with affiliate marketing and achieved my dream of running a profitable online business full-time.
If you're here to find out whether Wealthy Affiliate is a legitimate training course or a scam, then here's your quick answer;
Yes, it is; when it comes to affiliate marketing training, you will not find a better training course than Wealthy Affiliate.
If you want to know why I rate it so highly – and why it has been my #1 recommend course for many years now – keep reading as I am about to share with you everything you need to know about Wealthy Affiliate.
LIMITED TIME OFFER:
I am currently offering a $97 bonus to all those who join Wealthy Affiliate on a premium membership –
click here for details
.
In this review, I will attempt to answer any and all questions you may have about WA, but before we get into that, let me just give you a quick "summary" of what I think about what they offer.
Wealthy Affiliate University Review (Summary)
$0 Starter Membership
Price

Features

Training

Value For Money
Summary
2 Main Training Courses (100+ Lessons)
1,400,000 Successful Affiliates
13 Years In Business (& Running)
Rated #1 Affiliate Marketing Training Course
Free To Get Started (No CC Required)
$97 Bonus For All Members (My Personal Bonus)
How I Finally Made Money Online With Wealthy Affiliate (My Story)
At the time of writing, I have been a premium Wealthy Affiliate member for 6+ years and to be honest, I don't ever plan on leaving this community.
The funny (sad) thing about all of this is that I initially joined WA way before that, but being the fool that I was back then, I quit shortly afterward because I was not convinced it was the right option for me
At that time, I was all into the fast-money lifestyle that all the scam affiliate marketing gurus used to pitch, so after seeing Wealthy Affiliate talking about "working hard for it", I decided to look elsewhere.
Then I got scammed a few more times and while being on the verge of giving up on my dreams, I remembered about Wealthy Affiliate and decided to give it one final go.
This was June of 2012 (pictured below in the snapshot of my profile which you can see here):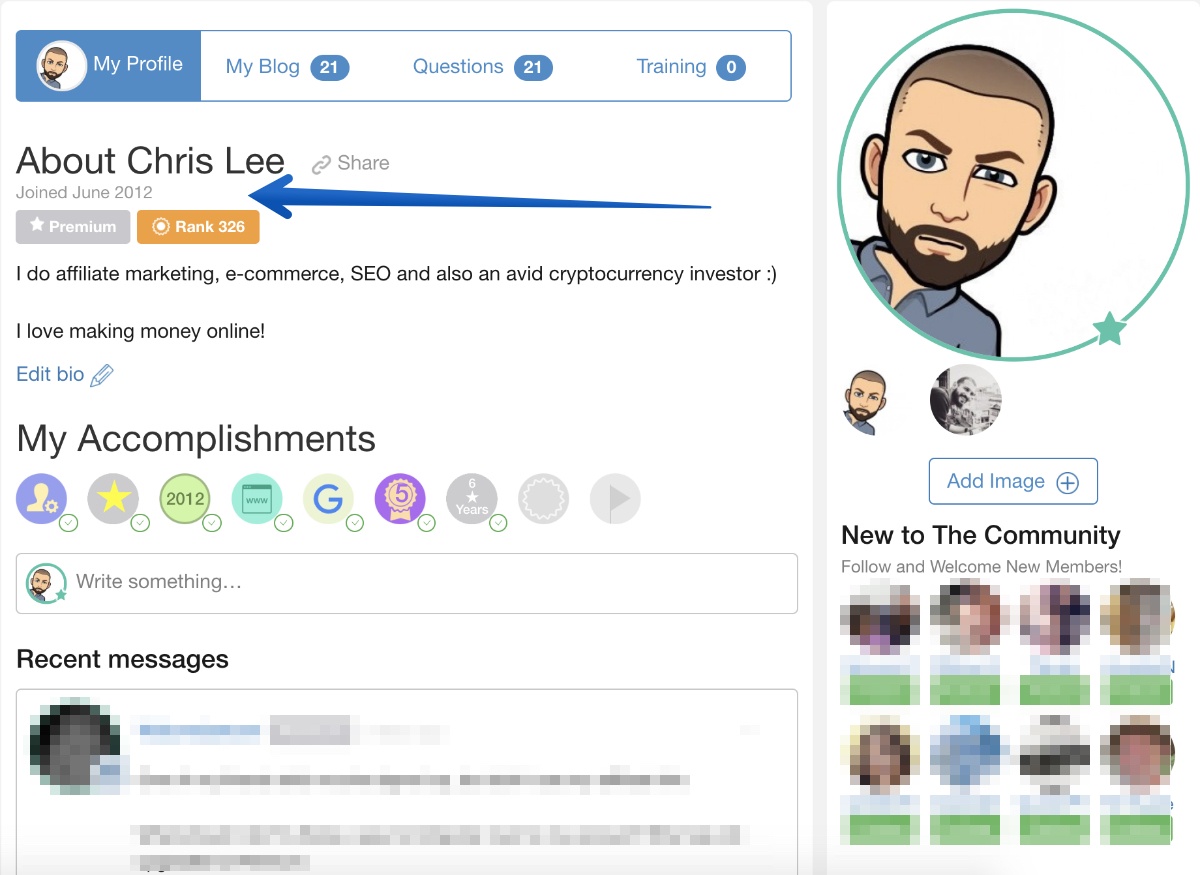 I came into Wealthy Affiliate a proper mess!
I had learned all the bad ways of doing things, had spent thousands on useless training programs, have had friends laugh at me for even trying and had failed with just about every "online business" I had attempted.
Wealthy Affiliate was literally my last hope.
Then I started WA's training, and after a few months, low and behold;  I made my first sale!
(You can read the story of my first ever affiliate commissions here)
The sale was a commission from Amazon for $0.84c!
Yep, after months of hard work; I had made less than $1!
'Wealthy Affiliate doesn't work!"
That's what many would say and just give up here, but having finally understood what goes into building an online business from the ground up, those few cents were god-sent as I had proved two things:
#1: Yes Wealthy Affiliate does work!
#2: No I'm not crazy! Making money online really is possible!
From that day onward I was hooked and that very same day I become a yearly premium member at Wealthy Affiliate.
Needless to say, since then I have been making way more than $0.84c and now I'm proud to say that I run my successful affiliate marketing business full-time!
I gotta tell you; it feels great to have finally made it happen and as I said at the beginning of this review; I credit Wealthy Affiliate for every single cent I've ever earned online.
If it wasn't for WA, I sure as heck would not have made my dream come true!
Now that you know my story and why I think so highly of Wealthy Affiliate, let's get back to this review and see WHY I can boldly tell you how you're most likely destined to become Wealthy Affiliate's next top-earner.
What Is Wealthy Affiliate?
Wealthy Affiliate is an affiliate marketing training course which over the past 13 years has evolved into the gold-standard and absolute authority in affiliate marketing training courses.
The value offered inside Wealthy Affiliate is unmatched – anywhere – and while I will try to do this review as in-depth as humanly possible, I am sure I will leave a lot of features out as it's quite literally impossible to cover everything.
The best way to really discover what Wealthy Affiliate is all about is to become a member yourself, which luckily you can do for FREE here.
Let me now tell you about the two main training courses that you can do inside Wealthy Affiliate.
Wealthy Affiliate's Two Main Training Courses
Inside Wealthy Affiliate, you will find hundreds (if not thousands) of different courses and guides on how to make with affiliate marketing, but the two "main" training courses are;
The "Online Entrepreneur Certification" course and
The "Affiliate Bootcamp" course.
Let me explain the differences between the two…
The "Online Entrepreneur Certification" Course: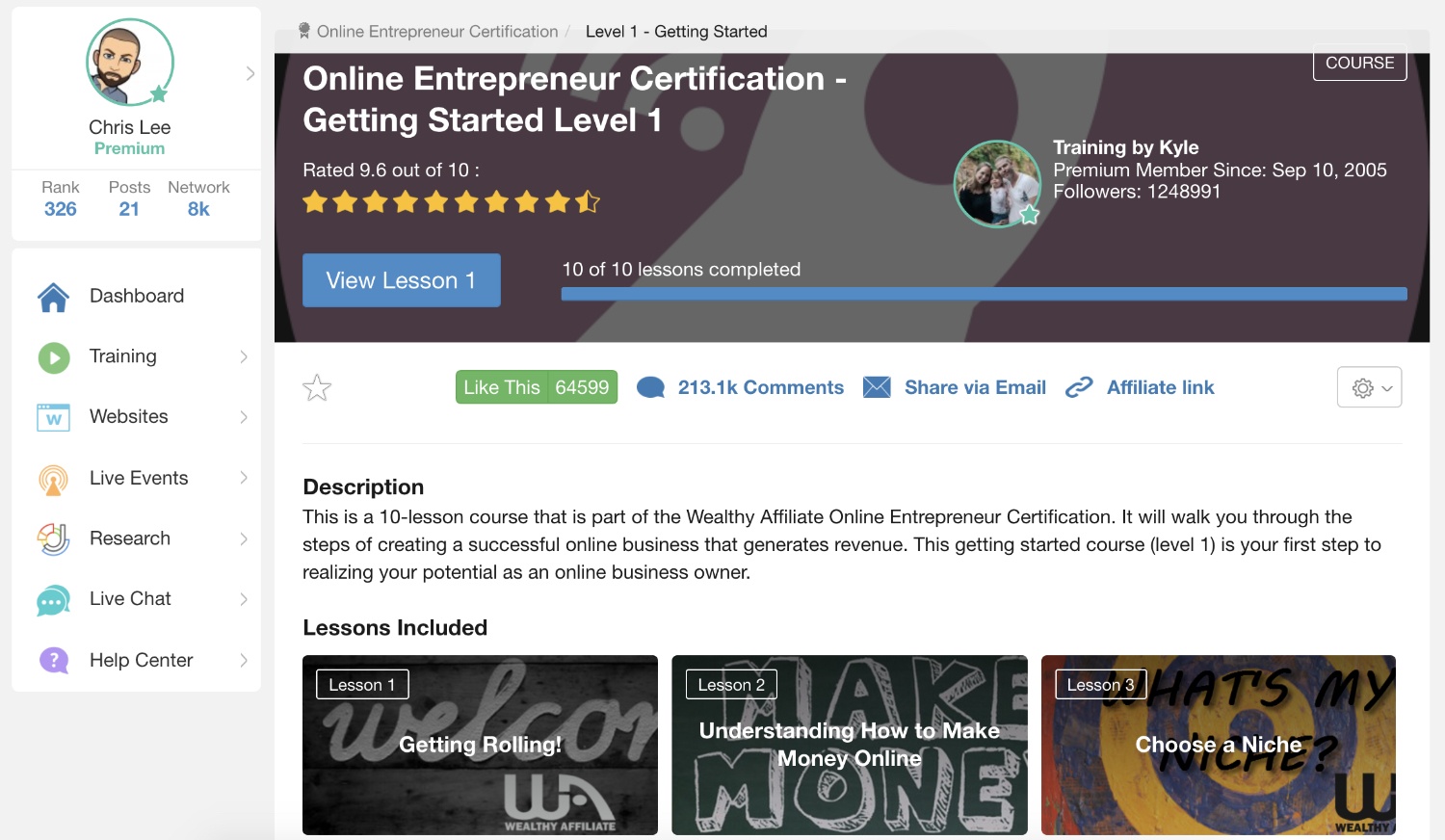 Levels: 5 levels
Lessons: 10 lessons each level (50 lessons in total).
What will you learn? How to build an affiliate marketing business.
The Online Entrepreneur Certification course (OEC) is the first stop for all hopeful super-affiliates joining for the first time.
This course is where you will learn how to kick-start an online business with the affiliate marketing business model.
Its content is split into 5 different levels with 10 lessons each.
There are no restrictions as to how quickly you can go through this course; but the lessons (+ the accompanying tasks) are set up so you go through one lesson every day, meaning you will need ~50 days to complete the course.
Warning: Do not skip ahead without completing the tasks for the day.
The courses are laid out in a day-by-day and task-by-task structure for a reason, and that is to help you build on a strong foundation for your online business.
Take as much time as you need with each lesson but make sure you do the steps as they are laid out in the training and do not jump ahead without doing the tasks first.
If you don't plan on doing this, might as well not do it at all.
Now that we covered that, let's explore what the OEC course is all about and what you'd be learning:
Level 01: Getting Started Course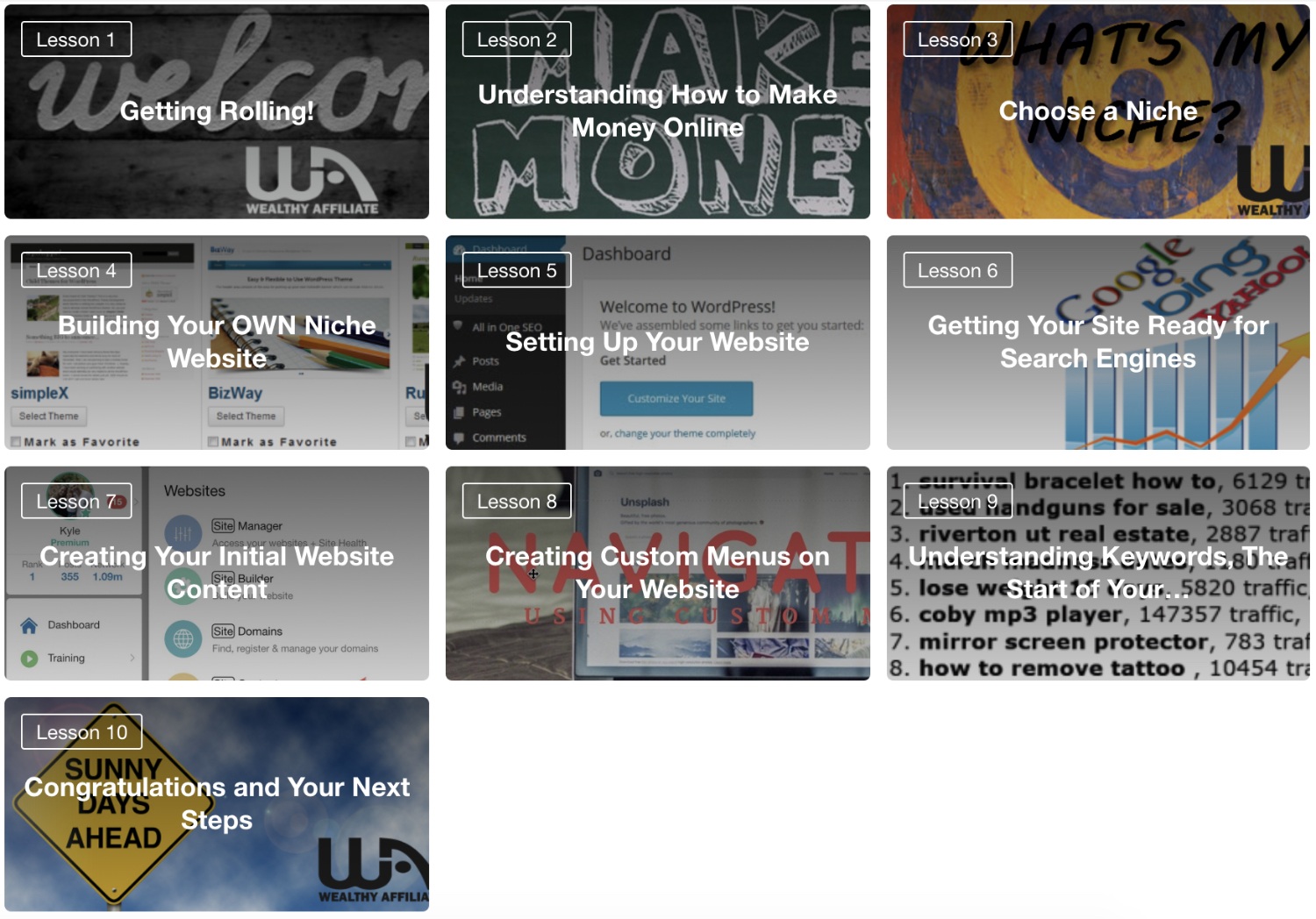 These are the first 10 lessons of the training and they are structured to take you from a complete beginner, all the way to having your own website up and running ready to make money!
Here's what you will be learning in your first 10 (free) lessons:
Getting Rolling
Understanding How To Make Money Online
How to Choose a Niche
Building Your Own Niche Website
Setting Up Your Website
Getting Your Site Ready for Search Engine Traffic
Creating Your Initial Content
Creating Menus on Your Website
Understanding Keywords & What They Do
Recap (What's To Come)
Once you have completed all 10 lessons – each of which comes with their own videos and daily tasks (about 3 a day) – you are then ready to progress to the second level of training.
This time around; you'll already have your website set up and you'll be learning how to apply various monetization methods you can use to make money.
I won't go into the same lessons-by-lesson detail for all the levels as this would keep you here forever, but I'll tell you what the remaining levels are all about:
Level 02: Building Your Own Traffic-Producing Website (10 lessons)
Level 03: Making Money (10 lessons)
Level 04: Mastering Social Engagement (10 lessons)
Level 05: Achieving Maximum Success With You Content (10 lessons)
Online Entrepreneur Certification Course Reviews: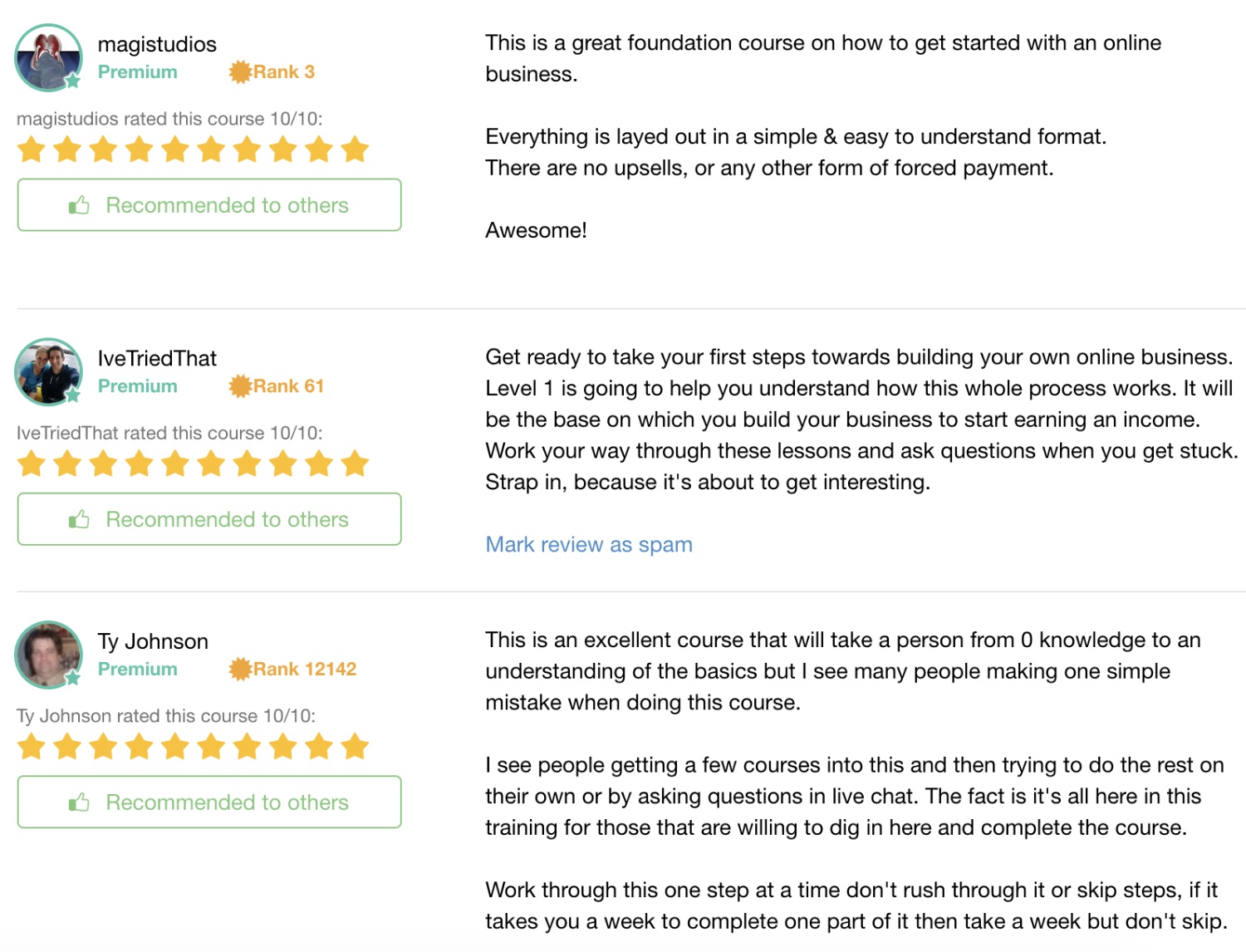 The "Affiliate Bootcamp" Course: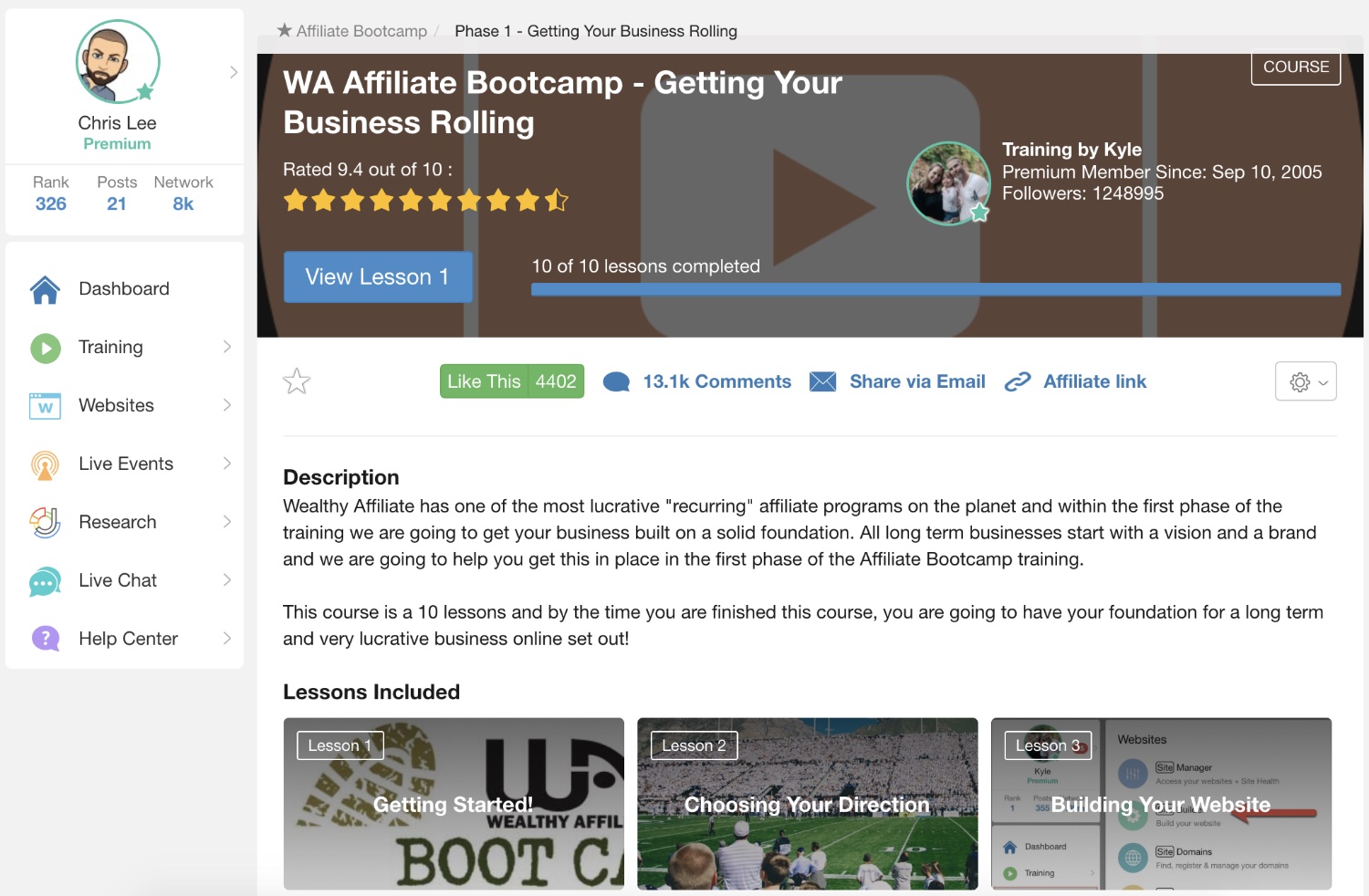 Levels: 7 levels
Lessons: 10 lessons each level (70 lessons in total).
What will you learn? How to make money with Wealthy Affiliate.
This is the second "major" course you'll find inside Wealthy Affiliate and this course will show you how to start your business promoting Wealthy Affiliate (and the make money online niche) itself.
Although this is not required; many members who end up being successful at Wealthy Affiliate will eventually decide to promote the training knowing well enough that what they are promoting actually works (this is also why I have made Wealthy Affiliate my business).
It's good to note that you can also go through this course and apply the methods taught to something else if you wish.
Contrary to popular belief: promoting Wealthy Affiliate is not required.
Level 01: Getting Your Business Rolling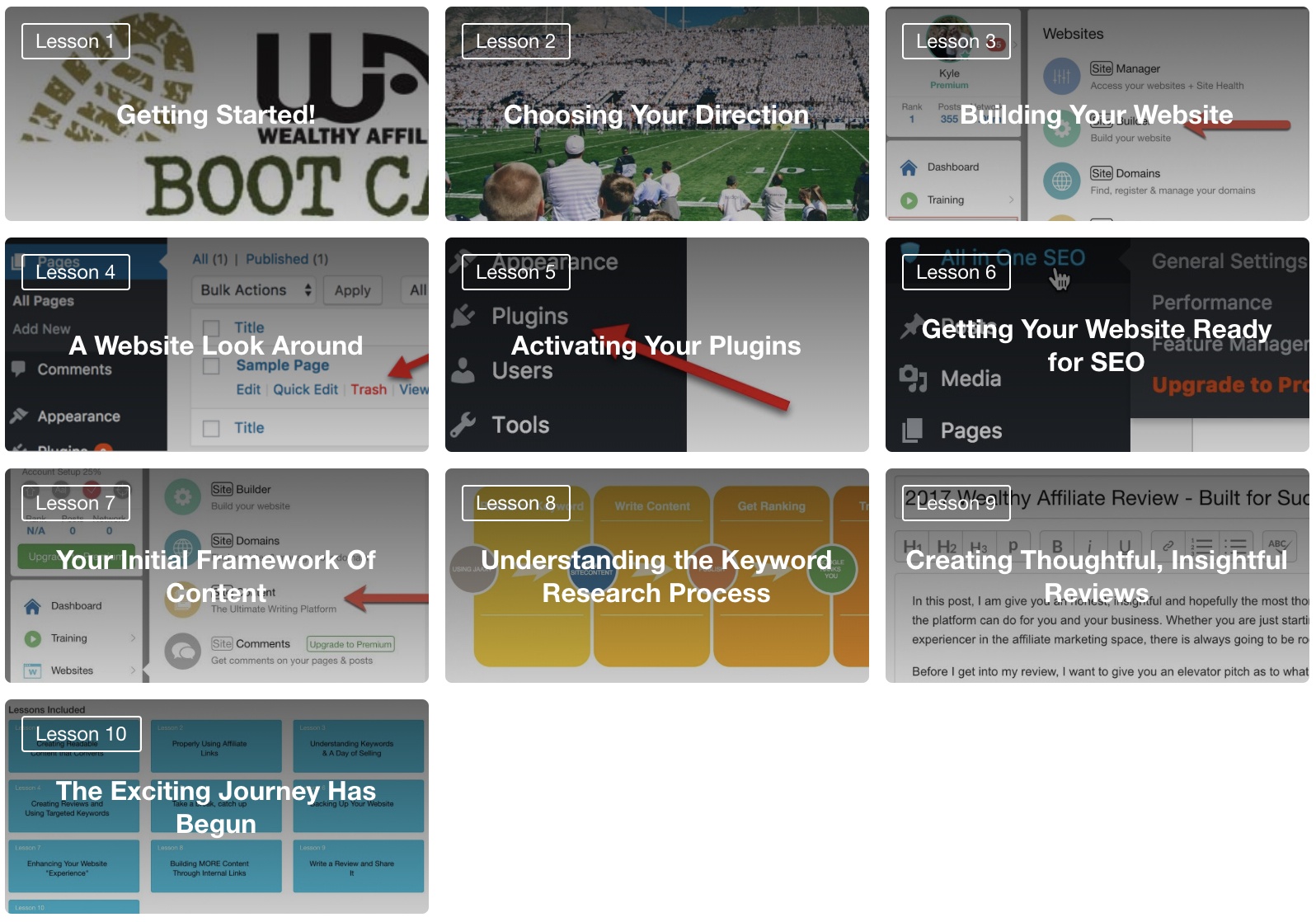 Here are the first 10 lessons of this course:
Getting Started
Choosing Your Direction
Building Your Website
A Website Look Around
Activating Your Plugins
Getting Your Website Ready For SEO
Your Initial Framework Of Content
Understanding The Keyword Research Process
Creating Thoughtful, Insightful Reviews
The Exciting Journey Has Begun
It may look similar to the "Online Entrepreneur" course, and you're right; the first one is but these lessons are much more detailed and direct as you know what you will be promoting.
Of course, once you start going into level 2 and above, things will start taking a different direction.
Here's what you can expect from the remaining 6 levels of the Bootcamp:
Level 02: Content, Keywords & Conversions
Level 03: Giving Your Site Social Value
Level 04: How To Build A Brand Online
Level 05: Knowing & Understanding Your Audience
Level 06: Bing, Yahoo and the Power of PPC
Level 07: How To Scale Successful PPC Campaigns
(Level 08: Coming in 2019)
"Affiliate Bootcamp" Course Testimonials: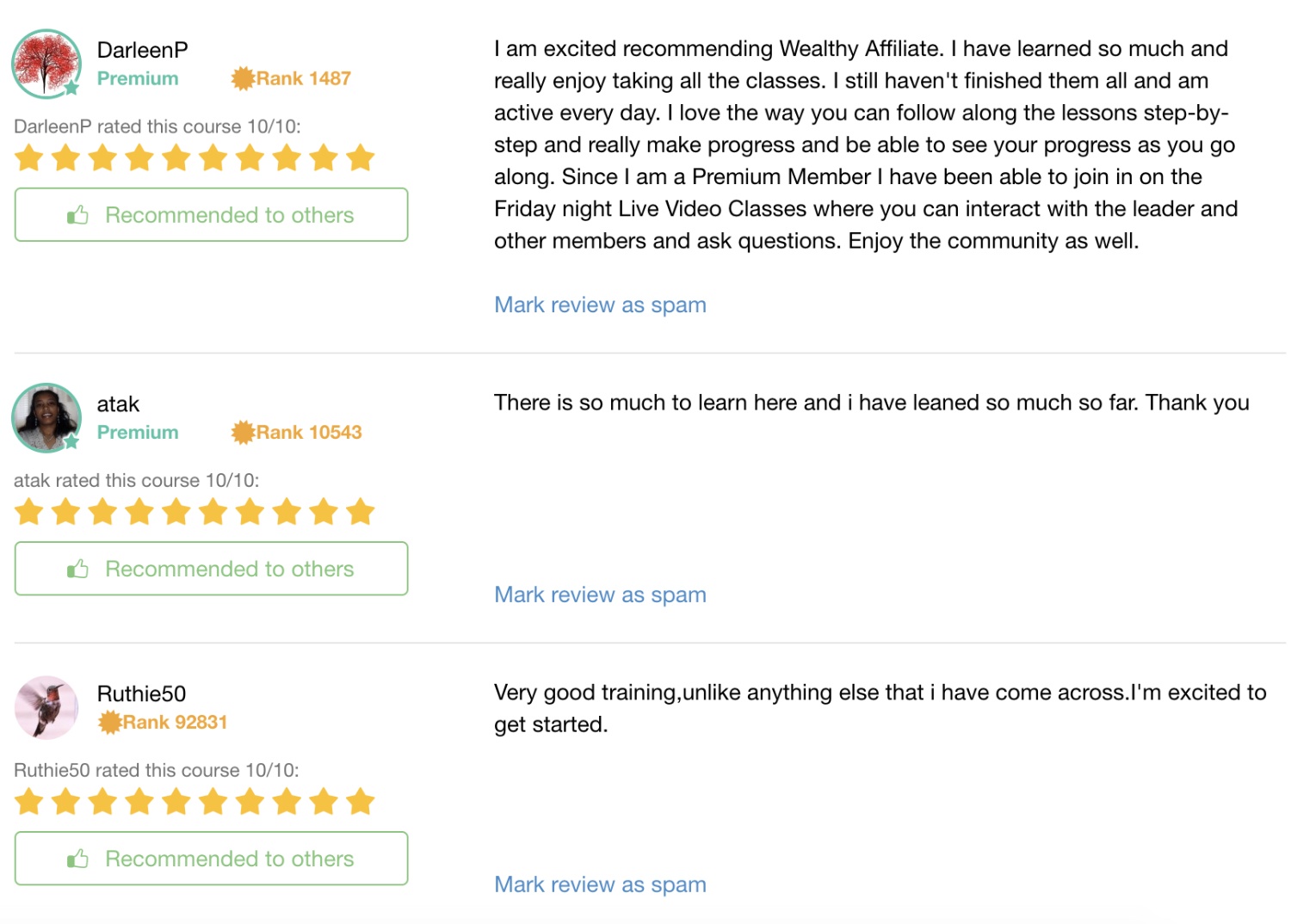 What Else Do You Get?
Now that I covered the two main courses offered, it would not be a proper "Wealthy Affiliate review" if I just stopped here.
As I said, there's plenty more to WA than what I've shared above and no, I still don't plan on going through everything.
However, I will give you share with you a few more features which I think make Wealthy Affiliate the much-loved online training course it is today.
13 Additional Digital Marketing Classrooms To Learn From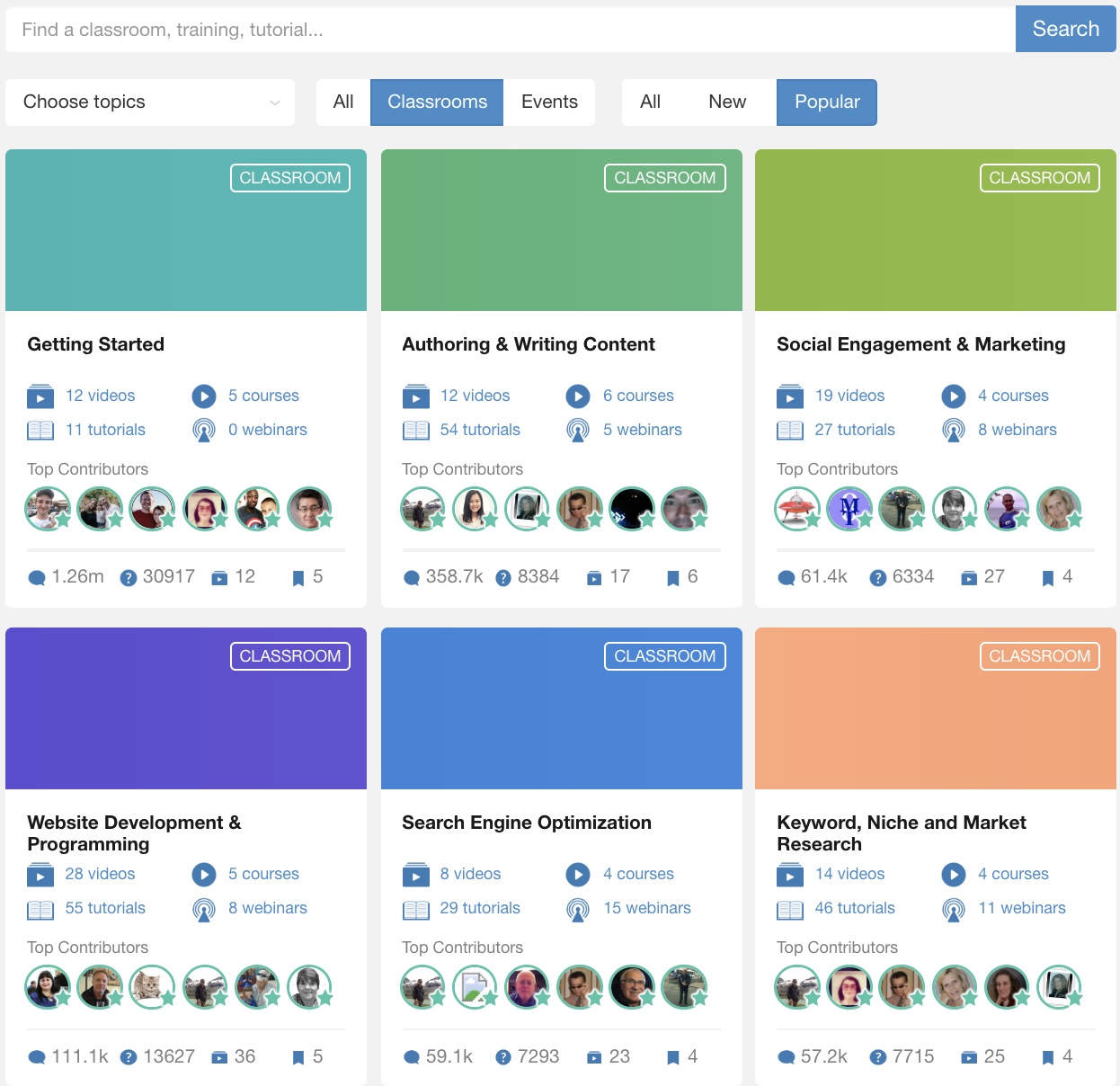 Not that the amount of training offered in the two main courses – 120 lessons in total – isn't enough, but Wealthy Affiliate also has 13 different classrooms with additional courses, guides, and training.
This is where you will find a collection of tips, advice and commonly asked questions regarding specific topics.
As you can see from the image above, you can browse through the classrooms one by one, all focused on a specific topic and you can also see the top contributors, how many guides are in there, etc.
The "Authoring & Writing Content" classroom alone has 12 videos, 6 mini-courses, 54 tutorials, and 7 webinars.
That's a lot of content you can be learning from.
Here's what all the 13 classrooms are about:
Getting Started
Authoring & Writing Content
Email Marketing
Everything WordPress
Social Engagements & Marketing
Search Engine Optimization (SEO)
The Wealthy Affiliate Affiliate Program
Website Development & Programming
Local Marketing
The Wealthy Affiliate Platform
Pay Per Click Marketing
Video Marketing (YouTube)
Keyword, Niche & Market Research
Just to give you an idea of what to expect in one of these "classrooms", here's a screenshot from inside the SEO classroom: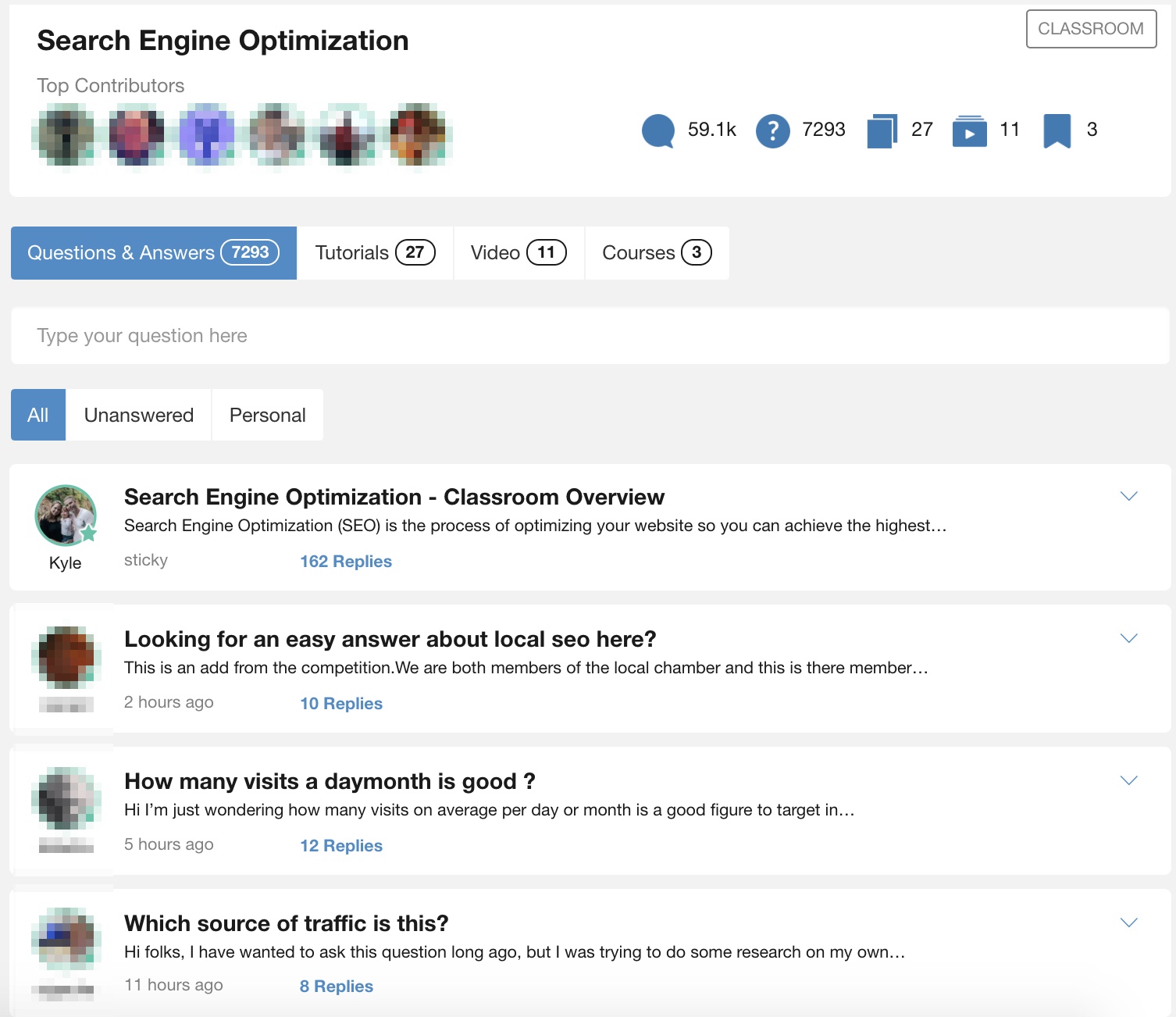 The Weekly Live Webinars (WAbinars)
Now, this is a free weekly webinar, but it's available only for premium members.
Every Saturday evening, Jay (@magistudios) – one of WA's leading members – gives us a "live class"(we call them WAbinars).
These are not your typical "free" webinars you find online either where half the time is spent on the introduction and the other half is spent pitching you a product.
These are hour-long information-packed webinars with a live Q&A at the end where you can ask questions to Jay on the topic of the day.
It's also good to note here that the webinars are recorded and available for replay – in the member's area, you will find a collection of webinars that go back years.
If – like me – you're outside the US and the webinar happens at some crazy AM time (mine comes up at 3 am) – don't fret, the replay will be made available shortly the next day.
Here are some of the previous webinars / Live Classes we had: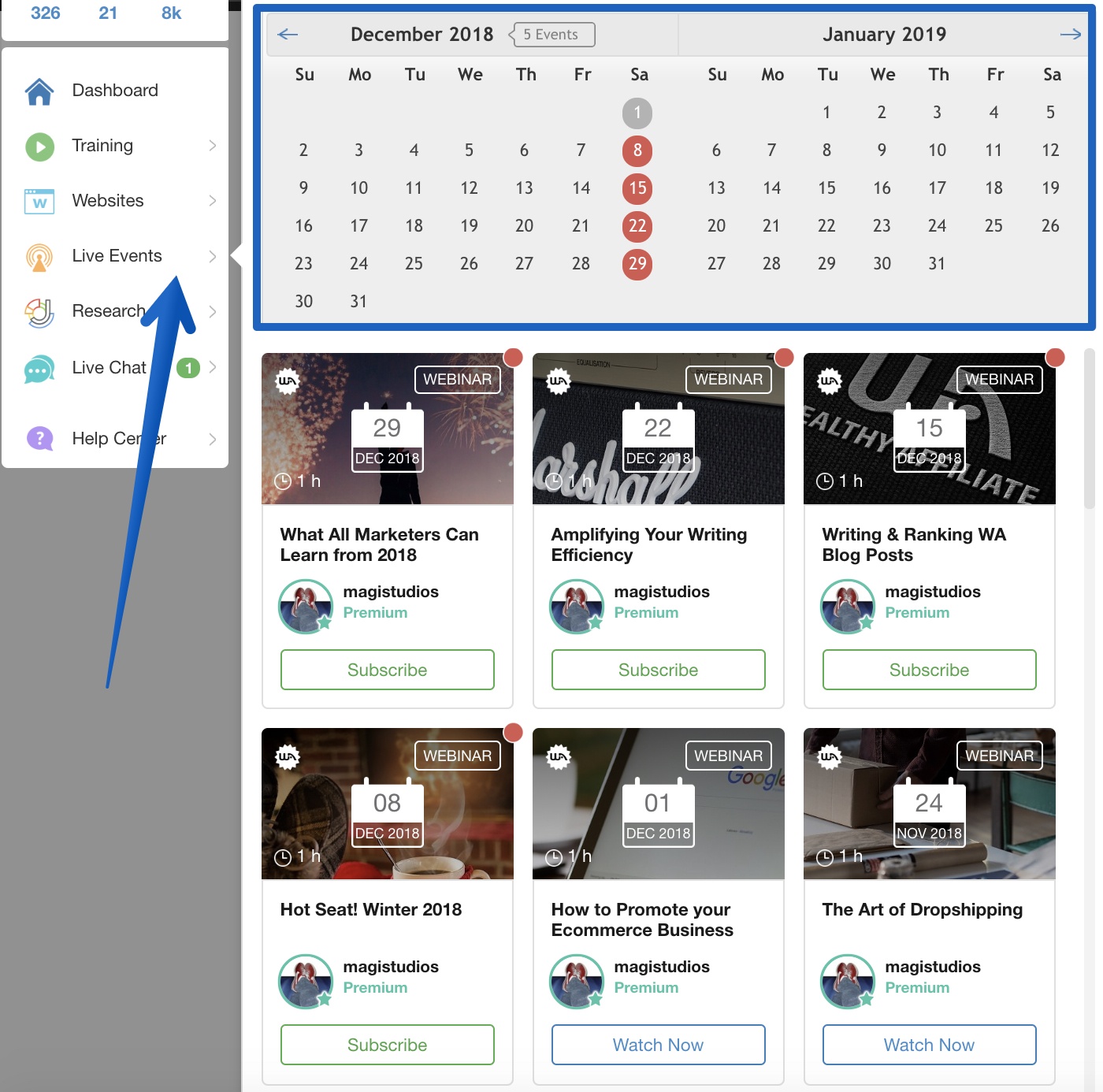 The Powerful Site Building Tools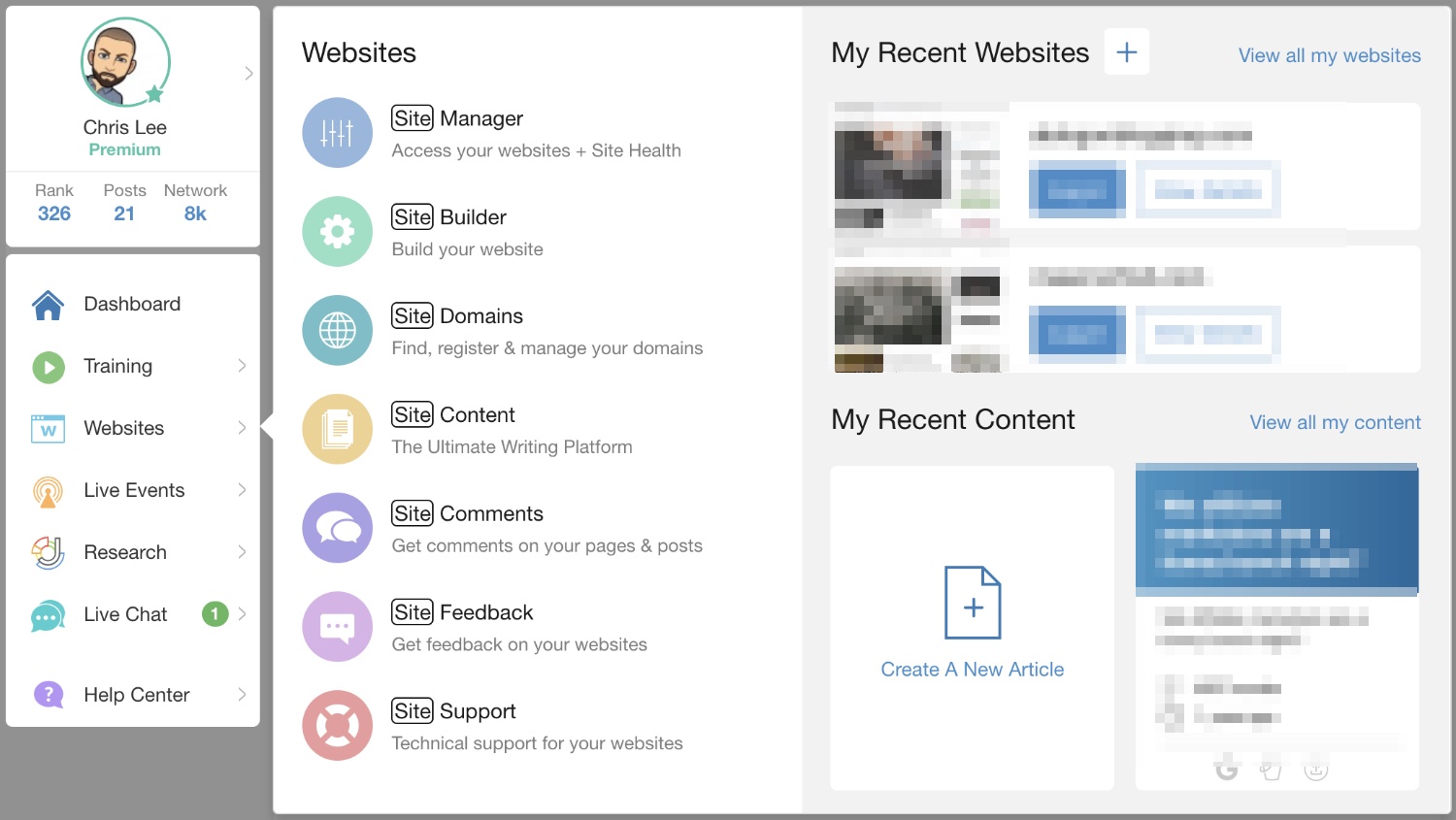 The SiteBuilder Platform
Would you be surprised if I told you Wealthy Affiliate offers free websites to all their members?
It may sound too good to be true, but believe me; it's very much true.
As a free Wealthy Affiliate member, you get 2 free websites.
With a premium Wealthy Affiliate membership; you get 50 free websites.
For the free members, there's the Siterubix platform which is Wealthy Affiliate's own WordPress site builder and for premium members, all you have to do is buy your domain.
As a premium member, I can host up to 50 free websites – (yes I do mean fifty, not five) – which at the minimum of $10 per site, this would save me a total of $500 per month.
Of course, I do not own 50 websites, but I do have 22 websites hosted in there and that means I am already saving $220 per month (with a premium membership that only costs me just ~$29 per month).
But wait; that's not all.
The SiteBuilder has 7 main components which are available to you as a premium member and they are:
SiteManager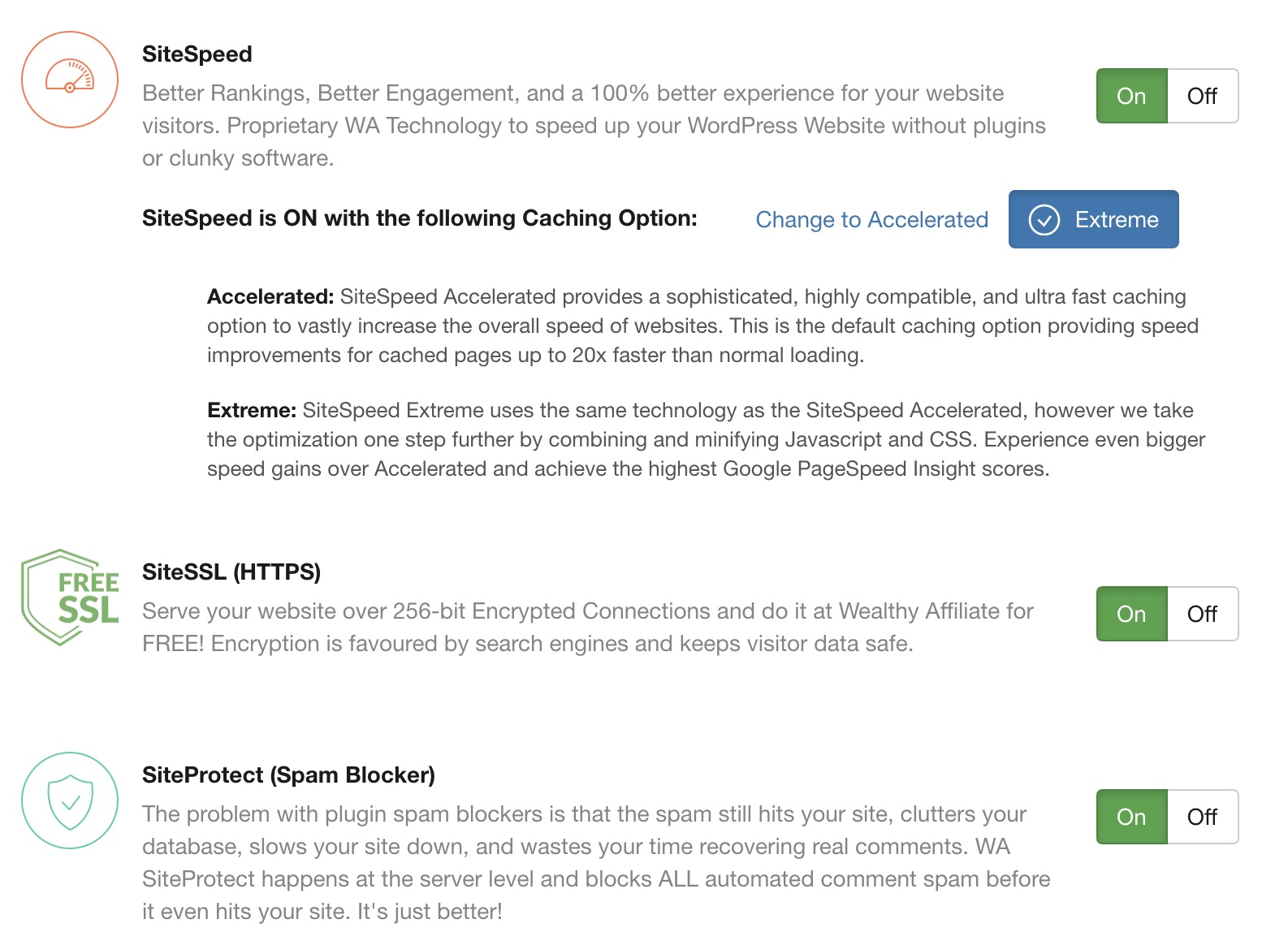 This is where you can see all your websites in one place + other information about them that may be useful.
You'll also get to see your SiteHealth, which gives you a clear and direct indicator as to how your website is performing from a search engine's point of view to plugin status, updates available, etc.
SiteBuilder
Do you know how long it takes to build a website with the SiteBuilder tool?
About 1 minute.
Yep. That's all it takes. You simply gotta see it to believe it.
SiteDomains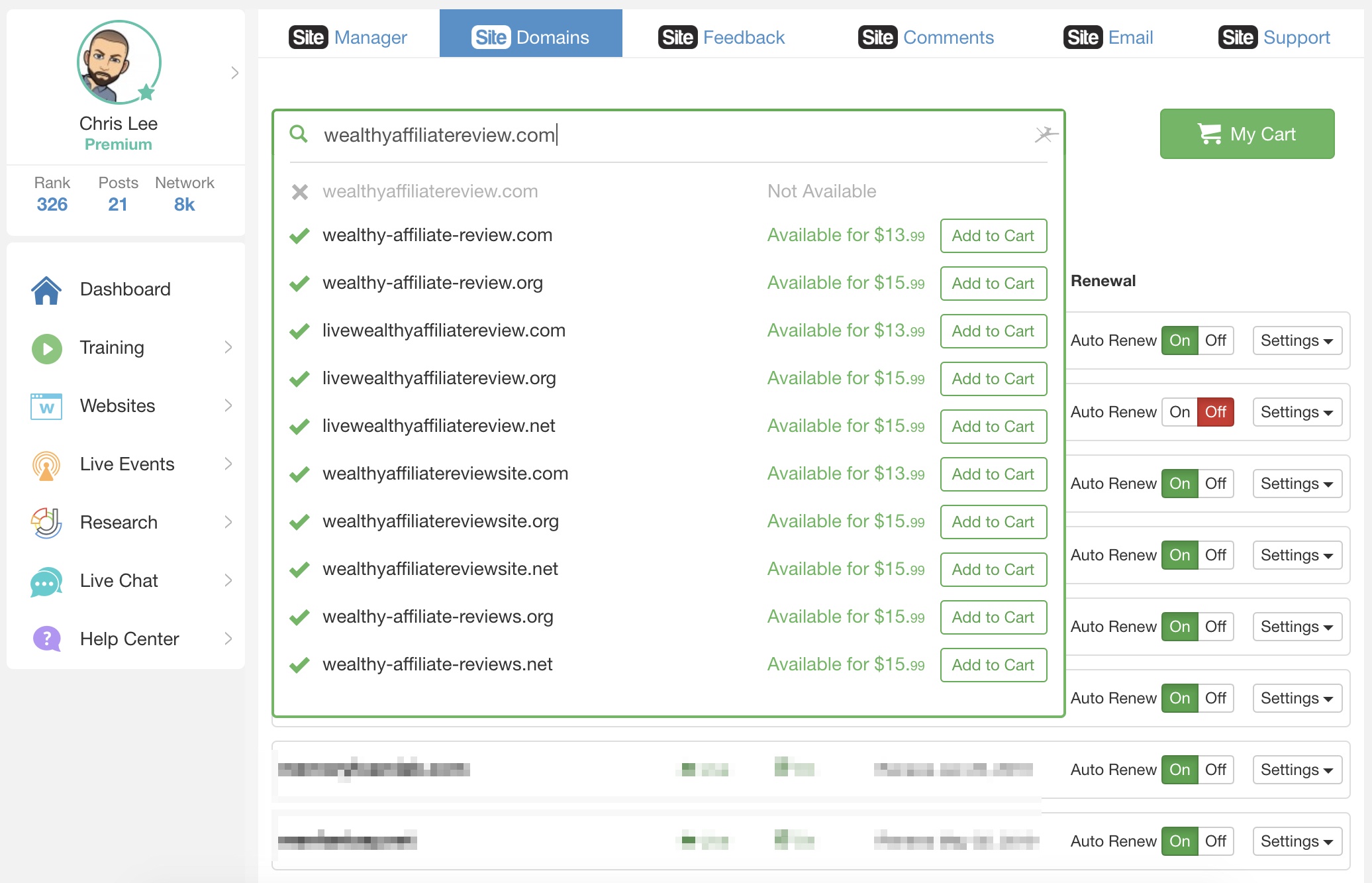 Not too long ago, Wealthy Affiliate launched their own domain registrar which goes by the name SiteDomains.
What makes SiteDomains better than more household names such as GoDaddy or Namecheap?
Free 100% security and backups,
Free speed boost and even
Free site emails (name@yoursite.com)
Just those few features alone would cost you around $50 per month outside of Wealthy Affiliate but as a premium member, you get all of that for just $13.99 per year!
Again, I know it sounds unbelievable, but Wealthy Affiliate delivers!
SiteContent
Another great tool which admittedly I do not use often is the SiteContent tool, which allows you to create content inside Wealthy Affiliate and then – with a click of a button – it gets published on your WordPress site.
This is useful because it gives you instructions as to how your content would likely perform in the search engines by measuring your keyword density, grammar, word-count etc.
Super useful for many beginners who may not quite yet understand how to write an article for SEO purposes.
SiteComments
Comments are amazing – both for boosting engagement and also your SEO.
The SiteComments feature allows you to "request" genuine comments from the helpful community.
I'm not talking about the typical "great post bro" comments either.
The comments you will get have to pass through a quality-checklist first before the comment can be submitted for your approval.
This feature is incredibly useful as comments continue adding depth to your blog posts – in the long run, this will help you get more traffic and ultimately; more conversions.
SiteFeedback
SiteFeedback works very similar to SiteComments but instead of members leaving comments on your website, they are leaving comments about your website.
Want to know how your header looks, how your content is displayed or if your sidebar is "too cluttered or not"?
Easy; just ask! The community would be more than happy to provide feedback for you.
SiteSupport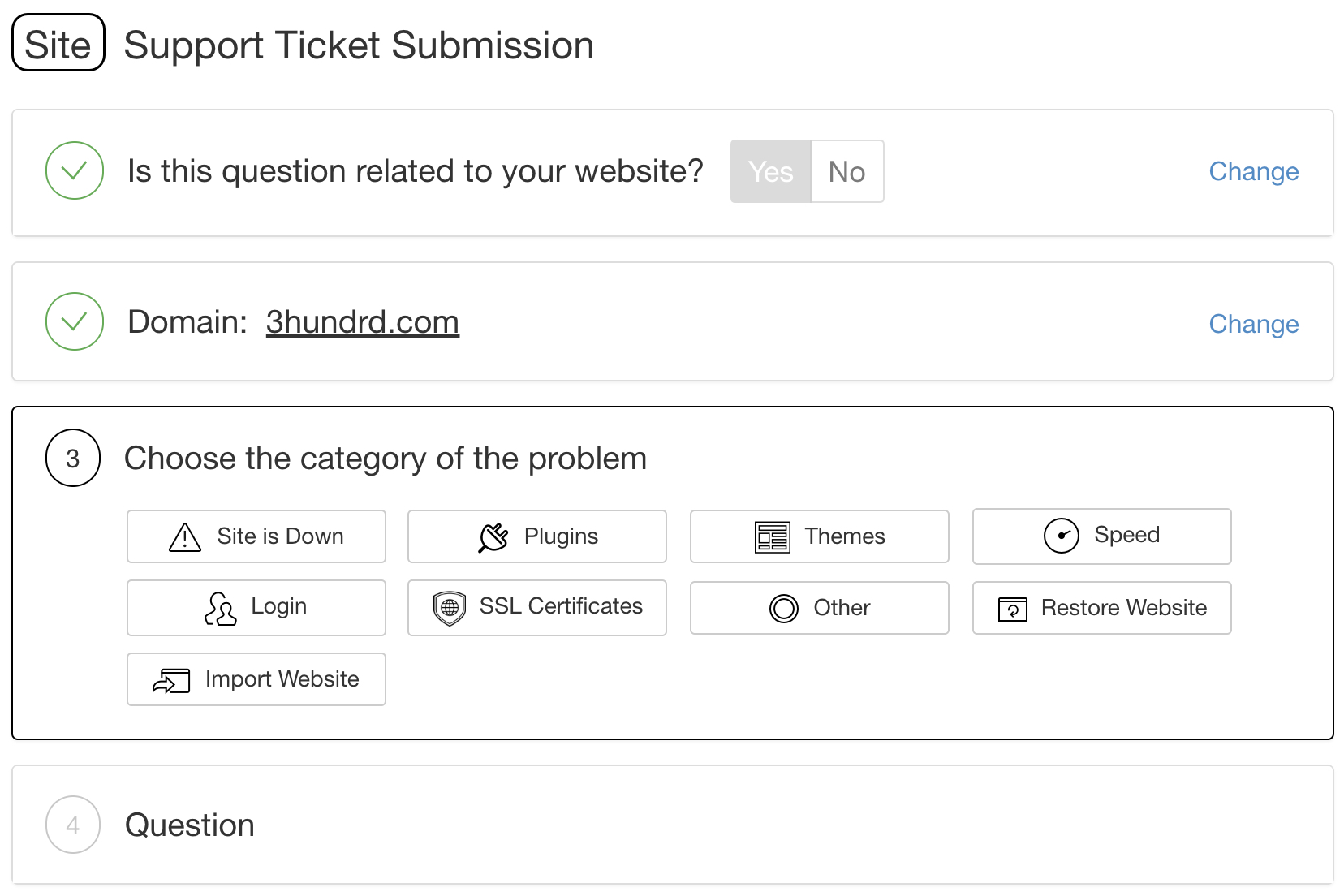 Something misfiring on your website?
It's not common but when it happens, all you have to do is shoot a quick email to SiteSupport and they will fix it for you – & I'm not talking 12 hours later;
I'm talking 3 minutes later!
Meet WA's Founders (Kyle & Carson)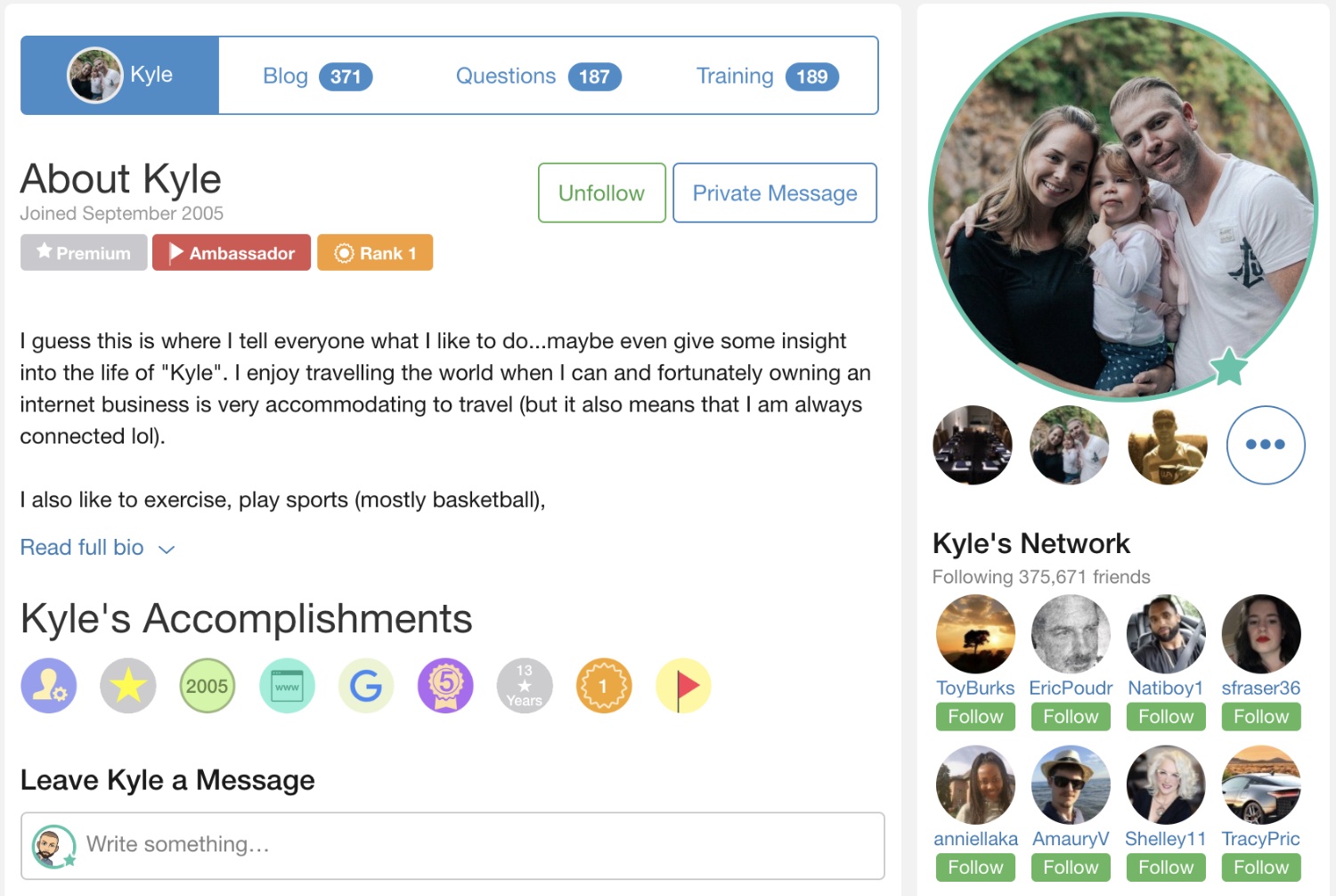 This may not be important for you to know, but this is what makes Wealthy Affiliate so popular and so loved.
One unique thing about it is that the two people behind Wealthy Affiliate (Kyle & Carson) are still very much active in the community providing support, engaging with people, giving advice and answering your questions.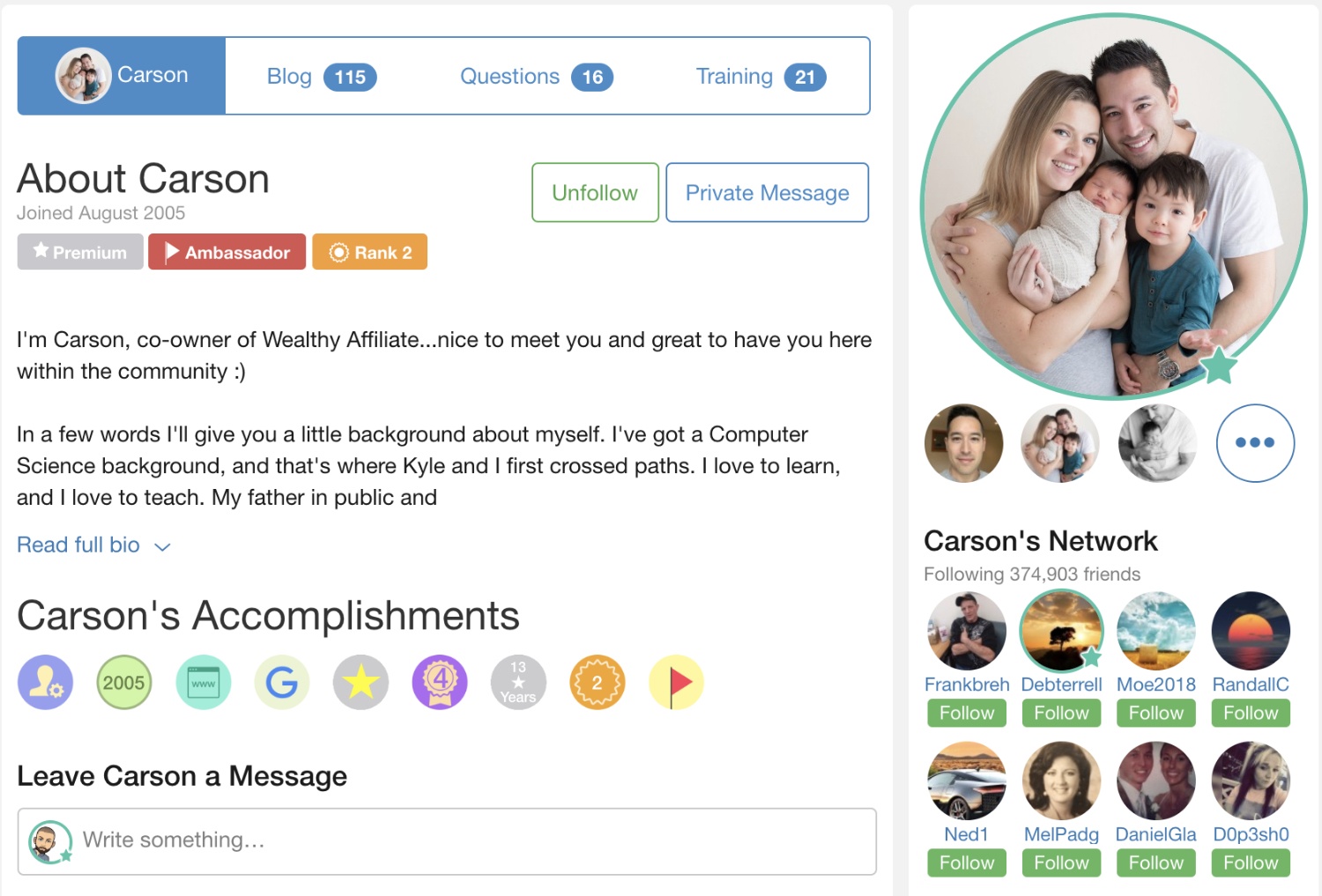 This is not as common as one may think. It's incredibly rare to have direct access to the course creators.
How Much Does Wealthy Affiliate Cost?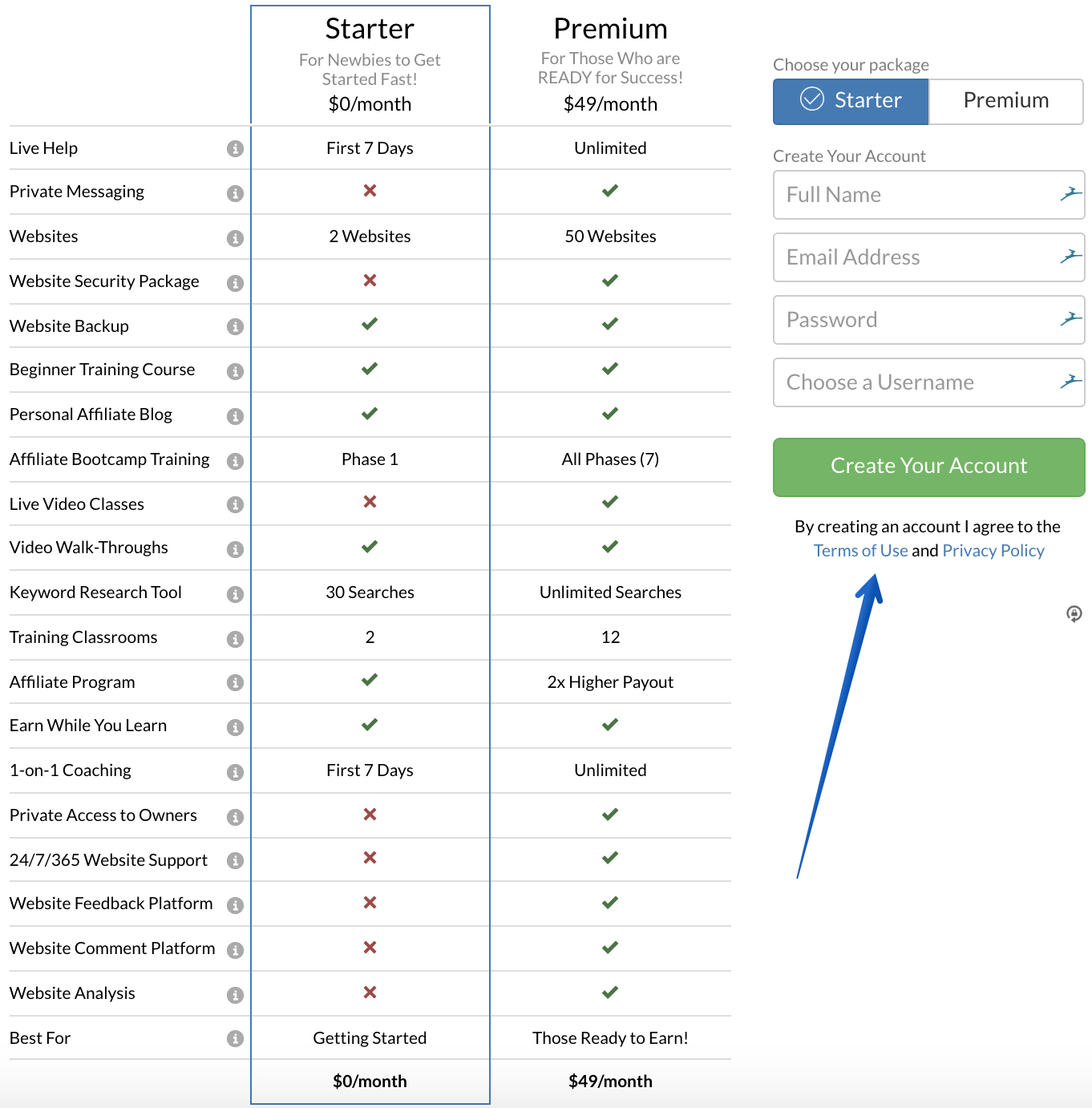 I'm glad you asked!
You'd be forgiven to think all of this value will cost you an arm and a leg, but you'd be wrong.
What if I told you that you can start using Wealthy Affiliate for free – no credit card even required?
Here's how that goes…
The Free Starter Membership ($0 – free as long as you wish)
This is the entry-level membership of Wealthy Affiliate and I suggest you start from here.
Anyone can join WA as a starter member and you can stay on as a free member for as long as you want.
Yes, there may be some restrictions but even as a free member; you should have enough information available to start earning from your new online business.
My suggestion would be to first join as a free member and then take advantage of the premium membership 1st-month offer if you like what you see.
Literally 0 risks – start your free account here.
The First Month Premium Offer ($19 – for your first month)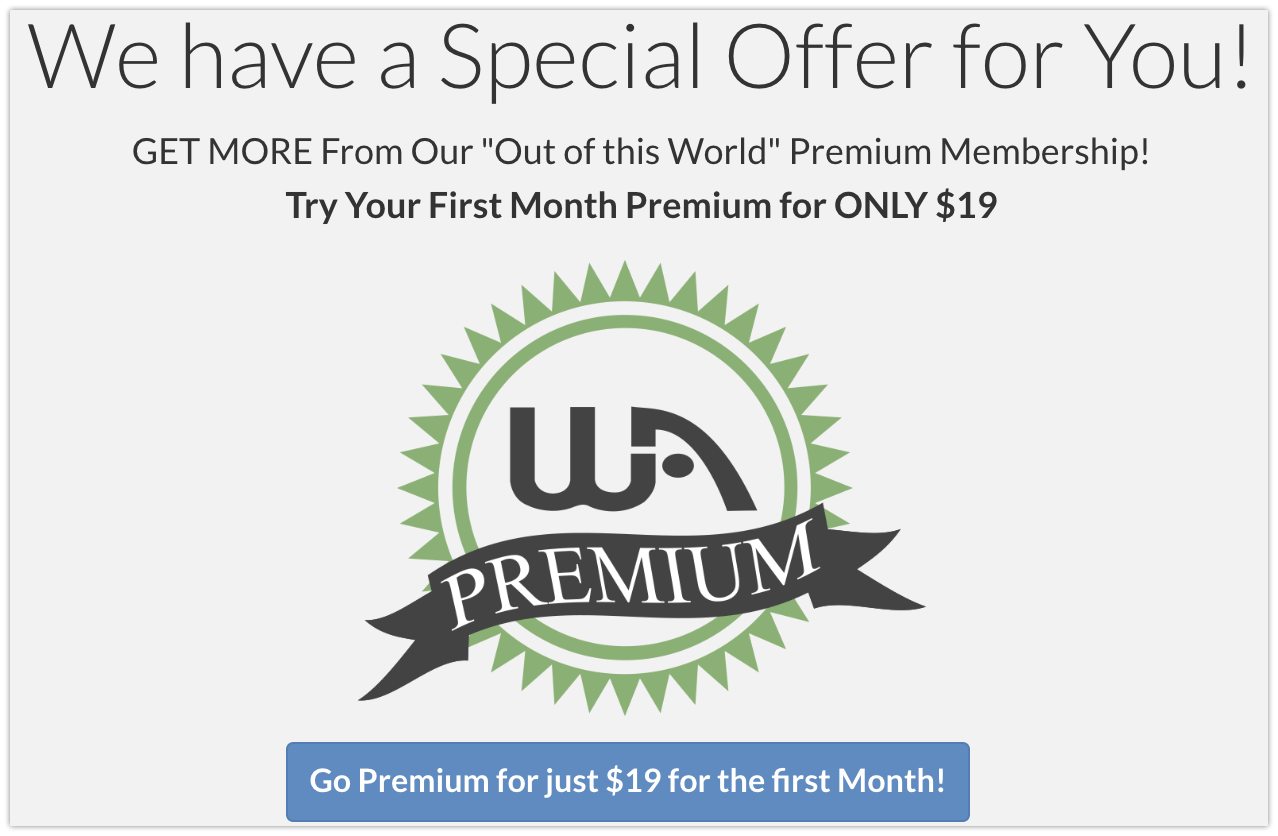 If the free membership is not enough to make you believe in the power Wealthy Affiliate and its training, you can take advantage of the first-month premium offer.
This would allow you to enjoy the full unrestricted experience just like a premium member for only $19.
Once your first month is up, you will then be automatically be billed $49 per month for as long as you decided to stay on as a member.
Don't worry, canceling your membership only takes a few clicks – I have a small how-to guide towards the end of this guide.
The Monthly Premium Membership ($49)
After your first $19 month is up, you will then be enrolled in the $49 per month membership plan.
In your first 30 days, you'll hopefully have seen for yourself what an incredible resource Wealthy Affiliate really is.
As I am sure I have proven to you by now, the $49 per month cost is more than fair for what you will be getting.
But wait, you can actually get it for way less…
The Yearly Premium Membership ($359 – per year)
Last but not least, we have the yearly membership plan, which is an absolute bargain!
This is just like the monthly plan, but paid yearly; thus you'll be getting a great discount and saving money a lot of money in the long run.
Here's how that goes:
12 months x $49 monthly payment = $588
1 yearly membership = $349
Total savings when you go yearly: $239!
Why would you want to go yearly?
Because the people that do are destined to eventually make money. Let me explain;
Wealthy Affiliate does not teach get-rich-quick schemes.
In fact; I will tell you right now if you are expecting instant results, then thanks for reading but I'm sorry to tell you; this is not the training course you want to invest in.
Building an online business takes time thus; the people who commit for a year are usually the ones that manage to stick it out for as long as needed to make it a successful venture.
Correct me if I'm wrong, but $349 a year for everything you need to build an online business sounds like a pretty good deal to me – and it is.
If you do not want to invest $349 into your business – an investment that can literally change your life – then maybe starting a business is not the best option for you.
Again; I would advise you to first start on a free membership to see if it really is this good.
If you like what you see; take advantage of the 1st-month offer so you can experience premium and once you do, my recommendation would be to go yearly.
How Much Money Can You Make With Wealthy Affiliate?
There's one little thing we haven't covered yet in this review and that is;
Can you make money with Wealthy Affiliate?
Sure all the features, free tools and training sound great, but is it possible to turn all of that into an online income that has the potential to change your life?
Well, it sure did mine!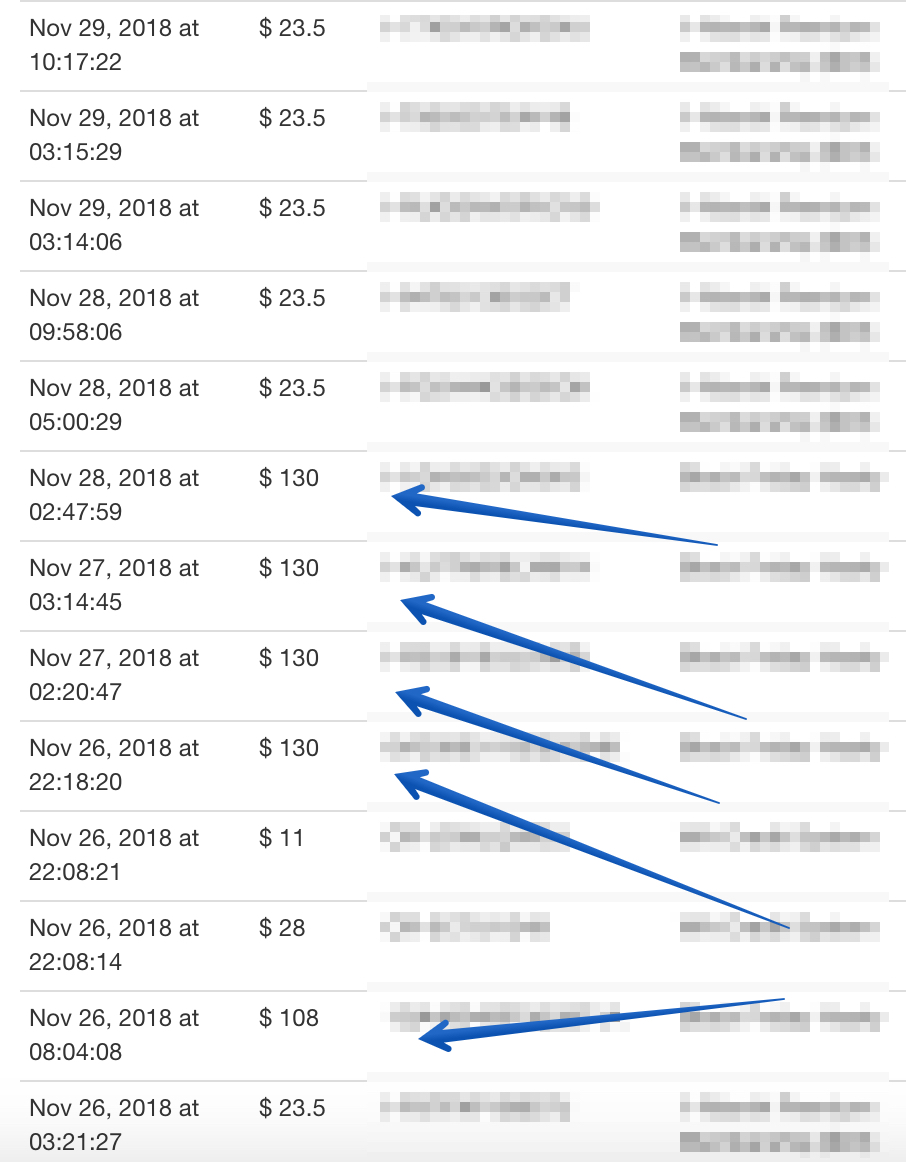 But don't just take my words for it, here are some of the passive income stories you can read in WA:
Wealthy Affiliate Income Reports (With Proof)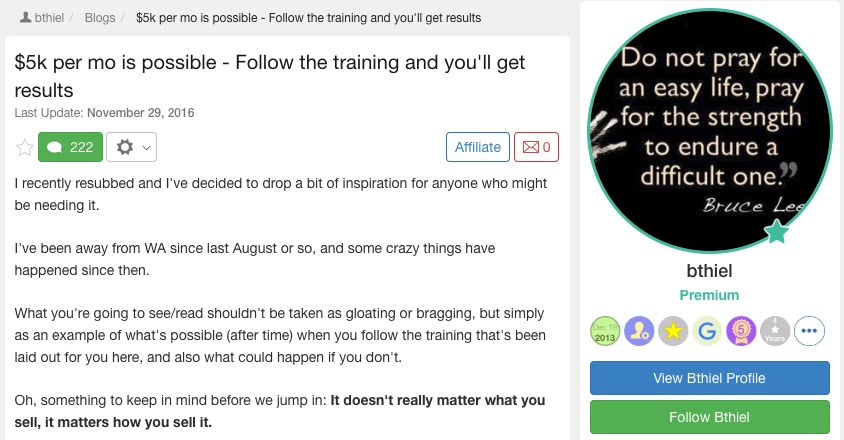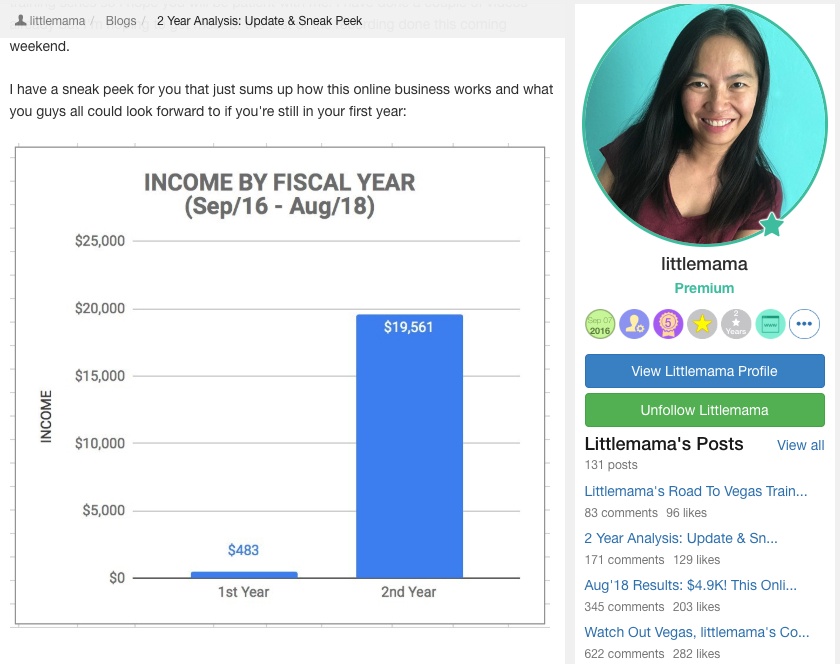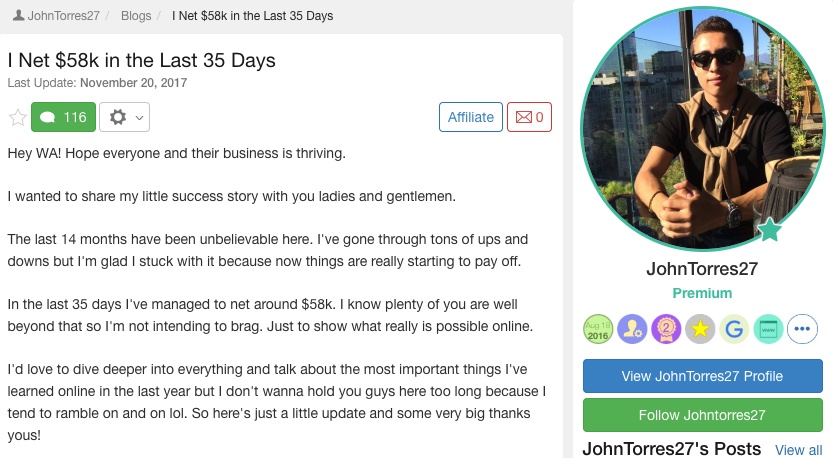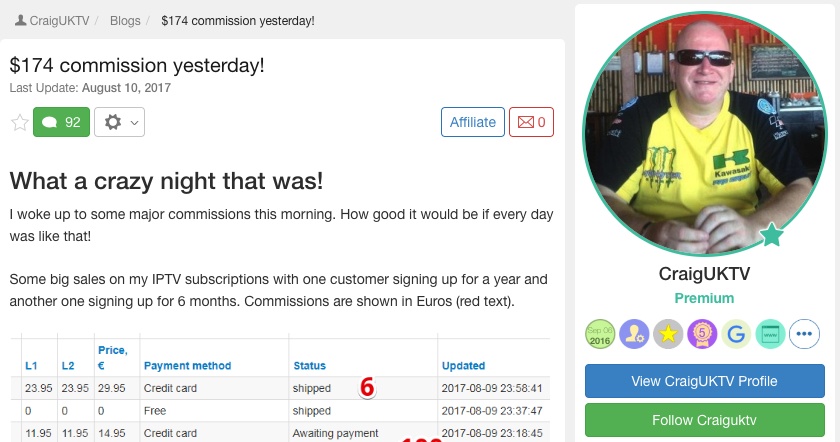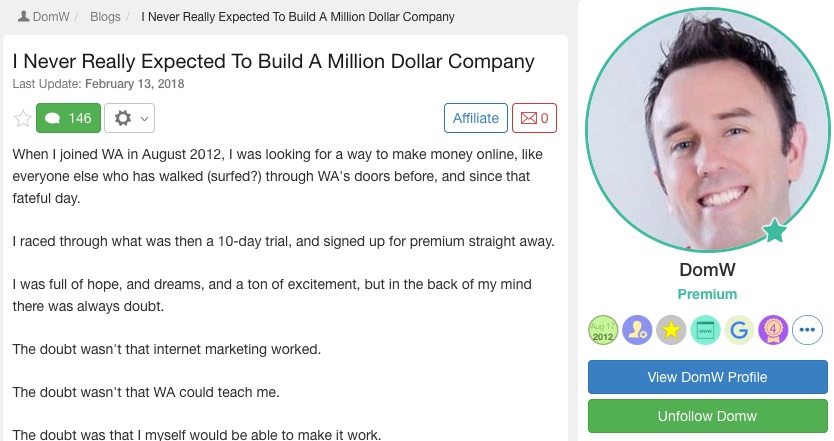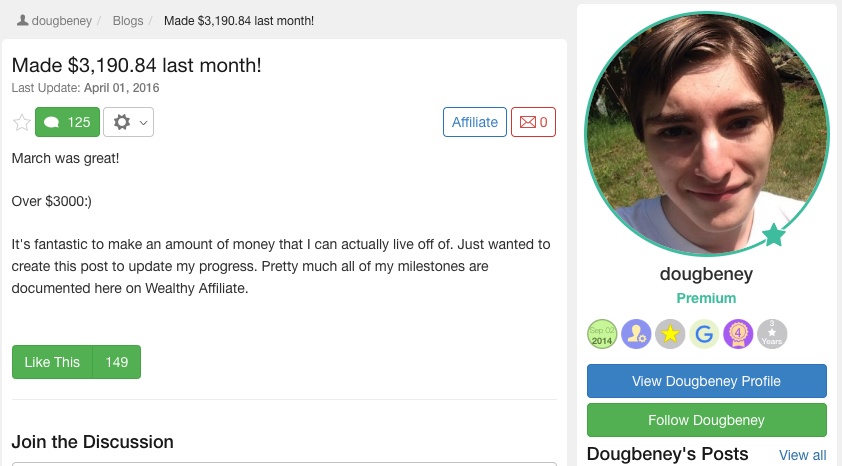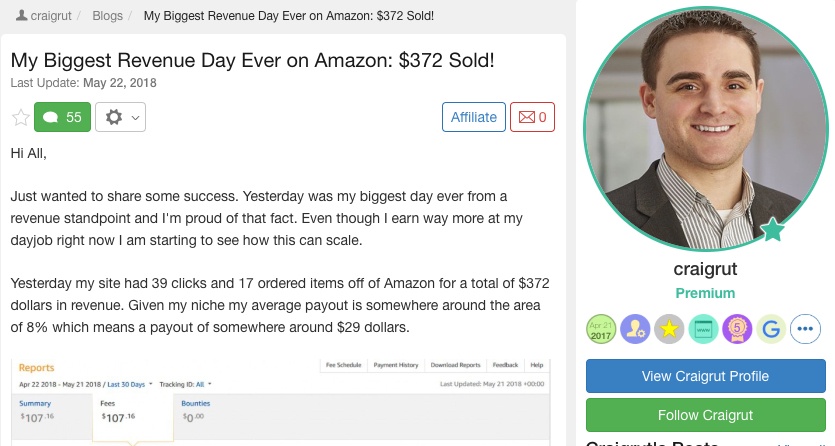 How Long Will It Take To Make Money With Wealthy Affiliate?
Another great question – and one that is often asked by beginner Wealthy Affiliate students.
While this is not as easy to answer, I am going to try and give you a close enough approximation based on the experience I had.
What you will be learning inside Wealthy Affiliate are the methods required to build an online business using the affiliate marketing business model.
This means you'd be utilizing content marketing i.e SEO.
SEO takes time to build up, especially when you're just getting started with a brand new website.
If you do things as Wealthy Affiliate shows you in the training, it's more than likely that within 6-8 months, you'd start making money.
More than likely by the one year mark; you should have a successful website built up that yes; has the potential for a full-time income!
Again I have to tell you that there is no way I can make a prediction on this as it all depends on many different factors (what niche you pick, how well you execute the tasks, how much effort you put, your consistency, etc).
Some have started making a full-time income in as little as 3 months, some do not get there until the 2-year mark.
Whatever it is; just know that it will take some time. If that's not quick enough for you, then it's best to avoid joining.
I know it's not fun to wait 6 months to see a return on your efforts, but trust me;
The training works and if you manage to stick with it for the first months, then you are more than likely to see success – in fact; I guarantee you will!
The time will pass anyway so might as well have an income-producing hobby in a few months rather than sitting and wondering what might've been if you just took the first step.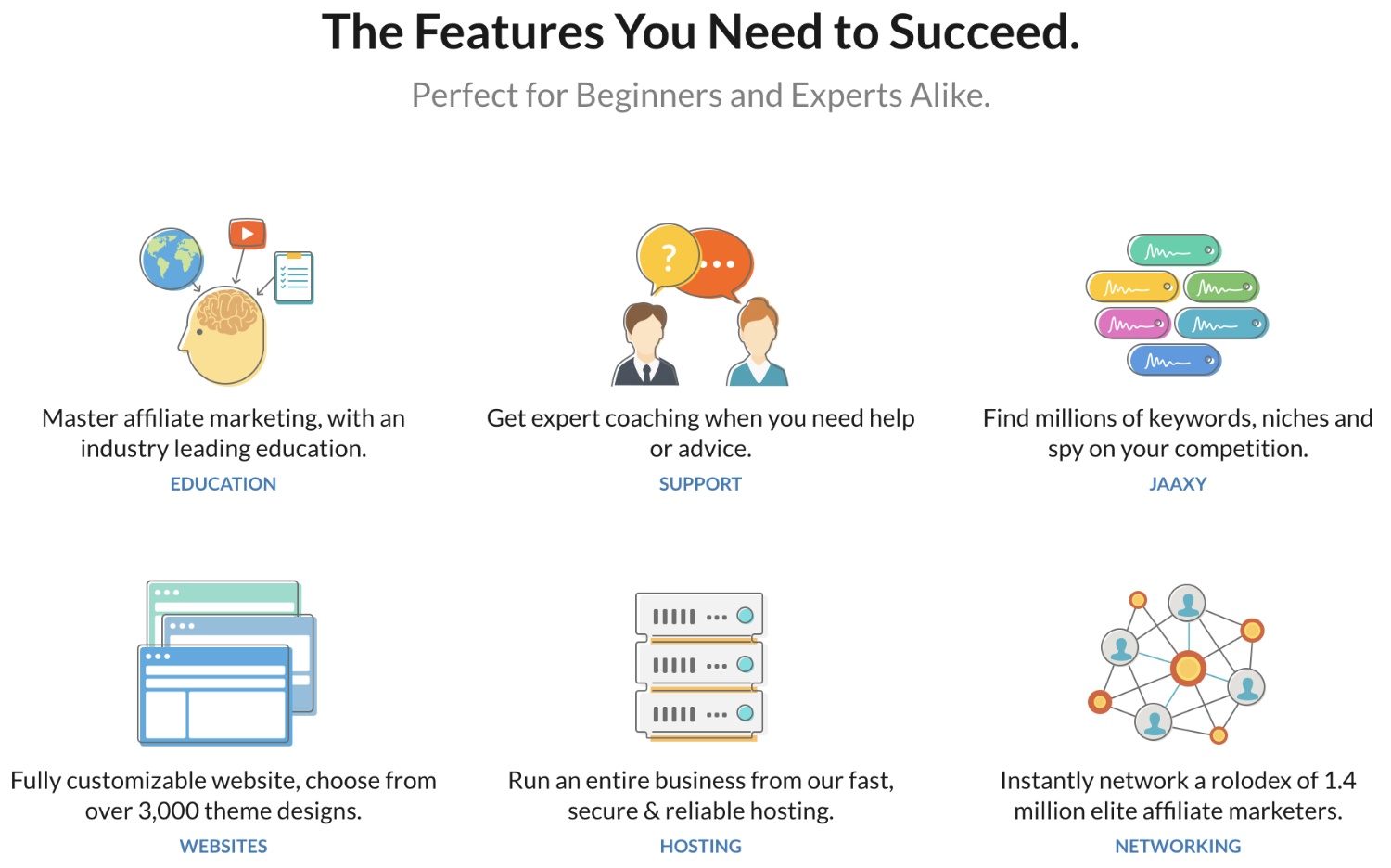 Is Wealthy Affiliate A Scam? (Complaints & FAQs)
Before I continue on and conclude my thoughts with this review, I want to address something that I am sure you may be wondering if you've just started researching Wealthy Affiliate.
Q: Is Wealthy Affiliate Just Another Scam?
I honestly know this all sounds too good to be true – if you are doubtful, you should be.
I would be too.
My review has hopefully opened up your eyes as to what you can expect and I would once more tell you that yes;
Wealthy Affiliate is the best training course out there but I am sure that won't be enough.
This is why Wealthy Affiliate has a free starter membership – simply create an account and make up your own mind about it
Q: Is Wealthy Affiliate A Pyramid Scheme?
If you research enough "Wealthy Affiliate Reviews", you might come across a few pages calling Wealthy Affiliate a scam or a pyramid scheme because of the Bootcamp training which – as we covered – shows you how to make money by promoting Wealthy Affiliate.
Just FYI: this does not make it a pyramid scheme.
A pyramid scheme is when you are forced to promote a product as the only way to make your income back, which of course is illegal.
Wealthy Affiliate's affiliate program is just that; an affiliate program (just like every other course has an affiliate program).
You are not required nor forced to promote Wealthy Affiliate in any way.
The training is there for those who'd like to promote it and as I said; you can use the lessons available in the Bootcamp course and apply them to your own chosen niche (whatever that may be).
Another Common Complaint: Wealthy Affiliate Can be Overwhelming
Another common complaint I hear is that Wealthy Affiliate can be overwhelming sometimes and yes; that is true.
There's a lot of things happening inside Wealthy Affiliate and that's enough to make your head spin.
Throw in there a 24/7 live chat and over 1,400,000 affiliates and you are now in serious danger of being overwhelmed.
The best way to avoid this is to stick with the training. Focus on nothing else except the training until you get the hang of how the platform works.
A sad thing I often encounter while on Wealthy Affiliate is many people "hanging out" and not doing the work required.
Remember; you're in there to learn affiliate marketing and to build yourself an online income.
Focus on the training first, do your daily tasks and if you have some time left over, sure go hang out in LiveChat or in one of the classrooms but your training should be your number one priority.
Don't be fooled into thinking being active somehow correlates with you making more $$ – this is a mistake many new members will make.
Who Is Wealthy Affiliate For?
In a nutshell, Wealthy Affiliate is for everyone who would like to build an online business that will last for a lifetime.
There are plenty of ways you can make money online, but building a long-lasting and thriving online business is what Wealthy Affiliate will teach you.
Now who would want such a thing?
You'd be surprised!
Inside Wealthy Affiliate's walls, you'll find people from all walks of life whose aim is to do just that.
Here are some of the types that can benefit from the knowledge shared inside this training program:
College students
Retired people (or soon to be retired)
The Middle-class populous
Retired / disabled veterans
New career seekers
Laid off employees
Low salary employees
Minimum wage workers
Passive income seekers
People who want to travel the world
People with undesirable jobs
Online sellers (Amazon FBA / eBay sellers, etc.)
Part-time employment seekers
People who are just fed up at their jobs
and many more.
Want to take a chance on yourself?
Get started with your Wealthy Affiliate training >>
I think you should – for the reasons I've mentioned above and also for the few (extra) reasons I will share below:
You Should ONLY Join Wealthy Affiliate If You Want To Learn How To Make Money Online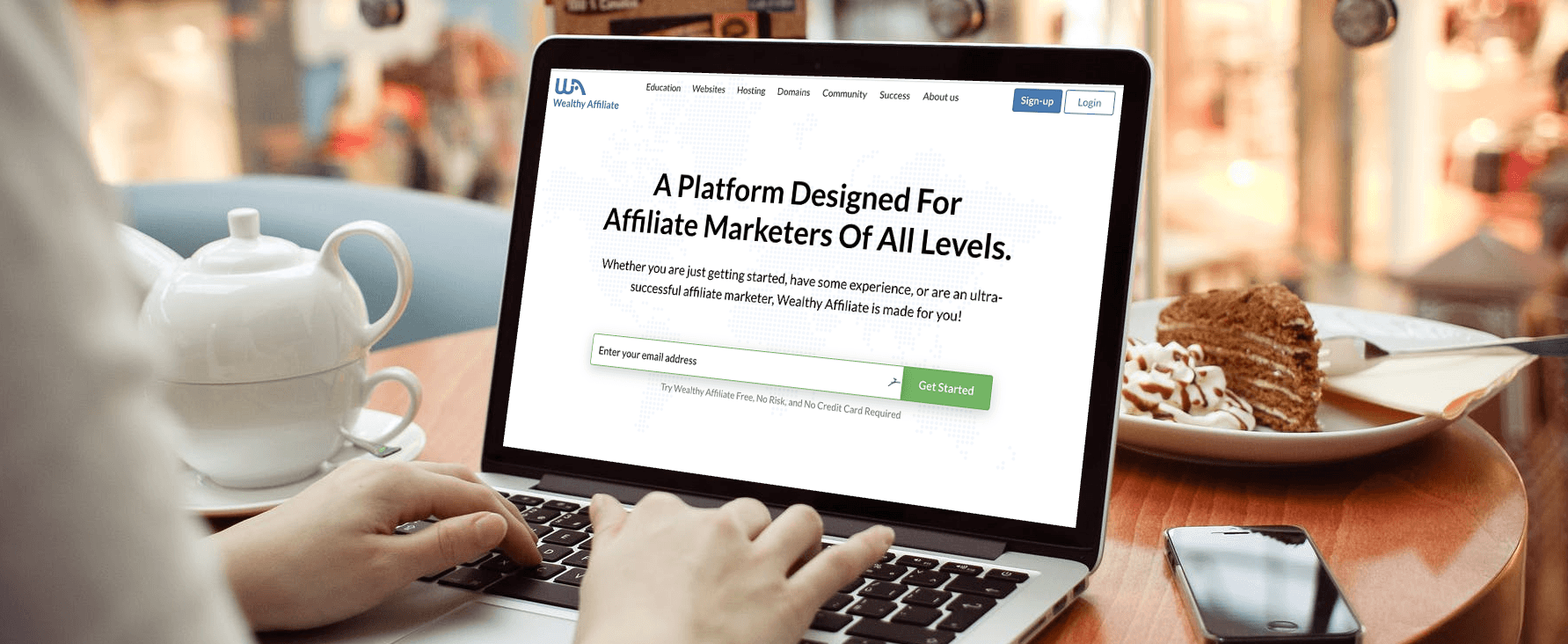 You've already tried everything:
If you have been attempting this online business thing for a while trying just about damn-near everything under the sun – with no success – give Wealthy Affiliate a try.
You have nothing to lose and I can almost guarantee that you will find success following the incredible training found inside Wealthy Affiliate (if you are ready to put in the work).
You're sick and tired of being scammed:
I've been scammed many times and nowadays I spend my days writing a lot of product reviews to help people from making the same mistakes I did.
I fell for every scam in the book and I was about to let Wealthy Affiliate go as well as I was so sick and tired of being scammed.
However, I took the chance – one last chance – and I made it work
If you're clueless about what to do next:
Not sure where to start?
The step-by-step approach to your education is what you've probably need right now.
From the very first step of understanding how this all works, all the way to scaling your profitable online business to the moon.
If you were clueless as to how to get started, then you have no more excuses to give as I just gave you what I think is the perfect solution.
If you want to make money:
Everybody wants to make more money – right?
Well I hope so.
Initially, I wanted to earn a few $$ just so I can have a bit more purchasing power, then I wanted to quit my job and make a living out of this and now I want to take this all the way to 6-figures mark and beyond.
If you want to make $$$, then stop thinking about it and join Wealthy Affiliate – there's no time to waste when you're chasing moolah!
You Shouldn't Join Wealthy Affiliate If…
Not that we covered why you should join, let's drive the point home and tell you exactly why you should not even think about becoming a member at Wealthy Affiliate.
You're lazy:
Once more time; this is not some get-rich-quick scheme. If you're impatient or you're looking to become rich tomorrow;
Wealthy Affiliate is not for you.
I'll admit; I'm a very impatient man, but I had to learn that this business requires patience.
You still haven't been scammed enough:
I get it – I really do.
It's crazy how someone can believe that a $9 ebook can "make you thousands" – but I used to fall for them every single day.
It's only after you've been scammed a few times that you finally realize that it simply is not as easy as they make it out to be.
Wealthy Affiliate vs Other Affiliate Marketing Courses
One more time for good measure;
Wealthy Affiliate is the best training course to learn about the affiliate marketing business model.
(You can quote me on that).
I challenge anyone who thinks there's a better option to email me so I try it out myself.
Yes, there are other training courses out there that can also help you succeed but considering Wealthy Affiliate's insane value – none of them even come close.
While I've reviewed similar online courses, I would unapologetically say Wealthy Affiliate beats all of them.
How To Join Wealthy Affiliate (& Become Successful)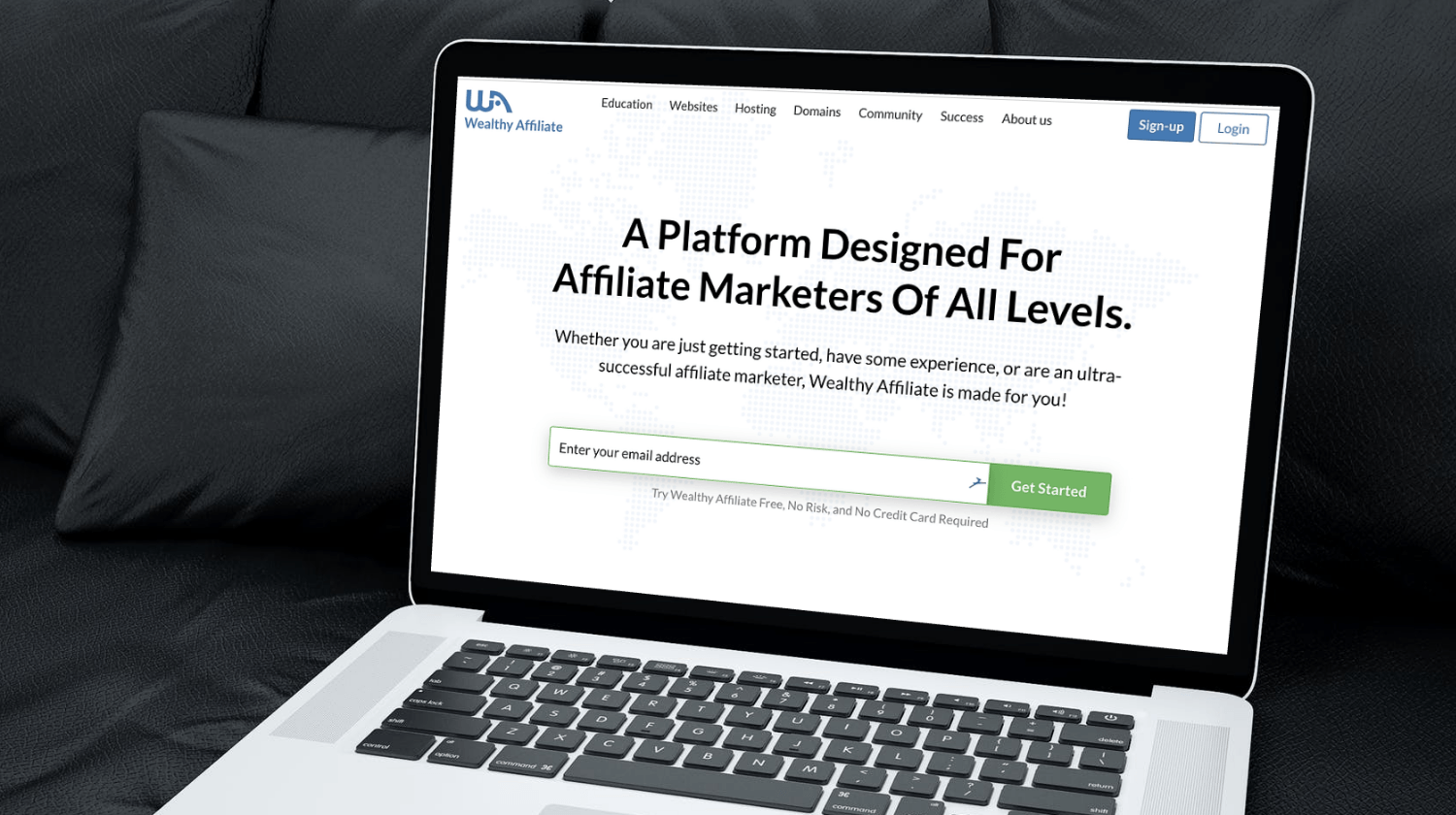 Congratulations on making the right choice!
Here's what you need to do to become a successful Wealthy Affiliate member:
Step 01: Register For A Free Account:
Visit the signup page and register for your account.
It's free to join – no credit card required – and you only have to insert your username, email, and password and you're good to go.
Once inside, here's what you should do next:
Step 02: Fill Out Your Profile:
Wealthy Affiliate is a community and a very social one at that, this means that as a member; you can create your own personal profile (just as you would on a typical social network).
While it's not required to use your real name and real picture, I would suggest you make an effort to "spice up" your profile as this will help you engage with the community much better.
Chances are that once you become a member, you'd also receive a few welcome messages from members (including me) and also from Kyle or Carson as they make it a point to welcome everybody in.
(Be sure to read my first message to see the BONUSES I have prepared for you).
Ready with your profile? Great;
Step 03: Start On Your Training:
On the left side of your screen, inside the Wealthy Affiliate dashboard, you will see the "Training" button which would reveal the OEC and the Affiliate Bootcamp courses mentioned above.
You want to start with the OEC first (unless you plan on promoting Wealthy Affiliate from the get-go).
Whatever it is you decide to do, focus on that and only that for the first couple of weeks.
Whichever one you pick, you'd be done with the first level of training in about 10 days (10 lessons).
This would be the perfect time to snatch up the premium "first-month offer" for $19.
(If you agree that what I've shared in my is true – go for yearly as soon as you can to you save money in the long run).
Step 04: Get To Work:
Work like you actually want it because the benefits of having your own online business are incredible.
It won't be easy every day, but with the in-depth video training and the largest community of affiliates online all ready to give a helping hand, I am sure you'll find your way.
I cannot wait to see your own "Wealthy Affiliate Success Story" post.
Is Wealthy Affiliate Available Worldwide?
A quick update in this as I had a few readers ask; Yes, Wealthy Affiliate is available worldwide, however;
There are 10 countries that are not allowed to use the free membership plan.
This is because of the amount of spam and fraudulent accounts that were being set up in the hopes of tricking existing members.
Wealthy Affiliate has a strict zero spam policy and anyone who is caught promoting spam will have his posting rights revoked.
At the time of writing, these are the countries banned from using the free membership (but are welcome to go straight to premium):
Bangladesh, Egypt, Ghana, India, Kenya, Marocco, Pakistan, Philippines, Vietnam, Nigeria.
If you're from any of these above countries and are serious about joining Wealthy Affiliate – rumor has it you can join through a VPN.
How To Cancel Your Wealthy Affiliate Membership
Not that you'd want to cancel, but if you ever need to take a short-break from Wealthy Affiliate and from the training, all you need to do is to simply cancel your subscription.
As a free member, you do not need to cancel anything since you won't be asked for credit card details when you first sign up.
Simply stop logging in to Wealthy Affiliate and that is it.
Your account will be deactivated and you can jump back in when (or if) you're ready to get back to it.
As a premium member, all you would need to do is to go to your Wealthy Affiliate dashboard, and follow these instructions:
Profile > Account Settings > Membership tab > Stop Billing & Cancel Membership.
Once you do that, your account will remain on premium until your month is up and after that, your account will return to the free membership.
2019 UPDATE: Wealthy Affiliate Goes Mobile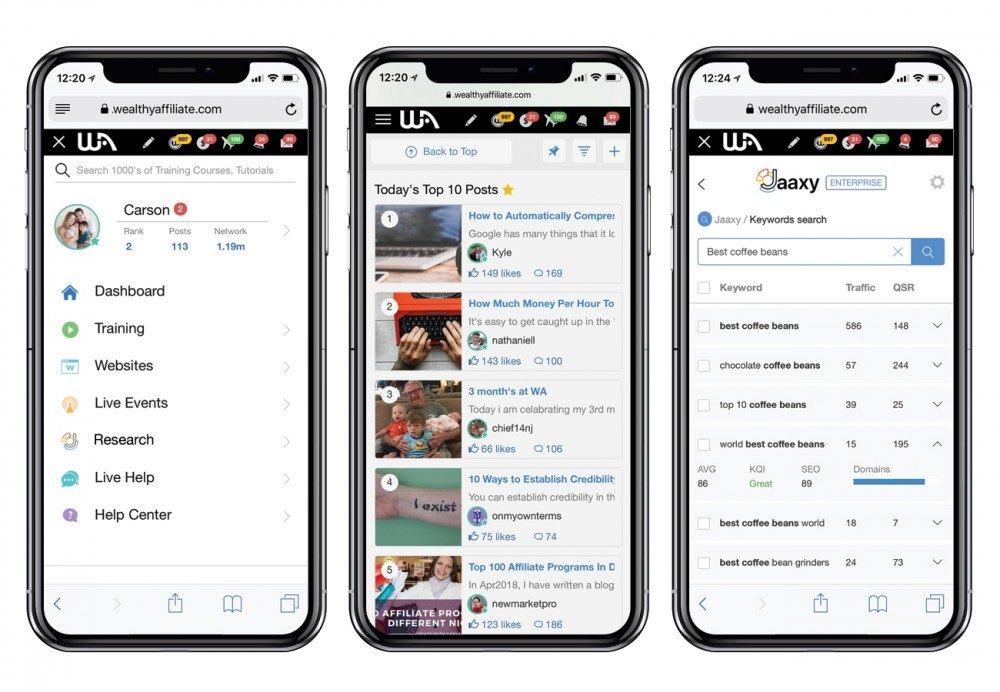 Remember when I said I have to constantly keep updating my Wealthy Affiliate review because there are always new features and benefits coming out?
Well, Wealthy Affiliate has now gone mobile.
Yep; you can now get a complete affiliate marketing education from your mobile phone.
With this update, you can log on to the Wealthy Affiliate's mobile website, put on your earbuds and go through the lessons.
For more information about this, I highly encourage you to check out Carson's latest announcement.
(You'll also get a sneak peek at what other features will start rolling out soon).
*Please note that your daily tasks would likely still need to be performed on a desktop/laptop.
I guess it goes without saying but if you want to build an online business; having a desktop/laptop you can work with is a must.
Last but not least…
The "Wealthy Affiliate" Affiliate Program
Do you want to go to LasVegas with all the Wealthy Affiliate Superstars?
This has been my goal since I have started promoting Wealthy Affiliate and every year I get closer and closer to it.
You may not be considering promoting Wealthy Affiliate just yet, and that's fine, but I thought I'd give you a peek of this video to show you how real and how amazing Wealthy Affiliate really is.
I know I've hyped up Wealthy Affiliate a lot in this post, but as you can see from the video above, there really is nothing like it.
You can find out more information about the Wealthy Affiliate affiliate program (and how to reach Las Vegas) within the Bootcamp training course.
Wealthy Affiliate YouTubers Speak!
Final Words
Here we are at the end of yet another Wealthy Affiliate review and once again, I will conclude with:
Yes, the Wealthy Affiliate premium membership is worth every single penny.
Do not waste any time in joining as trust me; it's simply not worth the wait.
With the training laid out in there + with some little effort, you are closer to a life-changing online income than you may think.
Of course; I have to remind you of my $97 SEO course which I will be giving it to you for free if you decide to join Wealthy Affiliate.
The reason I bring this up now is that I am not sure how long I will be offering this deal so take advantage today.
I really hope you enjoyed my new latest review.
As you can probably tell; this post took a long time to write and put together so I hope I answered all of your questions here.
If there's anything I've left out, be sure to let me know down below – I'd be more than happy to help you out.
Thanks again for reading and I look forward to seeing you inside Wealthy Affiliate.