Here we are! 2020, a new decade and I'm glad to say;
The websites I'm working on in this "Profitable Niche Site" case study just had yet another record-breaking month in December of 2019.
Today, I will be giving you an update of what happened to these sites, how much money they've earned, the good, the bad and what I have planned for the coming months/year.
If this is your first time reading an update, you may also want to check the previous updates to see what I've been doing, and how these sites have been growing for the past 8 months.
You can see all my previous case study updates here.
Without further introductions, let's take a look at how these sites performed in December 2019.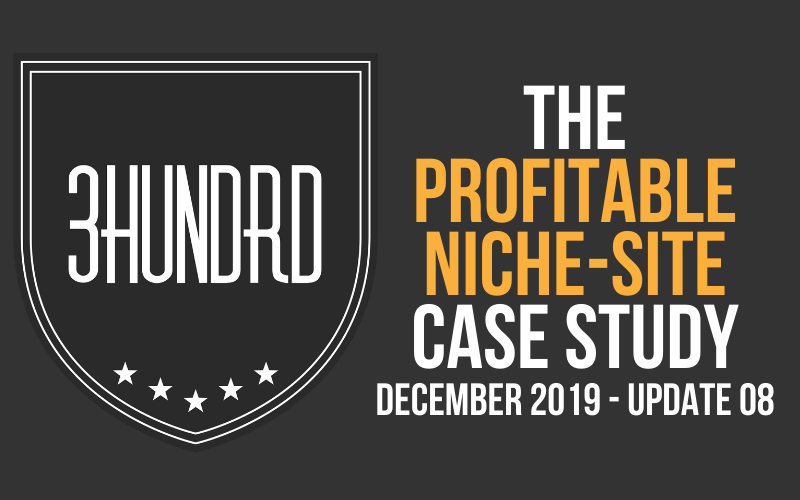 ---
---
Niche Site 01: STSP (Name & URL TBA)
Pageviews in November 2019: 9,380
Pageviews in December 2019: 11,758 (an increase of 25.35%)
Earnings in December 2019: $389.34
New Posts Published in December 2019: 1
Total Posts Published: 52
Total Words Published: 105,184
Average Word Count Per Post: 2,023

Thoughts on December 2019
I am very happy with how this website is doing.
In December, I've only published one new blog post (which I've written myself) but that has not stopped the traffic from increasing by 25% and breaking a new earnings record bringing in a semi-decent $389.34.
It may have been the Christmas rush that has pushed this website to new heights, but that comes as a surprise to me as I was not expecting this product to do well during Christmas time – I guess I was wrong!
We'll have to wait and see if this momentum carries over into January, but I'm writing this on the second of January and so far, we already have 2 new sales in the bag.
Another thing that is also impressive about this website is its conversion rate, making it one of the best performing websites I have.
In December, I made 22 sales from 164 clicks, which gives us a 13% conversion rate, quite impressive IMO.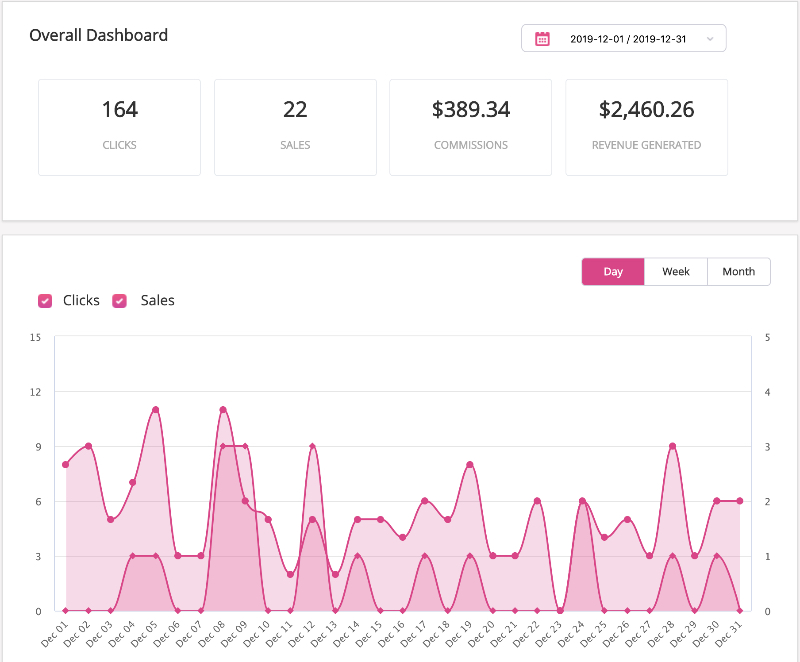 My Plan For January 2020
Now that niche site 02 (which I'll talk about below) has reached its milestone of 100 published blog posts, I will now shift all my budget onto this website and I am planning on publishing – at least – 20 new blog posts on this website.
I have over 150 keywords at the ready for my writers so it will be some time before I go through them all.
As you can probably tell, I have very high hopes for this website and I am looking to take this into the $1000 p/month range very, very soon!
What's good to mention is that this website can already easily sell for $10,000 which I'm very happy with (considering it only cost ~$1000 to build) but I have no plans on selling anytime soon.
What I need to absolutely work on in the upcoming months is to find new (high-ticket) products to promote.
With this conversion rate, if I find a product that earns me ~$50 per sale, this site will quickly double or even triple its earnings in just a few months.
I have some plans to do reviews on a few Clickbank products in this niche which do pay well, so I'll keep you posted on how that goes.
Niche Site 02: TSCC (Name & URL TBA)
Pageviews in November 2019: 5,515
Pageviews in December 2019: 7,410 (an increase of 34.36%)
Earnings in December 2019: $0
Posts Published in December 2019: 16
Total Posts Published: 100
Total Words Published: 154,194
Average Word Count Per Post: 1,542

Thoughts on December 2019
The 100th post of this website came out on the 31st of December 2019 so it was the perfect ending to the year.
Now that I'm at 100 posts for this website, I will not be adding more content to it for a very long time.
The tentative plan is to kick-start a new content campaign 6 months from now (in June) and in the meantime, focus all the resources on the STSP website above.
As you may have noticed, this site has over 150,000 words published but it's not making any money.
Why is this?
I plan on monetizing this website with banner ads, but I am waiting to hit that 10,000 pageviews per month milestone needed for Ezoic, which I admit has taken MUCH longer than I anticipated.
However, the site has been showing good month-on-month growth and I predict in January I might finally hit the 10,000 pageviews goal and be able to monetize with ads sometime in February.
At this rate, even if I do end up joining Ezoic, the earnings will probably be around $100 per month, which is not too good for me.
Thus, there is a plan to make this website a monster earner and that's what I will be working on next month.
My Plan For January 2020
As I said, there will be no more posts on this website for quite some time, however; I will start offering a $97 service on there so that's bound to increase my earnings.
For those just tuning in, this website is my girlfriend's skincare blog and given how she's a qualified esthetician, we will be offering one-on-one skin coaching (via Skype) for clients on the website.
We have a friend coming over soon to do a test run of how these consultations will work and after I've got every detail of it just right, I will go ahead and create a sales page for it and start driving traffic to it (to measure results & hopefully get some sales).
That is how I plan on making the bulk of this money with this website.
Just ~10 consultations a month (which should be more than achievable) + some ad revenue should put this site in the $1000+ earnings per month range, which I'll be happy with (for a while).
I'm not sure if I'll have the time to put together the entire consultation offer in January, but I hope I can have it up and running sometime in February.
Niche Site 03: WB (Name & URL TBA)
This past month, I've managed to get this website to 10 published posts (in total) and I've decided to do a little experiment with it.
I will leave it at 10 posts for the time being.
A website with 10 posts is what we call a "micro-niche site" and I've never built one myself, so I will make this my first.
I doubt much will come from it since it's a very obscure niche, and 10 posts are rarely ever enough for Google to take notice of a website, but;
In the true spirit of what I'm trying to achieve with this case study, I will take it as an "experiment" and let it sit at 10 posts for the coming months and see what happens.
Stay tuned for that…
Ready To Start Your Own Niche Website?
That's all from my end this month.
So far so good, and I'm happy with how these websites are performing.
As you can see, there are always hiccups and unexpected events happening (both good and bad) but that's the nature of making money online.
If you'd like to learn how you too can start your own affiliate niche website, you can look into this free course I have for you here.
It will show you all you need to know to get started with your own website, such as:
How to choose a niche
How to build your website
How to write content for your website
How to rank your website in Google
How to get traffic (from Google & elsewhere) and of course;
How to make money with your website!
I highly recommend you sign up for this course as it's by far the best affiliate marketing course I know.
It's where I learned how to make money online and it's thanks to it I can now run a full-time business from home writing "case studies" for the internet.
I'll leave you to it.
PS: Missed an update? See all previous reports below…