Looking for a great-paying affiliate program to promote?
You've just found it.
Today, I am bringing forth my latest Tailwind affiliate program review and if you'd like to start making money promoting Tailwind to the thousands of online businesses that would need such a tool;
Keep reading as I'm about to tell you everything you need to know about how to get started.
But first, let's take a quick look at the TLDR version of this review:
Is Tailwind Worth Promoting?
15% Commission Rate
Affiliate Commission

Product Quality

Payout Structure

Cookie Lenght
Tailwind Affiliate Program TLDR Review
Generous commissions ✔️
Recurring commission structure ✔️
90-day cookie ✔️
Very unique product (Pinterest-approved scheduler) ✔️
1000s of potential customers ✔️
Quick & timely payout via the Share-A-Sale network ✔️
What Is The Tailwind Affiliate Program?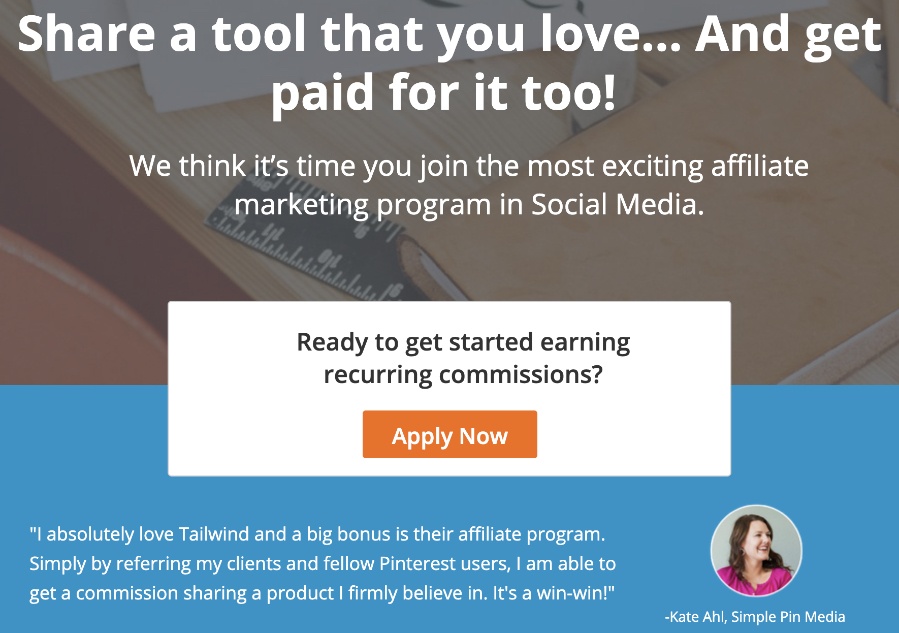 NB:
Want to see how I make money with affiliate marketing? My new book reveals my entire process, including my 4-step approach to building affiliate websites.
CLICK HERE to download my book for free
.
The Tailwind affiliate program is the official affiliate program of the Pinterest (& Instagram) schedule-tool; Tailwindapp.com.
By using the Tailwind affiliate program, you can promote Tailwind to your readers (whether through your blog or through social media) and in return, you will be paid a commission for every sale you send them.
While Tailwind offers all users "referral credit" via the Tailwind dashboard, this is not the same as the "Tailwind affiliate program" I am reviewing today.

Contrary to the referral program, which only "pays" you $15 per sign up (that's credit you can then use for your Tailwind subscription) the Tailwind affiliate program pays actual real money based on how much a customer spends on their membership plan.
Let's take a look at how the current commission structure is set up;
What Commissions Does Tailwind Pay Out?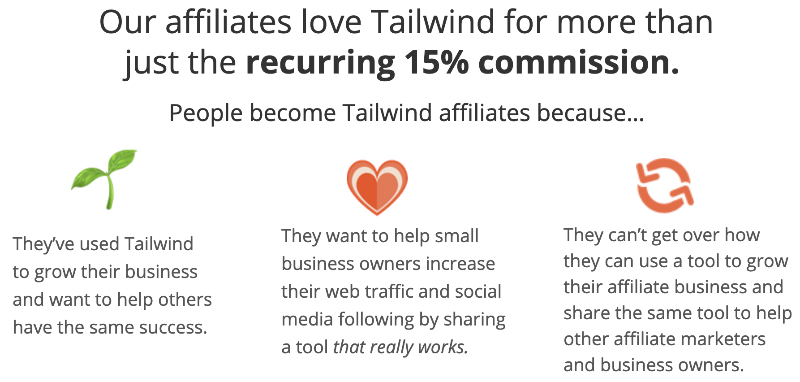 Tailwind offers a generous and respectable 15% commission on every sale you send their way.
The good news is; is that Tailwind offers a recurring commission structure.
This means you make a sale once, and you keep getting paid for that sale for as long as the customer remains a customer.
For example, let's say you sign up someone on the premium "Tailwind plus plan", which (at the time of writing) costs $15 per month.
If the customer stays on with Tailwind for 6 months, you will be getting paid your commission each month, thus – one sale can make you as much money as 6 sales.
In this case, your commission will be $15 X 15% = $2.25 X 6 = $13.50.
Now what you have to keep in mind here is that there are many who buy up a yearly premium plan, which costs $119.88 and;
They also offer "Enterprise" plans which start from $799.99 per year, which will net you a wonderful commission of $120 for the first year (and every year after that).
How Much Money Can You Make With Tailwind?