Looking for a great-paying affiliate program to promote?
You've just found it.
Today, I am bringing forth my latest Tailwind affiliate program review and if you'd like to start making money promoting Tailwind to the thousands of online businesses that would need such a tool;
Keep reading as I'm about to tell you everything you need to know about how to get started.
But first, let's take a quick look at the TLDR version of this review:
Is Tailwind Worth Promoting?
15% Commission Rate
Affiliate Commission

Product Quality

Payout Structure

Cookie Lenght
Tailwind Affiliate Program TLDR Review
Generous commissions ✔️
Recurring commission structure ✔️
90-day cookie ✔️
Very unique product (Pinterest-approved scheduler) ✔️
1000s of potential customers ✔️
Quick & timely payout via the Share-A-Sale network ✔️
What Is The Tailwind Affiliate Program?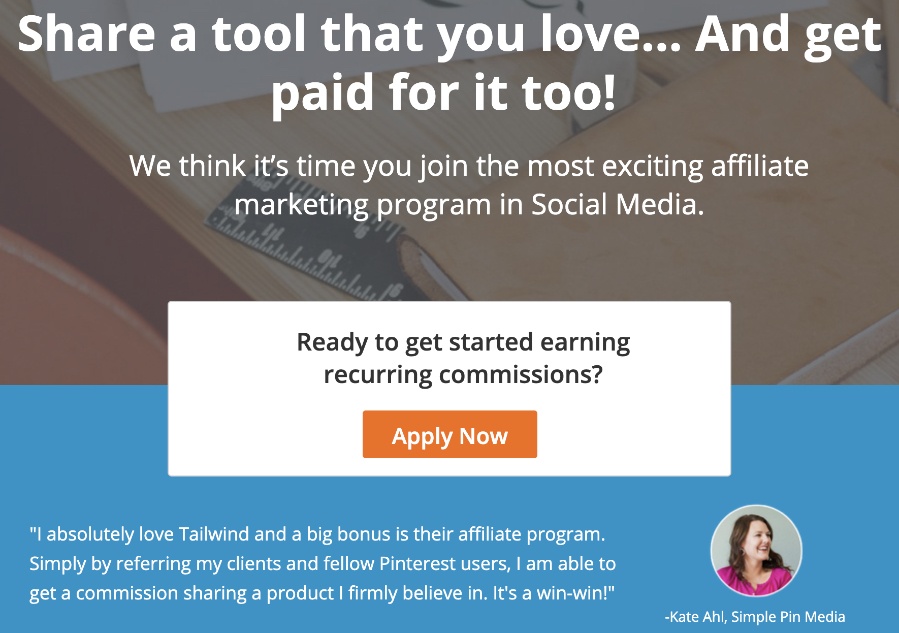 ---
---
The Tailwind affiliate program is the official affiliate program of the Pinterest (& Instagram) schedule-tool; Tailwindapp.com.
By using the Tailwind affiliate program, you can promote Tailwind to your readers (whether through your blog or through social media) and in return, you will be paid a commission for every sale you send them.
While Tailwind offers all users "referral credit" via the Tailwind dashboard, this is not the same as the "Tailwind affiliate program" I am reviewing today.

Contrary to the referral program, which only "pays" you $15 per sign up (that's credit you can then use for your Tailwind subscription) the Tailwind affiliate program pays actual real money based on how much a customer spends on their membership plan.
Let's take a look at how the current commission structure is set up;
What Commissions Does Tailwind Pay Out?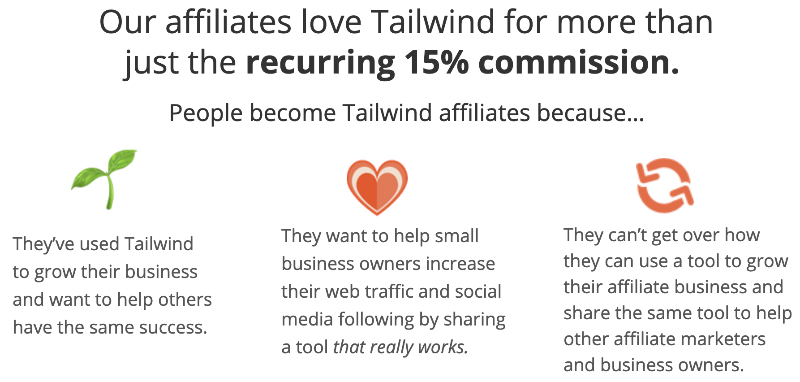 Tailwind offers a generous and respectable 15% commission on every sale you send their way.
The good news is; is that Tailwind offers a recurring commission structure.
This means you make a sale once, and you keep getting paid for that sale for as long as the customer remains a customer.
For example, let's say you sign up someone on the premium "Tailwind plus plan", which (at the time of writing) costs $15 per month.
If the customer stays on with Tailwind for 6 months, you will be getting paid your commission each month, thus – one sale can make you as much money as 6 sales.
In this case, your commission will be $15 X 15% = $2.25 X 6 = $13.50.
Now what you have to keep in mind here is that there are many who buy up a yearly premium plan, which costs $119.88 and;
They also offer "Enterprise" plans which start from $799.99 per year, which will net you a wonderful commission of $120 for the first year (and every year after that).
How Much Money Can You Make With Tailwind?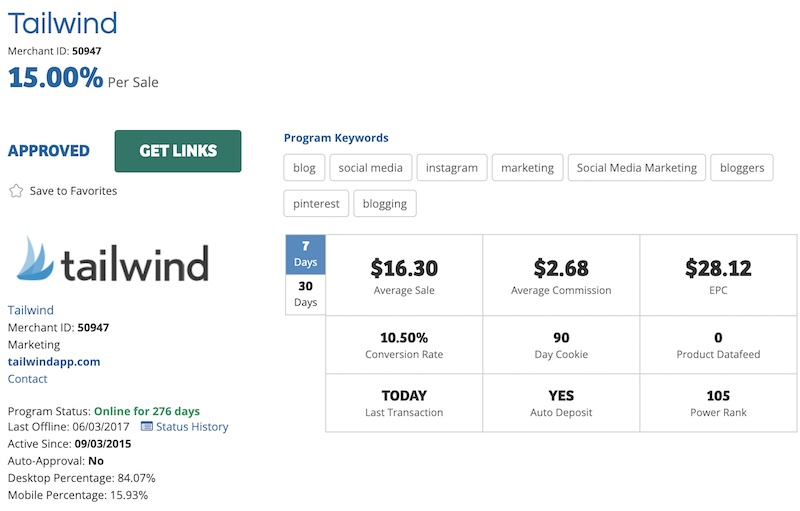 As to how much money you can make promoting Tailwind, I'm afraid I can not answer that for you as it comes down to a lot of different factors.
It depends on your niche, how you plan on promoting it, how "good" are you at selling and so more.
However, let's assume that you have a website that receives 1000 people a day & let's just say that you have the right type of audience that would love to use something like Tailwind for their business.
Assuming a 2% conversion rate, you can expect to earn about $45 a day, and that's only if the customer makes a purchase one time, which as we said earlier – this is affiliate program works on a recurring commission model.
$45 a day nets you $1350, add on top of that some recurring commissions from past sales and you're looking at ~$2000 ish per month promoting Tailwind – not bad!
How Will You Be Getting Paid?
The Tailwind affiliate program, which runs on the Share A Sale network which pays out once a month and you can pick how you'd like to be paid on Share A Sale's "Payment Settings" page.

Who Can Join The Tailwind Affiliate Program?
At the time of writing this, there are no limitations as to who can join and promote Tailwind through their affiliate program.
However, one thing that you should have is your own Tailwind account.
This is not a MUST but, in order to really know what you are talking about while promoting Tailwind to others, I highly recommend you do so and understand what Tailwind is, how it works and how it can help people.
You can join Tailwind on a free "lite" membership plan here >>
How To Promote Tailwind To Your Readers
As with any other affiliate program, the best way to promote an offer (as an affiliate) is either of these 4 methods:
Your Own Website:
No – you can not do affiliate marketing without a website.
To join the Tailwind affiliate program, you are going to have to list your URL so Tailwind can approve you so if you do not have one, go get one.
Once you have your website, you can then start publishing content that would be helpful for the people you think would be interested in Tailwind.
In this case; I'm assuming bloggers, social media managers, Pinterest VAs, etc..
I have a great guide on how to beef up your website with great content here if you'd like to get a video walkthrough of it: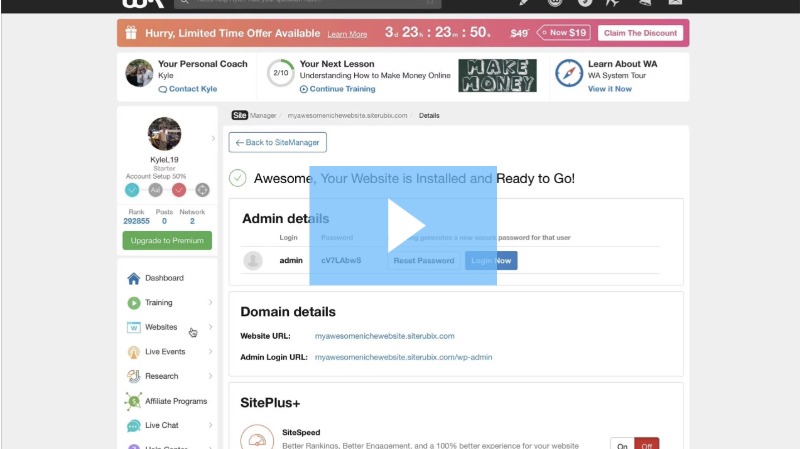 Social Media:
One other way you can promote Tailwind is by using social media, however – you must have a website to link to from your chosen social media platform as you should not be using affiliate links anywhere except on your website.
While there are many who "promote" Tailwind on social media, you will find they will first link to their Tailwind review *on their website* and then divert the user to Tailwind from there: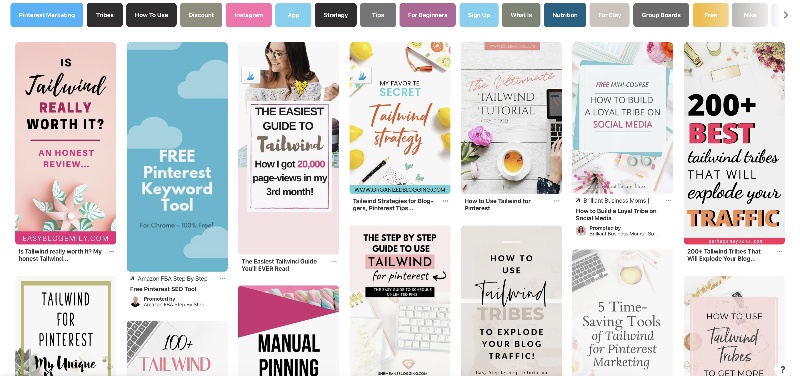 Email Marketing:
Since you have people coming into your website, you may also want to start building your email list.
As the experts say: "the money is in the list".
If you start capturing emails from people who more-than-likely would be interested in using Tailwind for their business, you can then keep sending them relevant information and emails with your affiliate links.
You can either lead them to Tailwind itself or to helpful "Tailwind guides" where you can also leverage that attention towards joining Tailwind in a paid membership.
Paid Ads:
If you're a complete beginner, do not mess around with paid ads just as yet as you can lose a lot of money very quickly if you do not know what you're doing.
But, if you know what you are doing, you can look into some relevant keywords which you can target that you can then link back to your "Tailwind review" to drive more sales.
NB:
As a Tailwind affiliate, you are
NOT
allowed to bid on Tailwind's trademark keywords!

Any (Better) Alternative Affiliate Programs To Promote?
I know of no other product similar to what Tailwind offers that also have an affiliate program so in this case, I would say no; there does not seem to be any better alternatives out there.
But, I do have a list of 12 great social media affiliate programs here so if you're interested, take a look at that but if you're looking for a "scheduler" to promote, my suggestion would be to stick with Tailwind.
Want To Learn How To Become A Tailwind Super-Affiliate?
How would you like to build a full-time affiliate marketing business promoting Tailwind (or anything else you wish)?
It's possible, but it's only possible if you know what you are doing.
If you're brand new to affiliate marketing and you're a little bit confused as to how everything works and how to actually make money with it, be sure to check out this free training course here.
You will get everything you need to know to build yourself a thriving affiliate marketing business in 30 days – or less.
Final Words
Thank you very much for checking out my Tailwind review.
If you'd like to learn more about Tailwind, I have my review here and I also have a dedicated review of how the Tailwind Tribes feature works.
Be sure to check those out and if you're looking for more affiliate programs, you can see all my round-up lists here.
I'll leave you to it.