Affiliate programs can drastically expand the boundaries of your digital business, but they can do even more when combined with social networks. How come?
The affiliate marketing industry is forecasted to reach $6.8 billion by 2020, while more than a third of publishers claim it is the best way to generate revenue.
On the other side, social platforms literally have billions of daily active users.
This means social media affiliates can get you exposed to millions of potential customers in every part of the world.
But can you really find the perfect publisher for your campaigns?
Can you prevent time- and budget-waste by choosing the most distinguished affiliate partners?
If you are not sure, you better do some research to find the best option – or you could just keep reading our post to see the 12 best social affiliate programs.
Enjoy the ride!
WANT TO KNOW HOW I MAKE MONEY WITH
AFFILIATE MARKETING?
(YOU ALSO GET A 10-DAY COURSE FOR FREE WHEN YOU SIGN UP)
After signing up, you will be redirected to the course page where you need to sign up again - no credit card required, just an email will do.
Common Types of Affiliate Publishers
The purpose of this post is to present you the most successful social affiliate programs.
However, we also want to make a brief introduction by explaining the common types of affiliate publishers.
That way, you can have a more general overview of the entire industry. Without further ado, here are the seven basic publisher models:
Cashback and loyalty publishers:
Cashback and loyalty affiliates usually have a lower funnel touchpoint, which means they drive conversions very efficiently.
These are mostly websites with loyal follower networks, so you can win over new customers relatively easy – most of them don't demand anything more than minor incentives such as discount coupons or free delivery.
Magazine editorial sites:
Magazine editorial websites represent industry thought leaders with a massive fan base and 1M+ unique monthly visits.
These are perfect affiliates if you want to raise brand awareness because they can introduce you to thousands of new prospects in no time.
Besides that, they don't only distribute content through websites but also via social media and email newsletters.
Blogging websites:
Successful bloggers are well-experienced and niche-oriented professionals.
They are mostly experts in one or two fields of work, which is why the audience keeps coming to their websites to learn about the latest industry trends.
Comparison sites:
Comparison sites are popular affiliate partners because they cut to the chase and provide visitors with instant product-related information.
Voucher publishers:
Voucher sites usually gather a wide network of loyal consumers who are very price-sensitive. Craig Paulsen, a marketing officer at UK BestEssays, says voucher sites hardly ever promote exclusive and premium products:
"But if you are selling low-end goods, this might as well be the perfect affiliate partner for your business."
Commerce content publishers:
This type of affiliate publisher can work independently or within a larger magazine-style website.
In each case, commerce content affiliates concentrate on products or services by promoting the hottest offers.
Social influencers:
The last type of affiliate publisher is the one we want to discuss more thoroughly here.
Social influencers build self-brands by posting entertaining and informative content on their social profiles.
While celebrities do miracles in terms of brand recognition, we recommend you stick to micro-influencers if you want to increase sales results.
They really inspire the audience to engage: a study reveals that 82% of consumers have a higher likelihood of acting upon recommendations from micro-influencers.
12 Best Social Affiliate Programs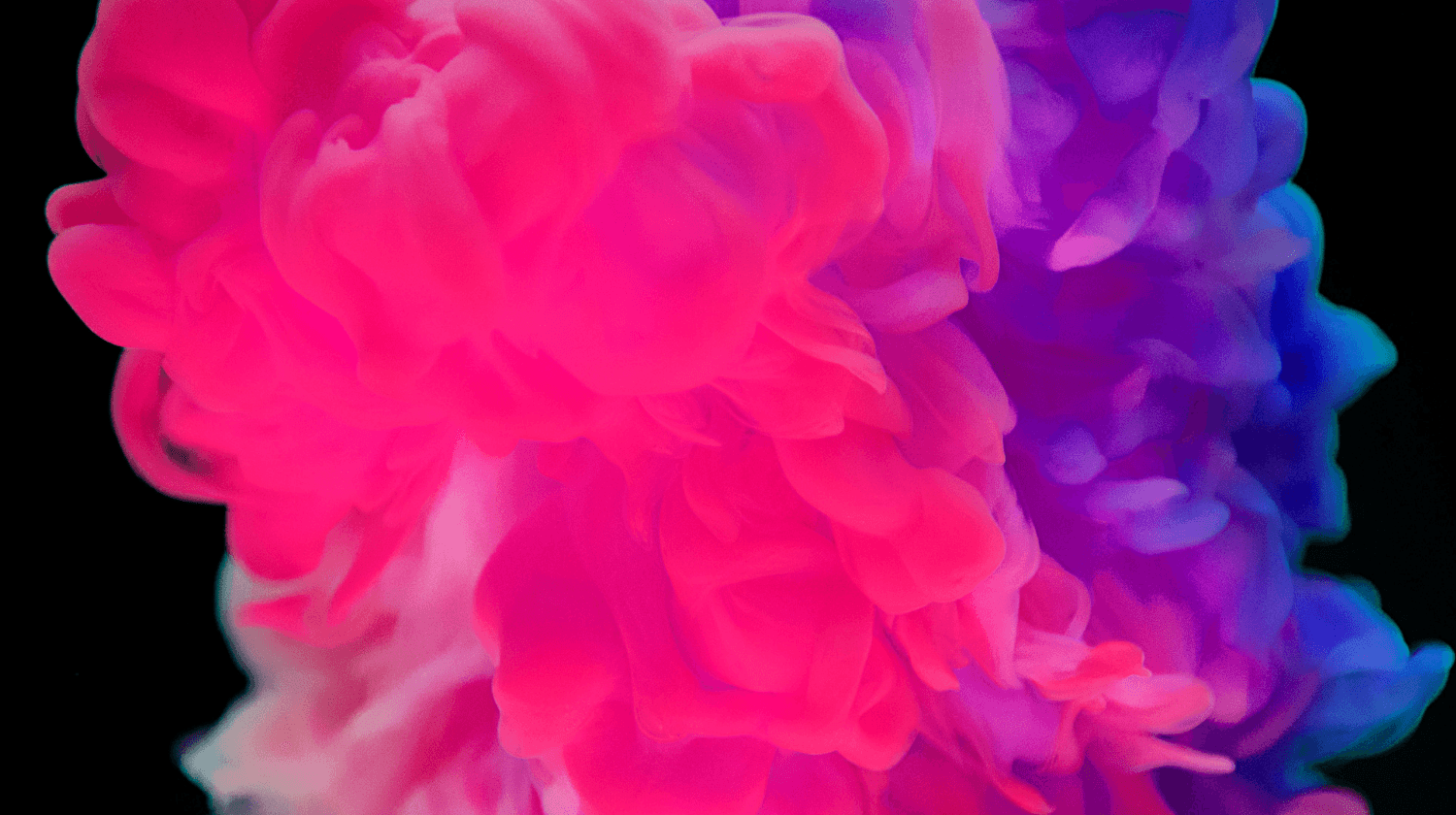 Speaking of social publishers, it is time to turn to the crucial part of our article. Ladies and gentlemen, the 12 best social affiliate programs are these:
Rainy Day Marketing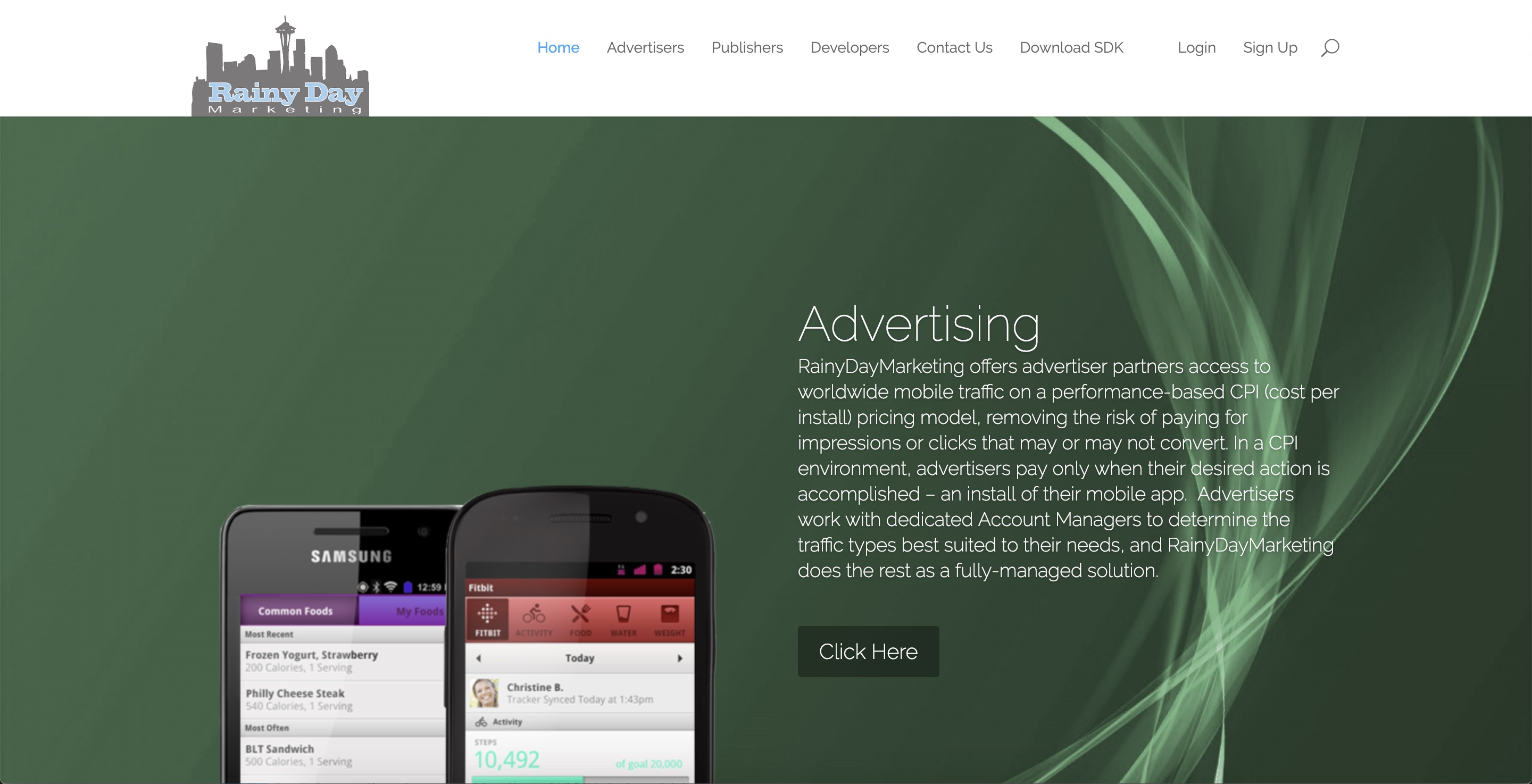 Rainy Day Marketing is a performance-based platform aimed at advertisers who want to drive quality traffic.
The program focuses mostly on mobile users because they already make more than half of consumer-related traffic.
This network enables clients to target the audience precisely, allowing maximum optimization in accordance with the goals of your campaign.
Rainy Day Marketing includes all types of traffic: display, discovery, and many more.
Besides that, this company employs a team of dedicated account managers who are available 24/7 and ready to answer all inquiries.
Commun.it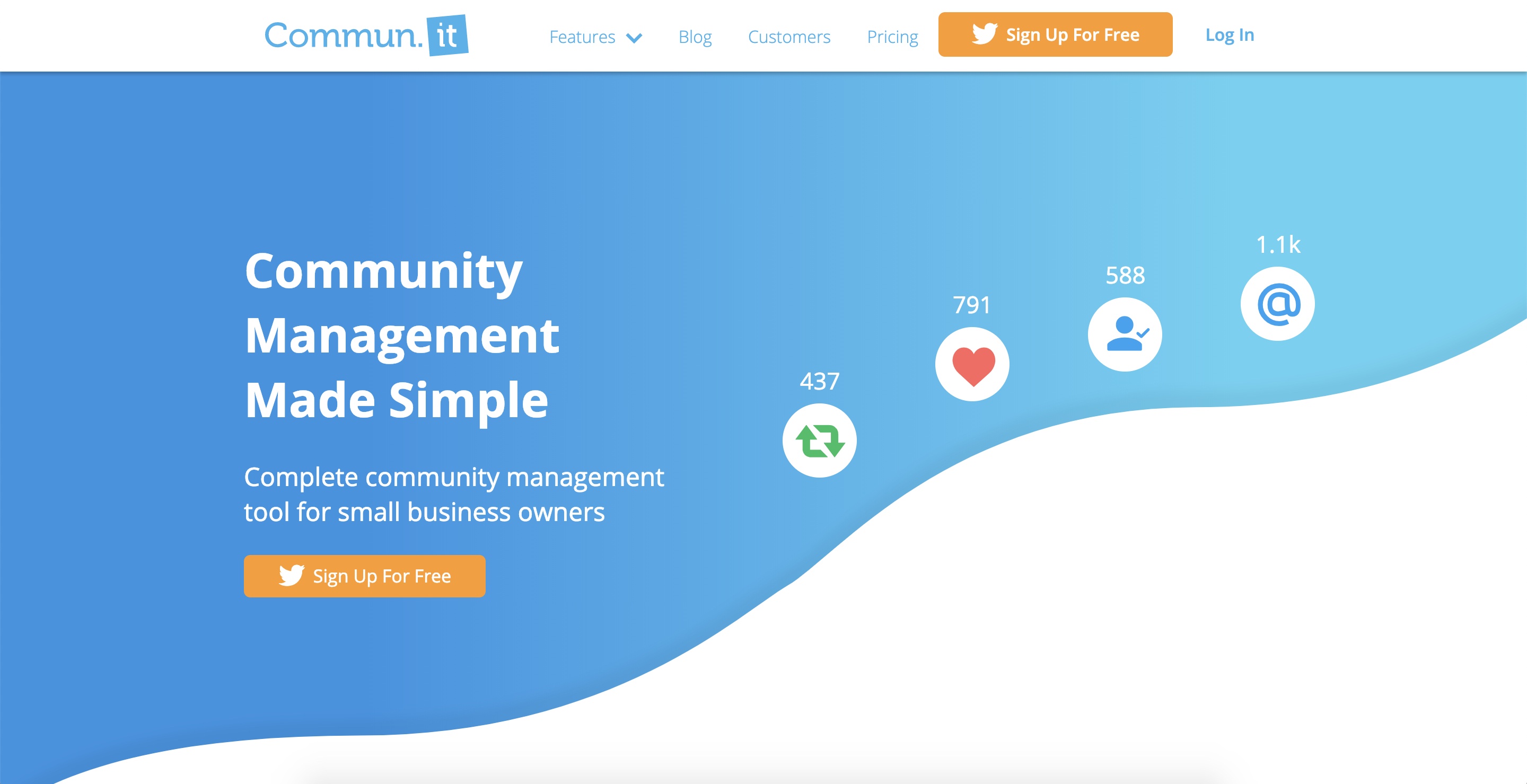 Commun.it is a social media management platform with features that cover everything from scheduling to engagement.
But we love this platform because it administers a broad network of affiliate partners, giving advertisers the opportunity to generate fresh leads and drive conversions in the long-term perspective.
According to social media managers at the pro essay writer agency, Commun.it makes an excellent alternative to the most popular social platforms, while it also helps advertisers find relevant publishers to promote their offers on Facebook, Instagram, and other networks.
The program is highly transparent, so you can acquire all the information you need quickly.
Social Pilot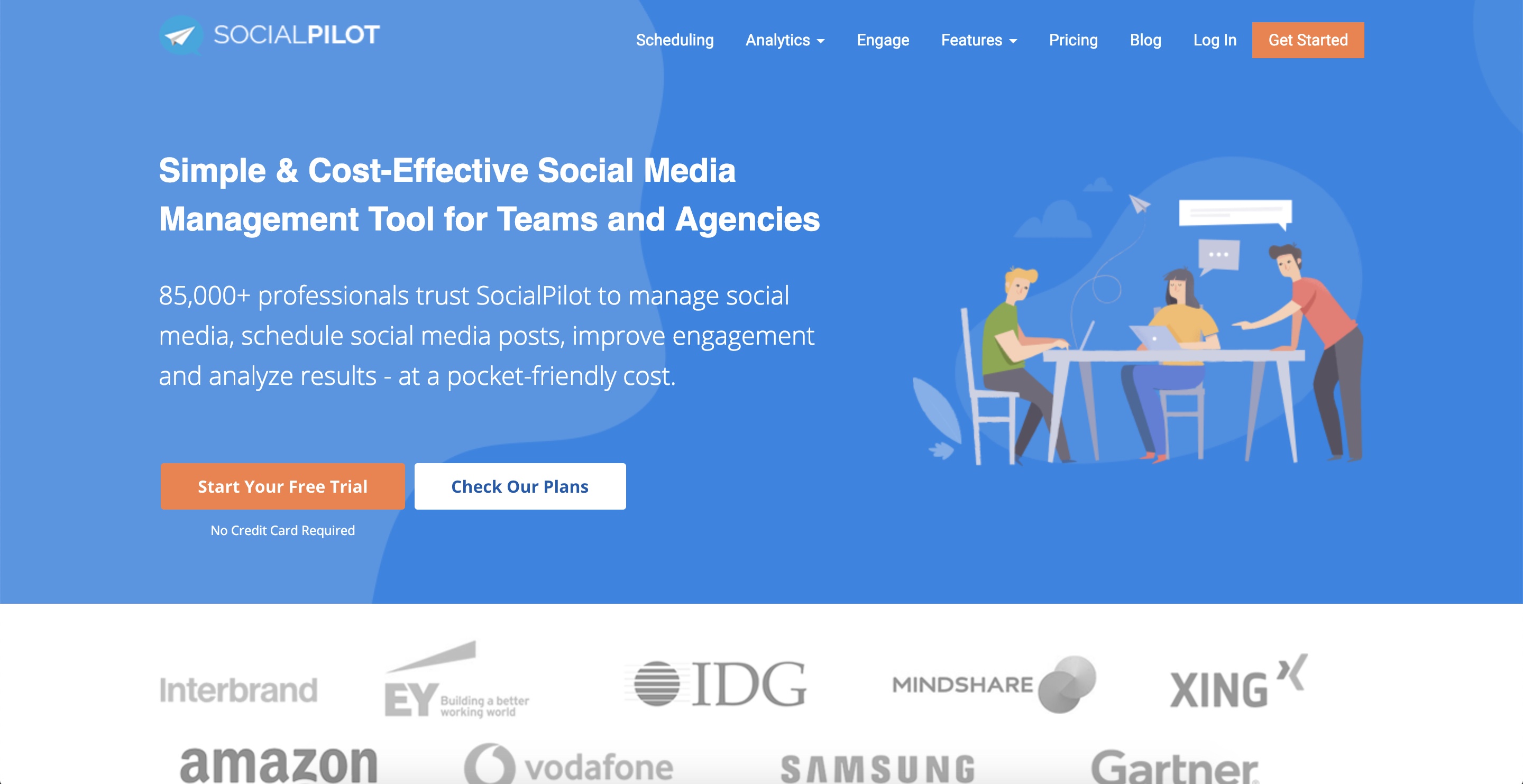 Social Pilot services over 85 thousand clients, including the likes of Samsung, Gartner, and Vodafone.
This program enables you to manage social accounts in real time, thus keeping the highest level of customer satisfaction.
What we love about Social Pilot is the fact that it's able to find credible affiliate partners in every niche.
Using the platform's powerful analytics, you can discover fresh affiliate partnership opportunities, collaborate with authoritative social publishers, and monitor the progress of your campaigns around the clock.
Evertrack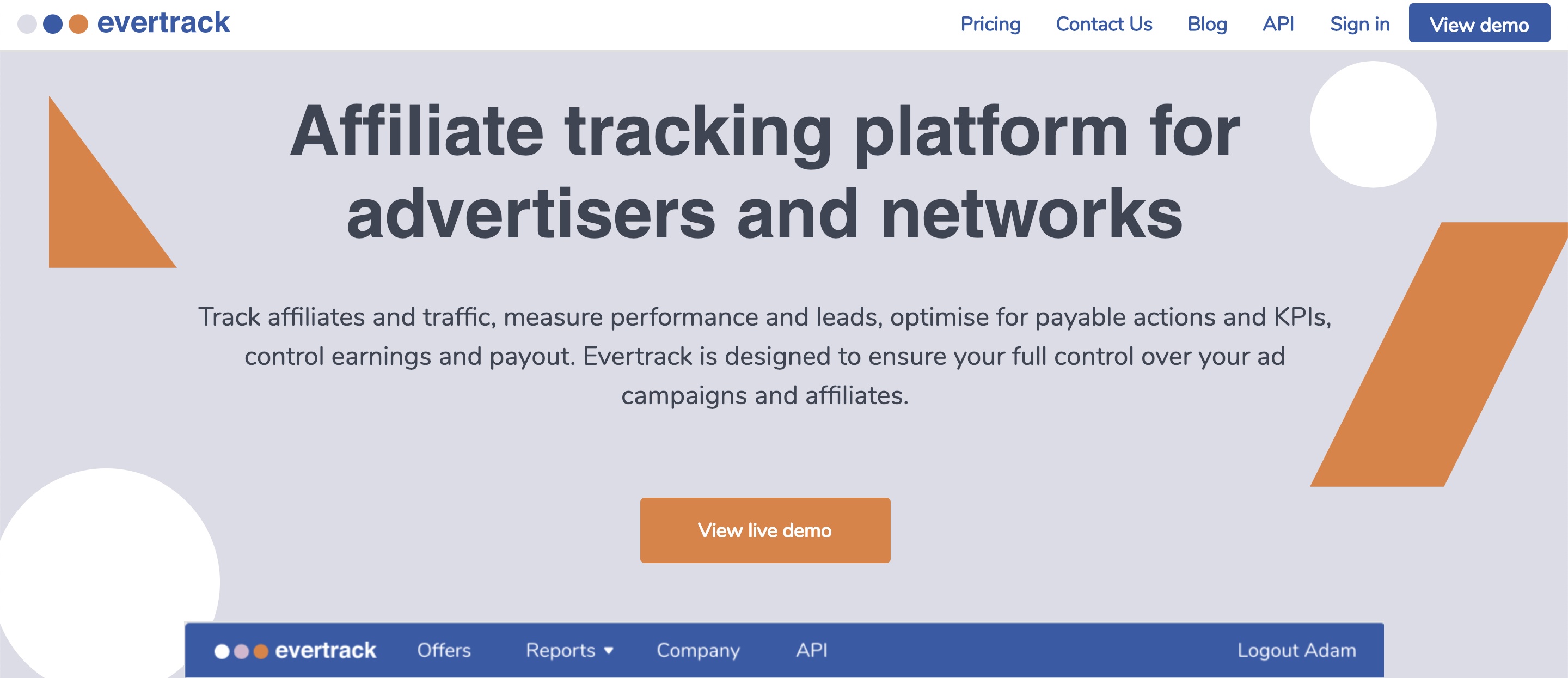 Specially designed for affiliate marketers and networks, Evertrack allows you to run CPA ad campaigns, measure real-time performance, and refine sources that generate higher volumes and conversion rates.
The program really simplifies affiliate tracking and creates a set of tabular and graph reports that keep you aware of network performance.
Offer Seven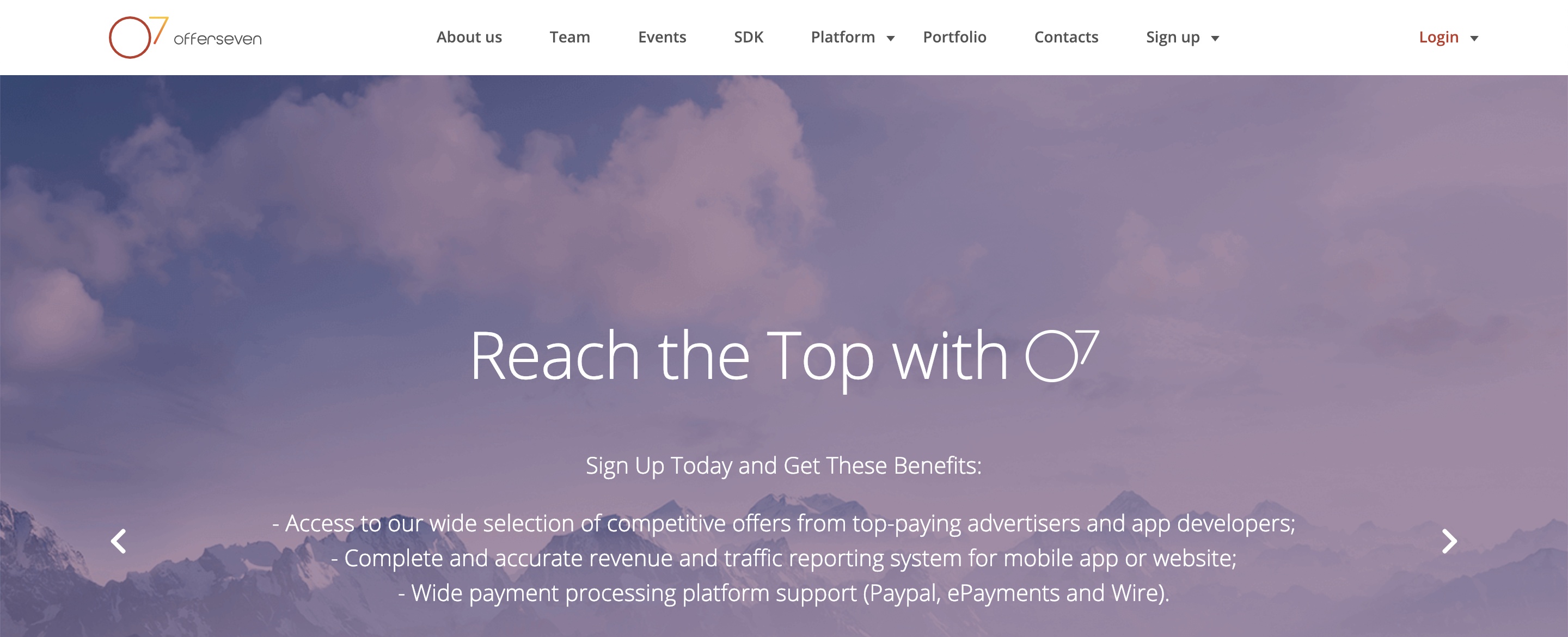 Offer Seven is a professional affiliate marketing program that connects advertisers with top notch publishers.
The network nurtures quality relationships with international publishers, giving users the opportunity to meet ROI objectives and stick to the planned affiliate budget.
What makes Offer Seven different than other platforms is their focus on digital offers. For instance, the platform can help you to raise awareness using social media and increase the number of mobile app downloads.
Using Offer Seven, you get the "all in one" tool that guarantees access to millions of potential clients.
Be Rush

Be Rush is a part of the SEMrush marketing management platform that specializes in affiliate marketing.
The platform works with webmasters, bloggers, agencies, educational resources, and paid search enthusiasts who have their own social accounts.
That way, Be Rush guarantees quality delivery and earns you credible customer only. Greg Mason, a marketing specialist at the assignment help Australia, says Be Rush enjoys the privilege of being a part of one of the largest marketing platforms in the world:
"That is exactly why they can accumulate so many trustworthy publishers worldwide."
Crowdfire

Crowdfire is yet another highly reputable social media management tool with an excellent affiliate program.
The platform is free to join and doesn't have any hidden fees. What we love about Crowdfire is the tracking and reporting system.
With this tool at your disposal, you can never miss the targeted objective because all data are available in real time.
This means you can react promptly, eliminate possible pain points, and make adjustments to improve your social affiliate campaign.
AdZone Media Group (AMG)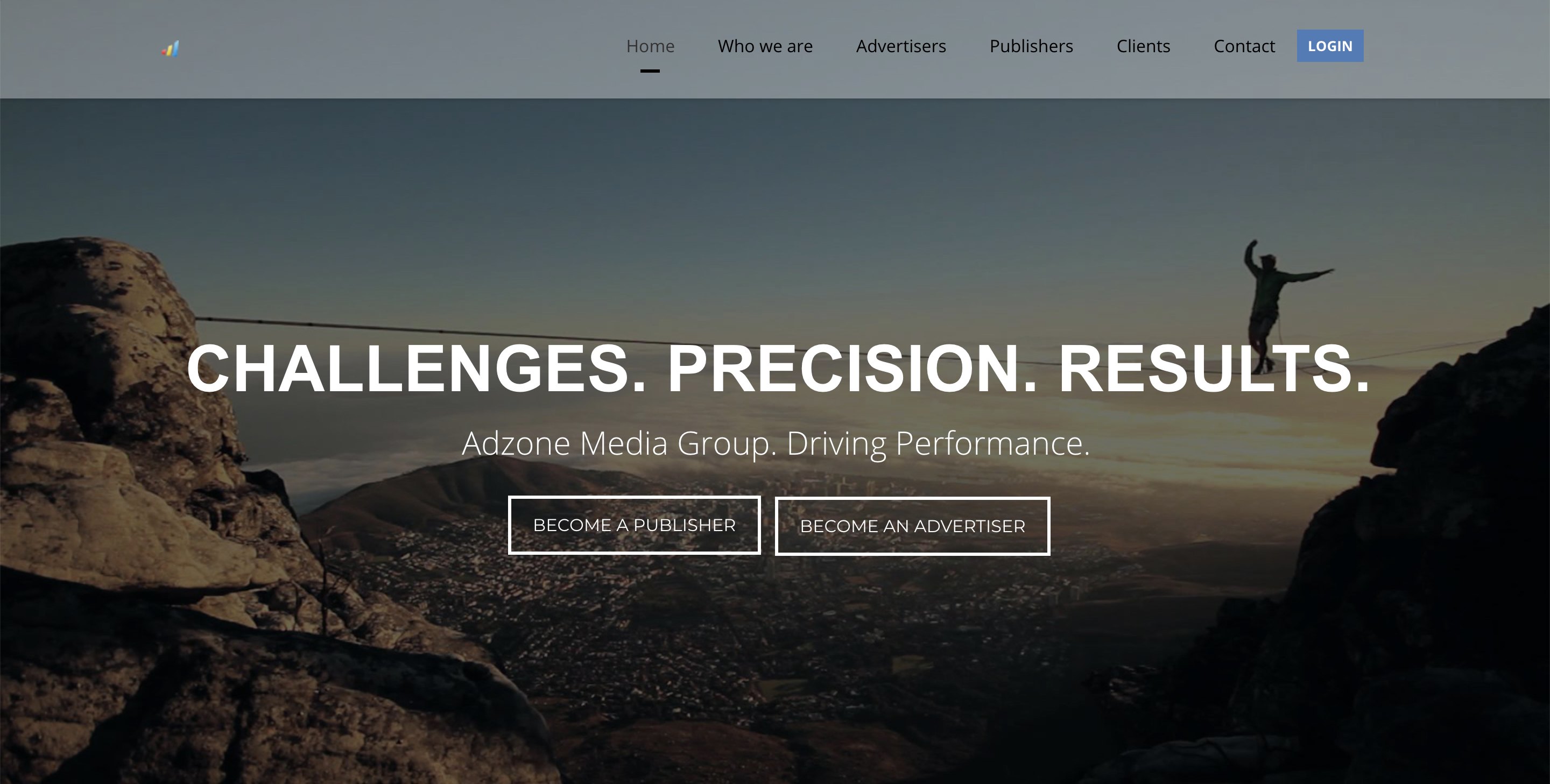 AMG is an all-around affiliate program with services in every single communication channel: display, email, video, mobile, in-app, and social.
They have a simple business plan – work with more traffic sources and channels to provide advertisers with a wider reach to meet their sales objectives.
The AMG team has vast experience with a wide array of industry verticals including download, lead generation, entertainment, software, mobile content, casual gaming, mobile apps, gambling, finance, insurance, and dating.
Besides that, they support all business models, from PPC to PPL.
Commission Factory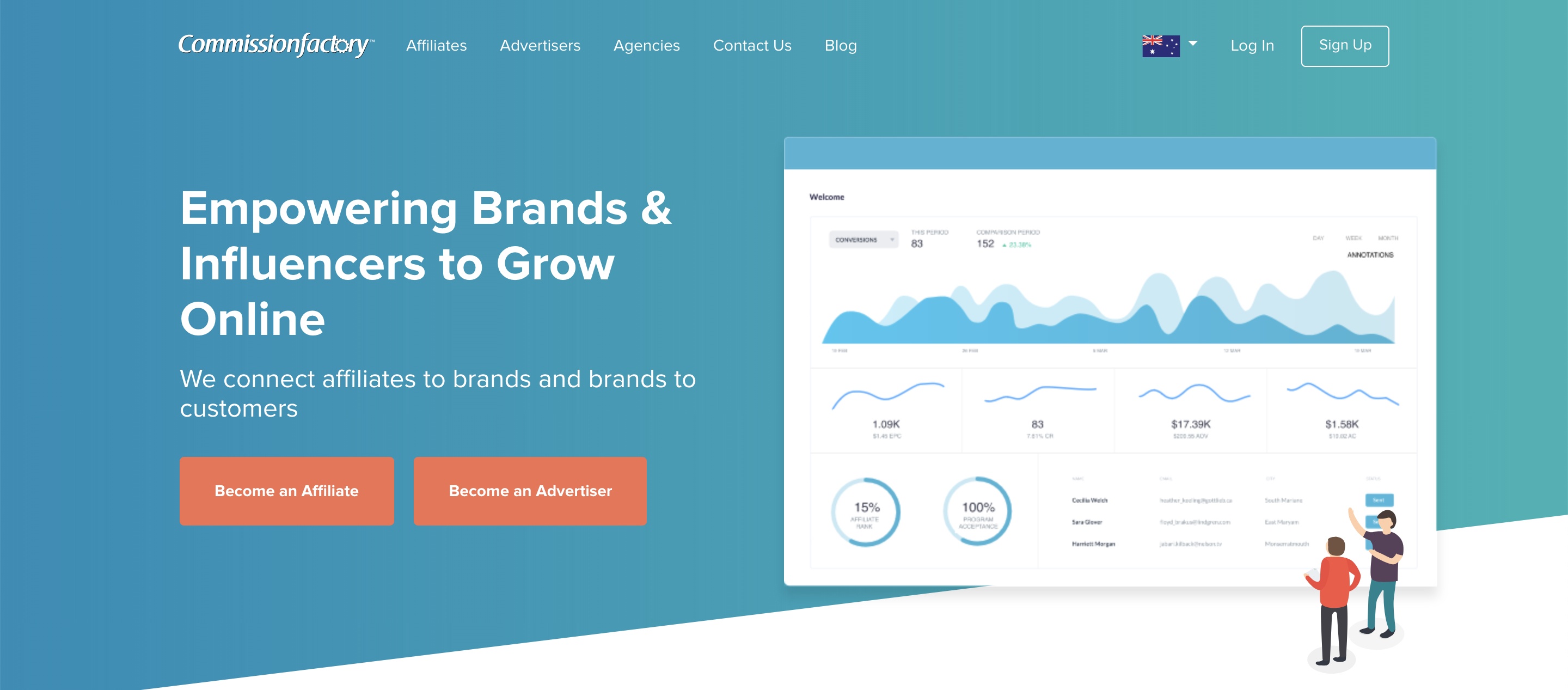 Commission Factory is one of the largest affiliate programs with a simple user interface and a wide range of features that you can customize according to your own preferences.
The platform gives you 100% control and transparency over performance marketing campaigns, creating outstanding visual reports and data charts.
A long list of distinguished partners such as Magento and Shopify prove the authority of Commission Factory.
This network makes launching affiliate campaigns look easy, but you can always contact their account managers if you have any kind of problem.
Spicy Offers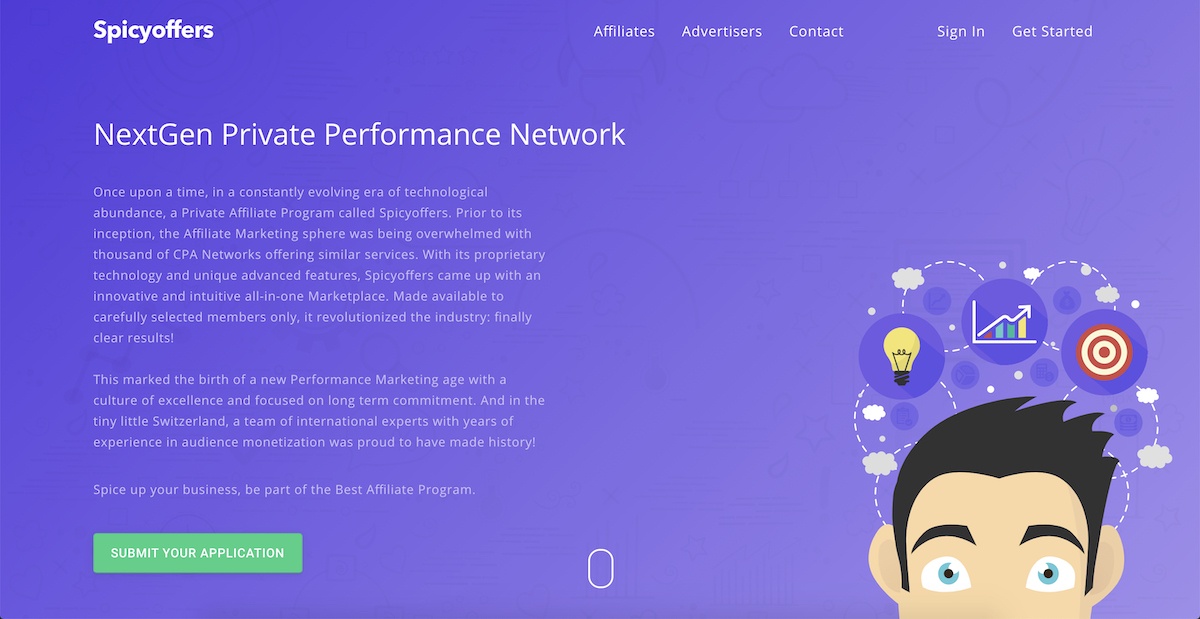 Spicy Offers is the internationally-oriented agency with more than 10 years of experience in the field of affiliate marketing.
Advertisers who want to launch social campaigns on this platform can expect qualitative, direct, exclusive, and monitored traffic.
Spicy Offers built an intuitive dedicated interface with self-serve access to massive quality traffic of direct sources only.
The network pays special attention to security, so you don't have to worry about false publishers, fraudulent activities, or malware attacks.
VIP Response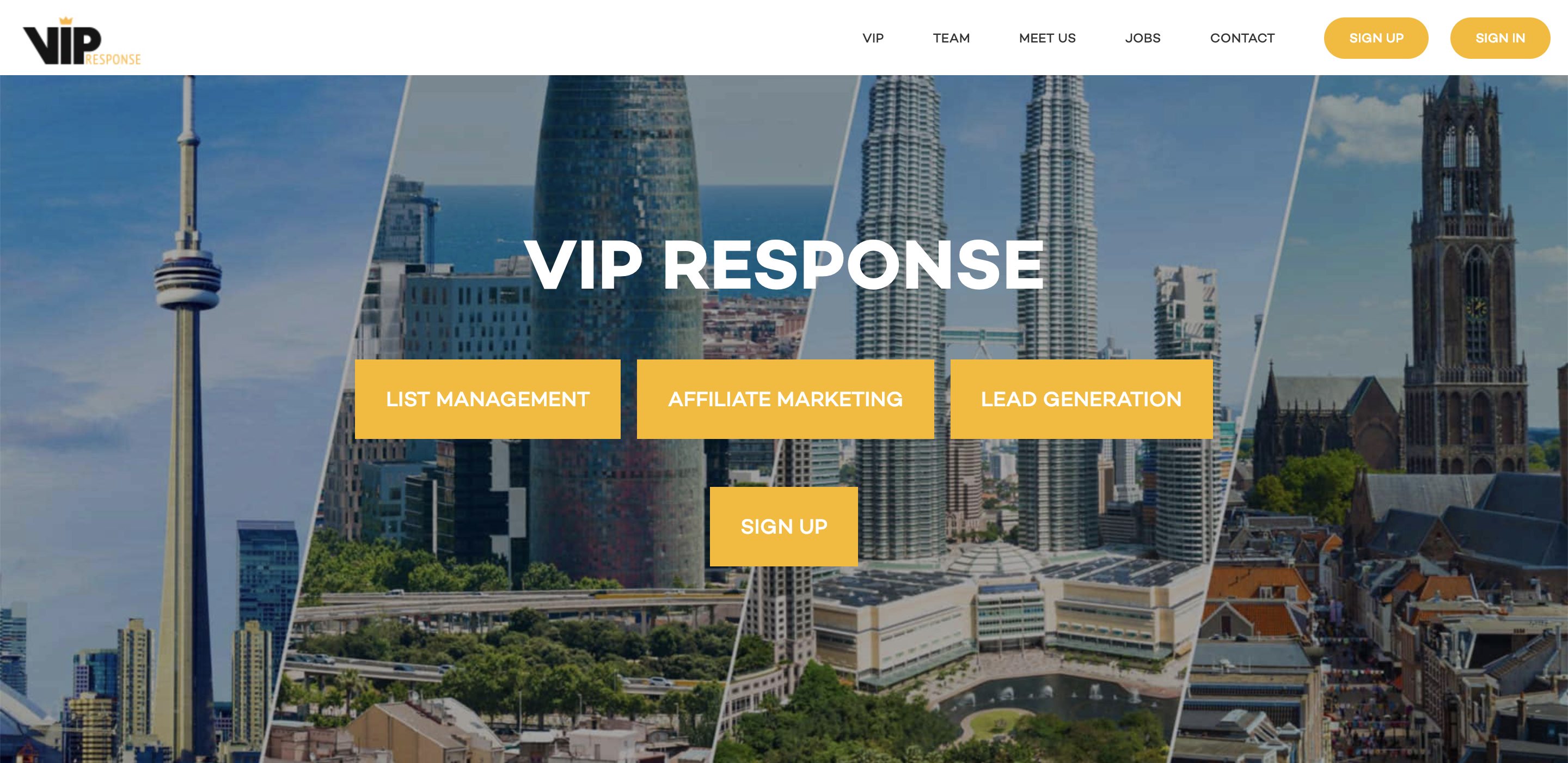 VIP Response is the Netherland-based agency that takes user experience very seriously.
VIP stands for Very Important Partner since the company is committed to identifying clients' need and focusing on the best business solutions.
Choosing VIP Response, you get global reach and social visibility.
The program builds connections between merchants and exclusive publishers, which is perfect if you are selling high-end products or services.
There are no fees or hidden costs – VIP Responses charges you based on performance only. Another interesting fact is that VIP Response administers a list of over a billion customer contacts.
Sonar Click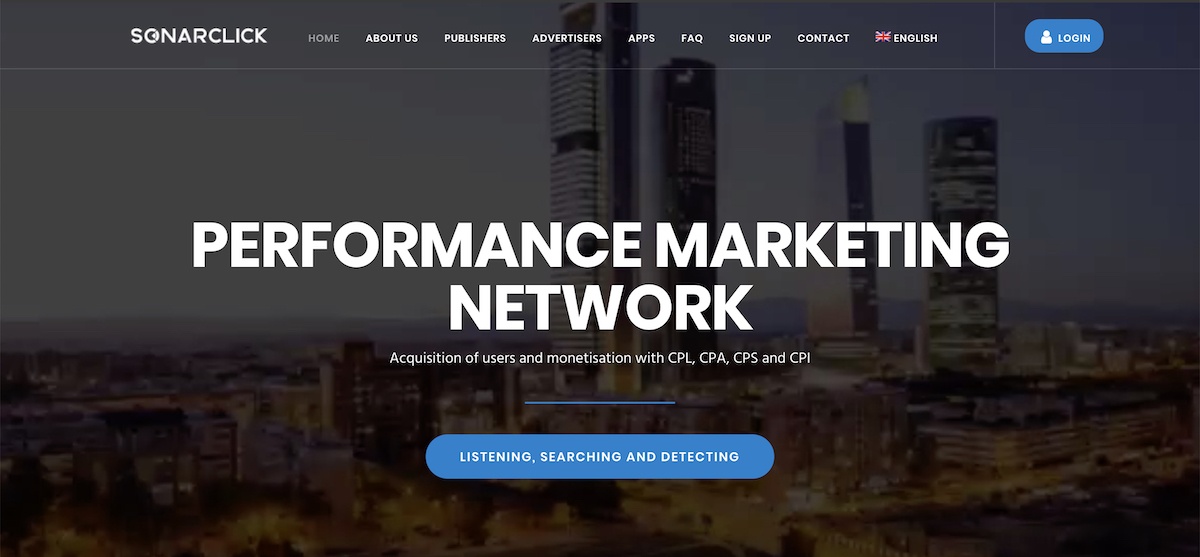 If your advertising aims are to acquire new potential clients, increase sales, generate leads or achieve facilities, Sonar Click is the network for you.
They highlight the importance of quality, trying to obtain premium traffic for every type of offer and in accordance with the characteristics of a given user.
Therefore, you only need to give basic inputs and Sonar Click will help you design the best social affiliate campaign.
Conclusion
Affiliate marketing and social media can make a winning combination if you find the appropriate publishers to promote your offers online.
However, it takes a lot of knowledge and practical experience to assess possible affiliate partners accurately.
If you don't want to bother searching, we strongly encourage you to take the shortcut and utilize social affiliate program services.
In this post, we showed you the 12 most prestigious affiliate platforms in this field.
All of these programs are top-notch industry stakeholders and you definitely won't waste time testing each one.
The only task you have is to find the network that perfectly matches the peculiarities of your business.
Feel free to check them all out and tell us what you think about our top 12 picks in the comment section.