Without an effective keyword strategy, you won't be able to improve your website's search engine rankings, establish a presence on social media or generate sales.
Keywords are necessary to form a bridge to connect users with the content they're looking for.
So do you just try to find the most profitable keywords?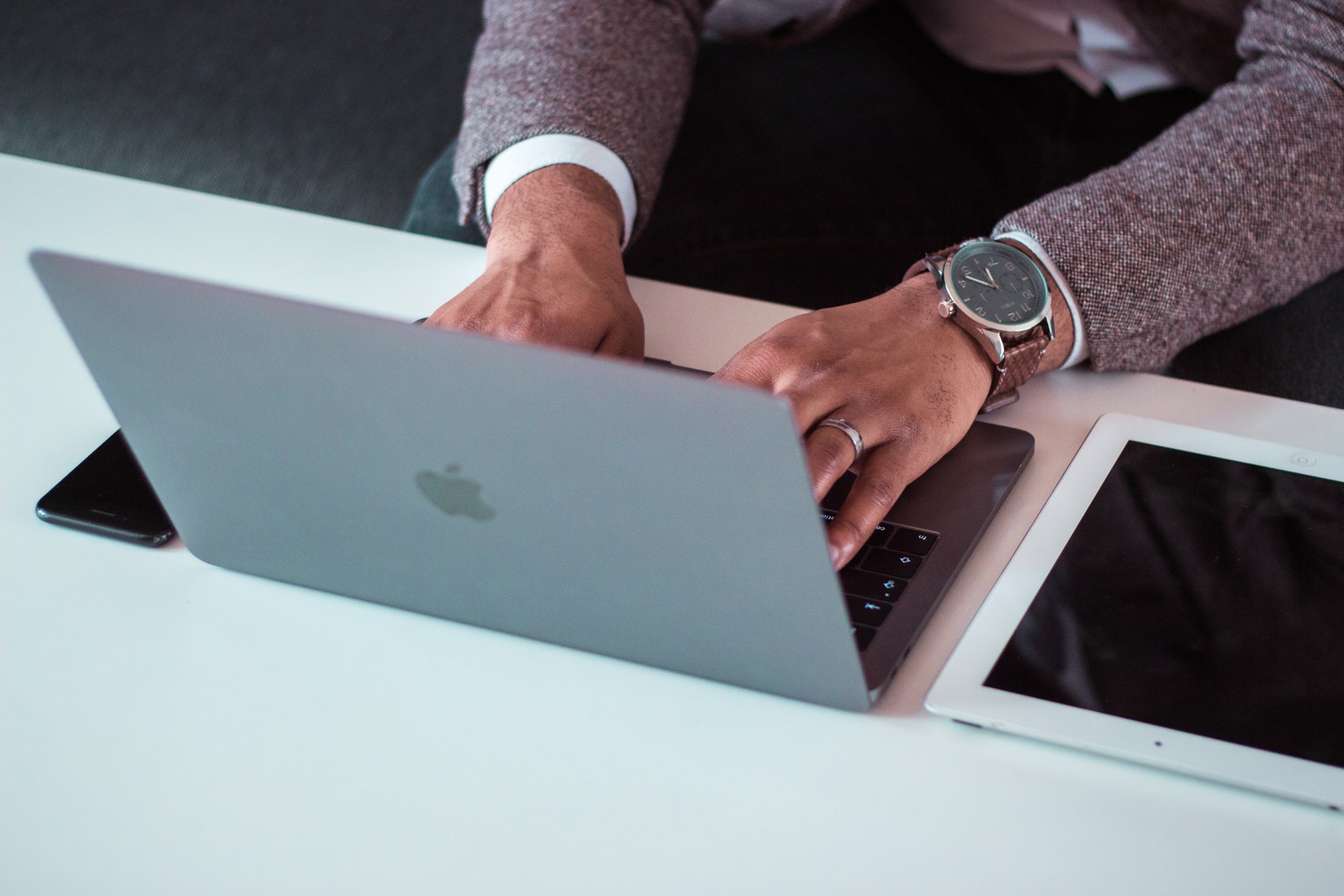 What you will find is that the most profitable keywords for your niche are probably not viable.
The more profitable keywords have much higher competition and you simply can't compete against those with more funds, manpower and experience.
The trick is to find keywords by expanding broader, competitive terms into long-tail keyword variations.
Long tail keywords are more specific and so they're less competitive and easier to monetize if you're a smaller brand.
Here are some of the best keyword research tools to help you find the best keywords to rule the Google rankings.
Ubersuggest

Ubersuggest is a free keyword tool. Start your keyword research on Ubersuggest by entering your seed keyword, setting a region preference and clicking 'search.'
You will be presented with an overview page that shows you various metrics, such as:
average monthly search volume

SEO difficulty, and

cost-per-click.
Ubersuggest Limitations:
You will receive a limited number of keyword suggestions but this is to be expected as it is a free tool.
You can only export your keyword research data as a CSV file or copy it to your clipboard.
You can't sort your keywords into lists, do any additional analysis or save information to the cloud for future use.
If you're a beginner blogger, this is a good tool to start with. You will be able to design your content around the specific keywords you select.
If you need help with content, consider reading essay writing services reviews to find writers to help you.
Good features::
The interface is fast and intuitive so even beginners can use it. The Traffic Analyzer feature is probably the best feature.
You can check the target keywords of any domain, enabling you to discover those your competitors are using.
Pricing: Free
Google Keyword Planner

Google AdWords Keyword Planner is a free tool and although it isn't a standalone tool, it has become a trusted keyword research tool that has acquired a large user base.
You can obtain a large number of long-tail keyword suggestions absolutely free.
You can use this tool for finding new keywords and viewing search volume as well as finding metrics for your current keywords.
It includes metrics such as:
average monthly searches

competition, and

average CPC bids.
In the left-hand menu, navigate to "Grouped ideas" and you'll be able to sort your keywords according to themes.
You can use a range of filter options to find the exact keywords you need.
If you want to use the keywords for a PPC campaign, you select them and click 'add keywords' on the blue bar at the top. Select 'add to plan' on the blue menu and you will get a forecast on how well a keyword could perform.
Limitations:
Before you can use the tool, you have to set up an AdWords account. The interface is not that user-friendly but you should be able to find what you need.
Another disadvantage is the huge search volume ranges that make it difficult for those who want to balance competition and profitability.
Good Features:
The keyword planner will give you plenty of keyword suggestions and you can group similar keywords. It can help if you need forecasts for PPC campaign keywords.
Pricing: Free
SEMrush

SEMrush is not a typical keyword research tool. It's a digital marketing analytics and SEO platform with a powerful keyword research tool included.
All you need to do is to add your competitor's URL and you will be able to see all the keywords ranking for the site.
You can target some long tail keywords to beat your competition. If you see a domain with plenty of organic search traffic but a low traffic cost, you will know that the keywords they rank for don't convert into buyers.
You can use the Keyword Magic tool to enter a keyword and pull up keyword suggestions from the massive database.
You'll get a long list of long tail keywords that include the keyword you entered. You can go through the results to find phrase matches, exact matches, and related keywords.
The Keyword Difficulty tool allows you to compare keywords. You can get insights on the long tail keyword variations you should target.
The filters include standard options, such as search volume and keyword difficulty.
Limitations:
If you only need a keyword research tool, you won't want to buy SEMrush but if you can make use of its many other features and can afford it, go for it.
Good features:
The Keyword Magic Tool and Keyword Difficulty Tool are both very useful.
Free trial: You get a 14-day free trial to try it out.
AHREFs Keyword Explorer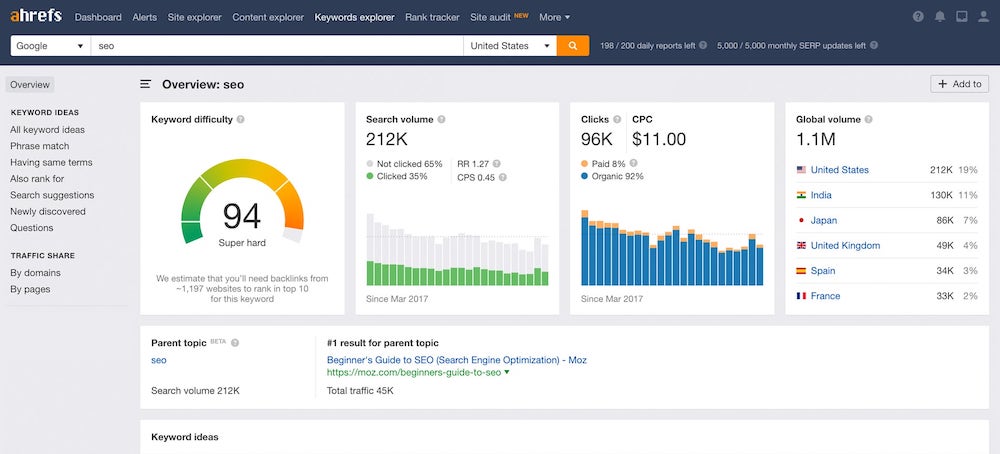 Ahrefs Keyword Explorer tool gives you in-depth information about each keyword.
You get the data you expect such as search volume but you also get other data such as a breakdown of how many users click on a result.
This is useful knowledge as keywords may have plenty of traffic but hardly any clicks from the search engine.
Ahrefs also tells you exactly how many backlinks you will need to rank on the first page.
Keyword ideas are sorted into four categories, including newly discovered ones and questions.
When you click on one of the categories, you are able to access filter options and you can view metrics.
Limitations:
Ahrefs is not that different from SEMrush and once again, if you want to use the keywords tool, you have to pay a monthly Ahrefs subscription that includes features you may not need.
Good features:
The organized layout makes the keyword data is easy to read. The tool yields more keyword suggestions than most other tools.
You can select keywords and create a list to use directly from the dashboard which can save plenty of time.
Trial: Take a seven-day trial for $7 to find out how suitable Ahrefs is for your business.
KW Finder

KWFinder is probably your best bet if you're looking for a tool dedicated to keyword research.
You can search for question-based phrases and Google Autocomplete suggestions.
KWFinder enables the creation of keyword lists. To use the lists, you tick the checkboxes next to the keyword and click 'add to list.'
You will have to create a new list if you haven't made one yet.
Limitations: It may not give you as many keyword suggestions as other more expensive tools (more than Ubersuggest though!).
As a paid tool, you would expect it to have better reporting features than the free tools but it doesn't really provide more.
Features: It is an intuitive tool and automatically gives a Keyword Difficulty score next to each keyword.
You can save your keyword lists, a feature that free tools don't provide. KWFinder has an "Interest over Time" tracker. This enables you to check our relevant your keywords remain over time.
Writing new content and finding new keywords is a constant for online marketers. If you're struggling as a new online entrepreneur and you need help with content, visit https://my-assignment.help/ for assistance.
Price: You have the option of using a free account to see how effective you find the tool. Entry-level users can only get up to 200 related keyword suggestions.
For this reason, it may be worth paying for more than just a basic plan if you want to get up to 700 keyword suggestions.
The Jaaxy Keyword Tool

Jaaxy is a straightforward but powerful keyword research tool. It gives you many different keyword ideas with helpful data on each keyword it generates.
You will see the average monthly searches a keyword generates per month, traffic, number of competing websites for the exact keyword, and a keyword quality indicator.
Limitations:
The lowest pricing plan may be quite high for bloggers and some features may not be necessary.
Good features:
Shows your data in a structured, efficient way. One of the best features of this tool is that it gives you a QSR or "Quoted Search Result."
This shows you how many other websites are attempting to rank for an exact term.
The lower this number, the more chance you have of ranking. You can save your keywords in specific lists and access them later for easier use.
Price: You can register and try out the tool for 30 searches. The pro plan costs $49 a month.
Serpstat

Serpstat gives you the following keyword data:
Search volume

Competition

CPC

Keyword difficulty score
You can go to 'Search Questions' under the "Keyword Research" sub-menu, enter a keyword, and find search user questions for your content strategy.
If you're struggling to create content, consider reading essay supply reviews for suggestions.
It has difficulty score section that gives details like referring domains, page rank and external backlinks.
This data is useful to evaluate whether you can rank for the specific keyword or not.
Good features:
The filters are a huge time-saver when it comes to keyword research. For those running PPC campaigns, the keyword research page shows you which domains advertise for your target keyword in search as well as the type of ads they are running.
Small businesses can use Serpstat effectively to research keywords, build links and develop their SEO strategies.
Pricing:
Serpstat caps all reports, not just for keyword research, to 100 results for the basic plan. It's worth paying more for a higher priced plan to get 15,000 results per report.
SpyFu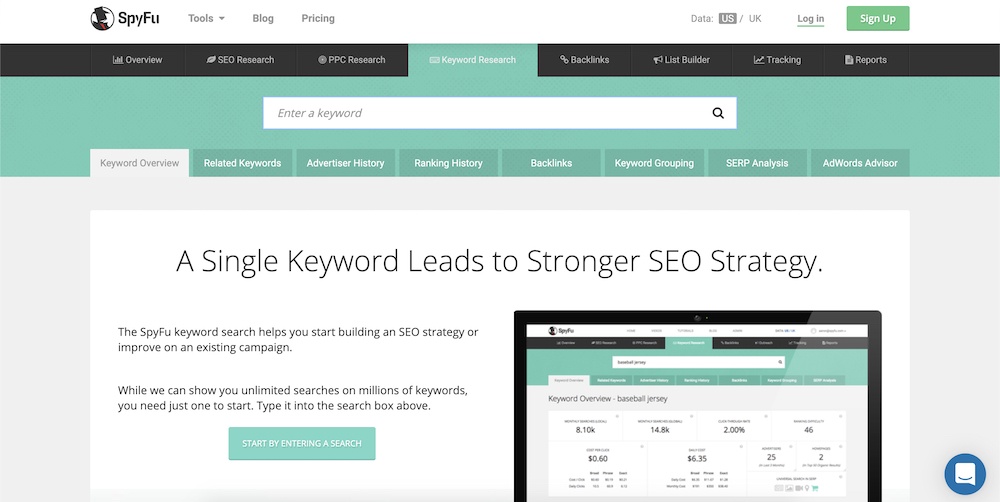 SpyFu is very useful if you're trying to stay ahead of the competition. It can help you understand your competition's SEO strategies and discover untapped markets.
Unlike the tools that expand seed keywords, the focus of this tool is on helping you to spy out your competitors' keywords.
To use it, you need to enter the domain of your top competitor.
Some of the data you will see includes the distribution of traffic between organic and paid channels and estimated monthly organic clicks.
It has several modules to compare websites, the history of domains and keywords and related keywords.
The volume of keyword suggestions you get will depend on the website you're investigating.
On the overview page, you have four categories you can use to find keywords:
Newly ranked

Page one

Almost there, and

Most valuable.
Limitations: The data for SpyFu is monthly, not real-time. The tool may find zero results if a site does not have an active PPC campaign. Another weakness is its filters.
For competitor keywords, you have limited options for sorting using factors such as page one positions and rank gains and losses.
It is not the easiest tool to use and has a traditional interface with menus found at the top of a page.
Good features: SpyFu is a good SEO product that allows you to check up on your competition as well as find new areas in which to market.
The reporting is excellent and you can get plenty of in-depth insights about competitors.
Pricing: SpyFu offers two basic pricing plans and a more expensive Agency plan.
The Best Keyword Tools Of 2019 (The Verdict)
There you have it – some of the best free and paid keyword search tools. All of these tools have pros and cons.
They are effective and trusted by the top SEO experts. The free tools, such as Ubersuggest and Google Keyword Planner, are great for those who have just started marketing online.
SEMrush and Ahrefs are expensive and more suitable for those who want digital marketing and analytics platforms rather than just a keyword tool.
KWFinder and Jaaxy are both lean and powerful keyword tools. Serpstat can help small businesses to research keywords and develop their SEO strategies.
SpyFu is a great tool to use if you're trying to beat out a close competitor and it can help you to create a strategy based around SEO keywords they are using successfully.