Wouldn't just about everybody like to have a shot at being able to make money from the comfort of home while doing work they actually love?
That sounds like a dream come to me and to the many, many people out there that are fed up with the BS 9-5 routine that we get suckered into doing jobs we don't like!
This is what an online business can get you. Sure some may not believe this and may think this is a scam but I am living proof (and so are the many other people that make money online) that it can be done.
You just have to know how… which is the most important thing to understand obviously.
Today I want to share with you a guide on how to make money online with no experience whatsoever needed. This is a legit "for beginners" post.
You could never have touched a computer in your life but with this method I am about to share with you, I am sure you will be able to achieve your goals of making some extra cash online.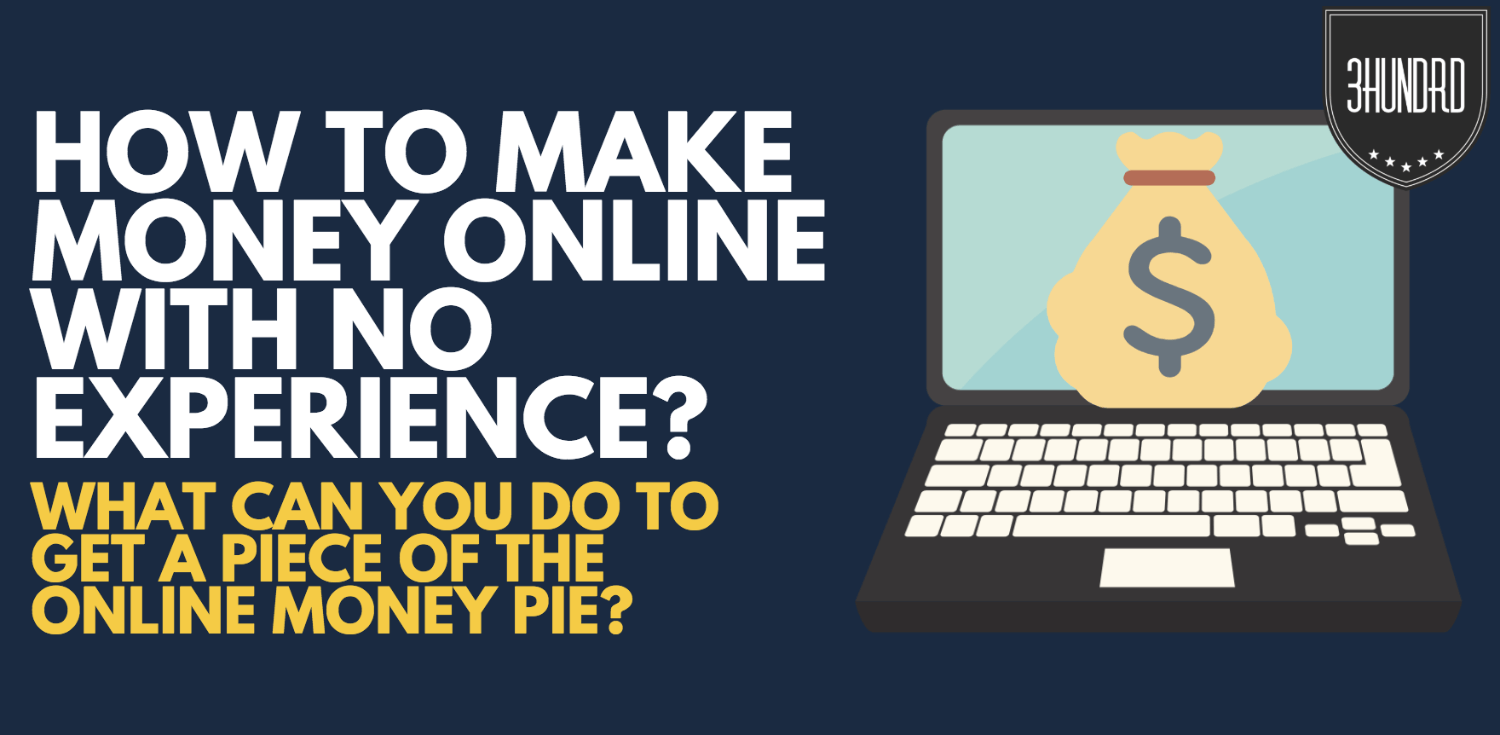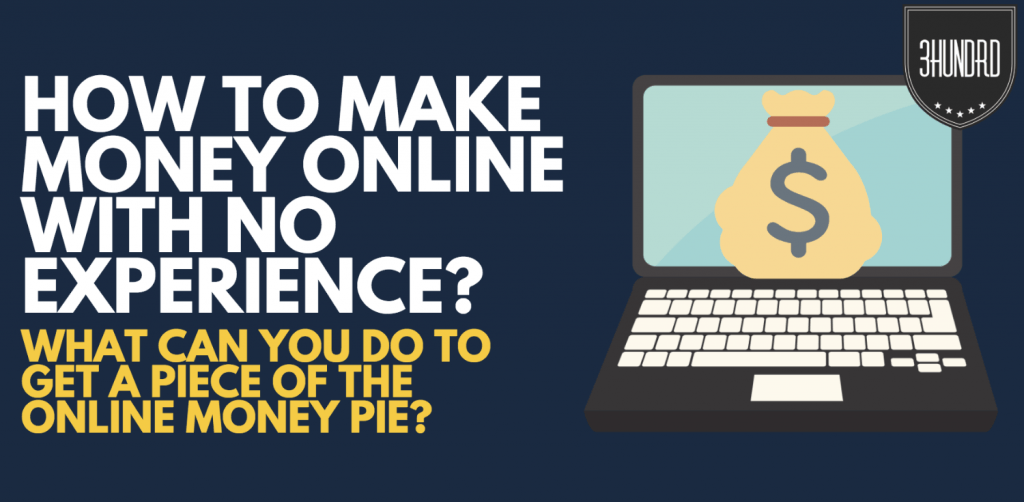 This plan, system or formula whatever you may call it is what's worked for myself and also seen it work for hundreds of others coming from many different backgrounds and skill level.
If they can do it, so can you. I don't want to sound cheesy here but it's the truth.
I'm not that young anymore (at time of writing this I'm 27) but I do remember a time where we had no computers, no internet and definitely no smartphones but somehow;
I manage to learn this "internet business thing", use it to my own advantage to build 5 online business (websites) and have the energy to teach it to others as well.
And that is what I want to offer you today. Pay close attention as I am about to tell you (from my own experiences), how you can get started making money online, even as a complete newbie with no experience.
Whether you want to make some extra money online or even go "all in" on it and aim to live off your online income, then this post should help you get started with it all, and I'm glad I am the person that is going to show you how.
What You Will Need To Start Making Money Online
A Home Computer
Smartphones have definitely moved the needle as to how we do business online but it has not yet reached the point where you can just use your phone to run an online business.
You are going to need a home computer or a trusted laptop so you can set up your whole operation here.
An Idea
Obviously, you can "just make money online" without doing anything. The method I use to make money is by setting up websites that make me the money and selling on them affiliate products and advertisement.
Which means that you need a topic (ideally one that you love) so you can write content about that and sell product related to that topic.
A Website
Yes, you do need a website to make money online and if you heard somewhere that you don't, then you are following the wrong advice.
If you want to learn how to make money without a website, then look at FOREX trading as an option or elsewhere. With this guide, you are going to need a website which will allow you to do content marketing in conjunction with affiliate marketing.
This is what I will be focusing on this article.
Some Patience
I can teach you how to make money online (even with no experience), but I can not teach you how to make money online instantly.
I don't even know if such a thing exists actually as I have been actively looking for the "quick riches" button for 5 years now trying and reviewing multiple programs and systems but I have not found it yet.
So, if you're into this to learn a new skill that will be beneficial to you 6 to 12 months down the line, then this article is for you and it's a pleasure having you here.
If you're looking for quick riches, then, unfortunately, I can't help you but if you do find a way to make a lot of money fast online, please let me know and I will reward your kindness.
Let's begin: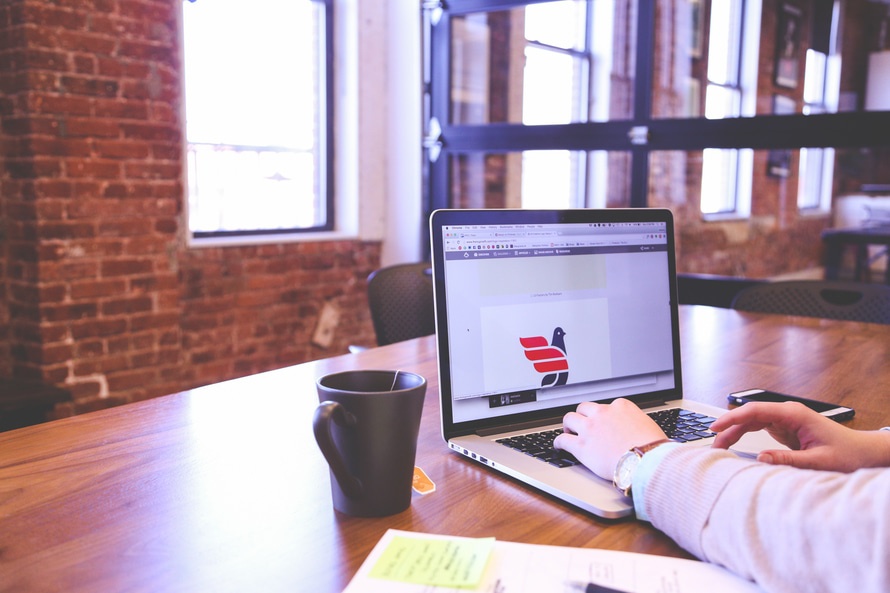 Do Not Worry About Having "Experience"
Nobody is born having experience in something, even this generation that is being raised surrounded by smart technology still have to take the time to learn the platforms that are available to us.
If you are 16 years old, 30 years old or 90 years old and you want to learn how to make money, then you are lucky enough to be alive during this era where so much information is available at the push of a button that it just numbs your mind!
I would like for you to see this video produced by my favorite digital mentor Gary Vaynerchuk where he talks about this issue I just addressed.
It's a very short clip so I suggest you take a look at it now before we go on:
So, how do you get the experience needed to succeed?
You go for it and you start investing your time, energy (and yes even money) into learning how it is done properly.
Now lucky for you, I do have a system that I am going to recommend to you very soon. It's a proven system for me because it has worked for me and for many others. Also; it's free to get started so you have nothing to lose.
This is the best way I have found to make money online for beginners:
Wealthy Affiliate is a training course for bloggers, affiliate marketers and basically anybody that wants to make money online.
I have a long history with WA, I've been a member for 5 years now and I credit it to be the place (or rather; "the training") that has changed my life.
When I first joined WA, I was wounded and bleeding by letting all these fake gurus fool me into thinking spending money on a silly one-hit program will make me rich, needless to say, that didn't happen.
I was just about to quit trying to make money online until I came across WA from a post published by Kyle, who also happened to be the co-founder and soon became my mentor in there.
With the help of Kyle, the WA team (shout out to Carson too), the many helpful community members and the top quality training provided there, 5 years later I run my own online business where I have 5 sites making me money (4 blogs and one eCommerce store).
I will give you a list of my posts that I have published about Wealthy Affiliate down below if you want to know more.
It's free to get started with and I am ready to guarantee that if you follow the training, work hard on your business and have a little bit of patience, you will make money!
Before we go on, here's some more information about WA!
Step 2: Fill Out Your Bio In WA
Your next step as a new WA member is to add your bio and profile picture to your profile.
Wealthy Affiliate is centered around a community of like-minded people, thus it can also be considered as a social network for bloggers and such.
With this bio and profile picture added, you can then start networking within the community and making new friends and allies.
I can not tell you how many times I've needed the help of a member in WA and they have always delivered. I am just glad to be in a position now where I can give back to the community.
Here is a sample of how that would look (my profile pic and bio):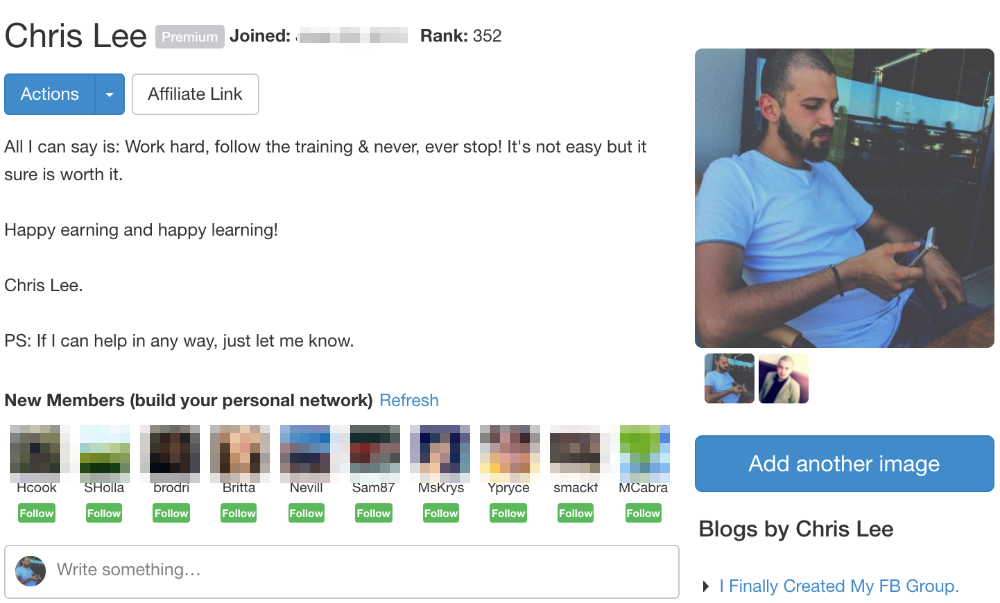 Step 3: Follow The Training Courses Available
As a newbie member, you have access to not one, but two training courses and these are:
The Online Entrepreneurship course and
The Affiliate Bootcamp course.
The OEC, which you can see a full review of that here, is the training that you can follow to see how to create your website, get traffic to it and even make money with it in any niche (or blog topic) that you wish.
The Affiliate Bootcamp, on the other hand, is similar to the OEC, but it's focused on learning how to promote WA, which I have listed as my favourite affiliate program ever here.
With this course, you will learn how to use the many tools and features that come with WA and also show you how to do product reviews, which is a key component for making money online.
*Please note that you do not have to promote WA to make money, that is your choice. Even if you do not want to promote WA, you can still take the course and use the lessons provided in your own niche.
Step 4: If You See The Potential, Upgrade
Although you can join for free and stay as a free member for as long as you wish, WA has a premium membership plan where you will be able to access a lot more training courses and a lot more features, including the insanely valuable free hosting which other companies offer at $20 per/ month.
Do not join WA as a premium member just now.
Simply join for free (no cc required) and try it out first. I do not want you to spend money unless you are 150% sure that you like it and you've seen the potential.
Once you do that, then feel free to join. At less than $1 a day for the full power of WA, I am sure you will see the value for money offered in there.
Step 5: Make Your First Sale
After joining WA, a few months will go by and you are working hard in the building phases of your business.
You might start feeling a bit discouraged since you've not made any sales, yes and you see other people succeeding well, but I can assure you that one fine day, you will wake up to see you've earned money with your website!
This is what we call "the first sale" and it's a magical feeling that I can't describe, although I did try to explain it the best way I could in my free ebook "How To Win At Affiliate Marketing".
Just keep working at your business and it will happen for sure, that is a guarantee. I have not seen a student stick with WA for a long doing the training in there and not make money. It's nearly impossible not to make money!
Step 6: Scale All The Way Up!
At some point, everything will click and everything will make sense. It's like those times where you feel connected to life and finally, you understand the universe LOL.
That is what awaits you and once you get to that level of understanding, you will be making sales on a consistent level damn near every day.
All is left to do now is to continue doing what you are doing and watch as your traffic and income all start to rise slowly but surely.
It may take some time to get to this level but it will happen. You can see my story about how long it took me to "make it happen" in my post: "Proof Success Takes Time".


Closing Thoughts
Thank you very much for reading. If you came here looking to learn how to make money online with no experience then this post has hopefully shown you the light towards the right direction.
All the blog posts you're going to read is not going to make you money, only you can make money by taking action so go get started today.
I am more than willing to become your mentor and help you succeed. All you have to do is join me here and I'll be in there waiting to get you started.
I look forward to hearing from you soon. Keep learning and start earning!