11

min read
My favourite monetisation-method that I use to monetize my blogs is through the use of affiliate links.
If you are new to this whole world of "blogging + affiliate marketing" and you are trying to learn how to make an income with your blog/website, let me give you a quick introduction to what affiliate marketing is exactly.
I cover this subject in detail in my "Getting Started With Affiliate Marketing" free course, but let me first give you a brief explanation of what affiliate marketing is and how to use it to make money (which is what I think you're here for anyway).
A Brief Explanation:
Affiliate marketing is the business model where you sell products not created by you and earning a commission for your efforts whenever you drive a sale.
Commission rates vary a lot so I can not give you an actual number here but further down below I will be talking about some various affiliate programs I use daily (that pay well) so you can try them out for yourself as well.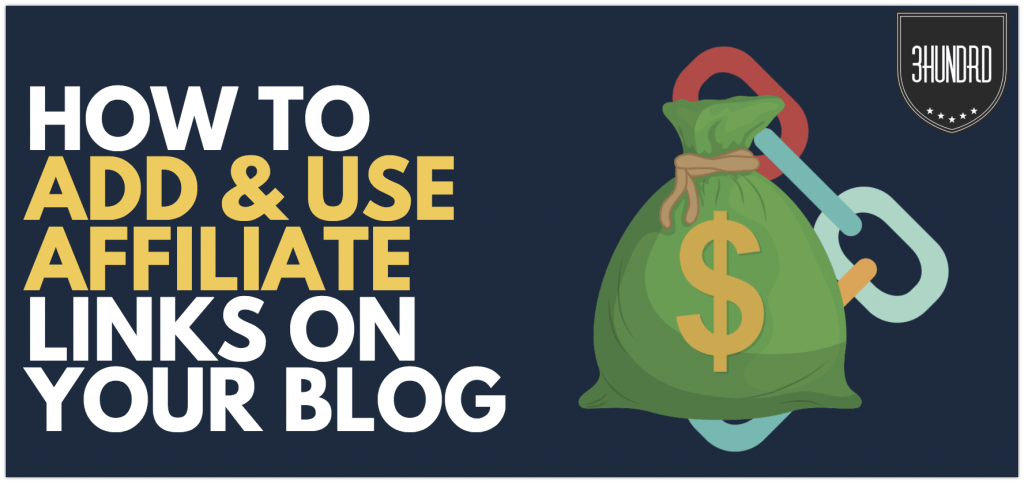 To make money with affiliate marketing, you are going to need to learn how to add and use affiliate links.
These type of links will be unique only to you and through that affiliate-ID embedded inside the link, you will get credited as the referrer, thus getting your % cut.
Using affiliate links is an art form in itself, there are some dos and don'ts when it comes to adding them to your content and I'm about to show you how to do it the right way.
You have to be careful with how you use them too because as I will show you, there are some ways you can use affiliate links that won't be beneficial to you at all, and in some cases may even hurt your chances of making money.
Before I do that though, let me first walk you through exactly how to use affiliate links on your blog.
Step #1: Sign Up With An Affiliate Program / Network
How to add an affiliate program to your website? It's easy…
Right below, you are going to find a list of affiliate programs that I use to get my affiliate links from.
There are MANY affiliate programs to choose from and all of them have a slightly different method of signing up but as I said, it's very easy to do. Just pick your affiliate program and sign up with your email and password.
I promote various products on my blogs so I have to use multiple ones, which is ok; you can join and use as many as you can / want/need.
One thing that I recommend you do before registering to one is to have a website up online with content already indexed. If you have one already that is great, if not, get a free WordPress installation and start publishing some content.
Step #2: Writing Your Content
Your content is the driving force of your business and it is where you will be placing your affiliate links.
Make sure you have some blog posts up and ready before you start adding affiliate links to your site. This will show the world that your blog is not just there to make sales, but to inform and educate on a particular subject (i.e your blog niche).
I will go more into detail later of how, where and when to add your affiliate links.
Step #3: Inserting Your Affiliate Link
Once you have content and your affiliate link, which will be exclusive only to you, you can add your link to your content like so:
(For this example, I am going to use a JVZoo affiliate link, it's an affiliate program that I use)
Go to your link affiliate program, (in this case; JVZoo).
Find your link and copy/paste it: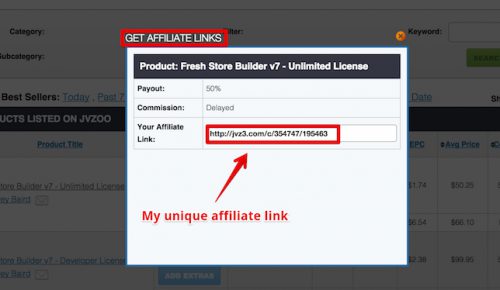 Insert it into your content as a hyperlink: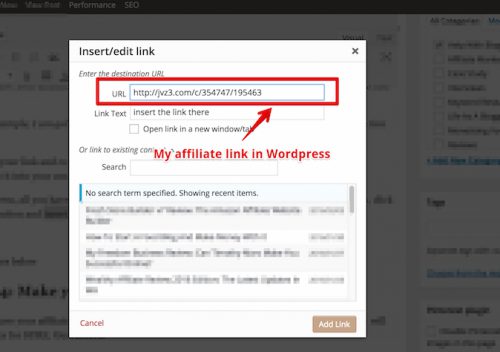 *On WordPress, all you have to do to add a link is to highlight the text you want to place your link on, click the "link" button and insert the link there.
#Step 4: Make Your Money
Once you have your affiliate links in place, and your content up and ready online getting traffic, you will make money for SURE. Guaranteed.
Why am I guaranteeing this? Because it's all a numbers game.
If you have a 1000 visitors a week, some percentage of it will convert to a sale, for sure. Every time, without fail. But only if you follow correctly these dos and don'ts of adding affiliate links on your website:
The Dos & Don't Of Using Affiliate Links
Let us now look at some things you should do and shouldn't do to increase the effectiveness of your affiliate links.
The 5 Dos Of Using Affiliate Links
Do Hyper Link It
In the paragraph above, I mentioned you have to hyperlink the affiliate text. This means that you should always place your links "behind" a normal word or phrase. Let me explain:
This is wrong:
Hey, I found an awesome training program that I would like you to see. Here is the link:
www.productX.com/this1is4one5butt6ugly7affiliate8link
This is right:
Hey, I found an awesome free course for you to try, here is a link to try it out.
Obviously, the latter is much more professional looking, clean and organized.
The way to do this is to highlight the text you want to add your link to, and click the link button, then just enter your affiliate link in the URL tab.

Feel Free To Add More Than One Affiliate Link Per Article
There's a debate going that says you should not post affiliate links in every article you publish.
While that is understandable, I see no reason as to why you can't add a link to a product you are promoting in a post where it makes sense to link to it.
The main thing to keep in mind is not to overdo it. Many newbies think that the more links they add, the more money they can make,. This is simply wrong.
I tend to add affiliate links only when it makes sense for me, I won't try to force it in any way.
A good rule of measure to go by is to only include 1 affiliate link for every 1,000 words.
If however, you do not feel comfortable stuffing affiliate links on every blog post you write, there is another way you can do it, and that is through product reviews:
Instead of linking directly to a product in every post, you may consider writing a whole detailed, in-depth review of the product and linking to the article itself whenever you mention the product.
This has a lot of benefits associated with it, which are:
Reviews Rank Very Well With SEO
When you write a product review, there is a high chance that your review will rank high in the search engines as they love product reviews.
It gives people exactly what they want: a detailed description of a product they are looking for.
You'll Be Able To Go In-depth
When you mention a product in a random blog post, you can not go in depth about what it can do.
However; if you link to dedicated product review page (instead of the affiliate link), you can give all the juicy details, thus improving the chance of selling
You Can Provide Your Own Unique Take
The one thing that is important to keep in mind is that people want to hear stories online. Your own story on how you used the product to solve your problem is one of the major keys to converting at a high percentage.
A detailed review will give you an opportunity to go into detail about how the product has helped YOU.
Do "Cloak" Them To Make Them "Pretty"
As I've mentioned, affiliate links are usually "ugly".
They are in some cases extremely long and they have a lot of numbers and information that will make the link not very visually pleasing.
Obviously, do not modify the URL as that contains your affiliate ID but you can use a plugin called "Pretty Links" to cloak them nicely in a more appealing way.
You can download the free plugin and see how it works from here.
Do Link Up Your Images
If you are talking about a product, especially in a review post, it makes sense to add images that are related to that product.
You can also make the images clickable, meaning when a reader clicks on the image, it will take them to the product sales page.
This works exceptionally well if you are using the Amazon Associates program.
The 4 Don'ts Of Using Affiliate Links
Don't Over-Use Them
Do not fill up your content with affiliate links. As I've said, only try to add 1 link to every 1000 words you write.
Having way too many affiliate links will appear to search engines as just another "affiliate site" that just wants to make money, which is not good for your business.
Do not over-use affiliate links!
Don't Put Affiliate Links In The Sidebar
Continuing on from the last point, avoid adding banners to the sidebar with an affiliate link.
Remember that your sidebar will appear on every page on your website meaning you might only add 1 link per a thousand words in the actual content, but there will be more in the sidebar.
This contradicts what I've just said about not overusing them.
If you want to use the sidebar to promote the products you are selling, consider creating a sidebar image (use Canva.com) and have it link to your product review page.
Do Not Share Affiliate Links On Social Networks
Flooding your social networks with affiliate links is not going to get you anywhere, I know because I've tried it before.
In some cases, like Pinterest, affiliate links are banned. Others still accept them but I don't think that will last long either.
Also, remember that people on social networks are not in "buying mode" meaning the conversion rate will be very, very small.
As an alternative, share your review posts (that contain your links) on social media, that is highly encouraged and a good way to get traffic on your blog.
See my guide on where affiliate links are and aren't allowed.
Don't Start Your Post With An Affiliate Link
One last "don't" is to not add an affiliate link at the beginning of your content. I would wait till you are at least 700 words deep before you consider adding an affiliate link.
If the product comes up within the first few hundred words, again; link to your product review post.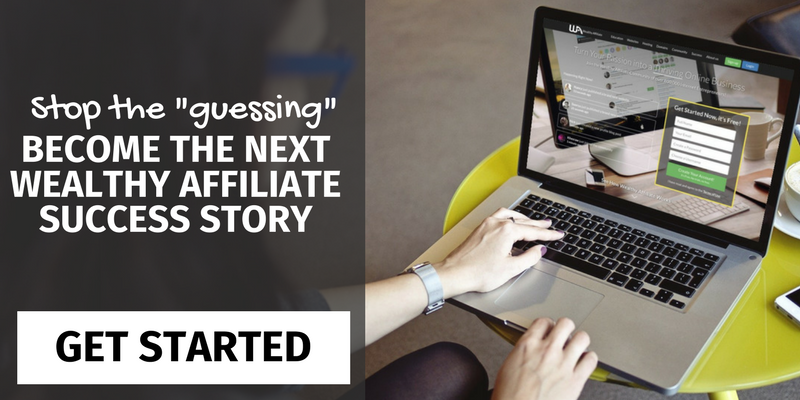 Take my #1 rated affiliate marketing course >>
Those were my few tips and my "dos and do not's" of how to add affiliate links to your blog.
Hopefully, they should've answered some of your questions and also gave you some ideas on how to use them properly to make money with your blog.
Some Affiliate Network I Use That I Recommend You Try Too
There are many, many great affiliate programs and you may find that some products or websites even have an affiliate program independently, however, there are some affiliate networks where you will be able to find products to promote.
Here are the ones I use:
JVZoo.
Wealthy Affiliate.
Amazon Associates.
Share A Sale.
Clickbank.
Quick Bonus Tip:
To find an affiliate program or network for products related to your blog topic, go over to Google.com and type:
"your blog niche + affiliate program"
This will turn up hundreds of affiliate programs and networks filled with products you can use to make money online as an affiliate.
Should You Mention That You Use Affiliate Links?
This is asked a lot and there seems to be a lot of a confusion about it.
My opinion about it is yes, do mention that some of the links may be affiliate links that you make money from.
However, I do not mention it with every link I place (like some would suggest). Instead, I have an affiliate disclaimer down in the bottom menu of every page.
You can check it out yourself and copy/paste it if you want to take my approach.
Remember:
Your money doesn't come from the customer, but rather from the product creator which means a product sold through an affiliate won't cost the customer more if he goes through affiliate links.
Again: just my opinion.
A Round Up – What We've Discussed:
Ok, so are you ready to start using affiliate links and make money from your blogging efforts?
Here is a quick recap of what we've just talked about:
Sign up for an affiliate program/network.

Write the content where your affiliate link will be.

Insert your link as a hypertext.

Make sure you do not do (or don't do) something that will hurt your business

Start making some money!
Thank you very much for reading, I hope you've found this post helpful and informative.
Feel free to leave a question down below in the comment section if something is not clear, I would love to help you out.
If you're interested in learning about affiliate marketing, I suggest you download my free eBook or sign up for this free training course < highly recommended!
Till next time.