As you may have realized, you don't just blog your way to a six-figure a year income.
Blogging for a living can be tough. There are things you need to do (and do well) to be able to make money with your blog.
Luckily for us, there is more than one way you can make money blogging, and I am going to share with you 21 of them down below.
NB: You should NOT attempt to master all of these monetization methods all at once, nor do you need them all to be able to make a full-time income blogging.
Just one of these methods is enough to make your blog a six-figure earner.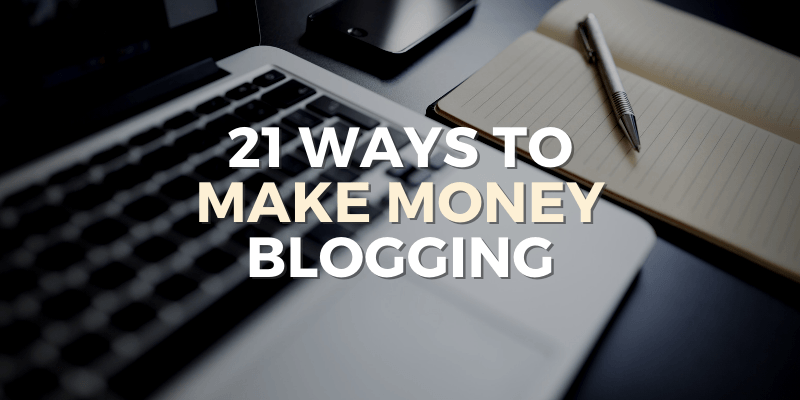 1. Affiliate Marketing
This is the most popular method for making money and it simple means earning money promoting products and services provided by other companies.
Out of all the major benefits of affiliate marketing for bloggers, the fact you don't have to create a product (or services) from scratch before you can start earning money is huge!
I have an in-depth guide on how to do affiliate marketing successfully here, but here's a quick run-down of how it works. 
You find an join an affiliate program.

You promote the product/service to your audience.

Your blog reader clicks on your affiliate link (on your blog)

This link takes them to the company's website or offer.

When the buyer makes a purchase you get paid a percentage (a commission).
Affiliate marketing is one of the most lucrative income streams you can have *once you've built an audience in a well-defined niche*.
This is because you can write an article once (with your affiliate links in place) and have it read by thousands of people over the years earning you money along the way.
This is what we call "passive income".
It doesn't start passive (there is work involved at first) but once you get the ball rolling, the sky is the limit.
2. E-Commerce
Another idea would be to add an online store to your blog so you can sell products *you create* directly to your audience.
This is called e-commerce (which you can learn more about here) but if you don't have your own products to promote, you can turn to…
3. Dropshipping
Dropshipping allows you to create an e-commerce store on your website, but instead of selling your own products, you sell products you don't hold inventory of.
The order will be fulfilled by your supplier who will ship it directly to your customer.
All you have to do is to collect profits which unlike affiliate marketing, you get to decide how much.
While it may be an exciting option for you, personally I prefer affiliate marketing over dropshipping any day, and you can see why here.
4. Website Flipping
Want to stop blogging altogether?
Sell your website!
Let's say your blog earns $1000 a month, which is not-that-difficult to achieve. You can sell your blog for 30 to 50X the monthly earnings.
That means a $30,000 to $50,000 exit, not bad right?
You can learn more about how much you should sell your blog/website for here.
5. Advertising
Another way you can make money is by placing advertisements on your blog and generate an income every time the advert is viewed and/or clicked.
Bloggers who use this approach tend to create social/viral style posts which will drive thousands of people to their website, thus increasing ad revenues. 
If you want to go this route, I suggest Mediavine, but you do need~50,000 monthly sessions to participate.
6. Guest Posts or Backlinks
Once you've built up some readership and some authority on Google, you will be getting pitched *daily* by other web owners to publish a guest post with a link back to their website.
They do this because they want the benefits of a backlink, which you can either accept or refuse.
NB: This is not a sustainable way of making money as this could get you in trouble with Google (especially if the topic of the guest post is not something your audience would be interested in).
This is why I would suggest you focus more on idea number 7 (sponsored posts) instead of just link building guest posts.
7. Sponsored Posts
Sponsored posts are similar to guest posts except you would write the post yourself, and this is usually in exchange either for money or even free products.
This is more of the brand wanting to reach your audience rather than about getting SEO links from your website. While the two may sound similar, they are not.
Remember, you do need to mention this is a "sponsored post" whenever you do these deals as this could get you in trouble.
8. E-Books
Many bloggers (such as myself & many others) also make money creating e-books we then sell via our blog.
This is proven to be one of the easiest and quickest ways of earning money blogging, and I am telling you this from experience.
I should have a guide out on how to do this successfully soon but for now, you can see this guide here.
9. E-Mails
Building a powerful e-mail list is an essential strategy when you're monetizing your blog because it's the best way to keep your audience coming back for more.  
Each e-mail you send out is a chance to build a deeper relationship with your subscribers. Your e-mail list essentially becomes your warm market, open to hearing about the offers you send them from time-to-time.
That's why so many bloggers repeat the classic-mantra of "the money is in the list".
Don't under-estimate email subscribers. They may be the most important piece of this whole "make money blogging" business.
9. Vlogging
Some bloggers usually venture out of the written word and instead go turn to vlogging (video-blogging) as their main form of content creation.
Once you have a YouTube channel set up where you vlog regularly and have viewers, you can then start earning money with YouTube ads.
10. Online Courses
Anything you can learn, you can teach…
… and bloggers who create online courses capitalize on this knowledge.  
An online course can be as simple as a series of emails or a set of 5-minute videos with each bite-sized video covering a topic or a new skill being taught.
You can either sell the course through your own website or you can use third-party websites specialized in selling courses such as Udemy, Teachable, Thinkific, and Gumroad.
The major benefit of becoming a course creator is that you can do the work once and be paid over and over, ever time the course is sold. Now that is passive income!
11. Content Writer
Once you become proficient at content writing, you can start marketing your content writing services to other websites interested in hiring your services to tap into your expertise about specific topics.
If you learn a bit of copywriting and SEO along the way, this would allow you to earn up to $100 per article (partnered with the right website).
12. Web Designer
Once you've learned how to build a website, you can also design websites for others.  
For example, you can target local companies that don't have an online presence yet or only a Facebook page. You can use your own website to showcase your abilities. 
This is also a clever way to build residual income because most companies will pay you a monthly retainer to keep their website updated with their latest news and specials.
13. Graphic Designer
Bloggers invest almost as much time designing graphics as they do writing content.  
First, they need to create headers or banners for their websites and then they need to start designing featured images and social media images (Instagram posts, Pinterest pins, and infographics) for each article they create. 
To save money, many bloggers design their own logos too.
All of these images are easy to create using an online tool like Canva.
If you have an eye for design, you might start selling your graphic design skills on a freelance platform. 
14. Social Media Manager
Another skill you'll learn as a blogger is how to grow your website's presence on social media. 
There's a big demand for Social Media Managers, especially if you also know how to get results with social media ads.
Facebook and YouTube Ads are probably the most popular avenues but there's a growing niche in Pinterest and LinkedIn Ads too.
15. Virtual Assistant
You can even bundle together all your favorite blogging skills and market yourself as a Virtual Assistant, which simply means a Personal Assistant who works online.
We've seen a growing number of posts by successful VA's who are making a killing online by supporting and assisting others to grow their digital empires.  
16. Instagrammer
Love to take gorgeous photos, snapshots, or selfies?
You may be heading for fame on Instagram.
Instagram Influencers come in all shapes and sizes and what they do really well is draw attention to themselves and the brands they are promoting. 
YES, there's huge money involved when you make it.
As with everything online, you start out small, tagging brands in your posts every time you buy anything new or across anything of interest.  
17. YouTuber
YouTuber's make even more money than Instagram Influencers and the number of YouTube Creators, Subscribers and Viewers are growing at a rate of knots.  
I read yesterday that Ryan Toys Review was listed on Forbes as the highest-paid YouTuber, netting $22 million from his videos and product line at Walmart, and he's only 8-years-old!
If you're as cute as Ryan and you've got the energy and pizzazz to post a video review every day on YouTube – for 4 years – you've got a good chance of making millions too.
18. Kindle Publisher
Once you've honed your skills at writing words, you could become an Indie Author.
Self-publishing has never been easier than it is since the advent of Amazon Kindle.
Having a book to your name gives you instant notoriety, especially if you make it onto any of the Bestsellers lists.
19. Coach
If you're an expert in anything or have mastered a skill, you could market yourself as a Coach online.
If you're not an expert yet, you can become one.
There are many coaching courses available, in virtually every field you can think of.
20. Public Speaker
Once you've started producing videos, you might be comfortable getting out there as a keynote speaker.
Speaking gigs pay well, especially if you're a published author (see idea #18). 
TEDx ( the local version of TED Talks) doesn't pay their Speakers but they give free training and if you make it to TED Global you get an all-expenses-paid trip and worldwide acclaim.
Which Public Speaker wouldn't want to add TED Speaker to their LinkedIn profile?
21. Events & Masterminds
Once you've got your book written (and some public speaking gigs under the belt), you might want to start presenting some Live Events or Masterminds.
This is another way to leverage your blog for higher and higher income.  
The more popular you are and the more people you can bring into a room, the more money you make. 
Tony Robbins currently has a net worth of $500 Million. Care to follow in his footsteps?
The Possibilities To Make Money Blogging Are… Endless!
There you have it. 21 wonderful ways you can make money blogging.
As you can see, there are numerous ways you can transform your blog into a business. Again, I would recommend not attempting to do them all at the same time.
This list was written in a way where you can advance from one mode to the other with each step earning you more and more as you progress and refine your skill.
However, while the blogging world is exciting and remarkably profitable, you will not gain a cent if you do not blog.
If you're brand new to blogging (or still a novice) I highly recommend you take a quick course on blogging.
This will eliminate many years from your learning curve and you will know that what you're doing is what needs to be done.
For this, I recommend you either check out Income School's Project 24 course which will show you how to create a money-making blog in 24 months or;
You can see Create & Go's blogging course, which is another popular and highly-rated blogging course.
Related Questions:
How many visitors do you need to make money blogging?
This depends greatly on your niche. I've had blogs making money with 500 visitors a month and I've had blogs making zero with 10,000 visitors a month.
There's not a direct answer I can give you, but I do try my best to answer this question in this article.
How can I get better at blogging (I don't know how to write well)?
Nobody was born a talented blogger. You just have to write and write often. To help you publish your first article, I've created a mini-guide you can follow here.