This is month 12 of the profitable niche site case study and I had originally planned to give you a full 12-month breakdown of the two websites. However, given how this was such a phenomenal month for these websites, I've decided to stick to my monthly update instead.
I will be publishing a full 12-month report sometime in the coming months so look out for that (it will be linked here if published).
Yes, this past month (April) was absolutely fantastic. Both these websites have registered record growth in traffic, sales, and subscribers.
This may be due to the coronavirus situation with everyone being stuck at home reading stuff online, but whatever is causing this, I am very happy with the progress these sites have made and I'm about to share with you everything that happened down below.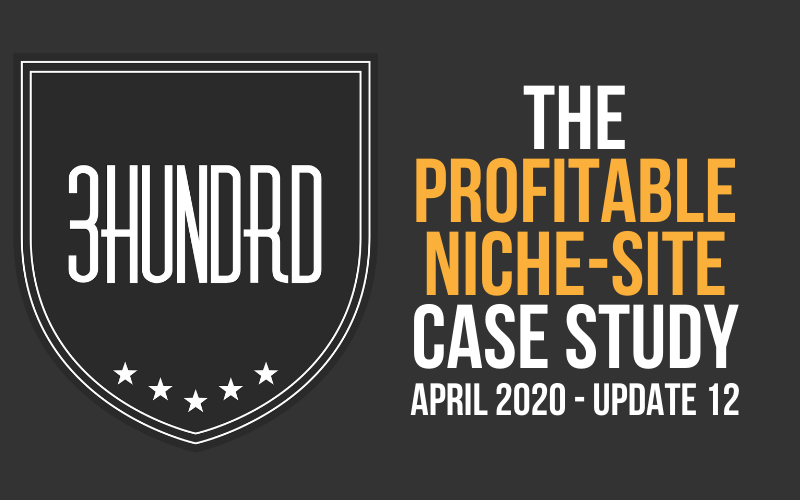 ---
---
Niche Site 01: STSP
Pageviews in March 2020: 22,956
Pageviews in April 2020: 36,836 (new record)
Earnings in April 2020: $1,135.68 (new record)
New Posts Published in April 2020: 9
Total Posts Published: 91
Total Words Published: 190,695
Average Word Count Per Post: 2,096

Thoughts on April 2020:
Although in previous months I was worried about Coronacirus negatively affecting this website, I guess I spoke too soon. Just like any other website, the traffic blew up this month and so did the earnings.
Here's a total breakdown the total income form the 4 different income sources I've set up on this website:
Affiliate 01: $671.38
Affiliate 02: $217.10
Affiliate 03: $147.22
Course: $99.98
Even though it's the least earner, the one I'm most proud of is the course. As I've mentioned in the previous updates, we created this product to go along with this website and I'm glad to report we've had our first 2 paying members.
This is very encouraging since very little promotion was made for this course apart, from a few popups on the website (thank you Hellobar).
Overall, it feels great to have the first $1000 month in the bag with this website and I look forward to it continue growing from here (fingers crossed this level of traffic will remain long after the coronavirus is over).
Plans For May 2020:
I don't have any specific plans for this website in the coming months although I do want to have a solid 100 post published so I will be trying to get these remaining 9 posts out sometime this month.
Unfortunately, I did have some issues with one of my writers so I might also have to look for new writers to join the team.
I also plan on promoting the course some more and see if I can get more signups. At $49.99 a pop, it will be one of the fastest/easiest ways to increase earnings on this website.
Let's now move on to site #2, which also had a record-breaking month on all fronts.
Niche Site 02: TSCC
Pageviews in March 2020: 23,792
Pageviews in April 2020: 50,691 (new record)
Earnings in April 2020: $198.70  (new record)
New Posts Published in April 2020: 13
Total Posts Published: 122
Total Words Published: 191,216
Average Word Count Per Post: 1,555

Thoughts on April 2020:
As you can see, April was fantastic for this website. The site crossed a very important milestone of 50,000 page views, which actually makes it the biggest site I own (traffic-wise).
As you can also see, earnings are still not that good (although it is a new record for the website) which is somewhat concerning. This website is currently being monetized in two ways:
Ezoic Ads: $134.28
Amazon Affiliate Program: $64.42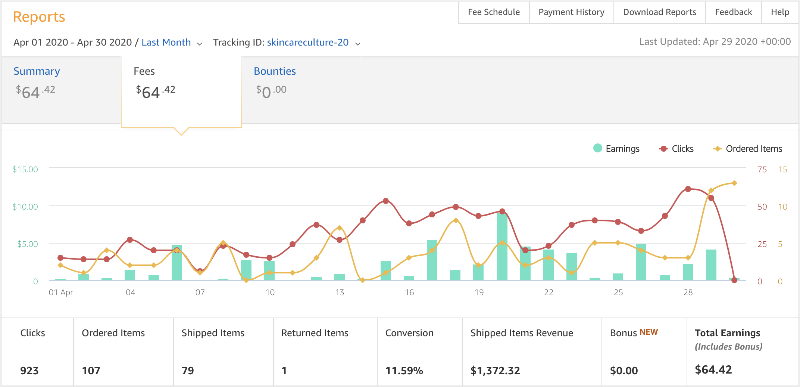 With an EVPM of $24.37 (slightly lower than March 2020), this was yet another good month using Ezoic, although I did get a temporary suspension in the last few days of April because they thought we had fake traffic!
This was also the first month I went full-speed ahead on Amazon, and as you may have heard already, Amazon announced they will be cutting commission rates yet again.
This was a kick in the face for many publishers, but for the time being (until I find a better replacement) I will continue using Amazon.
Plans For May 2020:
What I am most excited about in the coming months is joining Mediavine, which I am now eligible to join thanks to this exponential rise in traffic. I've submitted my application a few days ago and it's currently under review.
I am sure Mediavine will provide me with better rates for my traffic and I'm also looking forward to seeing the RPMs rise in the coming months once corona eases out and companies start spending their full budgets on digital media again.
For this next month, I plan on putting most of my team towards building this website up with the goal of getting it to at least 200 posts and 100,000 pageviews by sometime in August!
How To Start Your Own Money-Making Website
So there you go. This was update 12 of the profitable niche site case study.
I've grown to enjoy these updates as I get to share what I am doing and it also keeps me somewhat accountable.
If you'd like to start your own affiliate website, I also have a free affiliate marketing training course you can join. The same exact strategies I've been using on these two websites can be found inside the course.
Thank you for stopping by. Be sure to look out for the yearly update coming in a few days. This will have a lot more data and I also might reveal these websites for the first time ever.
Start From The Beginning?