Pinterest!
We all love it, and as long as you don't get yourself banned off the platform, you can rest assured Pinterest will be a great resource for you to drive traffic with your blog.
If you're already Pinterest user (and a blogger) then I am sure you know understand the incredible reach Pinterest has and its unmatched ability to send you targetted, high-quality traffic which you can then use to make money with your blog.
With that said, I do want to share with you 10 quick-fire Pinterest tips newbie bloggers can use to:
Create a thriving Pinterest account (without getting banned)
Create Pinterest-friendly images that Pinterest users love
Build up massive reach and traffic (to your blog) and
How to take that traffic, and turn it into cash each and every month.
If you're curious about that, and what else you can do with your blog + Pinterest, keep reading as I'm about to share with you all that I know (& all you need to know) to make your Pinterest habit, your next full-time job.
Let's get started…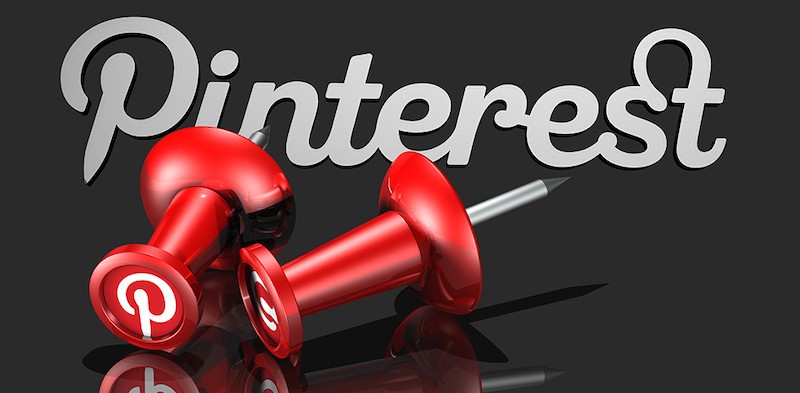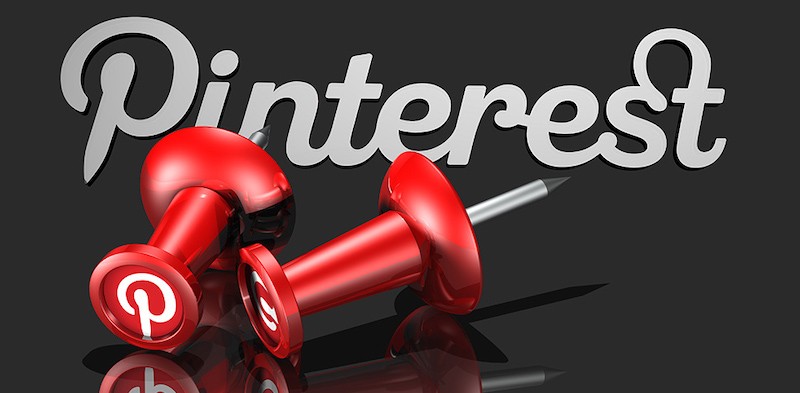 Understand Pinterest Is Weird
As a "normie", I am sure you LOVE Pinterest.
It's fun, colorful and it knows exactly what you want to see next. Great!
However, when you are using Pinterest as a blogger (with the hopes of getting the most traffic out of it), you have to be sure you play by their rules.
What are their rules?
Nobody really knows exactly (although they do provide a brief insight into some to-dos on their Community Guidelines page if you want to take a look).
Make sure you stay on your best behavior and of course; do not spam the network with an endless amount of repeat pictures. This will get you banned (and you'd deserve it).
One thing I also want to add under this "Pinterest is weird" point is the fact that you can not expect traffic to come in quickly.
You might get lucky and get 100 people to leave Pinterest and visit your website on your first day, or you might get 100 people in your first month – that's just how it goes.
What I'm trying to say here is that Pinterest traffic is not steady so don't worry if you see fluctuations in traffic.
Also keep in mind that Pinterest would rather have people stay on their website, instead of on yours (this means more ad $$ for them) so don't expect Pinterest to go out of their way to send you traffic.
That's in your hands (and I will show you how to do that further down below).
Create A Pinterest Business Account
If you don't have a Pinterest account yet (which is unlikely), then I suggest you go create one now. However;
If you have a "normal" Pinterest account already, you can easily transfer it to a Business account with a few simple clicks.
Here's a quick video on how to do that: 
Why do you need a Pinterest business account?
This will open up many new features for you such as Pinterest Ads, the ability to create "rich pins" and also;
You will get access to your Pinterest Analytics which will provide you with a clear idea of what is working, what is not, and how you can improve:


You will also be able to "register" your website with Pinterest and that will help you drive more traffic from Pinterest to your blog.
Titles Are (Now) A
Must
One thing you should know about Pinterest is that it is NOT a social network, but rather a "visual & social search engine".
The goal of Pinterest is to help you save the information you like in a visual manner, and also give you access to more similar-content you may like.
Now, in order for Pinterest to know what content needs to be served; the "image" alone is not enough so as of a few weeks ago; Pinterest Pin Titles have become a MUST.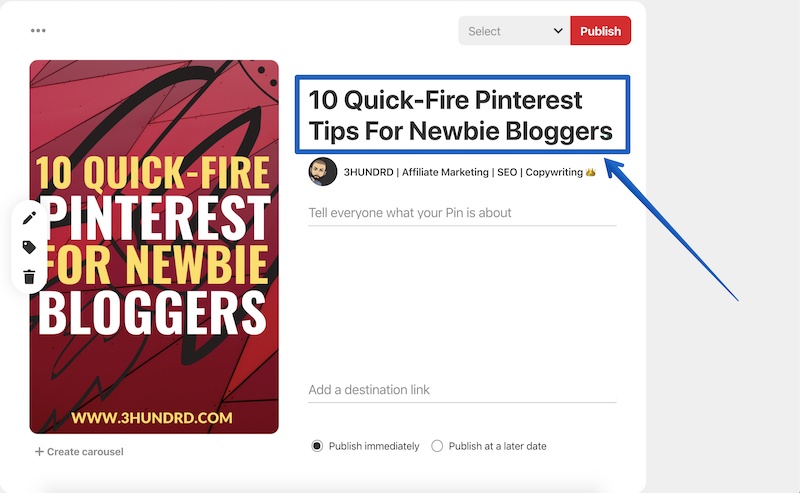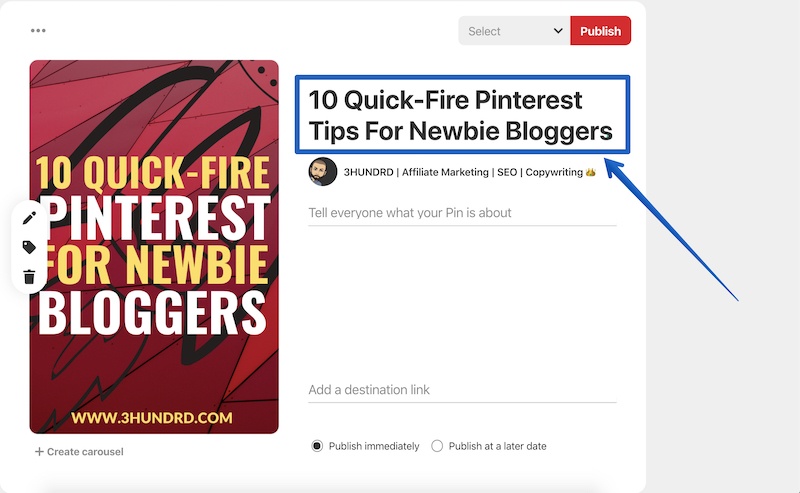 You can add a title when you are uploading a Pin, and you can also use the Tailwind app (which we'll talk about later) to automatically fill-out a title from your website.
Your Pinterest titles are very important as it helps provide more context as to what your content is about and who to best serve it to, however…
Descriptions Are Equally Important
Pinterest pins without descriptions tend to fall flat on their face, most of the time.
Now, if you have a Pinterest Business account (and your website is registered for rich pins), the description automatically populates from your blog posts' meta description (or first few paragraphs) but; this may not always be the best choice of words for Pinterest, which is why;
You should carefully – and specifically – write down the description with "keyword rich" phrases.
You can see a perfect example of this here: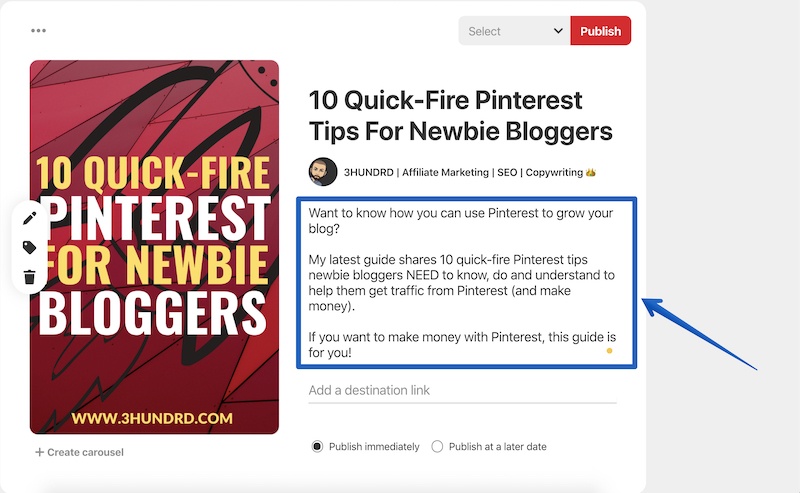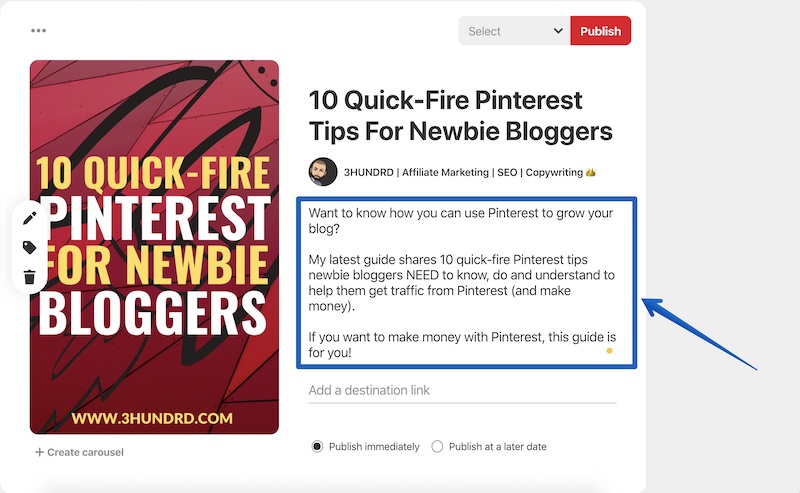 NB: #hashtags are so 2014. Even though many "Pinterest gurus" share the idea that hashtags perform well, I have no proof from my own experiences that this constantly-regurgitated tip actually works. You can add them if you like, but I don't bother with them, at all.
Pin (A Lot)
One other tip you'll often hear but has absolutely no weight to it is that you need to be pinning 10-15 times a day.
Wrong.
Pin as much as you want. I would even say go ahead and pin hundreds of pins a day if that's what you want.
However, when it comes to sharing pins from your website, you do have to be careful as you do not want to get flagged for spam.
The way I share my content is I share one pin for every new blog post that I publish.
Sometimes I publish one, sometimes two and sometimes three, in which case; they all go out on the same day but I never try to spam Pinterest with hundreds of pins all leading to the same blog post.
Even though you will come across plenty of these repeat pins while browsing, Pinterest says they do not like it and they're right; nobody likes spam.
So, with that said – pin your content at least once, maybe again at a later date but when it comes to other people's content, pin as much as you want.
Use Tall Images (But You Know This Already)
I'm sure many know this by now, but judging by the types of Pins I see on a daily basis, I guess it has to be said;
Pinterest wants tall images on their platform!
Do not post horizontally-rectangular images as they are very hard to read, they do not get any engagement and I am pretty sure Pinterest has it built in their algorithm to not show non-tall images.
Take a look at any search results on Pinterest and you will see that 99.99% of pins are all "tall images".
How to create tall images for Pinterest?
I use Canva for my images, but you can check out this video that gives you a bit more insight on how to design them + some other tools you can use:
Keep Your Blog Clean (& Fast)
If you're a regular pinner, then I'm going to assume you have used it to find and read interesting blogs.
I sure have and one thing that is becoming super apparent is how low quality these websites are.
Some have signed up forms flying in from left and right, "cookie policy" notices from the top and bottom of the screen and a big banner ad between each sentence.
Do not do this, please!
Keep your blog clean as possible, and do not overload it with fluff.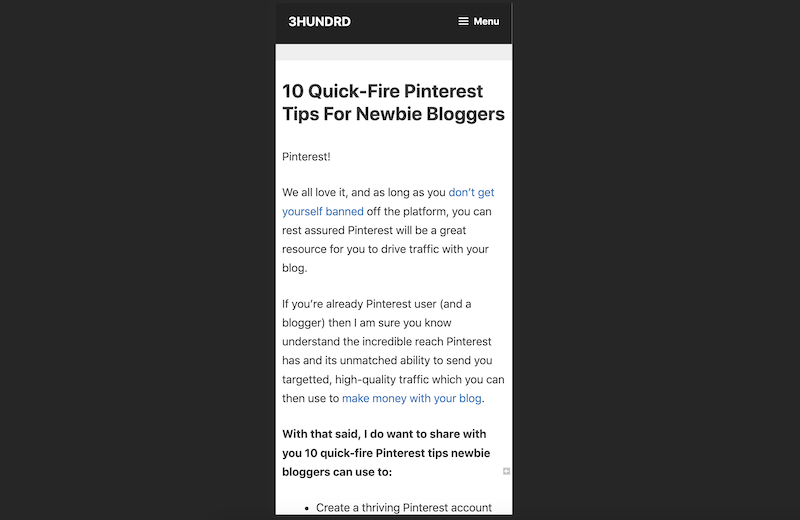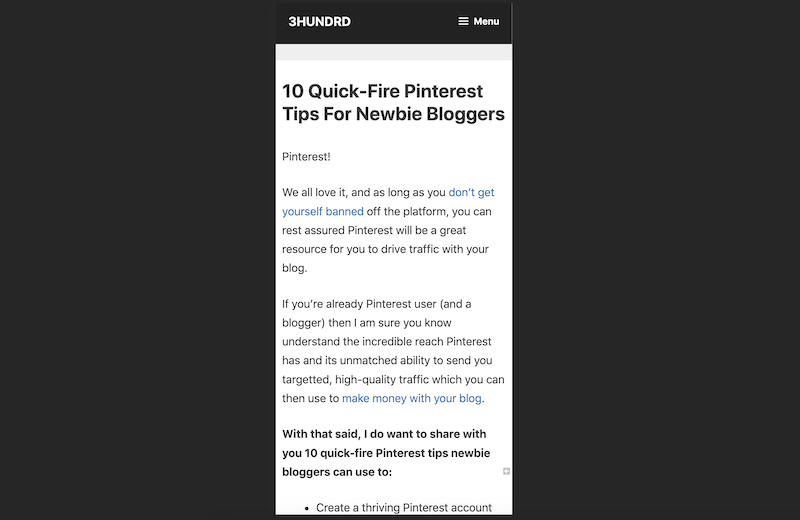 If you're reading this on mobile, this is exactly how your website should look.
(It also loads up super-fast, which is what people want and what makes people stay and come back later).
Don't Pin Affiliate Links
I will soon tell you how you can use Pinterest to make money with your blog, but one thing you should NOT do; is pin images with affiliate links!
This is a no-no for many reasons.
For starters, Pinterest may or may not allow your affiliate links.
I have a guide on the turbulent relationship between Pinterest and affiliate marketers here so check that out but it seems that Pinterest allows some affiliate links, all the while removing others.
You do not want to be making money with your affiliate links and all of a sudden you find yourself with zero income because Pinterest banned your affiliate link.
It can happen, and without reason – as I said; Pinterest is weird!
Also, it's always best to first get people on your website first, where you can then…
Monetize With Ads (or Affiliate Marketing)
The two best ways to monetize with Pinterest are either affiliate marketing or; banned ads.
Myself (due to the nature of my niche) I monetize with affiliate marketing as it works incredibly well however, there are many Pinterest bloggers who are making a killing with banner ads.
Banner ads can be used when it does not make sense to sell a product on that post, so instead, you add simple banner ads.
Now as I said, you do not want to overload your website with banners as that just creates an unworkable mess but you should insert ads in a more appropriate manner.
For this, I recommend you check either Ezoic, Mediavine or AdThrive which are the best 3 choices.
I would personally avoid using Google AdSense as they do not pay too well and unless you are getting thousands of clicks a month, you won't make enough make it worth your while.
As a bonus tip; I will tell you to first wait till you reach 10,000 visitors (which would qualify you to Ezoic) and then let their team optimize your site for banner ads.
All you'd have to do then is sit back, and watch the profits roll in.
Build Your Tribe (Hello Tailwind)


My last tip for you would be to take a look at the Tailwind scheduler and also, the Tailwind Tribes feature.
You can learn more about the Tailwind scheduler here, but let me tell you about Tailwind Tribes as I am sure you're going to LOVE this.
Tailwind Tribes are a community of bloggers and content creators in your niche who join this "tribe" on Tailwind and share each other's content.
Using it, I have managed to create massive reach as other blogs share my content (and I share theirs).
This will help speed up the process of your pins reaching new people, and of course; it will drive an insane amount of traffic to your blog.
You can learn more about Tailwind Tribes here >> 
✔️ Would You Like A Free Course To Show You How To Make Money With Pinterest?
So there you have it;
1o quickfire Pinterest tips for newbie bloggers looking to tap into the goldmine that is Pinterest, and the riches that come with the traffic it can provide (when done well).
Now that you've seen the possibilities of what can be done;
Are you going to take the first step to start your blogging journey on Pinterest and make a handsome amount of $$$ each month doing it?
It will cover everything you need to get started and you'd be in good company seeing how thousands of students have used the material in this course to build a new life of freedom for themselves.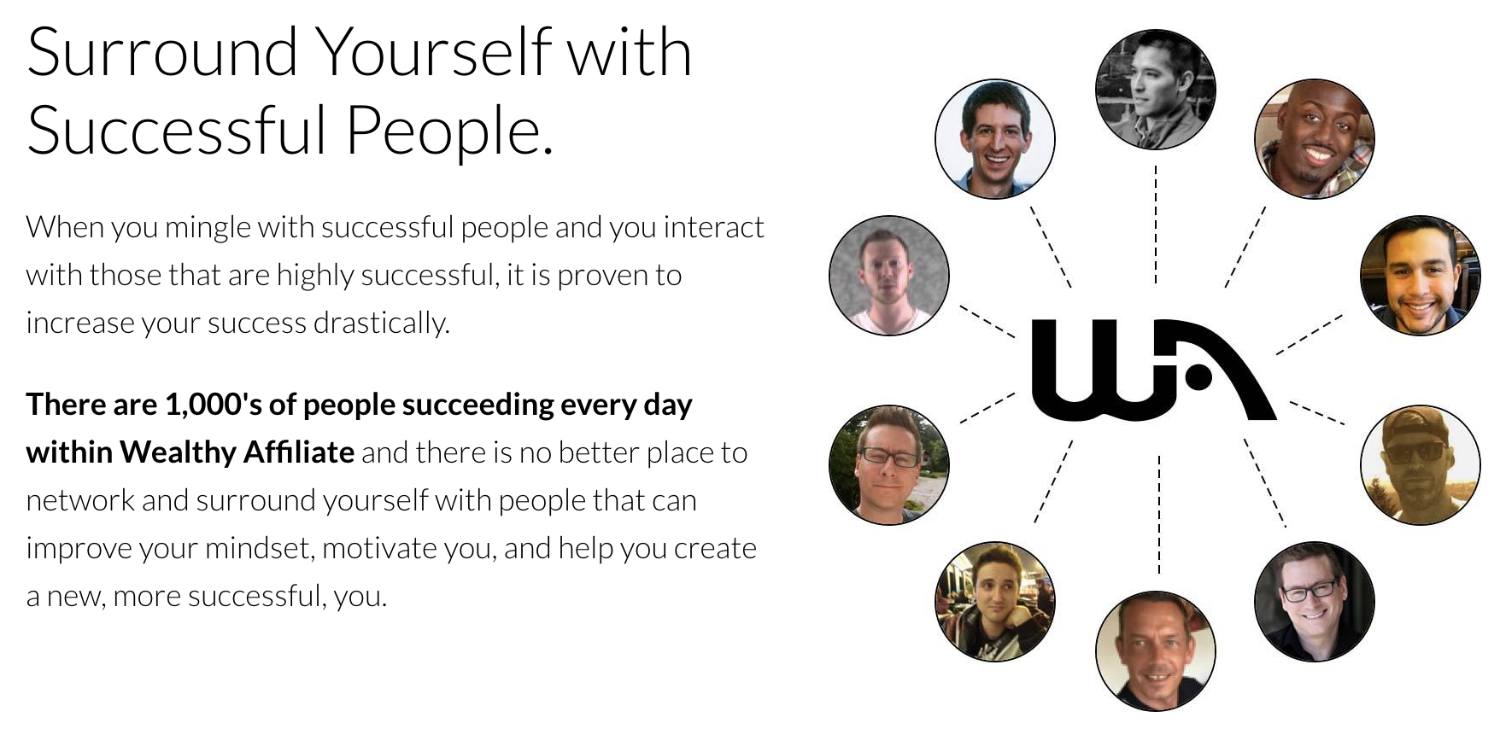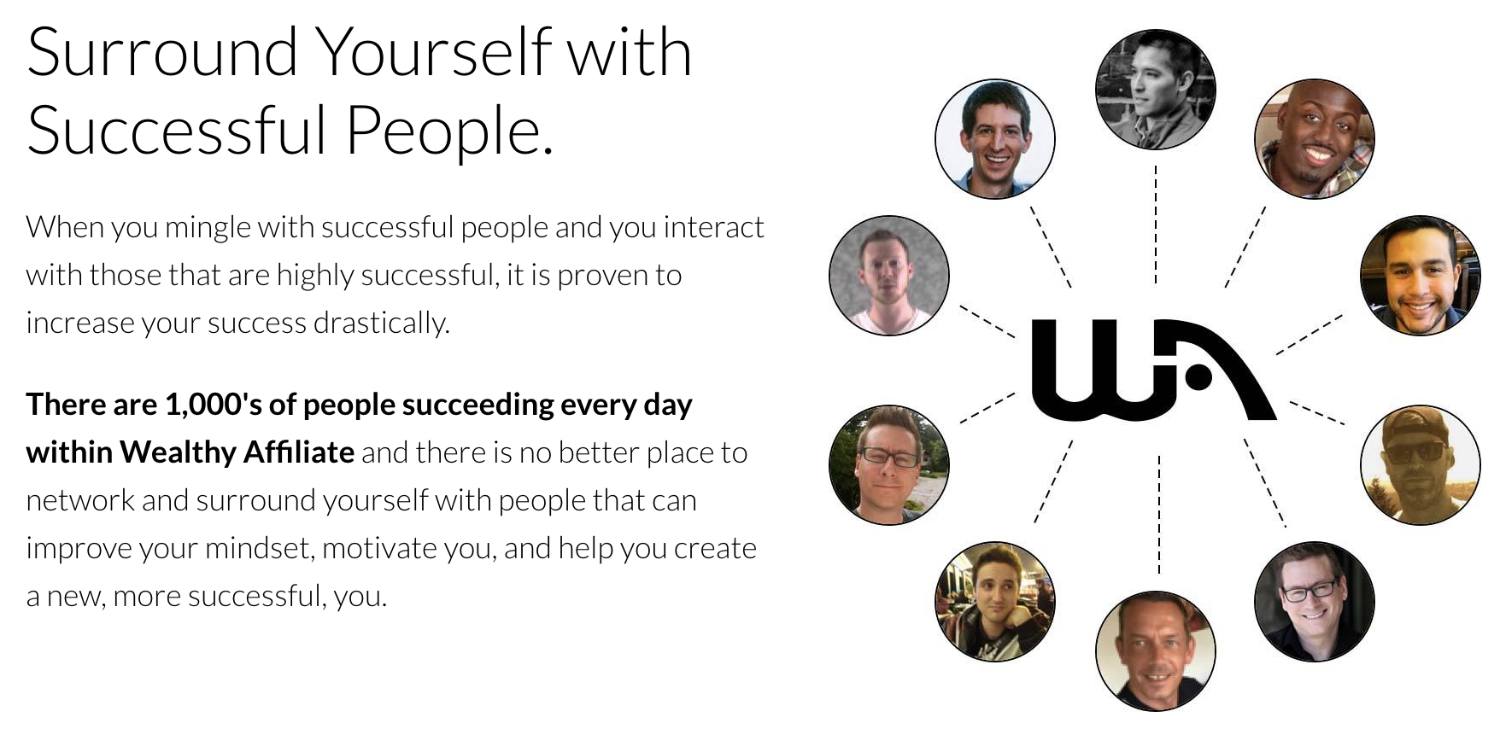 You can be next, but you need to take the first step which is;
Signing up here and going through all the video lessons provided.
I will see you on the inside.
Talk soon.